The dust has settled on the 2019 regular season at the FBS level and it's time to take a look back. Ahead of the conference championships, we take a look at the best players at their respective positions with an in-depth look at how they graded over the course of the full season.

Utilizing our play-by-play grades of every player on every play of every game, our All-ACC team takes into account every player's actions on the field on Saturdays while also utilizing our wealth of signature statistics to determine the list. The strength of opponent and consistent play also factor into our selections detailed below.
The 2019 PFF All-AC Team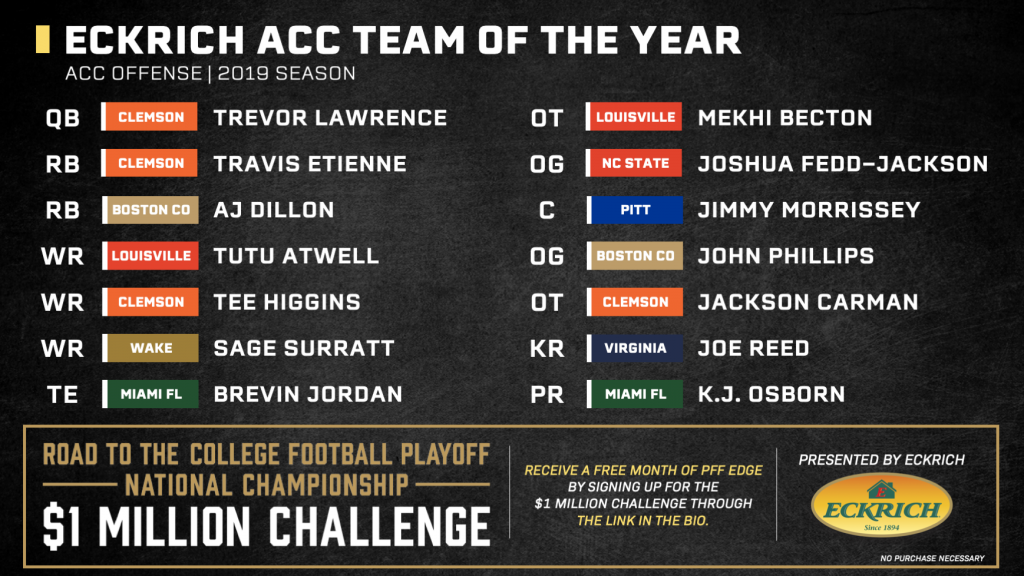 Quarterback
First Team: Trevor Lawrence, Clemson
After a forgettable quarter against Louisville, Lawrence has been the highest-graded quarterback in all of college football, not just the ACC. Thanks in part to that incredible stretch of play, he now ranks fifth in overall grade among the nation's quarterbacks, in a dramatic turnaround after the opening three games of his season. He rattled off five elite game grades, completed 67.8% of his passes for 30 touchdowns and hasn't thrown an interception since Louisville. His numbers and accuracy metrics look a lot better when you see he had 11 passes dropped, intentionally threw away eight balls, had two spiked passes and launched one as he was hit, finishing with an adjusted completion percentage of 75.2% that topped the conference in 2019.
Arguably no one wants to play the defending national champs, especially with the way Lawrence has played down the stretch.
Second Team: Jamie Newman, Wake Forest
Third Team: Sam Howell, North Carolina
Honorable Mention: Bryce Perkins, Virginia
Running Back
First Team: Travis Etienne, Clemson
The record for highest missed-tackle-forced percentage now belongs to Etienne, who capped an incredible season by shattering the former record in missed tackles forced per carry by breaking a tackle on 45% of his attempts. He broke 75 tackles on 167 attempts, blowing past the previous mark of 33% set by David Montgomery. In total, Etienne also led the nation with 8.3 yards per attempt and 5.3 yards after contact per attempt as he gained 894 of his 1,378 rushing yards after contact.
Overshadowed a bit by his quarterback, Etienne is certainly one of the best players in the entire country and most definitely in the conversation for best running back in the nation. He'll have at least two more games to prove his gaudy grades and statistics weren't just a product of inferior competition in the ACC, as some pundits claim.
Second Team: Javian Hawkins, Louisville
Third Team: Jordan Mason, Georgia Tech
Honorable Mention: Javonte Williams, North Carolina
Running Back
First Team: AJ Dillon, Boston College
Dillon cranked out an impressive 1,699 rushing yards, including a conference-best 1,102 yards after contact. He broke 79 tackles on his 317 carries, leading the nation in total missed tackles forced. Dillon was the number one threat when defenses went up against the Eagles, but that still didn't seem to matter. The wins didn't necessarily follow, but Dillon churned out 14 touchdowns and another 81 first downs on the ground, as he's now gone over 1,000 rushing yards in each of the past three seasons and has set personal bests in broken tackles and rushing conversions in his career year.
Second Team: Cam Akers, Florida State
Third Team: Michael Carter, North Carolina
Honorable Mention: Kenneth Walker III, Wake Forest
Wide Receiver
First Team: Tutu Atwell, Louisville
The rapid rise of Scott Satterfield's Cardinals in 2019 gave way to one of the nation's best receivers in Atwell. Ranking first among qualified receivers with a ridiculous 4.17 yards per route run, Atwell gained over four yards per snap on 269 plays that he was an eligible receiver, seeing a great uptick with Micale Cunningham throwing him the ball. He was nearly impossible to bring down after the catch, as well, finishing fourth in yards after the catch per reception at 11.4 while gaining the fourth-most yards after the catch in total at 697.
The sky is the limit for Atwell, as he finished with 24 explosive plays of 15 yards or more, seeing his targets average 11.4 yards past the line of scrimmage. He finishes the regular season with 43 receiving conversions and a 124.2 passer rating when he was the primary target.
Second Team: Dazz Newsome, North Carolina
Third Team: Tamorrion Terry, Florida State
Honorable Mention: Maurice Ffrench, Pittsburgh
Wide Receiver
First Team: Tee Higgins, Clemson
No surprise here that Higgins makes First-Team in the conference as he was clearly the biggest benefactor to Lawrence's hot play down the stretch. He grabbed 43 receptions for 900 yards, moving the sticks or scoring a touchdown on 35 of those receptions. Higgins can high-point the football as well as anyone and is also an after-the-catch threat as he broke seven tackles and gained 255 of his yards after the reception. His 20.9 yards per catch ranks as the highest in the conference and in the top 10 nationally.
Second Team: Hasise Dubois, Virginia
Third Team: Justyn Ross, Clemson
Honorable Mention: Joe Reed, Virginia
Wide Receiver
First Team: Sage Surratt, Wake Forest
Before injury shut him down for the year, Surratt was in the conversation for national first-team recognition for his play. Even with three fewer games than the rest, Surratt ranks second in yards and touchdowns while he is third in the conference with a whopping 17 missed tackles forced after the catch. He saw a 137.4 passer rating on targeted passes, hauling in 65 receptions on 95 targets for 1,006 yards with 11 touchdowns and 35 first downs. He stole the show more often than not, and his injury really changed the Wake Forest outlook this year.
Second Team: Trishton Jackson, Syracuse
Third Team: Kendall Hinton, Wake Forest
Honorable Mention: Zay Flowers, Boston College
Tight End
First Team: Brevin Jordan, Miami
Miami had an interesting year by all stretches, with some big wins and some crushing losses, but one player consistently popped off the screen when he was on the field, and that was Jordan. He hauled in 35 receptions in just nine games and led the conference's tight ends with 495 yards through the air. He racked up 313 of those yards after the catch and broke a conference-best five tackles. Of his receptions, two scored a touchdown and 23 more moved the sticks for a first down as he is certainly deserving of his spot among the ACC's best at the position.
Second Team: Hunter Long, Boston College
Third Team: Marshon Ford, Louisville
Honorable Mention: Dalton Keene, Virginia Tech
Offensive Tackle
First Team: Mekhi Becton, Louisville
No team can have much success in the passing or running game without a top-notch offensive line, and that's just what Becton provides along the left side for the Cardinals. A lone bright spot from their disastrous 2018 season has once again provided a spark for their impressive turnaround 2019 season, and he finished as the conference's highest-graded full-time starter at the position. Becton allowed just 12 total QB pressures on 314 pass-blocking snaps and had the ACC's third-highest run-blocking grade among all tackles.
Second Team: Jordan McFadden, Clemson
Third Team: Christian Darrisaw, Virginia Tech
Honorable Mention: Tyler Vrabel, Boston College
Offensive Guard
First Team: Joshua Fedd-Jackson, NC State
Fedd-Jackson led the conference in run-blocking grade at the position as he ranked in the top 10 nationally in the run game. He was no slouch in pass protection either, allowing just 15 pressures on a whopping 529 snaps in pass protection. He mauled up the middle and paved the way for some wide-open lanes while allowing just a combined three sacks and hits in the passing game.
Second Team: Gage Cervenka, Clemson
Third Team: John Simpson, Clemson
Honorable Mention: Zion Johnson, Boston College
Center
First Team: Jimmy Morrissey, Pittsburgh
A stalwart in pass protection, Morrissey leads all centers in the conference in pass-blocking grade and overall grade after not allowing a single sack or hit on his 569 snaps in the passing game. He finished with a top-four run-blocking grade to boot and dominated over the competition in the middle of the field more often than not for the Panthers in 2019.
Second Team: Sean Pollard, Clemson
Third Team: Olusegun Oluwatimi, Virginia
Honorable Mention: Alex Lindstrom, Boston College
Offensive Guard
First Team: John Phillips, Boston College
Phillips is the best pass-protecting guard in the ACC as he led the way in pass-blocking grade by a long shot. He allowed just seven total pressures and only got called for two penalties this season, while his run-blocking grade did him no harm as well.
Second Team: Joe Sculthorpe, NC State
Third Team: Navaughn Donaldson, Miami
Honorable Mention: Chris Glaser, Virginia
Offensive Tackle
First Team: Jackson Carman, Clemson
Carman joins Becton as the only ACC tackles with pass-blocking and run-blocking grades of 76.4 or higher this year, as he dominated along the left side of the line. Carman didn't allow a sack and totaled just 10 pressures given up on 345 pass-blocking snaps while finishing with a top-four run-blocking grade among tackles.
Second Team: Ikem Ekwonu, NC State
Third Team: Tremayne Anchrum, Clemson
Honorable Mention: Justin Herron, Wake Forest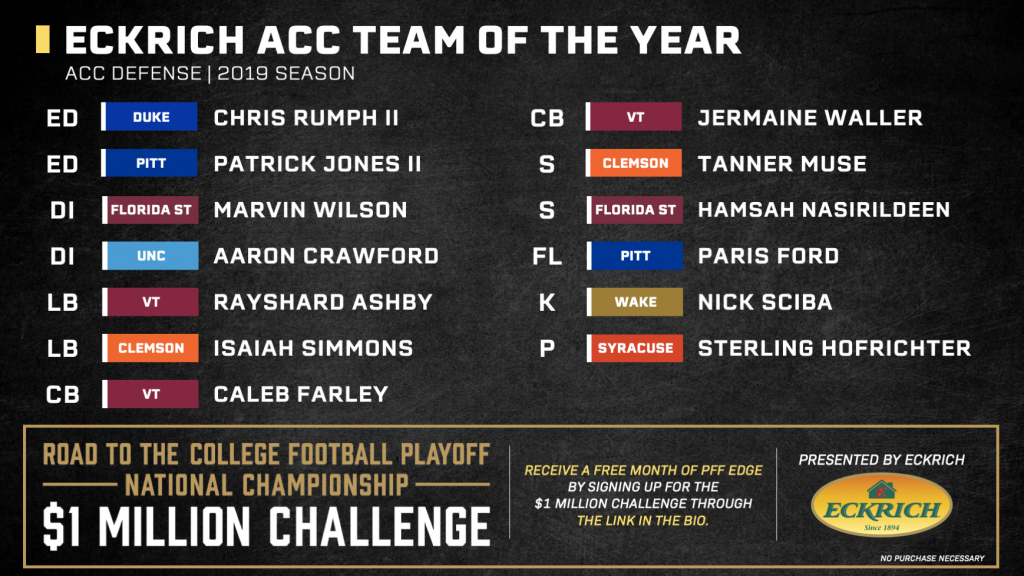 Edge Defender
First Team: Chris Rumph II, Duke
For a while, it was Chase Young who was going to finish the year with the highest pass-rush win rate, but with a dominant end to his regular season, Rumph II secured the pass-rush win title for 2019. In doing so, Rumph even broke the 2019 record for the highest pass-rush win rate in a game as he finished the regular season against Miami by winning 51.7% of his snaps against the Hurricanes. On the year, Rumph recorded 48 total pressures that included seven sacks, 11 hits and 30 hurries on just 197 pass-rushes while he recorded 38 tackles with just five misses and 25 defensive stops to his credit. His season-long 32.8% pass-rush win rate tops that of even the aforementioned Chase Young, as he totaled even more pressures than Young but on 47 fewer pass-rushes.
Rumph rounds out his incredibly effective season by forcing a fumble, batting another pass at the line and having 20 additional pass-rush wins that he didn't get credit for. He'll find his way to several more awards from us at PFF but First-Team All-American is surely where he belongs for the time being.
Second Team: Carlos Basham Jr., Wake Forest
Third Team: Jonathan Garvin, Miami
Honorable Mention: Larrell Murchison, NC State
Edge Defender
First Team: Patrick Jones II, Pittsburgh
Jones led the conference with 62 total pressures, getting home with 10 sacks, eight QB hits and another 44 hurries, disrupting passing lanes almost at will. There aren't many flaws in his game as he recorded multiple pressures in every single contest in what has become a breakout season for Jones. He rushed the passer on 391 snaps, winning on 18.3% of those and beating 14 additional defenders as he consistently was the better player against the lineman in front of him. Jones also secured 20 stops against the run and forced four fumbles overall in 2019, the latter figure ranking first among conference edge defenders.
Second Team: Gregory Rousseau, Miami
Third Team: Alton Robinson, Syracuse
Honorable Mention: Noah Taylor, Virginia
Interior Defender
First Team: Marvin Wilson, Florida State
Before he was shut down for the season, Wilson led the nation's interior defensive linemen in total QB pressures, finishing the year as the highest-graded interior lineman in the conference. He racked up 26 pressures, good enough to still rank fifth despite playing in just nine games. In total, Wilson grabbed five sacks, six QB hits and 15 more hurries but affected the passing game in more ways than that, breaking up a conference-best four passes at the line of scrimmage. With 20 stops against the run on just 218 run-defense snaps, his process against the run also is nothing to dismiss, but his pass-rushing is where he was most dominant in 2019.
Second Team: Jalen Twyman, Pittsburgh
Third Team: Eli Hanback, Virginia
Honorable Mention: Alim McNeill, NC State
Interior Defender
First Team: Aaron Crawford, North Carolina
Doing it completely different than his counterpart here, Crawford was the nation's top run defender at the position, leading all FBS interior defensive lineman in run-defense grade at 91.6. He brought home 26 run stops on 292 snaps against the run, the former figure ranking fifth in the country as he missed just four of his 46 tackle attempts in the run game. What sets him apart from other top run defenders in the conference and at the national level was the fact that he also brought a ton of value against the opponent's passing attack. Crawford racked up 16 total pressures, including three sacks, six QB hits and another seven hurries while forcing another two fumbles in what was a dominant final year in Chapel Hill.
Second Team: Cory Durden, Florida State
Third Team: Tyler Davis, Clemson
Honorable Mention: Dashawn Crawford, Virginia Tech
Linebacker
First Team: Rayshard Ashby, Virginia Tech
Ashby was a dominant three-down linebacker for the Hokies in 2019, recording plus-grades across the board but dominating against the run. He led every conference linebacker by some margin in run-defense grade, finishing with a 90.9 for the season as he brought in multiple defensive stops in every contest and even had double-digit stops in two different games. He was simply a tackling machine — on 109 attempts, he brought down 79 solo tackles and 17 assisted tackles. In coverage, he allowed a reception of longer than 20 yards just once and that only went for 25 yards. Improving his grades in nearly every facet from a year ago, it'll be no shock to see Ashby firmly planted on our preseason all-conference list come next fall after the dominant level of play he showed in 2019.
Second Team: Kylan Johnson, Pittsburgh
Third Team: Chazz Surratt, North Carolina
Honorable Mention: James Skalski, Clemson
Linebacker
First Team: Isaiah Simmons, Clemson
Simmons flies all over the field for the Tigers and flies all over the field incredibly efficiently, finishing the season with just five missed tackles on his 60 tackle attempts. As a blitzer, he recorded 23 total pressures on just 47 pass-rushes, including seven sacks, two QB hits and 14 more hurries. Even with two touchdowns allowed in his coverage, he made multiple plays on the ball, limited receivers to just 38 yards after the catch and didn't allow a reception longer than 30 yards all season long. He finishes the regular season with the ACC's best tackling grade, second-best run-defense grade and second-highest pass-rush grade among linebackers.
Second Team: Shaquille Quarterman, Miami
Third Team: Cam Bright, Pittsburgh
Honorable Mention: Dorian Etheridge, Louisville
Cornerback
First Team: Caleb Farley, Virginia Tech
No ACC cornerback finished with a higher grade both overall and in coverage than Farley in 2019, as he secured elite grades in both facets. The primary coverage defender on 50 targeted passes, Farley allowed just 19 receptions and just 88 yards after the catch while nabbing four interceptions and nine pass breakups on his own. In total, he allowed a passer rating of just 29.2 into his coverage, leading all conference defensive backs who saw at least 35 targets into their coverage. It was a sticky brand of coverage that he played, but he played it terrifically, paving the way for multiple victories on the heels of the Hokies' coverage prowess.
Second Team: A.J. Terrell, Clemson
Third Team: Damarri Mathis, Pittsburgh
Honorable Mention: Michael Carter II, Duke
Cornerback
First Team: Jermaine Waller, Virginia Tech
Speaking directly to that coverage prowess held by Virginia Tech, Waller finished with the conference's second-highest coverage grade, fielding similar figures to his teammate in Farley. On the 51 targets sent his way, Waller allowed just 20 receptions as the duo combined to allow just 38.6% of passes thrown their way to be caught all year. Waller allowed a few touchdowns but made up for that with 11 total plays on the ball, including three interceptions and eight more pass breakups while allowing receivers to gain just 63 yards after the catch into his coverage. He chipped in with multiple sacks on blitzes and missed very few tackles all season long, as he turned into a valuable three-down cornerback before our eyes.
Second Team: Storm Duck, North Carolina
Third Team: Asante Samuel Jr., Florida State
Honorable Mention: Chandler Jones, Louisville
Safety
First Team: Tanner Muse, Clemson
Flying around the backend of one of the nation's top defenses is Muse, as he put forth dominant stat lines in nearly every contest, no matter where he lined up. Muse racked up 124 snaps as a free safety roaming the field, 241 snaps lined up within eight yards of the line of scrimmage in the box, 68 snaps tasked with slot cornerback responsibilities and even chipped in with 11 snaps lined up as a pass-rusher on the edge of the defensive line. Deployed almost at will, Muse earned that level of freedom by finishing as the only ACC defender with grades of 77.2 or higher in run-defense, tackling, coverage and pass-rushing. He brought down six pressures on just 12 blitzes, secured 48 tackles with just two missed attempts, made seven total plays on the ball (4 INT, 3 PBU) while allowing just seven receptions and recorded 15 stops in run defense.
Second Team: K'Von Wallace, Clemson
Third Team: Gurvan Hall Jr., Miami
Honorable Mention: Tariq Carpenter, Georgia Tech
Safety
First Team: Hamsah Nasirildeen, Florida State
Finishing the season with plus-grades everywhere, Nasirildeen was the Seminoles' best player in the secondary by a long shot and even one of the best safeties in the ACC just as he was across the country. He recorded 19 total defensive stops and had four games in which he brought in double-digit solo tackles. Tasked with some interesting coverage assignments, he didn't allow a touchdown all season long and made two interceptions, including one of the more acrobatic plays of the year when he re-established himself in bounds and caught what looked to be an intentional throwaway pass by Trevor Lawrence as the lone FSU highlight in their game against Clemson. Over his final eight games, Nasirildeen allowed just eight catches for 68 yards and made an interception, a pass breakup and forced three more incompletions as he dominated in coverage.
Second Team: Juanyeh Thomas, Georgia Tech
Third Team: Nasir Greer, Wake Forest
Honorable Mention: Marquis Waters, Duke
Flex Defense
First Team: Paris Ford, Pittsburgh
Ford plays a brand of football seldom seen in today's landscape as he lays the hits on the opposition almost routinely. He brought down 20 defensive stops in the run game to rank second among all ACC safeties, recording a stop on 7.5% of his snaps. He diagnosed plays quickly and made quick cuts to ball carriers and receivers just the same, as he was truly one of the country's best ballhawks at the position. He made the second-most total tackles at the position but led the conference's safeties with 31 total defensive stops. With three forced fumbles and three interceptions to his credit in coverage alone, Ford allowed a passer rating of just 56.9 into his primary coverage, allowing 15 receptions on 30 total targets with 10 plays on the ball himself.
Second Team: Charles Snowden, Virginia
Third Team: Dane Jackson, Pittsburgh
Honorable Mention: Stanford Samuels III, Florida State
Kicker
First Team: Nick Sciba, Wake Forest
Sciba knocked home all 44 extra-point attempts and missed just one field goal attempt this year as he was perfect from the intermediate range of the field. He finishes as by far the highest-graded kicker in the ACC in the process as he knocked home 19-of-19 kicks from inside 40 yards while making 5-of-6 from 40-plus yards.
Second Team: Christopher Dunn, NC State
Third Team: AJ Reed, Duke
Honorable Mention: Brian Johnson, Virginia Tech
Punter
First Team: Sterling Hofrichter, Syracuse
Hofrichter finishes not only as the nation's highest-graded punter but as one of the nation's best at pinning opponent's deep in their own territory, as well. He allowed just 13 yards on punt returns all year long as just 10 of them were even attempted to be returned, and he pinned opponents inside the 20 on 30 of his 69 total punts this season. His net punt average nearly reached his total punt average, with the latter mark of 43.7 yards being the country's top figure among qualified punters. Hofrichter utilized his strong leg to become a vital part of Syracuse's special teams, and he averaged the country's best average hangtime at 4.50 seconds in 2019.
Second Team: Dom Maggio, Wake Forest
Third Team: Kirk Christodoulou, Pittsburgh
Honorable Mention: Trenton Gill, NC State
Kick Returner
First Team: Joe Reed, Virginia
Reed ripped off two touchdowns on kick returns this season, averaging 35.3 yards per attempt and seeing a long of 103 go his way. He totaled 777 yards on his 22 returns and was by far the ACC's highest-graded returner as he led the conference in every major category.
Second Team: Damond Philyaw-Johnson, Duke
Third Team: Hassan Hall, Louisville
Honorable Mention: Travis Levy, Boston College
Punt Returner
First Team: K.J. Osborn, Miami
Osborn's influence on his new team was not just limited to his receiving abilities, as the Buffalo transfer finished with 154 yards on nine punt returns but secured 11 fair catches without a single muffed attempt. He led the conference with an average of 17.1 yards per punt return as he was a threat to take any return home all year — he just needed a few more attempts.
Second Team: Tayvion Robinson, Virginia Tech
Third Team: D.J. Matthews, Florida State
Honorable Mention: Maurice Ffrench, Pittsburgh