As college football stumbles its way into the starting blocks, we've decided to take a look at 10 ideas, predictions and thoughts about the season — mostly centered around the Power Five conferences still slated to play this fall. The Big Ten and Pac-12 are off the books for now, but the SEC, ACC and Big 12 are forging ahead into uncharted waters.
With PFF's new college football subscription options, you can also look into the future and predict what might happen in this unprecedented season. Dive into grades for every FBS player as well as our advanced stats database, which NFL junkies already know is worth every penny.
1. Alabama is going to be just fine
Even with all the hullabaloo surrounding Bryce Young, who may turn out to be a fine college football player, Mac Jones will start at quarterback — and the Crimson Tide will not miss a beat.
Losing Tua Tagovailoa, who went fifth overall in the 2020 NFL Draft to the Miami Dolphins, and two receivers picked 12th and 15th is still a great deal of lost production. But with Jaylen Waddle and Devonta Smith back, Jones is still insulated nicely. Jones is also a legitimately good player. He's not quite Tua Tagovailoa, but there's a strong technical side to his game, including an ability to find the open receiver. In reality, all Jones has to do is get the ball in Waddle or Smith's hands, and they'll do the rest.
Waddle's average of 12.4 yards after the catch per reception and Smith's mark of 11.7 yards were the second- and fourth-best marks, respectively, for any receiver last season with over 25 targets.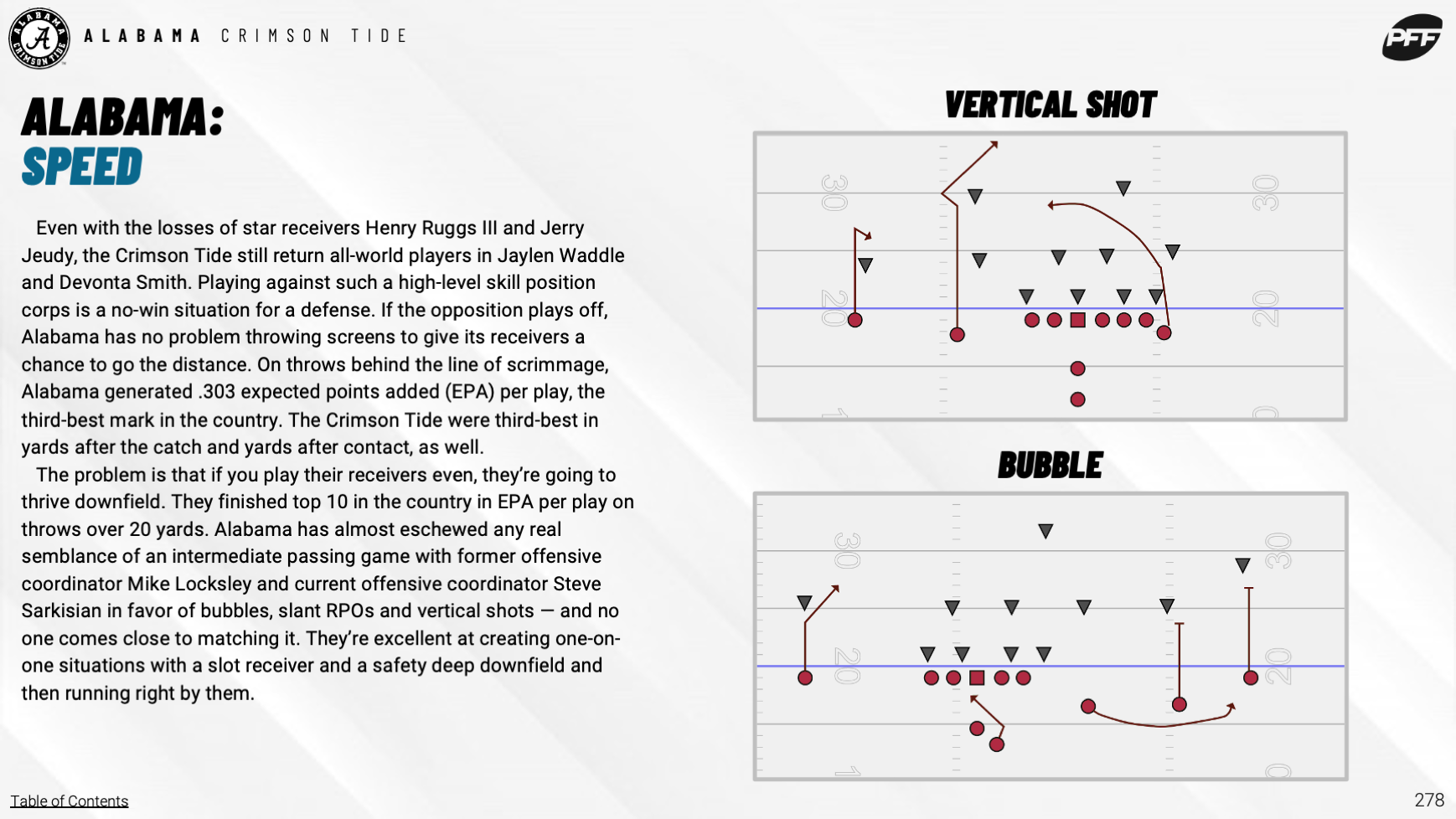 2. The ACC gets vertical
Removing screens, RPOs and rollouts, there are three ACC schools in the top 11 in average depth of target and five in the top 18. Really, you could remove the top four schools (Navy, UNM, Kentucky and Air Force), as they are triple-option teams. North Carolina leads the way with a whopping average depth of target of 16 yards, followed by Louisville at 15.8 yards and Clemson at 15.6 yards.
Virginia Tech and Georgia Tech round out the ACC's foothold in this stat category. One way any ACC team can upset and possibly usurp Clemson as the conference champion is through the air. Creating big plays in the passing game, as North Carolina and Louisville can, will be paramount to upsetting Clemson. Tar Heels quarterback Sam Howell hit 29 big-time throws on deep passes last season — the fifth-most in the country.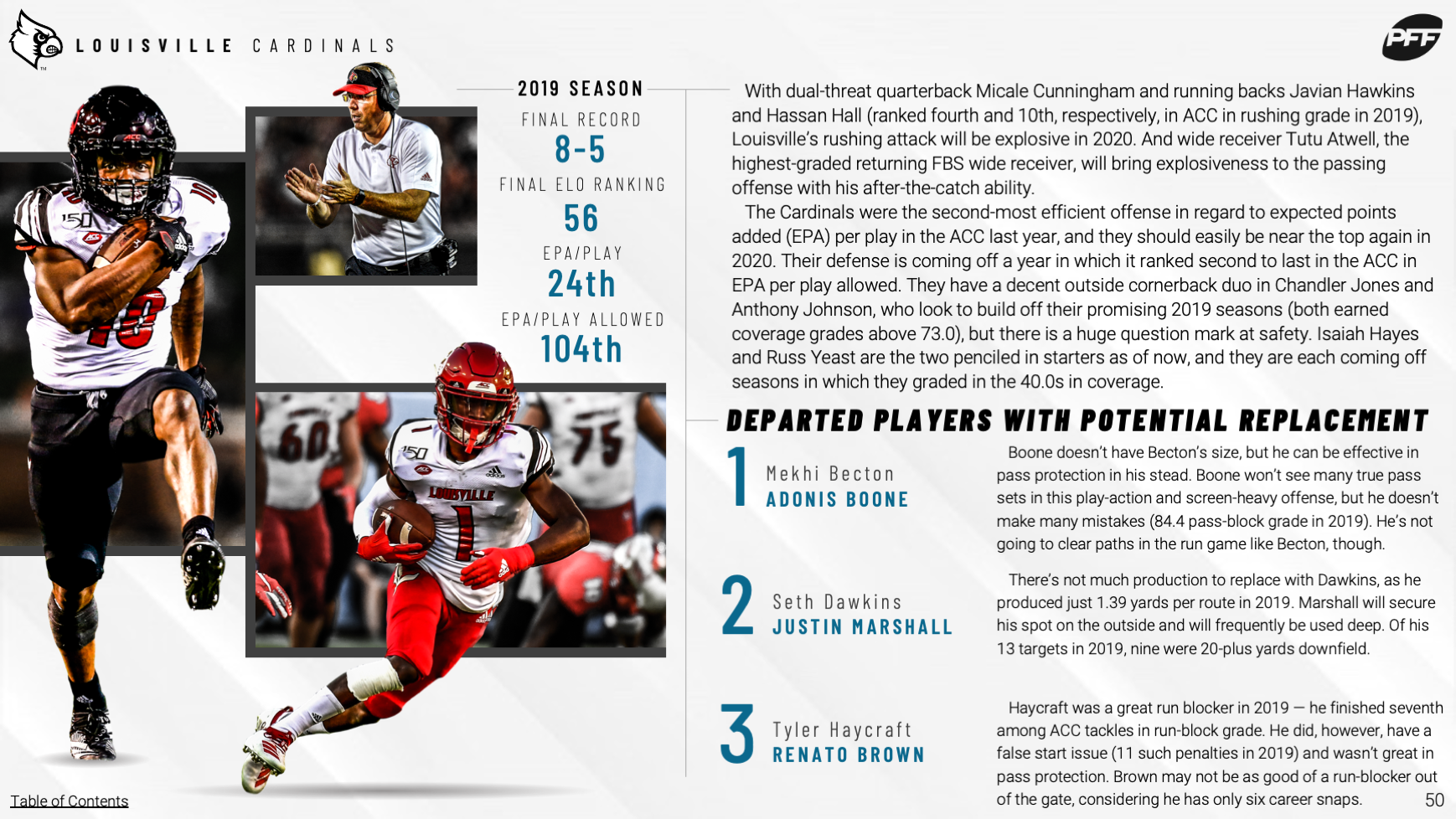 3. "Set. Hut. Throw the Ball to Ja'Marr"
Those are the words that came out of Coach Ed Orgeron's mouth on a recent Off The Bench episode on Baton Rouge radio. It's always going to be hard to suss out how much of Chase's 2019 season needs to be credited to Joe Burrow's accurate passes, but that doesn't make what he did any less incredible.
With a new, and most likely less accurate, quarterback in Myles Brennan, Chase will still be the dominant player he was a season ago. He led the country in catches with a defender on his back, so even if the ball placement is worse, he's shown he can still survive. Chase was our fourth-highest graded player when targeted on slant routes in 2019. He can win quickly off the line against man coverage and get enough separation early in the route. When you have to rep against Derek Stingley Jr. in practice, you have to bring your A-game every day.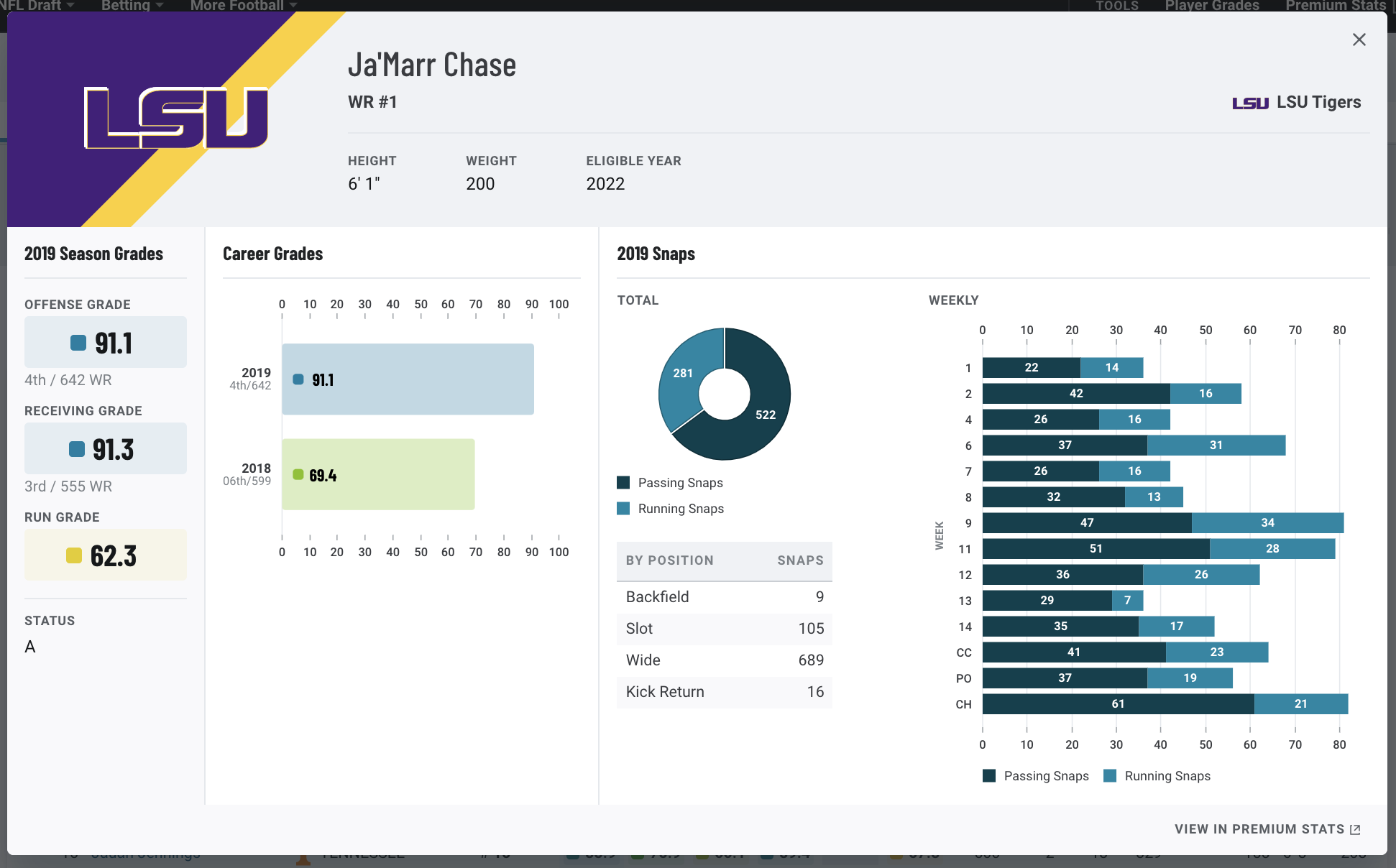 4. The Trask Conundrum
Kyle Trask was a darling of college football last season. Coming off the bench after not starting since the invention of the forward pass, Trask led the Gators to 10 wins in 12 appearances, and his box score stats looked impressive. Almost 3000 yards thrown with 29 touchdowns to only seven interceptions is great on the surface level. Putting a magnifying glass to that stat line reveals a few cracks, though.
Trask finished with the 12th-most turnover-worthy plays in the FBS. He also couldn't hit enough accurate plays down the field, as evidenced by his nine big-time throws — a total that ranked 106th in the country. This is not meant to take away from a remarkable story and narrative surrounding Trask's football career. He really does deserve all the accolades he's getting from the media. The question is whether a big-time box score stat regression is on the horizon for the Florida quarterback. In our eyes, it is.
5. The AAC graduates it's top talent once again
It's still early days for a conference that played its first games in 2013 as the American Athletic Conference — and not under the Big East moniker — but the AAC has already seen a lot of its top offensive coaching talent go on to bigger and brighter things at the Power Five level.
The three big names who left the AAC for greener pastures in 2020 are Mike Norvell, who went from head coach at Memphis to head coach at Florida State; Jeff Lebby, who went from UCF's offensive coordinator to Ole Miss' offensive coordinator; and Rhett Lashlee, who went from SMU's offensive coordinator to Miami's offensive coordinator. All three have unique styles.
SMU led the country in RPO throws last season, Norvell's Tigers led the country in unbalanced formations and the Golden Knights threw the ball at a higher average depth of target on dropback passes than all but five FBS teams (four of which are triple-option teams).
6. RPO rates continue to climb
We have data on RPOs going back to 2016, and the total number of RPOs has increased substantially every year since then. The total number of RPO throws targeted at least 2 yards past the line of scrimmage have increased, as well. Slant routes are the new bubble screens — they've also increased as a percentage of total throws.
Since 2016, these throws have gone from ~4% to ~5% to ~6% to ~7% in subsequent seasons. This is where the modern college offense is right now. It's not just about giving the quarterback the ability to throw a screen pass behind the line of scrimmage like we had seen in the past. New football is all about giving the quarterback the tools to read linebacker or safeties for downfield throws.
7. Airing it Out
Speaking of throwing the ball, first-down passing rates are also rising, albeit slowly. First-down passing rates rose about 3 percentage points from 2015 to last season, and I believe we are just seeing the beginning of this trend.
Quarterbacks are being privately trained by positional gurus at such a young age that they already have the reps necessary to compete for a starting job and the ability to throw completions by the time they arrive on campus. First-down passing has also seen an efficiency increase. In 2019, the FBS average for yards per attempt broke 8 yards for the first time. The kids are throwing it more, and at a higher level, than ever.
8. Odds and Ends
While the modern college football offense involves some sort of downfield RPO, the modern college football defense has evolved in response to those trends. The usage of odd fronts has been increasing steadily since 2015. In general, "odd" means there are only three defensive linemen — a response to the inside-zone running games and the RPOs that have infiltrated the sport.
The "tite" front, a specific odd front, has become all the rage that it seems like most teams made it their base defense in 2019. And that number is expected to rise yet again in 2020. Playing three linemen between the four interior gaps eliminates zone runs by not allowing double teams to occur naturally. It frees up outside linebackers to stay in RPO windows and forces teams to hand the ball off.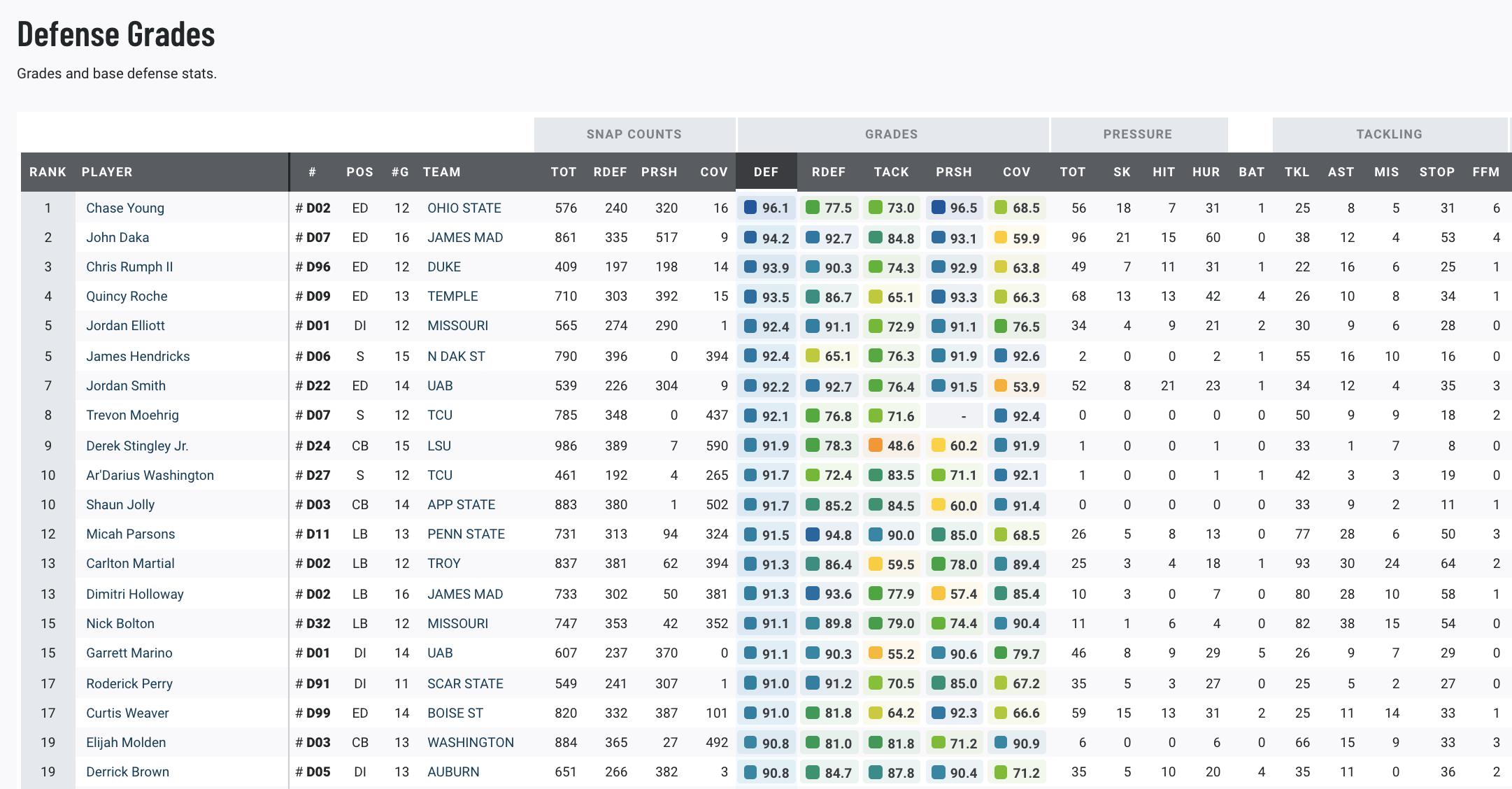 9. Return of the Raid
Mike Leach is back in the SEC two decades after he and Hal Mumme lit the conference on fire at Kentucky running the never-before-seen Air Raid. Wildcat quarterback and future NFL bust Tim Couch still ranks second and 10th all-time in the SEC single-season passing record book even after the Air Raid spread to all corners of the college football world.
Leach is paired with veteran quarterback K.J. Costello, a Stanford transfer. He also inherits one of the SEC's premier running backs in Kylin Hill. Leach gave running back Max Borghi 131 carries last season to complement his 98 targets. Hill topped out at 29 targets in 2018, but his 2019 rushing grade puts him just behind Alabama's Najee Harris in terms of returning ball carriers in the SEC. How Leach treats his superstar running back will be interesting to watch.
10. Another New Face in Norman
Lincoln Riley took over as head coach at Oklahoma in 2017, and all he's done since then is produce two Heisman-winning quarterbacks and another Heisman finalist. In 2020, he'll start his fourth different quarterback, with Spencer Rattler leading the Sooners. Rattler comes with a lofty pedigree — he was a five-star recruit and the top-ranked pro-style quarterback from the class of 2019, according to 247Sports.
Riley will create a comfortable environment for Rattler, as his offenses do everything in their power to ease pressure on the quarterback. About 42% of Jalen Hurts' throws in 2019 were off play action, one of the highest rates in the country. Riley also doesn't ask his quarterbacks to throw too often in the middle of the field, where reads can get muddied, nor does he only safeguard his quarterback with the offensive linemen, electing to keep running backs and tight ends in protection as often as possible. Could Rattler make it 4-for-4 for Oklahoma to cement their status as QBU?