There is no universal developmental curve for NFL prospects. Every year there is a prospect, like Kentucky's Jamin Davis, who went from backup to starter to first-round pick all within the course of a year.
While it's only been two games, A number of players keep popping up on film and in the PFF grading despite not being on my radar as prospects to watch heading into the season.
These are the 10 biggest breakout prospects through two games.
---
Click here for more PFF tools:
Rankings & Projections | WR/CB Matchup Chart | NFL & NCAA Betting Dashboards | NFL Player Props tool | NFL & NCAA Power Rankings
---
Levis struggled so much in his time at Penn State that he lost the job to Sean Clifford of all people. Now, he's making Penn State wish they had a do-over, as his 91.2 overall grade is the third-highest of any quarterback in the country. In addition, he has led the Wildcats to a 2-0 record. Maybe more importantly, Levis has legit tools. He can not only sling it deep…
WILL LEVIS HAS A CANNON ????#CFB

— PFF College (@PFF_College) September 12, 2021
But he also is a handful when he gets going as a runner at 232 pounds.
QB1 and a bulldozer ???? @will_levis

???? @SECNetwork https://t.co/69ivXNaRfd pic.twitter.com/kFDEKgQKeZ

— Kentucky Football (@UKFootball) September 12, 2021
Yes, it's only two games, but Levis has firmly established himself as a quarterback to monitor.
Yet another player giving his former school some serious regrets. Charbonnet had a big freshman year at Michigan, as he ran for 726 yards on 149 carries with 11 scores before falling out of favor as a sophomore. He transferred into Chip Kelly's offense at UCLA, where he's flourished through two games. On only 17 carries, Charbonnet has gained 223 yards with 14 broken tackles. Running behind one of the best offensive lines in college football, Charbonnet is going to put up monster numbers this season, which is why he's going to be shooting up boards in a relatively weak running back class.
Zach Charbonnet, have a DAY????

— PFF College (@PFF_College) August 28, 2021
Walker is also a transfer who came over from Wake Forest last offseason, where he carried the ball 217 times in two years. He was a Week 1 star, as he rolled all over Northwestern's defense for 264 yards and four scores on 23 carries.
Journey to the Draft Podcast

Game Ball: RB Kenneth Walker III

23 carries for 264 yards & 4 TDs vs Northwestern. Variety of zone/gap schemes. Consistently makes defenders miss. Good vision. Sharp cuts.

Walker is a Wake Forest transfer – 13 TDs in 2020!https://t.co/eBOY4Uch1Z pic.twitter.com/XyNrY2Cmu8

— Ben Fennell (@BenFennell_NFL) September 8, 2021
At 5-foot-10, 210 pounds, he's an all-around back who can make defenders miss as easily as he can run through them. On 30 carries this season, Walker has already broken 15 tackles. Knowing Michigan State's offense, they'll ride Walker all season long.
KENNETH WALKER CANNOT BE STOPPED ????

(via @MichiganStOnBTN)

— 247Sports (@247Sports) September 11, 2021
After facing Illinois and Lamar, Franklin already has 232 yards, two touchdowns and seven broken tackles on 14 catches. He has uncoachable suddenness and fluidity at the top of his routes, which is great to see from receiver prospects. He also makes it look so effortless with the way he plucks the ball out of the air, accumulating just five drops on 106 career catchable passes.
Really impressed by @UTSAFTBL WR Zakhari Franklin

Converted multiple 3rd and longs in win vs. Illinois – just knows how to separate and catches everything pic.twitter.com/RbFHczK2sZ

— Connor Rogers (@ConnorJRogers) September 8, 2021
He's been getting open ever since his freshman year at UTSA but is finally starting to get featured heavily in the offense.
The man tabbed to fill Elijah Moore's role in the slot, Drummond has yet to disappoint.
Dontario Drummond had a big game last night. A name to watch as this season continues. He seems to be Corral's top target.

• 8 catches
• 168 yards
• 1 TDpic.twitter.com/GOm6qN2xHl

— Damian Parson ???? (@DP_NFL) September 7, 2021
He was an afterthought on the outside over the past two seasons, recording only 67 targets on 492 routes, but he already has 18 targets on 61 routes from the slot. He's made the most of them, too, posting 15 catches for 284 yards, three scores and six broken tackles. At 6-foot, 215 pounds, he's built more like a running back than a wide receiver.
Still thinking about this throw and catch from Monday night. #OleMiss

The confidence and arm talent from QB Matt Corral. ????

The hands and focus from WR Dontario Drummond. ???? pic.twitter.com/HzWDV8OL27

— Dane Brugler (@dpbrugler) September 9, 2021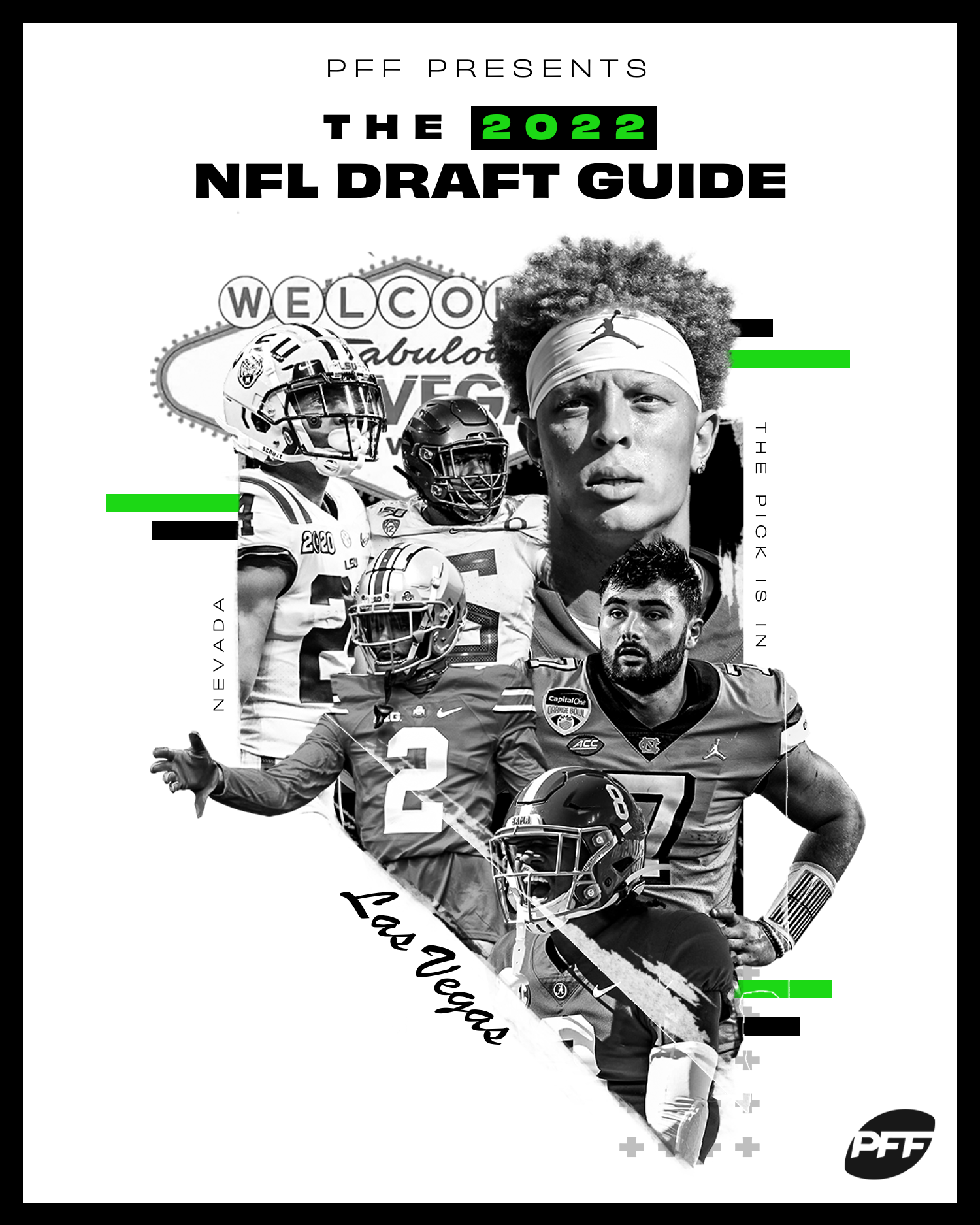 When talking with Herm Edwards this offseason, he raved about how talented Dietsch was on the left side. When trying to bring up fellow linemate Dohnovan West — who is a talented prospect in his own right — Edwards turned the conversation back toward Dietsch.
Now we see why.
Diesch has a 91.9 overall grade through two games while only allowing one hurry on 66 pass-blocking snaps. His play strength is much improved from a year ago, which has been massive for his stock. He doesn't have much experience with only 521 career snaps between Texas A&M and Arizona State, but that won't matter much if he balls out like this the rest of the year.
Arizona State LT Kellen Diesch (#74) has looked good in his first two starts this season.

+ Balanced and agile feet.
+ Poised pass sets.
+ Good body control and short area movements.
+ Moves to the second level effortlessly. pic.twitter.com/7GzvOiP4Al

— Gavino Borquez (@GavinoBorquez) September 12, 2021
Dorlus only started seeing real playing time in 2020 but as an undersized defensive tackle, he saw his fair share of struggles in the run game. The now 6-foot-3 and 284-pounder has finally come into his own in Year 2 and has been a wrecking ball through two games. You can maybe chalk up his dominance over Fresno State as a product of the competition level, but his four pressures against Ohio State were legit. He's earned an 87.5 overall grade through two games and is rising up boards.
Nice tackle by @DB_BucksFB alum & #Oregon #Ducks DE Brandon Dorlus (@brandon_dorlus) vs #OhioState pic.twitter.com/A93Q5yHphe

— IG: @SleeperAthletes (@SleeperAth1etes) September 11, 2021
Agude may have been higher in people's minds heading into 2021 if his first season after transferring from junior college wasn't shortened by COVID. He earned an 83.6 overall grade a year ago, but it came on only 285 snaps. Now, through two games in 2021, Agude has put up a 91.3 overall grade while being nearly unblockable in every facet of the game.
Mitchell Agude with the euro/swipe (side scissors)@OfficialAgude sets his rush up with a euro step, then swipes the blocker's hands away as he punches. Have a plan & beat the hands! #ucla #gobruins #passrush

via yntblok/IG pic.twitter.com/xGZjSoNLlT

— DLineVids (@dlinevids1) September 5, 2021
The senior has three sacks, two hits, six hurries, and five run stops on only 81 snaps! That's called stuffing the stat sheet. Agude may be a tad slim still at 6-foot-4, 245 pounds, but he has an ideal frame to add mass and play on the edge in the NFL.
The Hawkeyes — and specifically their defense — have been one of the talks of college football. The Hawkeyes defense stymied two of the best offenses they'll face all season in Indiana and Iowa State in the first two weeks. Jacobs' emergence has been a big part of that. He's earned a 91.3 run defense grade and 79.1 coverage grade through two weeks. He's a long 6-foot-4, 236 pounder who often fills the overhang/slot role in Iowa's defense. The redshirt sophomore is exactly the type of athlete and body type the NFL covets at the linebacker position.
Iowa Football LB Jestin Jacobs showed Saturday he's capable against the run or in coverage pic.twitter.com/vu0dPGP3jE

— Rob Howe (@RobHoweHN) May 3, 2021
You won't see a ton of defenders in college football with Cross' size-speed combination. He is a stout 6-foot-1, 210 pounds and can range with the best of them on the back end.
Here's another look at the coverage from safety Nick Cross and cornerback Tarheeb Still on third down:pic.twitter.com/C0FprKWYzD

— Matt Levine (@MattLevine__) November 7, 2020
Coming out of high school, Cross ran a 4.48 at 208 pounds and was a part of Maryland's track team as a freshman, running the 60m and 200m. While he's been starting ever since his true freshman year in 2019, Cross only played in four games last season. This year, he's been everywhere for Maryland's defense, notching a pick, pass-breakup and two stops in two games.
After its offense turned the ball over on 4th down, Maryland's defense gets the job done.

Defensive back Nick Cross comes up with the Terps' first interception of the season. pic.twitter.com/YaOf8rrhAQ

— Testudo Times (@testudotimes) September 4, 2021