After a 3-1 start to the season and a convincing victory over Tennessee, Florida Gator fans believe they may have found their answer to the coaching carousel and this weekend, head coach Dan Mullen and the Gators head to Starkville to face a familiar foe in Mississippi State, the program Mullen ran for nine seasons.
This Florida feature is brought to you Eckrich, the Official Smoked Sausage of the Florida Gators.
Mississippi State has a solid defensive unit and a multi-faceted offense ran by Nick Fitzgerald and Co. who may be the best team that the Gators will have faced to date. Florida will have to contain Fitzgerald and the Mississippi State ground game, and for the Gators and their fast, physical and downhill defense, the linebackers take center stage.
The impact David Reese made last weekend was palpable. In his first game back from injury, Reese tallied a 74.7 run-defense grade, four solo tackles and three run stops. He was also targeted three times in pass coverage and didn't allow a single catch. A season ago, his 13.9 percent run-stop percentage ranked second in the SEC and him rounding back into form will be crucial going forward.
Reese has a partner on the field as well in Vosean Joseph who was Florida's fourth-highest graded defender against the Volunteers last weekend at 82.0 and put forth a solid all-around game. He posted five tackles, four run stops and didn't allow a catch on 25 coverage snaps. On the season, Joseph leads the team in tackles with 18 solo and has allowed a 69.1 passer rating when dropping into coverage (77 total coverage snaps).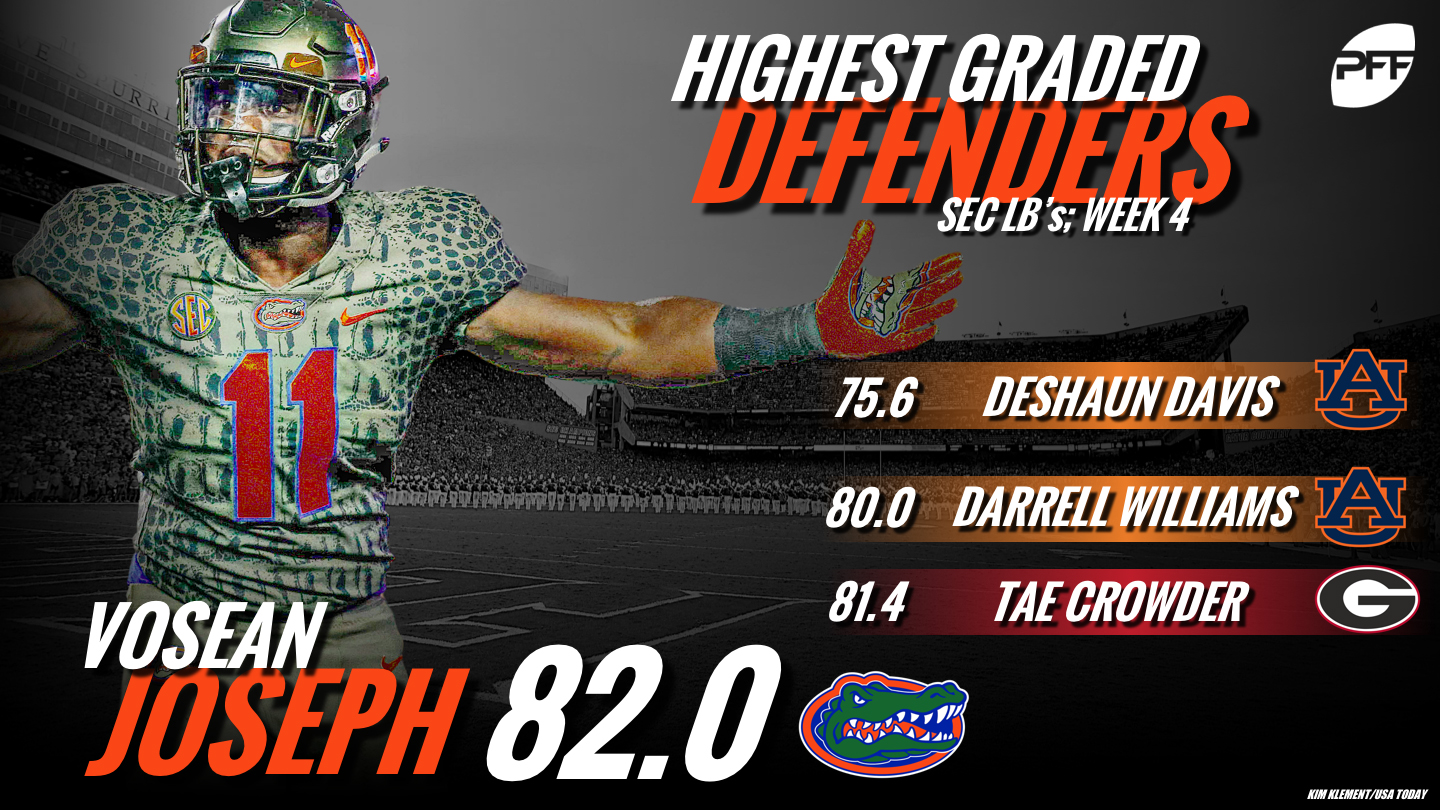 With the aforementioned duo and the complementary play of Rayshad Jackson and James Houston IV, the Gators linebacking corps is in a good shape to stop the potent Mississippi State rushing attack.
With all of the familiarity between Mullen and the Bulldogs, some of the on-field matchups will have a heavy hand in determining the outcome of this game.
Nick Fitzgerald vs Pressure
It just doesn't end for Fitzgerald, the talented and deceptively-speedy Mississippi State quarterback. Last weekend, he faced a brutal Kentucky front led by Josh Allen. This week, he gets the Florida front led by Jachai Polite. Keeping the quarterback clean in the pocket is the goal for every team, every week, on every play, but it is amplified at Mississippi State. When Fitzgerald is kept clean, he has a 106.6 passer rating, a 64.2 percent adjusted completion percentage and a 3:1 touchdown-to-interception ratio. When Fitzgerald gets pressured, those numbers plummet to a 25.8 passer rating, a 47.8 percent adjusted completion percentage and a 1:2 touchdown-to-interception ratio.
Polite and Jabari Zuniga both rank in the top 10 in pass-rush productivity among edge defenders in the SEC and have combined for 22 total pressures. The presence of Polite and Zuniga getting after Fitzgerald will clearly have a big impact in not only the signal-caller's performance but the game in its entirety.
Jeffery Simmons vs Tyler Jordan/Nick Buchanan
Simmons is one of the top interior defensive linemen in the nation, highlighted by his 90.0 overall grade, ranking him sixth in the nation. He has totaled nine pressures and 11 run stops and is a mountain in the middle of that defensive line. He has played 83 percent of his snaps from nose tackle or right defensive tackle spot, so he will get acquainted with Florida center Nick Buchanan and left guard Tyler Jordan. This could be troublesome for the Gators as between Gator duo, they have allowed nine pressures and three sacks while posting below average run-blocking and pass-blocking grades.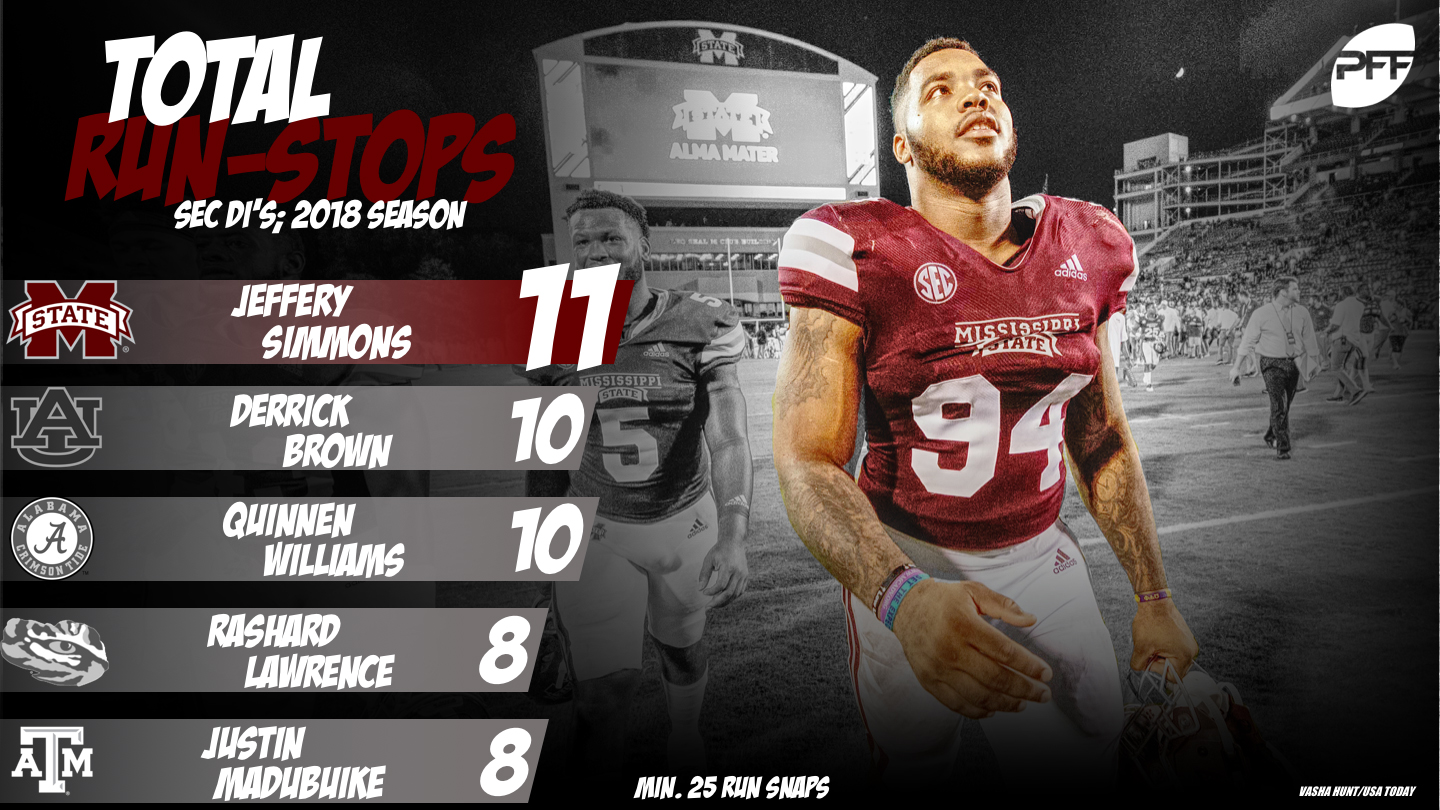 Freddie Swain vs Brian Cole 
These two guns for their respective teams have provided a spark so far as Swain has been a surprising story for the Gators and is tied for the team lead in receiving touchdowns (three) while leading the team in receiving yards (193). Swain has done most of his damage from the slot as he has run 93.8 percent of his snaps in route from the slot and has a mark of 4.20 yards per route run and a 70.0 percent catch rate from the inside.
He will match up with Cole, who has taken 74 coverage snaps from the slot. He has allowed a 57.0 passer rating and 0.61 yards per cover snap, the latter of which ranking seventh in the SEC among cornerbacks with at least 25 coverage snaps from the slot.
Familiarity will be the key when the Gators tangle with the Bulldogs on Saturday but those individual matchups in the trenches and from the slot will go a long way in deciding this final outcome.