One of the first 'real' weeks of college football has come and gone, and with it, we have takes galore. Let's get right to it.
Draft Crush Debuts
Every analyst is always going to have a prospect who they go to bat for more than most. Here at PFF, we call them 'my guys,' and two of those such prospects saw the field for the first time this weekend, and they didn't disappoint.
The first is San Jose State wide receiver Tre Walker, who hauled in 12 catches for 161 yards against Arkansas and forced a couple of pass interference calls, as well. At only 5-11, 180 pounds, Walker doesn't jump off the screen physically, but it's easy to love his next gear down the field and natural feel for manipulating his route stems. With 15 targets on the day, the true junior looks like he's going to be the focal point for San Jose State this season.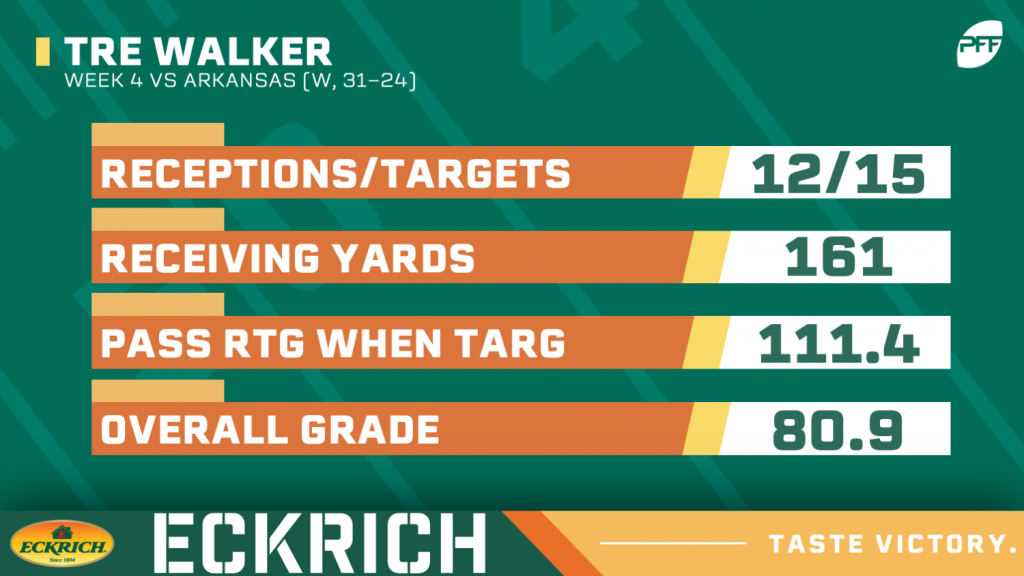 The other 'my guy' took even less time than Walker to change Saturday's game, as Mississippi State linebacker Willie Gay Jr. housed a pick-six on only the fifth play of the game against Kentucky. Listed at 6-2, 240, he's still one of the fastest linebackers in the country, and I fully expect him to run in the 4.4s at the combine. He combines that speed with exceptional feel in zone coverage and ball skills. After earning a 900.0-plus coverage grade last season, Gay earned a 95.6 on Saturday.
Top Prospect Matchup Report
Andrew Thomas vs. Julian Okwara and Khalid Kareem
Thomas had only 11 true pass sets on the day, which is a low number yet reasonably common of the Georgia offense. On them, Thomas excused himself alright. He whiffed on one inside move from Khalid Kareem and ceded ground into Jake Fromm's lap on a two-handed bull-rush from Okwara. He also son'd Okwara, throwing him nearly to the turf when passing off a stunt. What we saw from Thomas should definitely be seen as encouraging — for a true junior as inexperienced as Thomas is to hold his own against a couple of seniors as talented as Notre Dame's duo is no small feat. The fact that Okwara and Kareem weren't completely shut out means this isn't a loss for them, as both did work against right tackles Cade Mays and Isaiah Wilson. The biggest takeaway for Okwara though might be his run defense —or lack thereof — where he earned a 34.5 grade this past week.
Small School Watch
S Ceneca Espinoza Jr., Liberty
The redshirt junior is having a season so far that deserves some serious recognition. Through four games, he's earned a 92.6 coverage grade with four straight games over 70.0. On 10 targets so far, he's allowed six catches for all of 15 yards while collecting two picks and two pass breakups, as well. His first pick this season against Syracuse was one of the more impressive from a safety I've seen all year, as he tracked the slot vertically, got his head around, and hauled it in. While it's still a small sample size, Espinoza is a name to watch going forward.
QB Tyler Johnston III, UAB
On the 'fun to watch' meter, Johnston is right up there with any quarterback in the country. Through four weeks, you can say the same thing about his passing grade, as well. Johnston's 91.3 passing grade is the fifth-highest among starting quarterbacks in the country, and the thing that sets Johnston apart is his ability to throw downfield. He already has 10 big-time throws on only 76 attempts. For comparison, Joe Burrow has 11 big-time throws, but on 128 attempts. The UAB quarterback continually attacks down the field, as 68.4% of his attempts have been targeted past the sticks — the highest rate in the country. While he had an ugly underthrow pick late in the first half this past week, Johnston still went 22-27 for 313 yards and three touchdowns.
Stock Report
Stock up
WR Michael Pittman Jr., USC
When all was said and done, Pittman finished with 10 catches for 232 yards and a score. He also hauled in both contested catch opportunities. His body control at the catch point was probably the most impressive thing about his performance Friday night, but his willingness to use his size advantage along his routes will bode well for him at the next level, as well.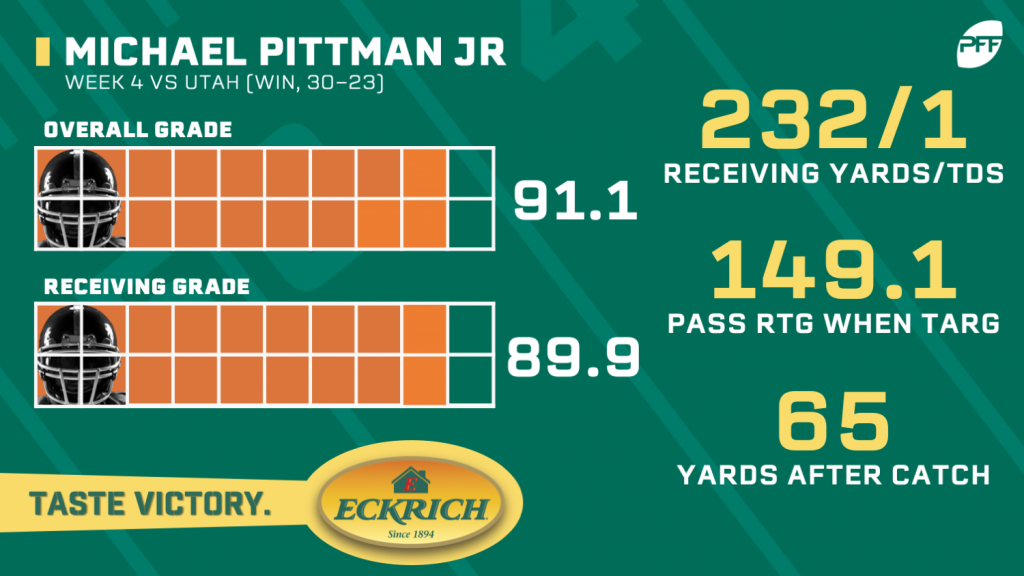 QB Jake Fromm, Georgia
While the final stat line doesn't scream 'impressive,' Fromm consistently made the necessary throws to give Georgia the W against a talented Notre Dame defense. He finished the day with three big-time throws, including two gorgeously placed balls in the end zone in the second half. While we'd love to see Fromm forced to open it up and be forced to 'win' Georgia a game, this was about as good as we'll get in the meantime.
 DI Javon Kinlaw, South Carolina
After a few good-not-great performances to start the season, Kinlaw was borderline unblockable this past week. He notched six pressures on only 23 pass-rushes against Missouri. And it's not simply the wins, it's the speed with which Kinlaw can get home. He's one of the most twitched up 6-6, 310-pound defensive tackles you'll find in the country.
Stock down
CB Darnay Holmes, UCLA
In only his second week back, Holmes looked like burnt toast more often than not in UCLA's thrilling comeback win against Washington State. Even with a pick and a pass breakup, Holmes still only earned a coverage grade of 60.7. The reason being that he allowed 8-of-11 targets to be completed for 148 yards and three scores. Easop Winston Jr. made him look downright undraftable at times at the line of scrimmage.
DI Levin Onwuzurike, Washington
I liked Onwuzurike so much as a breakout candidate heading into the season that he made the top-30 on PFF's draft board. The breakout has been stuck in stall for four weeks though, as he's never quite put it together for a full game. On 37 snaps against BYU this past week, he earned his fourth straight game grade in the mid-60.0's. For someone as athletic as Onwuzurike on the interior who flashed dominance last season, we thought we'd see more than nine pressures so far.
WR Kendrick Rogers, Texas A&M
To be fair, we weren't particularly high on Rogers coming into the season, but he's done little in the Texas A&M offense to change our minds. The tape shows a limited ability to separate, and outside of some highlight-reel catches, he hasn't been anything special in contested situations. This past week he caught 4-of-9 targets against Auburn for 45 yards. On all five of his targets against press coverage, he failed to even get off the jam. That's beyond worrisome.