We here at PFF believe in the importance of grading every player, of every team, on every play. However, often times, it is long-since forgotten or not understood how we grade players at each level. Thus, our new series: Beyond the Grade will look at certain position groups in each conference to ascertain and convey to our readers how certain players performed in order to garner their respective season grade.
[Editor's note: The stats mentioned in each player's particular mention are meant to showcase how or why a player received a high grade but are in no means the only reasons why or how each grade was earned. For that, our team of analysts watches and dissects every play from a given season.]
Josh Allen, Kentucky – 92.2 Overall Grade
One of the most impactful players on the football field this season, it's easy to see how Josh Allen was able to earn his 92.2 overall grade. He led all SEC edge defenders with 57 quarterback pressures and combined for 29 sacks and hits. He did so on only played 258 pass-rushes this season, which was just the 15th most in the SEC. His 29.1% pass-rush win percentage easily ranked first in the SEC and was first among Power-5 edge defenders. He also tallied 54 tackles and 51 total stops, both tops in the SEC as well. Allen's ability to use his length and flexibility off the edge gives him an advantage over offensive tackles and led to his extremely successful season that has seen him fly up draft boards.
Jachai Polite, Florida – 90.5 Overall Grade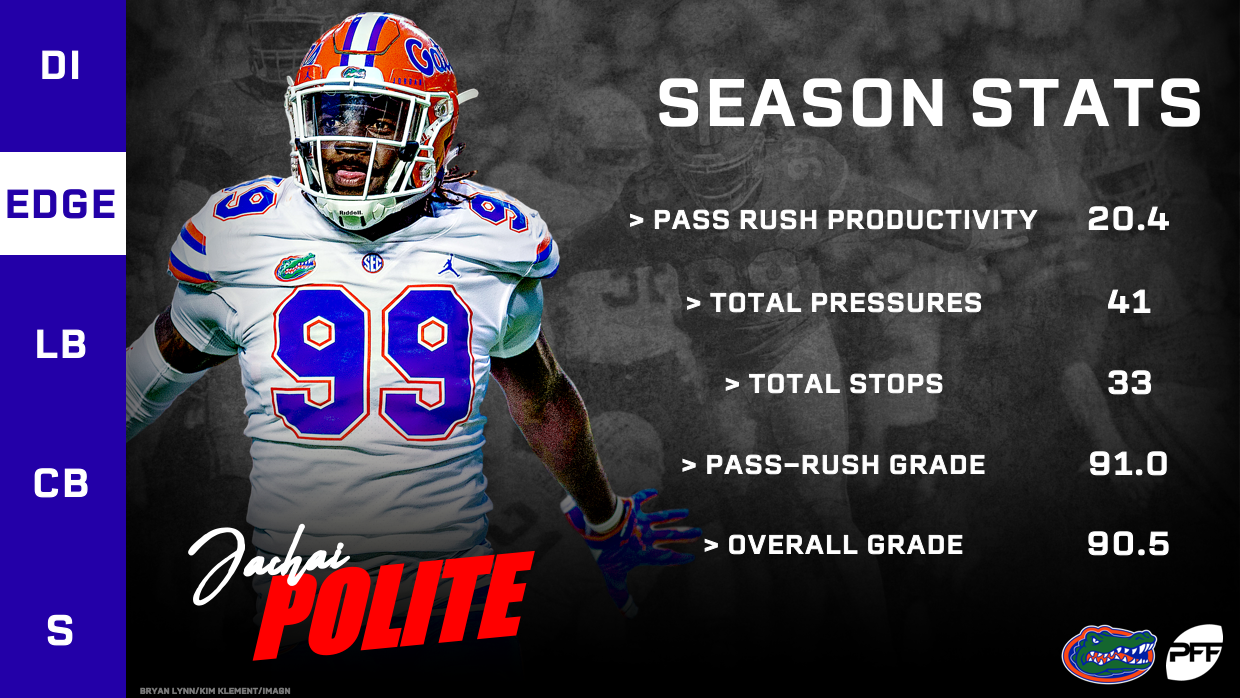 Talk about making the most of a coaching change, Jachai Polite managed to improve in nearly every statistical category from 2017 to 2018. He totaled 41 quarterback pressures, which ranked fourth in the SEC and managed 33 stops which ranked third. Polite consistently used his quick first step off the line of scrimmage to bolt into the backfield, where he was able to locate the ball with ease, which led to five forced fumbles, tied for first in the SEC. Even in run defense, Polite was extremely efficient where he registered a 9.8% run-stop percentage, which was fourth among SEC edge defenders with at least 150 run-defense snaps. Slightly unheralded out of high school, Polite has transformed into a fierce pass-rusher and potential first-round pick in the NFL draft.
Montez Sweat, Mississippi State – 86.2 Overall Grade
One of the best all-around defenders in the SEC, Sweat is solid against the run and pass. His 47 total pressures and 20.2% pass-rush win percentage both ranked second in the SEC. More importantly, Sweat brought the heat on third down as his 26.6% pressure percentage on third down was first in the SEC (min. 50 third down pass-rush snaps). In run defense, Sweat was at the top of the SEC as his 13.3% run-stop percentage ranked first among edge defenders with 150 run-defense snaps. His ability to get off blocks in the run game, coupled with his ridiculous wingspan (84.5 inches), make him a fierce defender no matter the down or distance.
Jonathan Ledbetter, Georgia – 83.2 Overall Grade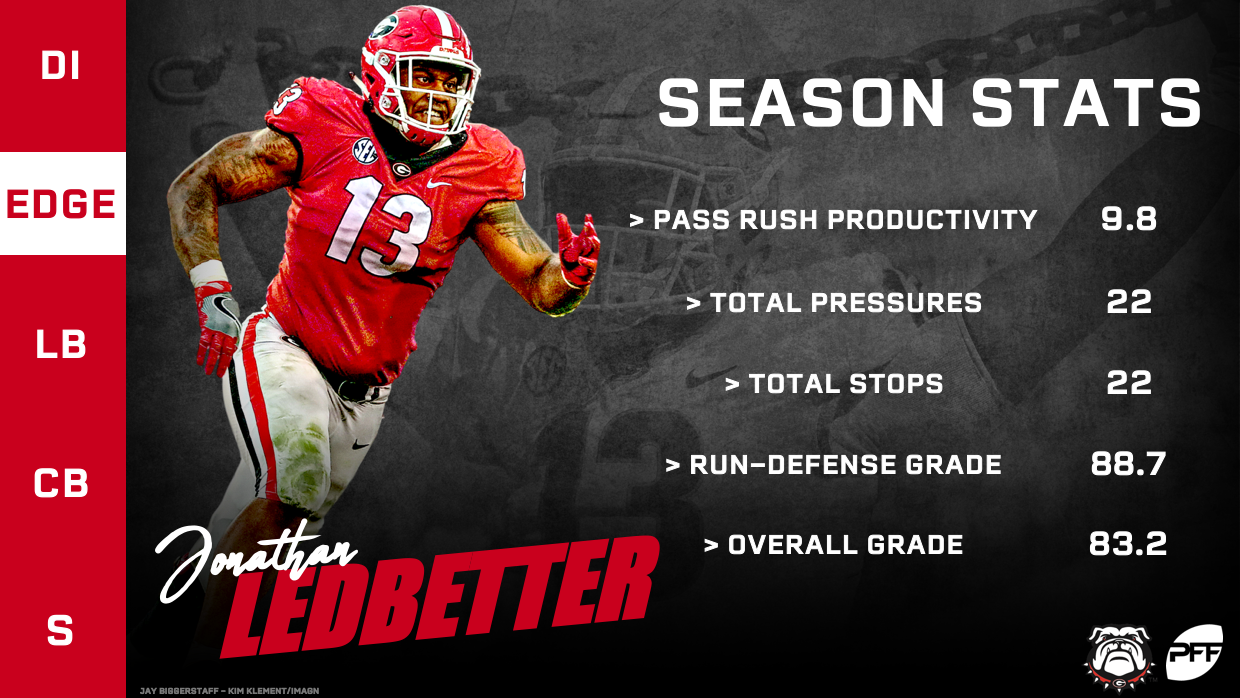 An extremely stout run defender, Jonathan Ledbetter was a man in front for Georgia this season. He ranked just behind Sweat with a 10.9% run-stop percentage and was able to use his optimal frame to shed blocks and get after the ball, which led to his 88.7 run-defense grade (second in the SEC, min. 175 run snaps). He was no slouch rushing the passer either as he totaled 22 QB pressures to go along with a 14.8% pass-rush win percentage. Ledbetter only saw the field for 443 snaps this season, but when present, showed his ability to use his power and hands to gain leverage and stampede opposing defenders.
D'Andre Walker, Georgia – 81.9 Overall Grade
Although Georgia struggled to get home consistently on the pass-rush this past season, they had a bright spot in D'Andre Walker. His 16.2% pass-rush win percentage ranked seventh in the SEC and he produced 32 total QB pressures with 15 combined sacks and hits. His ability to get out and set the edge in the run game made him a versatile player for the 'Dawgs as well. He ranked eighth against the run with an 8.4% run-stop percentage and made 26 total defensive stops, good for a tie for ninth place among edge defenders.