Through Week 8, in the conference consistently considered one of the nation's best in terms of defensive prowess, the SEC has churned out more than their share of strong defensive play in 2018. In fact, the SEC currently holds five of the top 10 highest-graded defensive players in the country, including four of the top six overall, regardless of position.
Now eight weeks into the season, we're past the threshold where strong play from individuals could be classified as either a 'surprise' or 'on a tear' and rather we're into the territory where players have now strung together consistent strong outings all season long. Some of these players have to be heavy favorites to win the SEC's Defensive Player of the Year Award but also are in contention to win national awards as well as some other hardware.
This list of highest-graded defensive players in the SEC is brought to you by Eckrich, the Official Smoked Sausage of the College Football Playoff.
Here are the five highest-graded defensive players at every position through eight weeks of play in the SEC:
Defensive Interior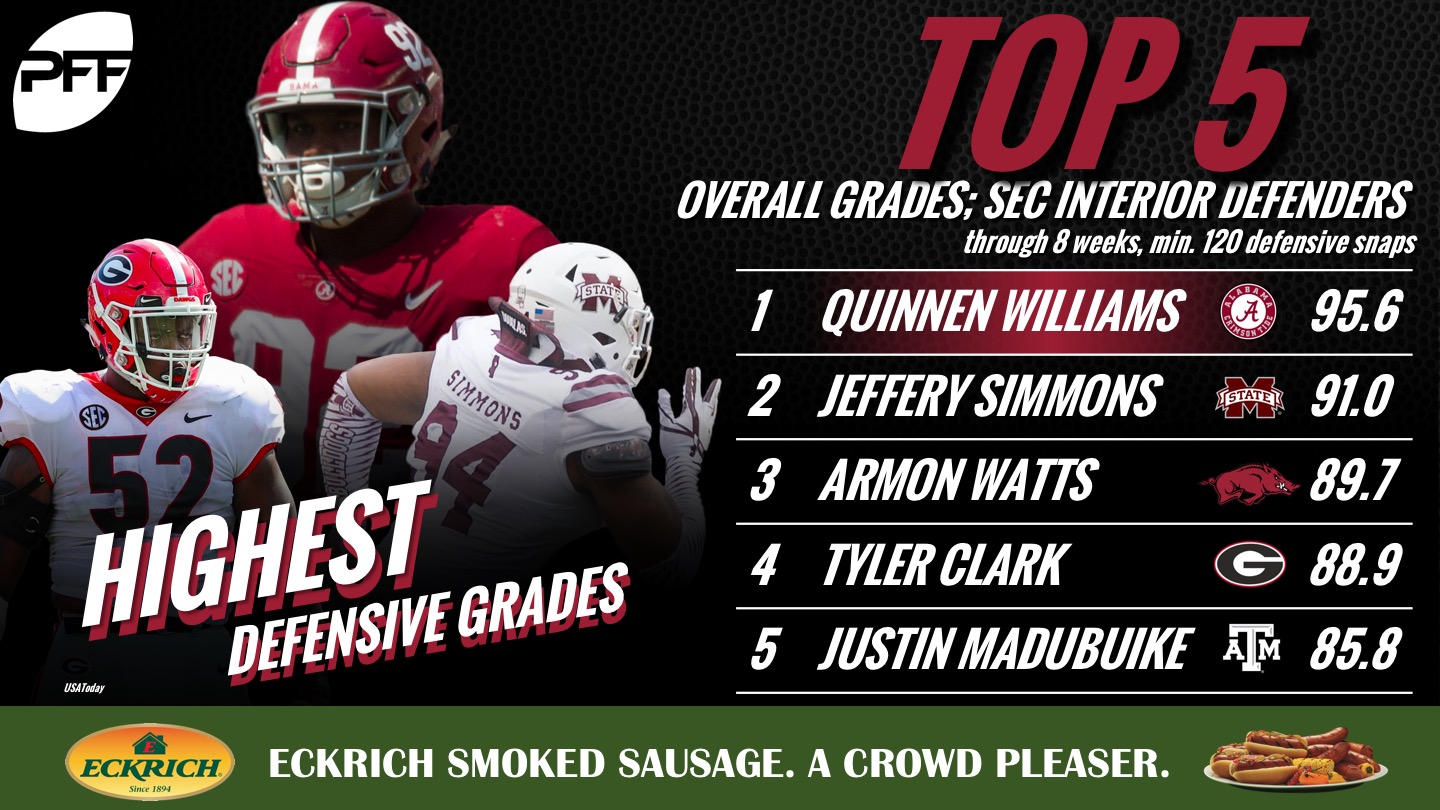 Quinnen Williams leads the charge here as he is currently the nation's highest graded player on offense or defense. Williams has recorded 25 QB pressures on just 169 pass-rushes and has graded no lower than 78.5 in a single game this season while finishing six games with an 'elite' grade of 85.0 or higher. Jeffery Simmons has recorded 15 stops in run defense while Armon Watts has been strong with 20 QB pressures.
Tyler Clark has played the fewest amount of snaps on this list at just 195 but been dominant when on the field. Justin Madubuike edges out South Carolina's Javon Kinlaw for fifth place among interior defensive linemen on the back of his strong run-defense that includes a 9.8% run-stop percentage.
Edge Defender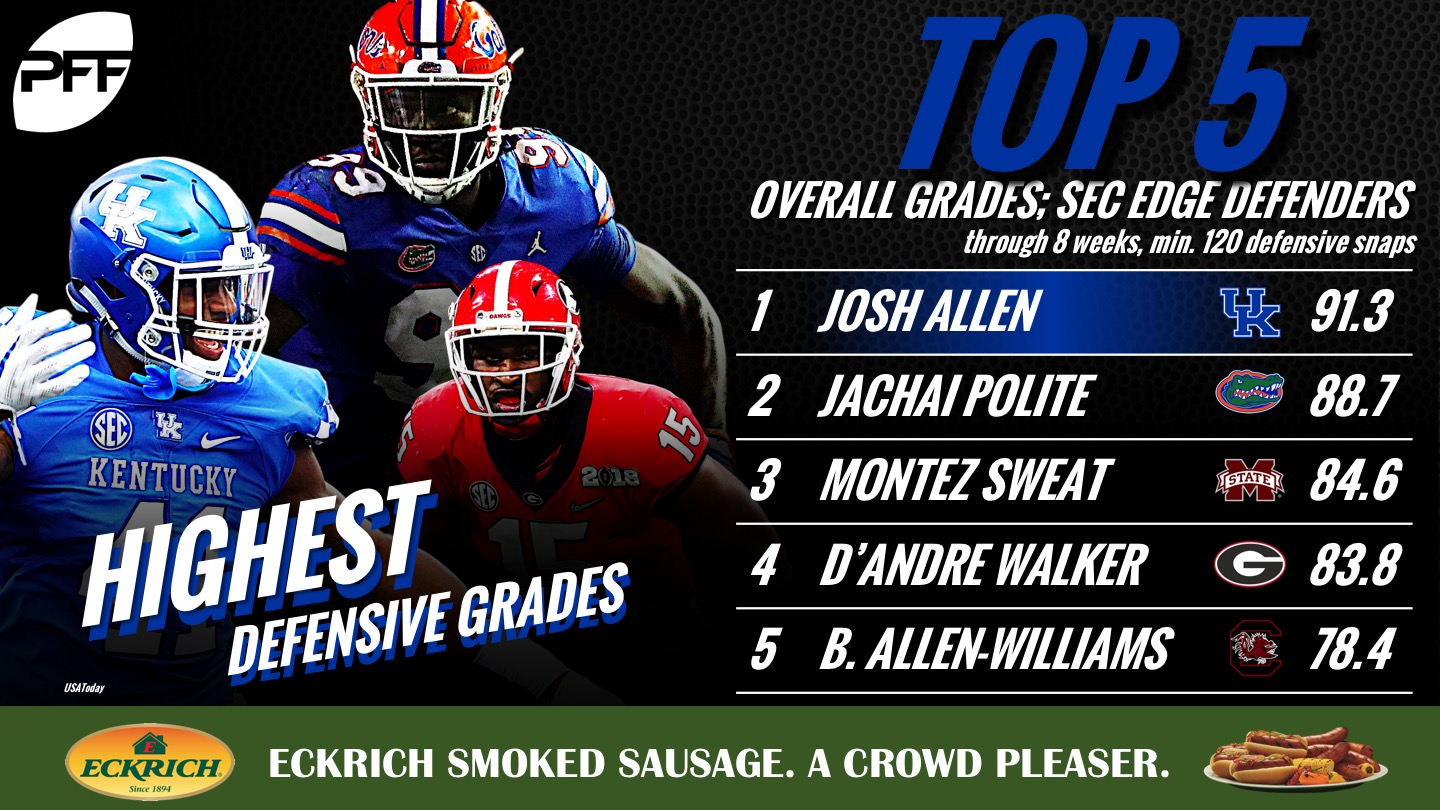 Josh Allen has been absolutely dominant all season long, putting forth plus-grades in every game of the year. He is already just eight pressures short of his career-high 41 that he had last season, racking up six sacks, seven QB hits and 20 additional hurries this season to give him 33 for the year. He's made 26 total tackles by our measure and missed just one attempt all season long. Jachai Polite has broken out this season as has Georgia's D'Andre Walker as they each have five sacks but Polite gets the edge with 24 total pressures to Walker's 21.
Montez Sweat and Bryson Allen-Williams are the veterans on this list and each is producing career-high grades this season. Sweat broke out last year with 44 QB pressures and has recorded 24 this season on just 143 pass-rushes while Allen-Williams currently holds an 11.2% run-stop percentage, second in the conference among edge defenders.
Linebacker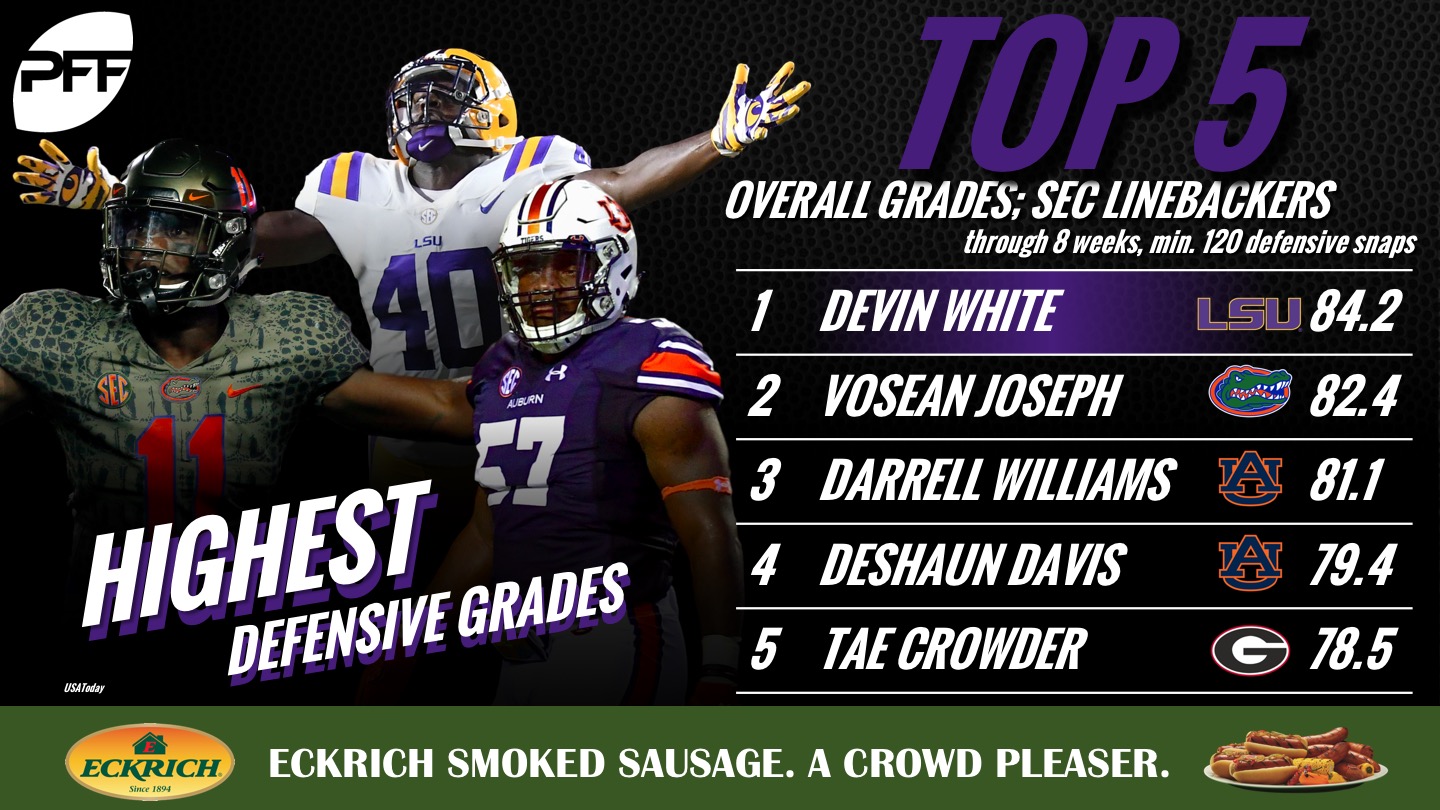 Devin White's suspension will be felt on defense for LSU as he'll sit out the first half of the Alabama game in Week 9 after a targeting penalty against Mississippi State this past weekend. He's currently the conference's highest-graded linebacker and has pulled down 22 stops in run defense and 17 QB pressures on just 58 pass-rushes. His 14.2 pass-rush productivity is the highest among any linebacker with at least 31 pass-rush attempts. Vosean Joseph and Tae Crowder will square off in what expects to be a hard-fought defensive pass when Georgia and Florida meet this coming weekend.
Darrell Williams and Deshaun Davis round out the top five as the Auburn linebacker duo has impressed in different facets. Williams has been strong with an 85.5 coverage grade while Davis' 90.4 overall run-defense grade is first among SEC linebackers.
Cornerback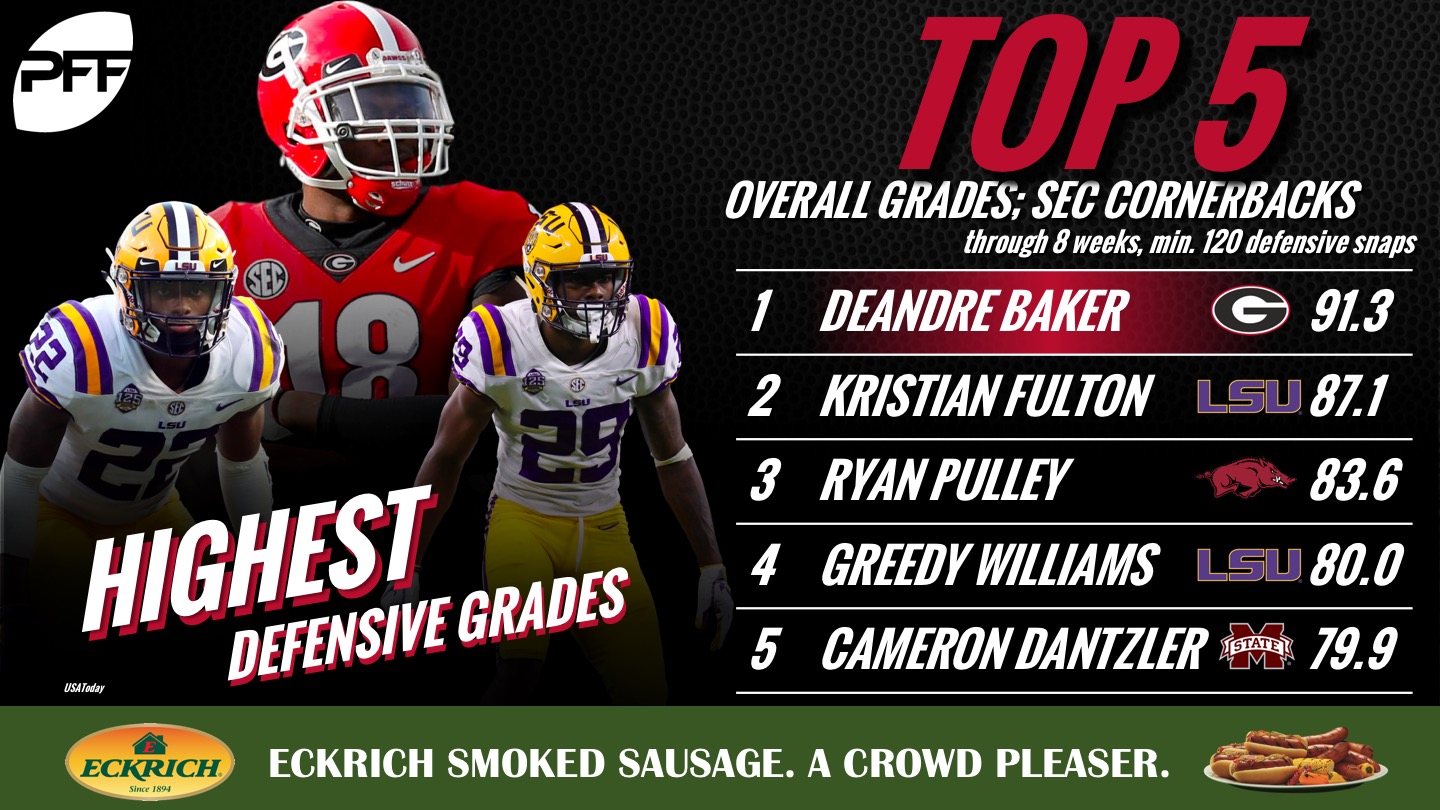 Deandre Baker has been the conference's highest-graded cornerback for seemingly the entire season as he has also topped the country in that regard since Week 2. Baker has allowed just 15 receptions on 30 targeted passes while bringing in two interceptions and another eight pass breakups for a 32.2 passer rating against. Kristian Fulton has come on strong this season opposite Greedy Williams as the duo form one of, if not the nation's strongest 1-2 punch at cornerback.
Ryan Pulley made our Week 8 Team of the Week with his 90.3 overall grade against Tulsa as he has now brought in three interceptions and three pass breakups without allowing a touchdown in coverage. Cameron Dantzler has been targeted 35 times yet allowed only 12 receptions and made nine plays on the ball (2 INT, 7 PBU).
Safety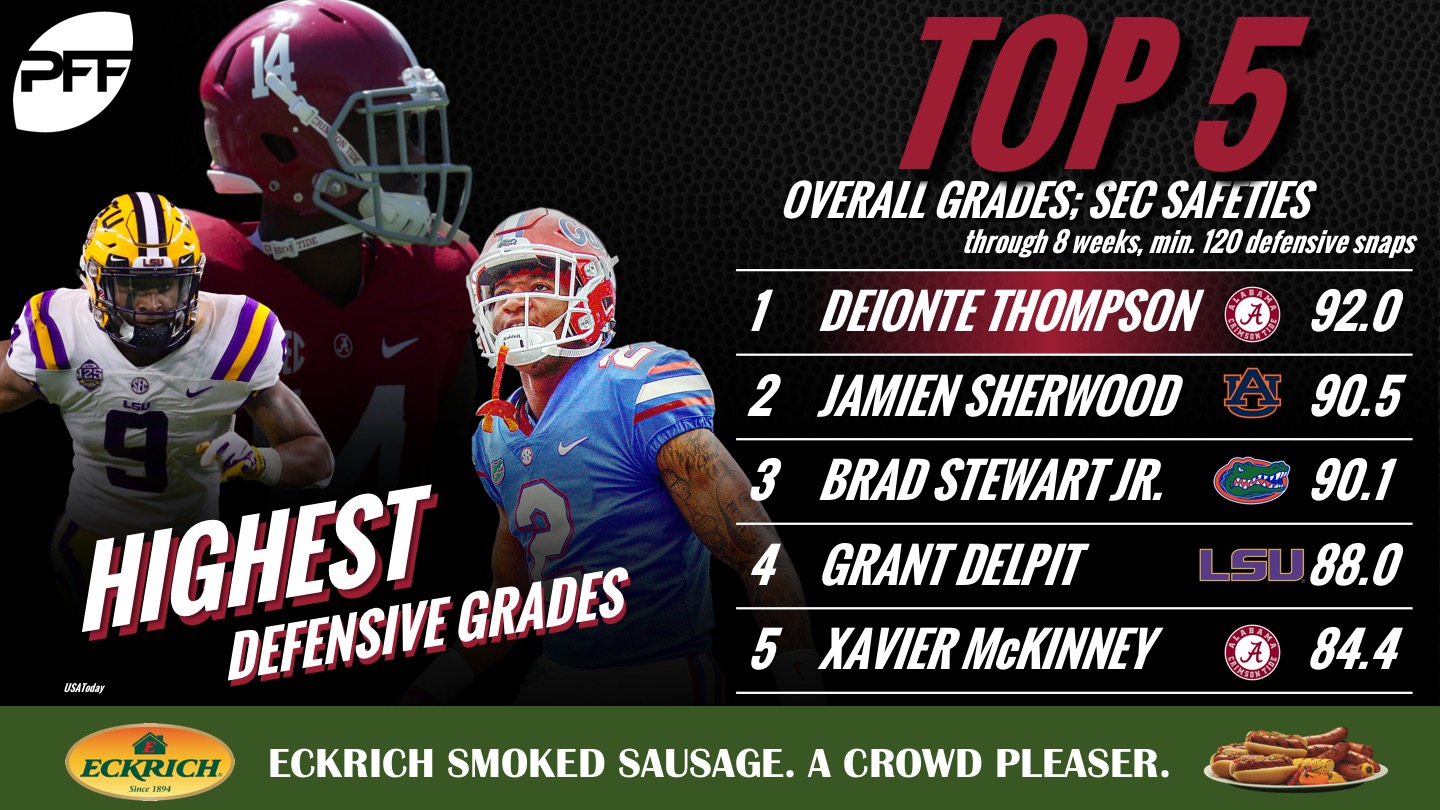 Making all the splash plays you'd expect, Deionte Thompson has now brought down two interceptions and five pass breakups while he's gotten home with a sack on just five pass-rush attempts. Jamien Sherwood has impressed in limited duty with Auburn as Brad Stewart has broken out this season for the Gators. Stewart had one of the conference's highlight-reel moments when he sealed the Florida victory over LSU with a pick-6.
Grant Delpit has had issues with missed tackles this season yet has made enough plays to buoy his grade to crack the top five. He now has five interceptions and an additional three pass breakups in coverage in addition to 12 QB pressures on just 27 pass-rushes, despite 13 missed tackles on 60 attempts.