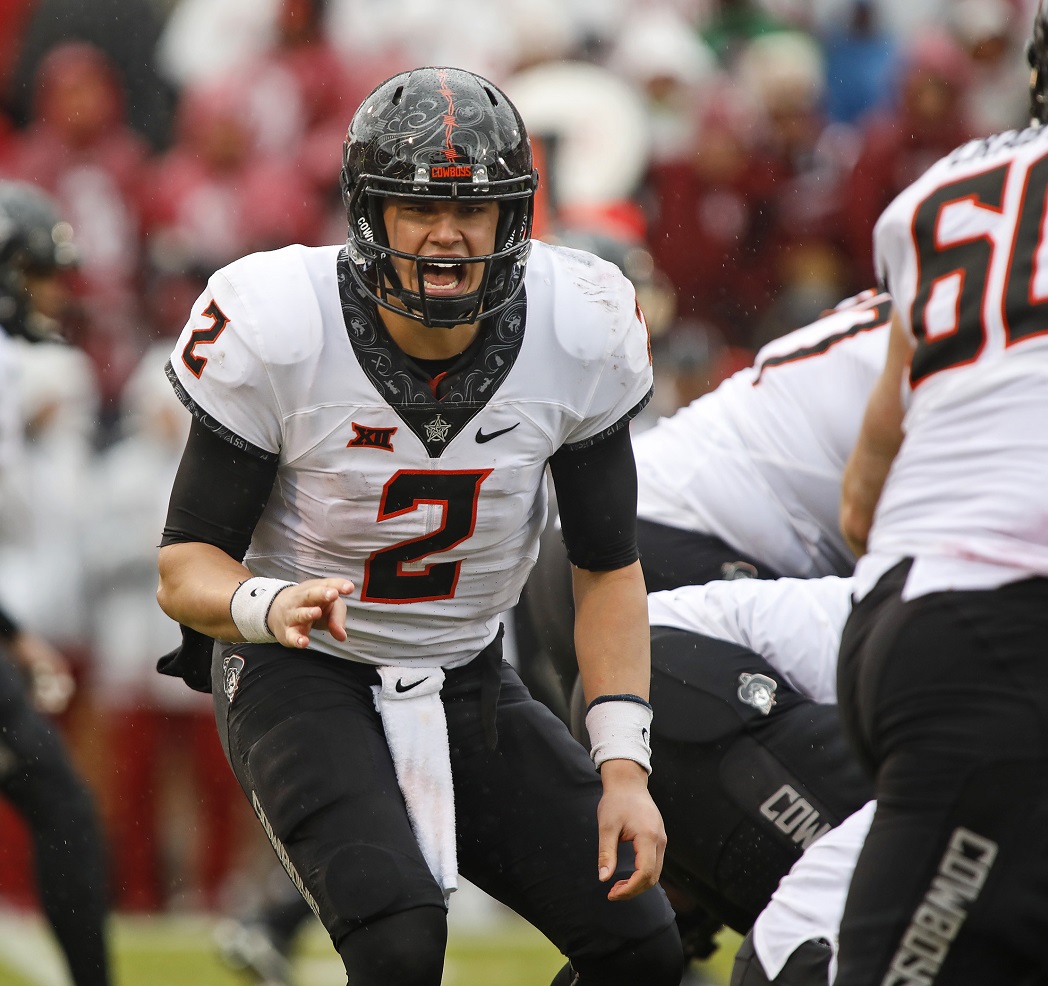 NORMAN, OK - DECEMBER 3: Quarterback Mason Rudolph #2 of the Oklahoma State Cowboys calls a play at the line against the Oklahoma Sooners December 3, 2016 at Gaylord Family-Oklahoma Memorial Stadium in Norman, Oklahoma. Oklahoma defeated Oklahoma State 38-20 to become Big XII champions. (Photo by Brett Deering/Getty Images)
With the second week of bowl games upon us, we dig through the Pro Football Focus database to bring you 36 unique pieces of PFF data you need to know for the upcoming matchups.
To see analyst Josh Liskiewitz's spread picks for the second week of college bowl games, click here.
Bahamas Bowl
Eastern Michigan Eagles vs. Old Dominion Monarchs
1. EMU CB Jason Beck allows 0.40 yards per cover snap in the slot, the fewest in college football.
Despite playing 90.4 percent of the Eagles' snaps on defense, Beck has been basically invisible in coverage, which is usually a good thing. Although he was targeted a total of 43 times, he did not allow a single touchdown nor a reception longer than 15 yards. In the slot he allows a completion percentage of 60 percent, but the 18 receptions he gave up went for only 112 yards.
2. Monarchs RB Ray Lawry gained 53.5 percent of his yards on runs longer than 15 yards, the second-highest ratio in the FBS.
Lawry has been Old Dominion's big-play threat and has carved out a bigger role for himself as the season went on. As a result, he carried the football 91 times in his last four games compared to 84 attempts in the first seven games. Furthermore, Lawry had a run longer than 15 yards in nine of his 11 games this season. Consequently, the Eastern Michigan defense's main challenge will be stopping Lawry and preventing him from creating big plays.
Armed Forces Bowl
Louisiana Tech Bulldogs vs. Navy Midshipmen
3. Bulldogs WR Trent Taylor has 117 receptions from the slot, the most in the nation.
Louisiana Tech's Taylor has been one of the most consistent slot weapons recently as he saw more than 100 targets in each of the past two seasons. The Bulldogs receiver has had at least five receptions in his last 15 games and is the player teammates look at in crucial situations. However, this season it has become even more difficult to cover Taylor as fellow wide receiver Carlos Henderson requires at least the same amount of attention and the two form a nearly unstoppable duo.
4. Navy averages 3.5 yards before contact on designed runs.
Navy's scheme takes a lot off of the players' shoulders if its run the right way as the triple option can create free yards on the edges. However, without their top two quarterback and one of their top tailbacks, it is still to be seen whether they can execute it with the same precision as in the past. Still, the scheme alone will probably help the Midshipmen gain a significant amount of yards on the ground.
Dollar General Bowl
Ohio Bobcats vs. Troy Trojans
5. Ohio's Blair Brown has a run-stop percentage of 16.3 percent, the second-highest among inside linebackers.
Coming into the season, it was Ohio LB Quentin Poling who was highlighted as the best player on the Ohio defense and while he had a very good season, Blair Brown, playing next to him, had an even better one. Brown has the ability to consistently disrupt runs while he can rush the passer and drop into coverage too. As a result, his 64 defensive stops rank third among all linebackers, while his 45 run stops are tied for seventh among inside linebackers.
6. Trojans OLB Rashad Dillard has a pass-rushing productivity rating of 16.1, fourth-highest among 3-4 outside linebackers.
Dillard is the most important player for Troy when it comes to generating pressure as his 62 total pressures make up more than 25 percent of the team's total pressures. Overall, Dillard recorded 8 sacks, 18 quarterback hits and 36 quarterback hurries on 303 pass-rushing snaps. In addition, in terms of pass-rushing productivity, he trails only Oklahoma's Ogbonnia Okoronkwo, LSU's Arden Key and Wisconsin's T.J. Watt among 3-4 outside linebackers.
Hawaii Bowl
Hawaii Warriors vs. Middle Tennessee Blue Raiders
7. Hawaii LT Dejon Allen did not allow a single pressure in eight of his 12 games this season.
Allen was able to build on his solid 2015 campaign as he kept up his strong run-blocking and complemented it with some excellent pass-blocking. The senior tackle did an amazing job all year protecting quarterbacks' blind side. Allen allowed only four total pressures this season, including only one sack. In addition, he has not allowed a single pressure since Hawaii's Week 9 matchup against New Mexico.
8. Middle Tennessee's Richie James has the third-most receiving yards from the slot.
James is one of the most underrated slot receivers in college football as he was flying under the radar in 2015 and this season as well. James is mainly a slot receiver as he lines up there on 92.6 percent of his snaps and caught 85 passes for 1,209 yards and 9 touchdowns from the slot. In addition, he caught a touchdown pass in nine of his 12 games this season. While James presents the biggest threat as a slot receiver, he has been very effective as a wildcat quarterback too after the injury of starting quarterback Brent Stockstill.
St. Petersburg Bowl
Miami (OH) RedHawks vs. Mississippi State Bulldogs
9. Miami's Heath Harding has had at least one pass breakup in each of his last five games.
Although, similarly to the entire Miami team, Harding had a slow start to his season, he has been on fire lately. While ha allowed four touchdowns in the first six games, Harding gave up only one touchdown in coverage over the last six games of the season. Furthermore, he had an incredible nine pass breakups in his last five outings, which went a long way to him having the second-most pass breakups on the season with 12.
10. Mississippi State's A.J. Jefferson recorded a pressure in every game he played in this season.
Although his production decreased slightly from his strong early-season form, Jefferson was still able to consistently generate pressure this season. While he recorded only four sacks — three of which came in the first two games — Mississippi State's edge defender had 2 quarterback hits and 22 quarterback hurries in 2016. This feat is even more impressive considering that he played a smaller role on the Bulldogs defense in the second half of the season.
Quick Lane Bowl
Maryland Terrapins vs. Boston College Eagles
11. Maryland RB Lorenzo Harrison has the fifth-highest elusive rating in the country with 131.8.
While it's unsure whether Harrison will play due to his suspension, Maryland's running back was among the best freshman players in the nation this season. Harrison was starting to carve out a bigger role for himself before his suspension and could take advantage of the opportunity provided to him. He forced 24 missed tackles on just 87 carries and averaged 7.0 yards per carry. However, it is even more impressive that he averaged 4.2 yards after contact per attempt.
12. Boston College's Harold Landry has the second-highest pass-rushing productivity score among 4-3 defensive ends.
While Landry had an excellent year against the run in 2015, he still had room for improvement in rushing the passer. However, the BC edge rusher made the leap this season and generated more pressures in actually less pass rushing snaps. Landry recorded at least three total pressures in nine of his 12 games and had at least two in all of them. Although pressure numbers may not be impressive at first glance without the player converting pressures into sacks, Landry did just that and led 4-3 defensive ends with 16 sacks. Overall, he recorded 16 sacks, 7 quarterback hits and 42 quarterback hurries on just 284 pass-rush snaps.
Independence Bowl
North Carolina State Wolfpack vs. Vanderbilt Commodores
13. North Carolina State's Bradley Chubb has had at least three total pressures in each of the past three games.
While Chubb had a strong start to his season, he really picked it up over the past couple weeks. The junior defensive end finished the season with 7 sacks, 9 quarterback hits and 32 quarterback hurries. However, his finish to the year was even more impressive as besides improving against the run, he combined to record three sacks and ten quarterback hurries over his last three games against Syracuse, Miami and North Carolina.
14. Vanderbilt's Zach Cunningham had a run-stop percentage of 15.0 percent this season, the fifth-best among inside linebackers.
The highly touted Cunningham had another impressive season in 2016, especially against the run. As a result, he recorded at least five defensive stops in eight of his 12 games this season. Furthermore, his 52 run stops are tied for third-most among inside linebackers. While Cunningham makes a lot of plays against the run, he could make even more if he could improve in finishing plays as he had 18 missed tackles this year, tied for 13th-most among linebackers.
Heart of Dallas Bowl
Army Black Knights vs. North Texas Mean Green
15. Army's James Nachtigal has 16 total pressures on only 48 pass-rushing snaps.
Nachtigal has been flying so far under the radar that even his team has not given him more than 20 snaps of playing time in a single game this season. As a matter of fact, he played more than 10 snaps only three times in the entire season. Still, Nachtigal could make an impact in the limited amount of snaps that he played and proved to be a very efficient pass-rusher. Overall, he recorded four sacks, three quarterback hits and nine quarterback hurries this season. While it is a small sample size, Nachtigal had the best pass-rushing productivity score of any 3-4 outside linebacker that had more than 20 pass-rushing snaps.
16. North Texas' Ashton Preston allowed 55 yards after catch in the slot, the fewest among 69 qualifying cornerbacks.
Preston had an up-and-down season, with a couple games where he played really well and some other outings where he allowed passer ratings above 100 in coverage. However, even when he allowed completions, he certainly did not surrender a lot of yards, allowing more than 50 yards in coverage in only one game in the entire season. Furthermore, he allowed only 0.73 yards per cover snap in the slot, tied for 10th-lowest in college football.
Military Bowl
Temple Owls vs. Wake Forest Demon Deacons
17. Temple edge defender Praise Martin-Oguike recorded at least four total pressures in five of his last six games.
Although Martin-Oguike started the season slowly and had to wait until Week 5 for his first pressure, he recorded at least one pressure in every single game since then. He was especially unstoppable towards the end of the season as he has seven sacks in his last eight outings. Furthermore, Martin-Oguike's last regular-season game might have been his best college game overall as he had two sacks, three hits and three hurries against East Carolina.
18. Wake Forest's Duke Ejiofor recorded a sack in nine of his 12 games this season.
Ejiofor was able to build on a strong 2015 campaign and had more success converting pressures into sacks this season. Although his performance has slightly tailed off from his impressive start in September – where he recorded 15 total pressures in his first two games – he still had a solid season. Overall, he had 10 sacks, 6 quarterback hits and 17 hurries on 315 pass rushing snaps. Furthermore, he missed only one tackle all season while he made 21 defensive stops.
Holiday Bowl
Minnesota Golden Gophers vs. Washington State Cougars
19. Minnesota's Jalen Myrick has allowed more than 50 yards in coverage in only two of his 12 games this season.
Although, unlike in 2015, Myrick did allow a touchdown reception in coverage, the Minnesota cornerback had another solid year in pass coverage. Overall, Myrick allowed just three touchdowns while he had an interception and also recorded seven pass breakups. Also, he allowed a completion percentage below 50 percent in coverage and opposing quarterbacks had a passer rating of 76.1 when targeting him. In addition, he gives up a reception only once in every 17.5 cover snaps, the 17th-best ratio in college football.
20. Washington State guard Cody O'Connell has a pass-blocking efficiency rating of 99.3, the second-best in the nation.
O'Connell was arguably the best guard in college football this season and while his run blocking was impressive, he was even better in pass protection. In fact, he surrendered only five total pressures – one sack, one quarterback hit and three quarterback hurries – on 588 pass-blocking snaps in his first season playing on offense. Furthermore, the redshirt junior guard allowed only one pressure in his last eight games.
Cactus Bowl
Boise State Broncos vs. Baylor Bears
21. Boise State RB Jeremy McNichols forced 58 missed tackles this season, the eighth-most among running backs.
McNichols has been one of the main cornerstones of the Boise State offense as he ran for more than 100 yards in nine of his 12 games and had three outings when he surpassed 200 rushing yards. In addition, he ranks second in college football with 23 rushing touchdowns. His elusiveness has become his biggest strength as he forced at least two missed tackles in all but two games this year. Boise State's running back does not seem to slow down despite his heavy workload that included three games when he had at least 30 carries.
22. Baylor's K.J. Smith recorded 36 run stops this season, tied for most among defensive tackles.
While Boise State has a very potent running game, Baylor has one of the best run stuffers the Big 12 has to offer. Smith took a step back this season from his 2015 pass rushing form, but he remained a force to be reckoned with against the run. In fact, he recorded twice as many defensive stops this season than he did during his 2015 campaign. Furthermore, the junior defensive tackle has been a model of consistency for Baylor as he recorded at least three defensive stops in nine of his 12 games this season.
Pinstripe Bowl
Pittsburgh Panthers vs. Northwestern Wildcats
23. Pittsburgh RT Brian O'Neill has a pass-blocking efficiency rating of 99.6, the best in college football.
While Pittsburgh has a run-first offense, its best offensive lineman has been just as good if not better in pass protection than in run blocking. As a result, O'Neill allowed only two total pressures on 334 pass blocking snaps all season. Furthermore, both of these pressures were quarterback hurries, meaning that he did not allow his quarterback to be knocked on the ground once.
24. Northwestern's Ifeadi Odenigbo recorded at least two pressures in 11 of his 12 games this season.
Odenigbo had a fairly impressive season rushing mainly from the right side as he racked up 10 sacks, 4 quarterback hits and 29 quarterback hurries on 281 pass rushing snaps. Despite his strong season, Odenigbo will be looking to bounce back against Pittsburgh as his production has slightly tailed off in the last third of the season. In fact, 33 of the senior defensive end's 43 total pressures came in the first eight games of the 2016 campaign.
Russell Athletic Bowl
West Virginia Mountaineers vs. Miami (FL) Hurricanes
25. West Virginia's Rasul Douglas allowed a passer rating above 100 in only one game this season.
Although defense has not really been in focus in the Big 12, Douglas has been among the best cover cornerbacks in college football this season. While Douglas was the ninth-most-targeted cornerback with 86 passes going his way, he allowed only 36 receptions for 526 yards. Furthermore, he allowed a passer rating of only 35.3 when he was thrown at, which was the seventh-lowest in the nation.
26. Miami CB Corn Elder allowed more than 50 passing yards in only one game.
The Russell Athletic Bowl will feature two prominent cornerbacks as Miami's Corn Elder too had an excellent season in coverage. While interceptions avoided him, he did have five pass breakups and one interception to the two touchdowns he allowed in coverage. Also, he allowed only 0.70 yards per cover snap, which was tied for 27th-lowest in the nation. Elder did not give up a lot of yards overall either as he allowed only 289 receiving yards this season.
Foster Farms Bowl
Indiana Hoosiers vs. Utah Utes
27. Indiana's Nick Westbrook averages 3.04 receiving yards per route run, tied for 18th-best in the nation.
While Westbrook failed to top 1,000 receiving yards this season, the fact that he ran a route on only 301 plays adds context to why has that happened. Although, Westbrook surpassed 100 receiving yards in only three games, his consistency has meant a lot to the Hoosiers as he has at least one reception in all, but one game and has made the most of his opportunities. In addition, the sophomore pass-catcher dropped only five passes this season.
28. Utah edge defender Hunter Dimick recorded 74 total pressures, the second-most among 4-3 defensive ends.
Dimick had a couple promising seasons prior to 2016, but he had to wait for his senior season to rally break out. He recorded a pressure in every game this season and finished the year with 15 sacks, 8 quarterback hits and 51 quarterback hurries. His best games came against UCLA and Arizona State as Dimick combined to rack up 6 sacks, 4 hits and 14 hurries in those two games alone.
Texas Bowl
Texas A&M Aggies vs. Kansas State Wildcats
29. Texas A&M's Myles Garrett had 46 total pressure rushing from the right side, the third-most among 4-3 defensive ends.
All eyes were on Garrett coming into the season and he did not disappoint as he solidified his position as a top five pick in the upcoming NFL draft. The Texas A&M defensive end recorded 45 total pressures for the third consecutive season and actually finished his best year as a run defender as he had a career-low three missed tackles in 2016. Overall, Garrett racked up 9 sacks, 14 quarterback hits and 27 quarterback hurries.
30. Kansas State's Jordan Willis recorded 71 total pressures, the third-most among 4-3 defensive ends.
The Texas Bowl will feature two of the best edge rushers in the nation as the Big 12's best 4-3 defensive end is playing for Kansas State. Willis was able to build on a promising 2015 season and has become opposing quarterbacks' nightmare for his senior season. The Kansas City native had 14 sacks in 13 games and was a force against the run as well. Overall, Willis recorded 14 sacks, 9 hits and 50 quarterback hurries on 453 pass rushing snaps.
Birmingham Bowl
USF Bulls vs. South Carolina Gamecocks
31. USF's Marlon Mack gained 618 yards on runs 15 yards or longer, 17th-most in college football.
The Bulls' spread offense relies heavily on its playmakers who deliver big play after big play and Mack is among the best at this. He is nearly unstoppable once he gets to the second level and his electric running style resulted in 38 missed tackles on 161 carries in 2016. In addition, Mack scored a rushing touchdown in every single game he played in this season.
32. South Carolina CB Rashad Fenton has not allowed a single touchdown this season.
Although he was targeted a total of 42 times, Fenton allowed only 24 receptions for 268 yards, and none resulted in a touchdown. The sophomore Fenton carved out a bigger role for himself this season and he did not disappoint, as he did not allow more than 63 passing yards in a single game. Furthermore, he got his hands on three passes as he recorded one interception and two pass breakups.
Belk Bowl
Arkansas Razorbacks vs. Virginia Tech Hokies
33. Arkansas C Frank Ragnow did not allow a single pressure in his last four games.
Ragnow has been our highest-graded center this season and while that is mainly due to his excellent run-blocking, he has been impressive in pass protection too. In fact, the Arkansas center did not allow a single sack all season and has improved throughout the season as he posted his highest run-blocking grades in the last couple weeks without giving up a single pressure in the process.
34. Virginia Tech's Jerod Evans has an adjusted completion percentage of 53.4 percent on deep passes, 10th-best in the nation.
Evans made big strides in his first season as the starting quarterback for Virginia Tech and while he showed signs of inconsistency in the beginning, he improved significantly for the second half of the season. In addition, Evans provides a threat with his legs as well as he ran for 10 touchdowns and forced 31 missed tackles on the season – more than any other Virginia Tech player.
Alamo Bowl
Oklahoma State Cowboys vs. Colorado Buffaloes
35. Oklahoma State QB Mason Rudolph has a passer rating of 124.7 on deep passes, third-highest in college football.
While he started the season slowly, Rudolph has been on fire lately. The junior signal-caller had an excellent season as he passed for four more touchdown passes than in 2015 while he reduced the number of interceptions he had. The Oklahoma State quarterback has been among the best when it came to throwing the ball deep as he has an adjusted completion percentage of 51.3 percent on attempts travelling 20 or more yards in the air.
36. Colorado's Ahkello Witherspoon recorded 13 pass breakups this season, the most in college football.
The Buffaloes' secondary features multiple playmakers; however, none of them get their hands on more passes than Witherspoon who had 13 pass breakups and an interception. In addition, the senior cornerback gave up more than 60 receiving yards in only one game all season as he allowed a passer rating of only 51.9 in coverage.