With spring football coming to a close, we're nearing the dog days of summer. Week 0 is still a few months away, but to tide you over, we're going to give you all our first set of PFF ELO Top 25 rankings.
The Elo algorithm updates a team's rating dynamically through using the outcome of a game versus what was expected to happen in a game, assigning bigger bumps to teams that upset great teams than teams that narrowly beat teams for which they are big favorites. The PFF version uses PFF grades for every facet of play to derive what the score of a game should have been based on an ensemble of models that weigh positive and negative plays in said facets.
There are offseason adjustments for coaching changes and quarterback changes, as well as a realignment that takes into consideration the strength of a team's conference (which is new for this year). Since not all quarterback changes are final, and there are often some surprises with respect to coaches, these are not the Week 0 final rankings. Nonetheless, enjoy!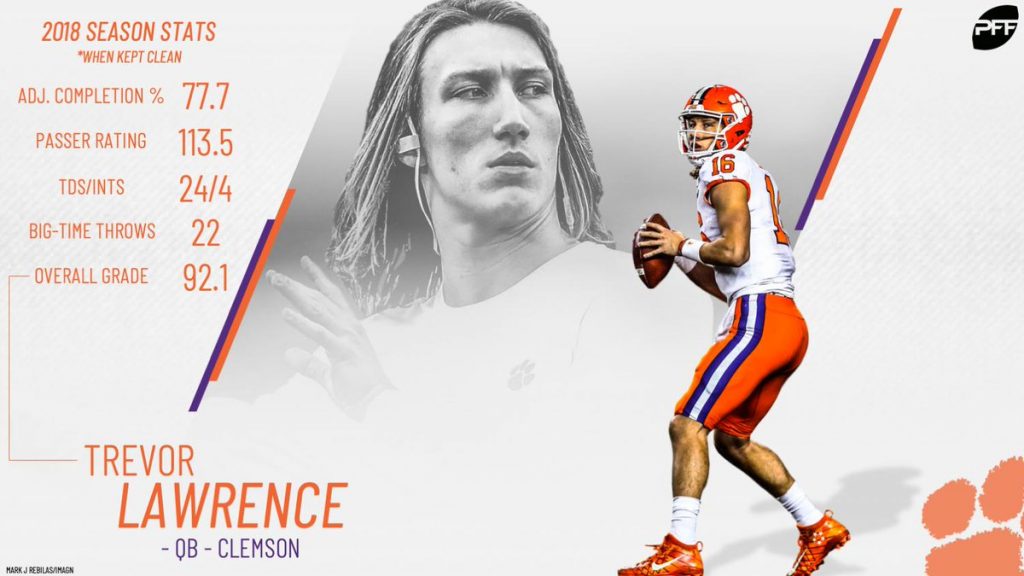 1. Clemson
While a spring injury to Amari Rodgers was a big blow to the defending champions, Clemson still has the incomparable Trevor Lawrence and a great stable of receivers that includes Justyn Ross. His 4.98 yards per route run average was the best of any qualifying wide receiver a season ago, and he should only get better with Lawrence, who boasted a 24-to-4 touchdown-to-interception ratio when kept clean as a true freshman. Some regression is likely to be in order for Lawrence and company, but the underlying process is still likely good enough to roll through the ACC again and vie for a repeat in 2019.
2. Alabama
Much like Clemson, Alabama has a great quarterback surrounded by a terrific supporting cast of wide receivers capable of taking passes both deep and short to the end zone. Their coverage was exposed in the National Championship Game, however, surrendering over 16 yards per pass attempt when they blitzed Clemson freshman Trevor Lawrence for a passer rating above 145.0.  They will need to properly reload in this area if they want to be the favorite to win the title, as that distinction is now the Tigers'
3. LSU
We were higher on LSU going into last season than most, and hence we're probably going to be doubling down on what was a pretty impressive season by the Tigers in 2018 as we go into 2019. While the emergence of quarterback Joe Burrow was a notable story last season, the biggest reason for LSU's improvement was their defense, which was a top-10 group in terms of coverage. Losing Greedy Williams (Browns) does not help, but they have Kristian Fulton and Grant Delpit back, and the latter might be college football's best safety. Will they be able to get over the hump that is Alabama in 2019?
4. Georgia
After having been caught from behind by Alabama's backup quarterback the last two seasons, Georgia comes into 2019 with some real potential (again) to make some noise atop the SEC and college football in general. D'Andre Swift comes back as one of the nation's best running backs, averaging over four yards per carry after contact over the last two years while generating 10 or more yards on over 20% of his carries. Jake Fromm returns, having held off new Ohio State quarterback Justin Fields through increasing his completion percentage six points from 2017, throwing 30 touchdowns (to just six interceptions) and earning a top-15 grade among Power 5 players at the position.
5. Notre Dame
Notre Dame surprised many a season ago, emerging into the College Football Playoff with an undefeated regular season. Ian Book took over mid-season and was passable in 674 snaps. He struggled mightily under pressure without Quenton Nelson (Colts) and Mike McGlinchey (49ers), averaging just 4.7 yards per pass attempt. Clean pocket statistics are more stable, however, and he was great there, doubling his yards per pass attempt and throwing only four interceptions the entire season. Their defense earned the third-highest composite grade in college football, behind only Clemson and Washington, so if Book can improve, the Fighting Irish should be one of the more complete teams in college football in 2019.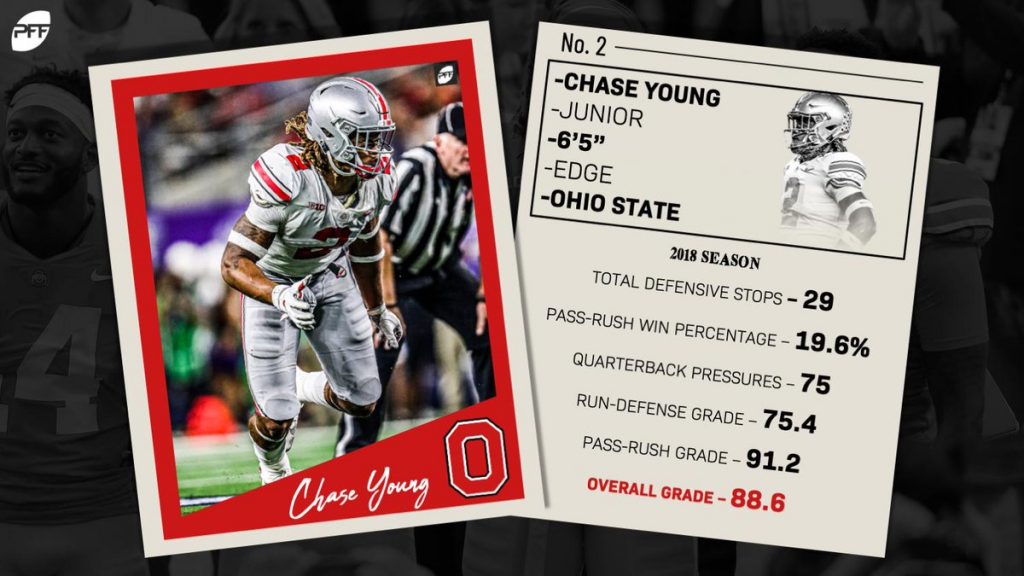 6. Ohio State
They lost some key players this offseason, chief among them Dwayne Haskins (Washington) and Nick Bosa (San Francisco), and will be breaking in a new head coach as well in 2019. This, coupled with a strong (if evenly-distributed) Big 10 will make predicting the Buckeyes anything but an easy task this coming fall. Justin Fields, the highly-touted transfer from Georgia, graded well last season in limited duty, completing 70 percent of his passes for 8.5 yards per attempt, with four touchdowns and zero interceptions. If he can do what Haskins did in his first season a year ago, look out for this offense.
7. Oklahoma
Gone is Kyler Murray (Cardinals). Also gone, however, is Mike Stoops, who shepherded one of the worst defenses in college football last year. If the defense reverts upward to the mean at all, the drop off from Murray to former Alabama starter Jalen Hurts might not be so steep so as to result in a team-level decline for the Sooners. That said, Hurts was limited as a passer while a member of the Crimson Tide, as he completed fewer than 30% of his passes when under pressure in 2017 and only 53% of his passes when blitzed. His rushing ability, which generated over 2,000 combined yards in 2016 and 2017, should help, but he's not up to Murray's exemplary level from an athletic standpoint. How much he can acclimate to the Sooners' offense and improve as a thrower will go a long way toward determining if they can make the playoffs yet again in 2019.
8. Florida
Florida is a team on the up-and-up in the SEC, boasting a great defense and an improving quarterback in Felipe Franks. Dan Mullen has cemented his spot as one of the best coaches in college football, improving the Gators' win total by six wins in 2018. If Franks can make a jump similar to the one he made in 2018 (14 points on the PFF grading scale) and edge Jabari Zuniga can continue a progression that has seen his pressure total go from 21 to 28 to 36 in three seasons, this team can be one of the more complete in the nation.
9. Washington
The Huskies finished last season with our second highest-graded defense, combining suffocating coverage with creative pass-rush to fluster offenses in the PAC 12. That said, they need to replace all but two starters from their bowl game, and quarterback Jake Browning is gone (Vikings). The loss of Browning, though, might be an addition by subtraction given inconsistent play that caused his PFF passing grade to decrease in each of his four seasons with Washington. All told, this rating is very much due to our belief that Chris Peterson is one of the best coaches in the nation.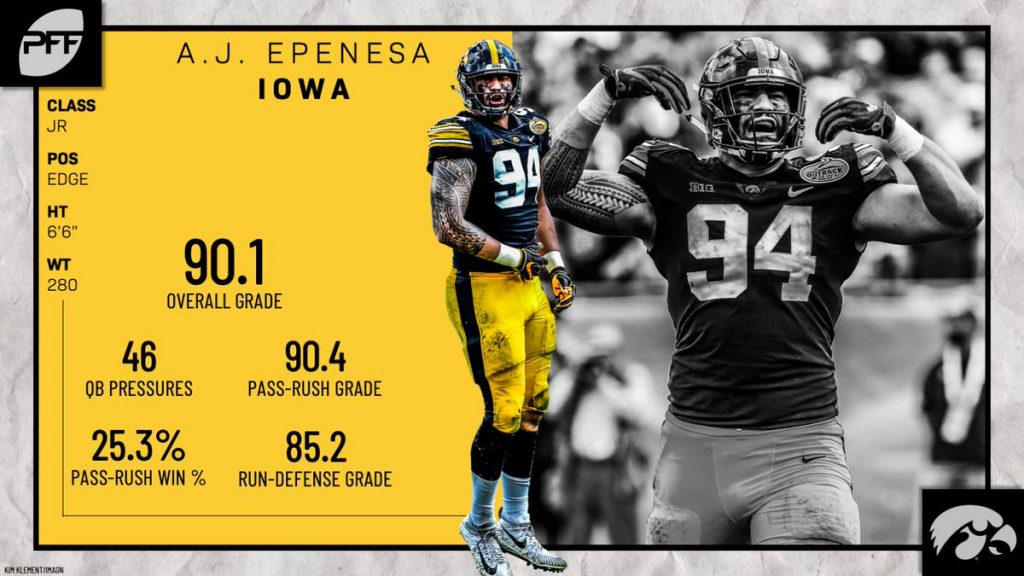 10. Iowa
The second Big 10 team in the top 10 returns some firepower to their top-10 defense, as well as multiple-season starter Nate Stanley at quarterback. Their 5-4 Big 10 record last season was an aberration and might lead to them being a value in betting markets early in the 2019 season. A.J. Epenesa, with 80 total pressures the last two seasons, has the potential to be one of the nation's best defensive players and will help curb the loss of Anthony Nelson (Bucs) up front and Amani Hooker (Titans) on the back end. Improving despite the loss of two first-round tight ends will be a tough task, but if they want to finish the season in the top 10 by the end of 2019, Stanley will likely have to do so to do his part.
11. Penn State
12. Texas
13. Auburn
14. Texas A&M
15. Mississippi State
16. Syracuse
17. Missouri
18. Michigan
19. Kentucky
20. Virginia
21. Iowa State
22. Utah
23. Washington State
24. Northwestern
25. Stanford