The slot receiver position has become an arms race in the NFL and in college football as it's importance is growing in the new age of football. A position that was once relegated to the 'cagy' receiver is now being populated by positional mismatches and explosive downfield threats. There have been a variety of responses by defensive coordinators across the country, but one thing is for sure, the slot is becoming an increasingly valuable position on both sides of the ball.
With that in mind, here are the top 10 highest-graded slot receivers through the first half of the college football season.
This list of 10 highest-graded slot receivers is brought to you by Eckrich, the Official Smoked Sausage of the College Football Playoff.
[Editor's note: The grades represented below are just grades when the specified receiver is lined up in any one of the slot receiver positions and not as an outside wide receiver. To qualify, a receiver must have run at least 70 snaps in route from the slot.]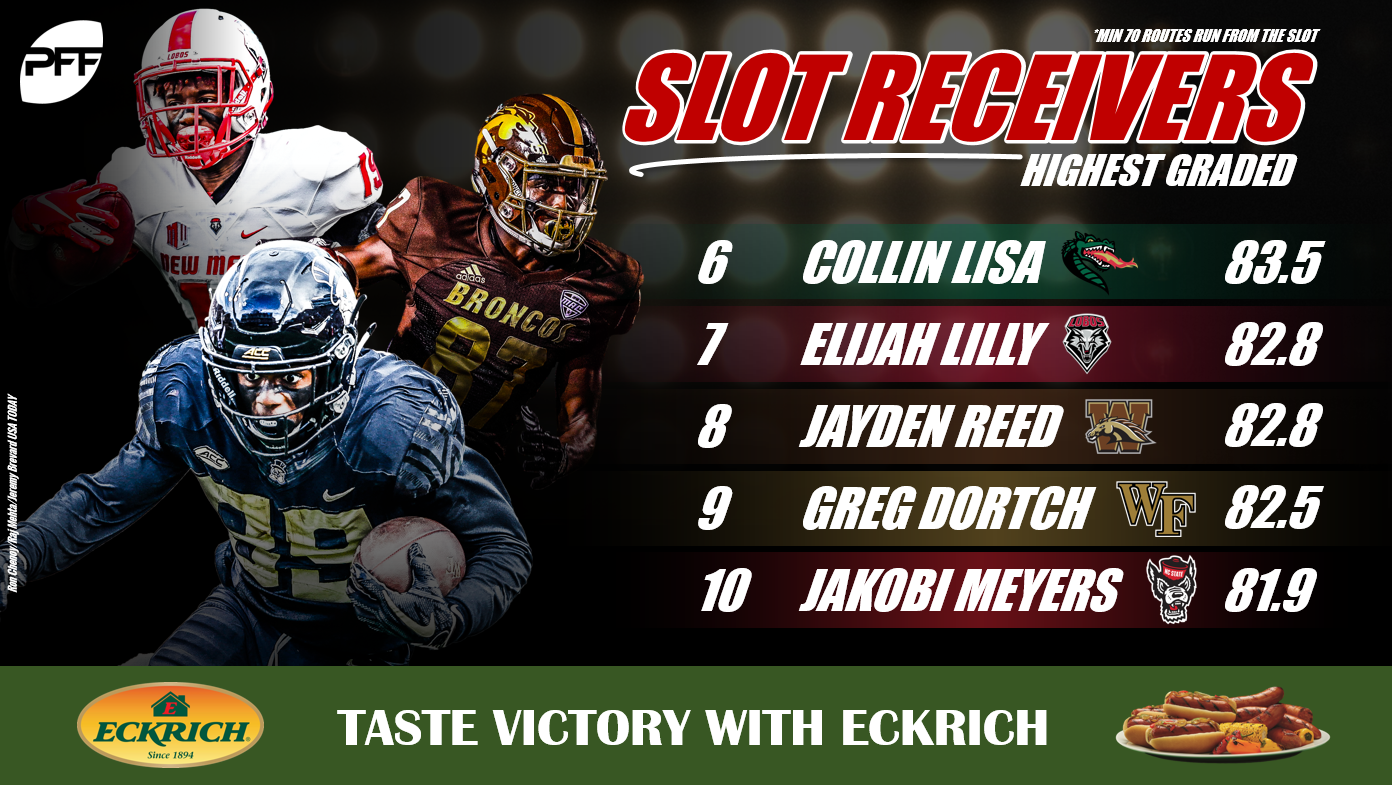 10. Jakobi Meyers, NC State – 81.9
Meyers has been a prolific weapon for the Wolfpack despite missing two games this season (one due to injury, one canceled). He started the season on fire with 14 receptions for 162 yards but was injured late in the win over James Madison and missed the next two and a half games. Now healthy, Meyers has yet to miss a targeted pass thrown his way in the last two games, hauling in 14-of-14 for 129 yards and nabbing his first touchdown of the season. Meyers has done all of this while operating from the slot on 98.2% of his snaps.
Slot Stat: 29 slot receptions, 322 yards, 1 TD
9. Greg Dortch, Wake Forest – 82.5
The diminutive 5-foot-9, 170-pound slot man plays in a Demon Deacons offense that operates without a huddle and runs as many plays as they can. Despite his stature and the number of snaps on the field, he's still ranked  15th in the nation in yards per route run, PFF's signature stat that measures a receiver's value on a per-snap-in-route basis in the passing game.  His best game of the season was against Rice where he dominated the Owls defense to the tune of 163 yards and four touchdowns on 11 catches. Despite being one of, if not the smallest player on the offense, Dortch leads the team in receiving yards at 592 and with four touchdowns.
Slot Stat: 39 slot receptions, 523 yards, 5 TD
T7. Jayden Reed, Western Michigan – 82.8
As a true freshman, Reed has dominated since his first game as a collegiate football player. In Game 1, he racked up seven catches on nine targets for 121 yards and a touchdown. Unfortunately, we did not get to see Reed play up in competition versus Michigan the next week for a full game due to a head injury against the Wolverines in the second quarter. Despite that, he's dominated MAC competition. After the Delaware contest, Reed has posted 60 yards or more in every game and has forced 11 missed tackles this season. His best game so far came against Miami (OH) where he caught seven balls for 137 yards and four touchdowns.
Slot Stat: 37 slot receptions, 538 yards, 6 TD
T7. Elijah Lilly, New Mexico – 82.8
Lilly has seen all 26 of his targeted passes come from the slot as the New Mexico offense certainly doesn't rely on an outside passing game. Lilly has hauled in 15 receptions, seeing 30.6% of his team's targets this season. His 3.73 yards per route run from the slot rank sixth among this list as he's managed to gain 231 of his 317 slot receiving yards after the catch.
Slot Stat: 15 slot receptions, 317 yards, 4 TD
6. Collin Lisa, UAB – 83.5
The senior receiver for UAB is having his best season to date, currently hauling in every catchable pass thrown his way with no drops to his name this year. He has fewer catches and targets on this list than anyone else but leads the Blazers in both categories from the slot this season.
Slot Stat: 25 slot receptions, 253 yards, 1 TD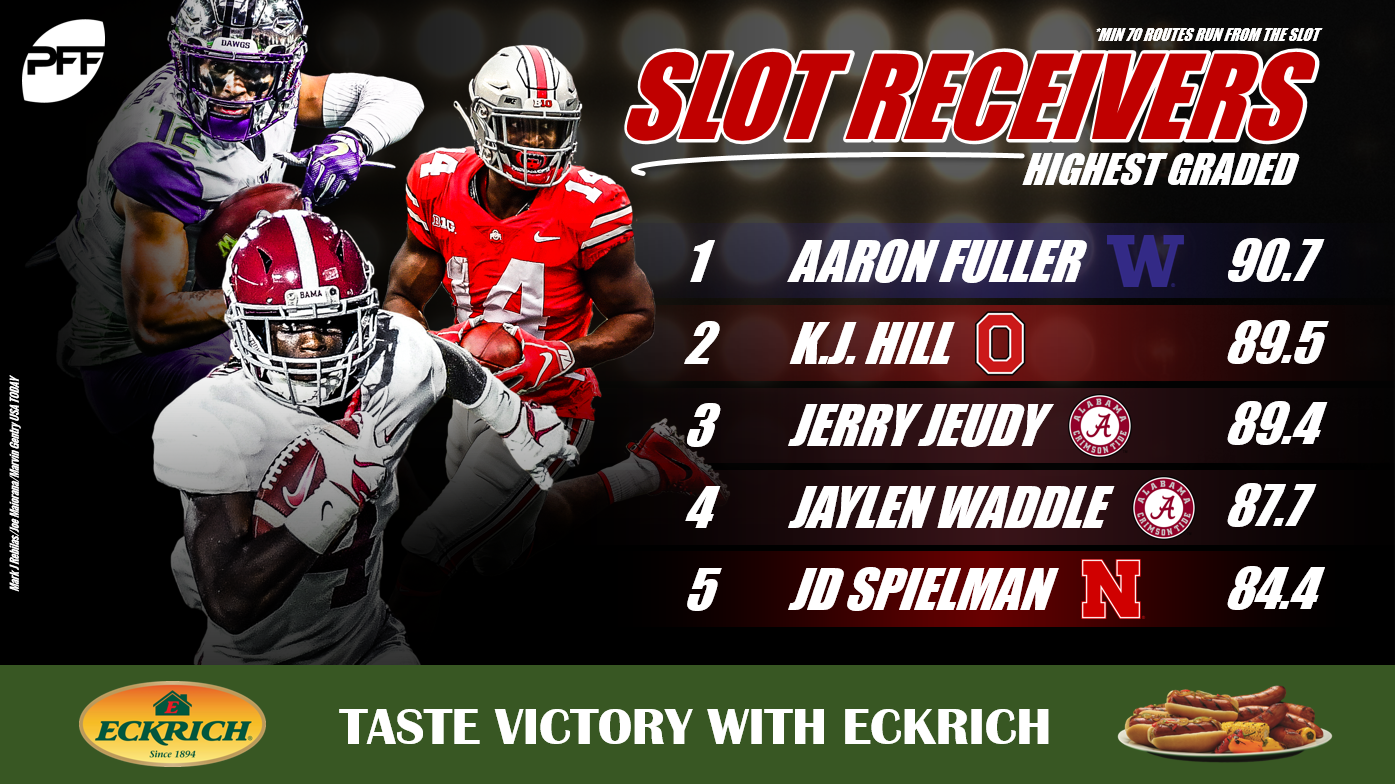 5. JD Spielman, Nebraska – 84.4
Not a lot has gone right for Nebraska this season but very little of that should fall at the feet of Spielman. He has caught six of the 'Huskers eight passing touchdowns this season and 64% of his yards this year have come after the catch. Another way to say that is that Spielman gains 8.6 yards after the catch every time he touches the ball. With just over 94% of his snaps coming from the slot, Spielman is a dangerous weapon over the middle of the field.
Slot Stat: 53 slot receptions, 507 yards, 6 TD
4. Jaylen Waddle, Alabama – 87.7
When there are so many mouths to feed in one offense, it's not a surprise that Waddle has fewer receptions and targets than anyone on this list. He's made the most out of those targets, breaking out as a true freshman. Waddle has managed a ridiculous 5.07 yards per route run on all targets and has caught 17 of the 22 passes thrown his way.
Slot Stat: 17 slot receptions, 340 yards, 2 TD
3. Jerry Jeudy, Alabama – 89.4
Jeudy's body of work has been something special with Tua Tagovailoa at the helm in Tuscaloosa this season. He's played just 71% of his snaps from the slot and has 584 of his 705 yards from inside to go with eight of his nine touchdowns. He's done all of this on just 28 targets and 20 receptions. In other words, he's accumulated more yards and more touchdowns than anyone in the top 10 while only seeing the eight-most targets and receptions. Speaking just to his slot production, his 5.78 yards per route run is a full yard more than anyone else in the nation.
Slot Stat: 20 slot receptions, 574 yards, 8 TD
2. K.J. Hill, Ohio State – 89.5
Of the top five players on this list, only Spielman (94.2%) has a higher percentage of slot receiver snaps than Hill's 91.7%. Hill is also second in yards per route run at an impressive 4.44. He's done all of this despite being targeted less from the slot than his own teammate in Parris Campbell. Hill has recorded 274 of his 493 yards from the slot after the catch.
Slot Stat: 34 slot receptions, 493 yards, 4 TD
1. Aaron Fuller, Washington – 90.7
Fuller has spent less time in the slot than any of the other players in the top 10, yet 400 of his 589 yards and both of his touchdowns have come when he lined up inside. He's also been at his best against tough competition on the Huskies schedule. He has gone over 100 yards against Auburn, Utah and BYU. 27 of Fuller's 37 catches have gone for a first down or touchdown.
Slot Stat: 28 slot receptions, 400 yards, 2 TD