The Pac-12 conference may have started this season some heralded offensive players, but the conference has seen it's fair share of defensive players shining brightly so far this season. Entering the season with the likes of veteran quarterbacks Justin Herbert, Jake Browning, Steven Montez, Manny Wilkins, Khalil Tate and promising youngsters in JT Daniels, Dorian Thompson-Robinson and transfer Gardner Minshew, strong defensive play was an afterthought kicking off 2018.
While some offensive players have indeed had their moments, linebackers and edge defenders have taken center stage when talking about the best players in the conference.
This feature on the highest-graded Pac-12 defensive players is brought to you by Eckrich, the Official Smoked Sausage of the College Football Playoff.
While we'll get into the top offensive players after Week 7's action, here are the 10 highest-graded defensive players in the Pac-12, after Week 6:
1. Nate Landman, LB, Colorado
2018 season grade: 89.1
Landman has dominated games this season, performing well in all three facets of play: pass-rushing, run defense and in coverage. He's been his best against the run, tying for first in the conference with his 14.4% run-stop percentage. He's recorded 19 tackles for an offensive failure on just 132 snaps in run defense, despite just three missed tackles on 36 attempts against the run.
2. Ben Burr-Kirven, LB, Washington
2018 season grade: 89.0
Burr-Kirven has been extremely active for the Huskies defense, tallying 360 snaps so far this season, over six games. He's logged 189 snaps in coverage, where he's arguably been his best. He's been targeted 36 times in coverage already this season, not only tops among linebackers (by 17 targets) but that's a figure good enough to rank fourth-most among all Pac-12 defenders. He's allowed a total of 31 receptions, yet they've averaged just 6.6 yards per catch as he's only missed one tackle in pass defense this season.
2. Justin Hollins, Edge, Oregon
2018 season grade: 89.0
Hollins' 89.0 overall grade is not only tied for the second-highest of any defender in the Pac-12 it's also good enough for first among edge defenders, by a whole whopping 10.1 grade points. He's registered 16 total QB pressures on his 116 pass-rush snaps, leading to the conference's best 90.5 pass-rush grade.
4. Evan Weaver,  LB, Cal
2018 season grade: 88.2
The third linebacker in the top four, linebacker play has been prevalent over the first six weeks of Pac-12 action. Weaver sits tied just behind Landman with a 12.6% run-stop percentage, bringing in 20 stops in run defense on his 159 run-defense snaps and conference-leading 90.8 run-defense grade.
5. John Penisini, DI, Utah
2018 season grade: 87.7
Playing the least amount of snaps out of the top 10 listed here, Penisini has been dominant over his 157 reps. He's currently the conference's second-highest graded run defender as he records a run stop on 14.1% of his run-defense snaps – first among interior defensive linemen.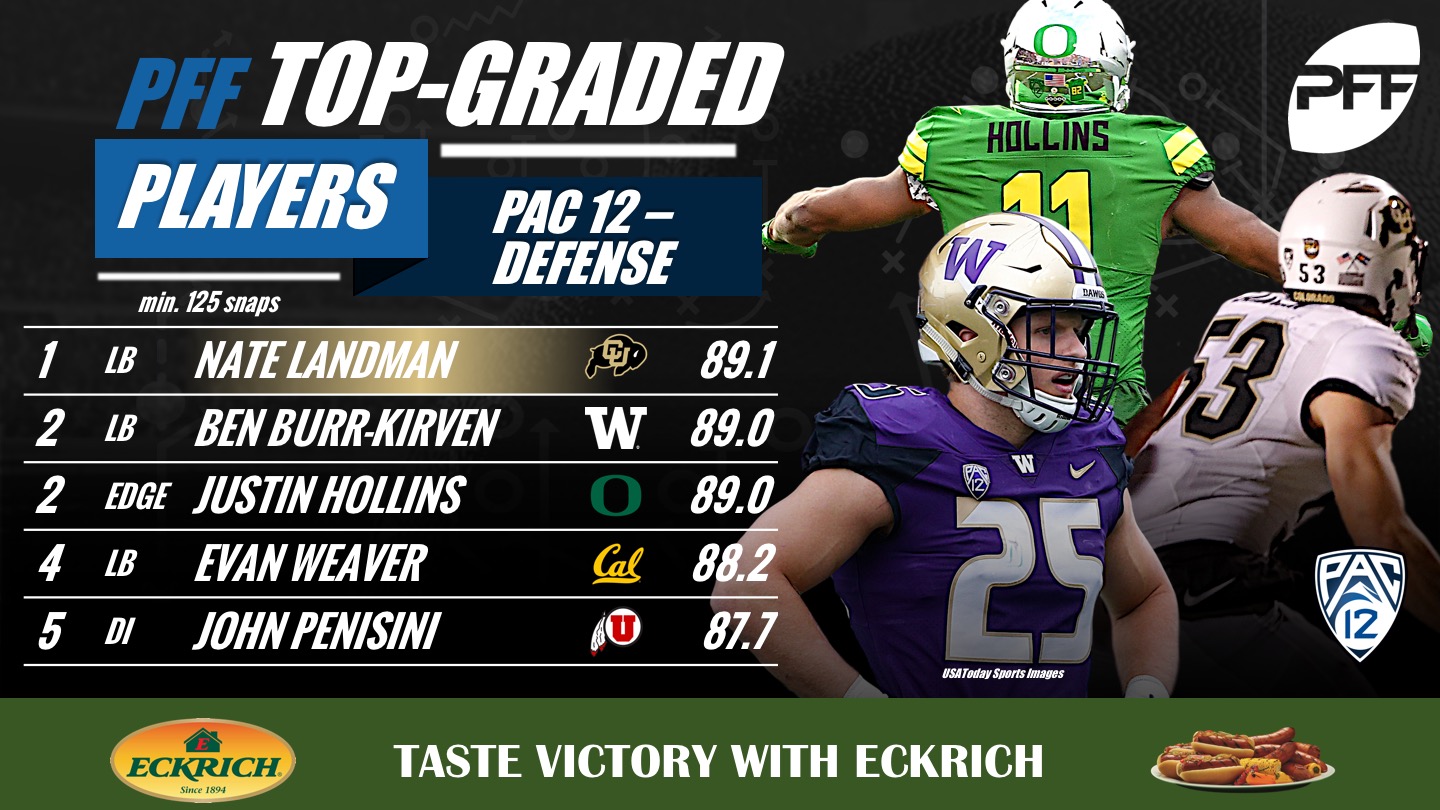 6. Taylor Rapp, S, Washington
2018 season grade: 86.8
Rapp may be the only defensive back to crack the top 10 here but he leads the three Washington players to currently hold grades in the top 20 overall. Washington is the only secondary to have a player graded out in the top 20 among all defenders and the only secondary to boast any players with a grade north of 80.0. Rapp has just one missed tackle on 22 attempts and allows just a 25.0 passer rating when targeted.
7. Cameron Smith, LB, USC
2018 season grade: 84.8
Smith sits tied atop the leaderboard with Landman with his 14.4% run-stop percentage. He's the conference's fourth-highest graded linebacker and has 78.1 or higher grades in run-defense, tackling grade and in coverage.
8. Jordan Kunasyk, LB, Cal
2018 season grade: 84.2
Kunaszyk is the second Cal linebacker on this list and fifth-highest graded linebacker in the conference through six weeks. He currently holds the league's second-highest pass-rush grade among linebackers as he's recorded nine pressures on just 22 blitzes this season.
9. Troy Dye, LB, Oregon
2018 season grade: 84.1
Dye flies over the field for the Ducks, recording five pressures including three QB hits while he's also been strong in coverage, bringing in an interception and two pass breakups. His. 78.4 coverage grade is eighth among Pac-12 linebackers.
10. Mustafa Johnson, DI, Colorado
2018 season grade: 83.3
Johnson currently leads the conference with his 22 total QB pressures, doing so by winning in multiple ways. He has seven sacks, four QB hits and an additional 11 hurries while he's been no slouch in run defense, bringing in a run stop on 9.1% of his run-defense snaps.