Chad Kelly reached the peak of his college football career as a junior at Ole Miss, a season in which he led the Rebels to a 10-3 record and was named the MVP of a Sugar Bowl victory. Expectations were high.
But if you had told Kelly back then in 2016 that it would take seven years and a move to Canada for him to become a full-time starting quarterback again, would he have believed it?
"No," Kelly said with a laugh. "No chance."
Following an injury-shortened senior season for Kelly, many football fans remember what happened next. His NFL Scouting Combine invite was unexpectedly rescinded, and he was drafted by the Denver Broncos with the very last pick in the 2017 NFL Draft. Kelly played exactly one snap for the team in 2018 before being released due to off-field issues.
The Indianapolis Colts picked him up the following year, but he was cut a month into the season. Kelly went back to coach at East Mississippi Community College, where he played in 2014. But he never stopped believing that he'd play football again.
"I always stayed watching film, watching football," Kelly said in an exclusive interview with PFF. "I built a gym in my place. I invested in my mental health over the time. I did all these things to stay in shape, to stay ready at any point in time. It was just kind of staying focused on the bigger picture. And that's one day getting back to playing good football."
That's just what Kelly did. After being out of professional football for more than a year, he decided to take his talents up north. He signed a CFL contract with the Toronto Argonauts in the 2022 offseason. At that point, he just wanted a chance to play football, even if it meant moving to a new country.
"Look, I love football," Kelly said. "Obviously, it's a different game, but it's still football. I've always kept an eye on it, even as a kid, playing a team from Canada in high school. I had never been here until I got signed, and I came to fall in love with it." 
Kelly spent the 2022 season as the Argonauts' backup quarterback, playing sparingly in short-yardage situations or garbage time. He got one start in the final week of the season before going back to his backup spot for the playoffs. Then, in the fourth quarter of the Grey Cup with the Argos trailing 23-17, Kelly found himself thrust into action after an injury to starting quarterback McLeod Bethel-Thompson. All he did was lead Toronto on a game-winning drive, to a Grey Cup championship.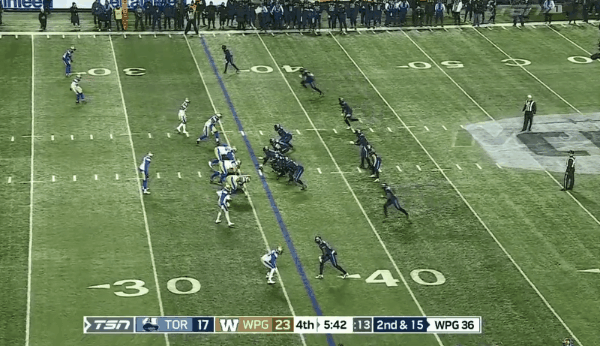 "It was life-changing, honestly," Kelly said. "A lot of people kind of wrote me off, and thought I wasn't even playing. The biggest moment of my career, obviously, is that moment. Every kid dreams about being able to bring the team back in the fourth quarter and being able to lead them to a victory in the championship game. It was surreal."
It was proof that Kelly could be the Argonauts' starting quarterback of the future. So, when Bethel-Thompson left in the offseason to return to the U.S., the Argos didn't waver. They didn't bring in a veteran quarterback, they didn't make any vague statements about a quarterback competition.
Chad Kelly was their starting quarterback.
"Staying up here this offseason, I think they realized that I'm putting in the work. Before they even decided all this. I'm dedicated to the sport. Every day I'm trying to get better mentally and physically. I think they realized it. And I applaud them for having some patience with me, and I'm sure they would say the same about having patience with them."
That patience from the Argonauts has paid off in a big way. The team is 4-0 to start the 2023 season. Their offense is averaging 38.8 points and 401 yards per game, both of which lead the CFL. Their defense is one of the best in the league. They are the current betting favorites to win the Grey Cup this year, and Kelly says part of that just comes down to team camaraderie.
"Sometimes, in certain locker rooms, people don't hang out outside of football. I truly feel like we are a family. I can't speak on every locker room, but ours feels different. It feels like it's truly a passionate family and that we'll ride and die for each other."
Kelly himself is having a breakout season. His 90.4 overall grade leads the CFL. He's shown that he can be a near-unstoppable dual-threat quarterback, as his passing grade (84.2) and rushing grade (87.0) both rank second at the position. His 75.5% adjusted completion percentage and his 9.4% big-time throw rate are both right at the top of the league, too.
| | | |
| --- | --- | --- |
| Stat | Figure | Rank |
| PFF overall grade | 90.4 | 1st of 12 |
| Adjusted completion percentage | 75.5% | 2nd of 12 |
| Yards per attempt | 11.2 | 1st of 12 |
| Big-time throw rate | 9.4% | 2nd of 12 |
| Average depth of target | 12.3 | 4th of 12 |
| Passer rating from a clean pocket | 112 | 2nd of 12 |
| Passer rating under pressure | 109.5 | 3rd of 12 |
| Passer rating on throws of 10-plus yards | 128.8 | 1st of 12 |
Kelly is not only proving he belongs as a CFL starter but also that he belongs in the Most Outstanding Player award discussion. If you ask him, though, he still has a lot to work on.
"Yeah, I've definitely got to improve on a lot of things," Kelly said. "It's about seeing the field better. It's about slowing the game down. [Former Indianapolis Colts head coach] Frank Reich always talked about having accelerated vision. That's one thing I always try to take into account, how fast I can see things."
Kelly also credits the Argos' coaching staff for both the team's and his own success this season.
"[Quarterbacks coach] Mike Miller does a fantastic job of getting us prepared. He always says, 'Stay within our rules.' If you do that, good things are going to happen. Because most of the time there's an outlet for everything that a team is throwing at us. We've just got to keep working hard and make sure that once it gets to the fourth quarter, mentally and physically, we pick it up and we're stronger."
Joe Theismann, Warren Moon and Jeff Garcia all kicked off their professional football careers in the CFL before having long stints as NFL starters. Could Kelly be added to that list? He won't write off an NFL return completely, but it's clear he is focused on his current situation.
"Look, it's been every kid's dream to play in the NFL, make a boatload of money and win Super Bowls," Kelly said. "But we always talk about 'where your feet are is where you need to be present in the moment.' And right now, I am up here in Canada loving every second of it. I love this game; I love this city. Can I see myself being up here for 10 years? Heck yeah. I envision myself being able to just be the best quarterback I can be and keep getting better every day.
"At some point, maybe the NFL will call. But being up here is helping me get better and I'm thankful for where I'm at and I'm learning so [many] new things, nuances of defenses and offensive plays. There's a lot of similarities in the concepts and combinations that they bring, north and south. So I think it's just all going to keep on becoming more natural and maybe one day it happens, maybe it doesn't."
The Chad Kelly of 2023 is far different from the 2016 version. He's still playing top-level football, sure, but he doesn't take it for granted. He's grateful, he's humble. He's grown and learned over these past seven years. There were doubts that he'd ever play on a football team again, let alone as a starting quarterback in a professional league. But he's here, tearing up the CFL.
"If you eat, sleep, breathe your job and truly care to want to help others be great as well, that's when you're going to take your game and your mentality to a whole other level. That's where I'm at right now in my life. I'm thankful for the things I went through," Kelly said. "It might have been easier on the field for me, but it might've taken a little longer off the field. And I think I finally have figured it out."