The Washington Redskins visit the Los Angeles Chargers in Week 14 of the 2017 NFL season. PFF previews the top player matchups of the game.

PFFELO Ranking: 19
Coverage by: Mark Chichester
T Trent Williams vs. Edge Joey Bosa – Despite playing with a bad knee for most of the season, left tackle Trent Williams has once again been one of the most consistent tackles in the league, and through 13 weeks, he's currently ranked ninth among tackles with an overall grade of 81.7. In nine games, he's allowed just 15 pressures on 334 pass-blocking snaps, and he is just one of three tackles to have played over 300 pass-blocking snaps without allowing a sack, which is an impressive feat given the severity of his knee injury. As he looks to finish the season, he'll be facing arguably his toughest opponent of the year in Joey Bosa. Through 13 weeks, Bosa has racked up 60 total pressures, fourth-most among all edge-rushers. He currently ranks first among players at the position with an elite pass-rushing grade of 94.1.
QB Kirk Cousins vs. Chargers pressure – In nearly three full seasons as the starting signal-caller, Kirk Cousins has done everything in his power to warrant a long-term deal with the team, but it seems that a decision on his future will be made by how he performs in the last few games of the season. With an injury-ravaged offensive line and arguably the league's best pass-rushing duo in front of him, Cousins can make a statement if he performs well under the pressure that will inevitably come his way. Through 13 weeks, Cousins has proved he's very capable of doing just that, as he's completed 54.5 percent of his attempts while under pressure, while notching a passer rating of 77.1 on such throws, which ranks fourth and ninth among quarterbacks, respectively.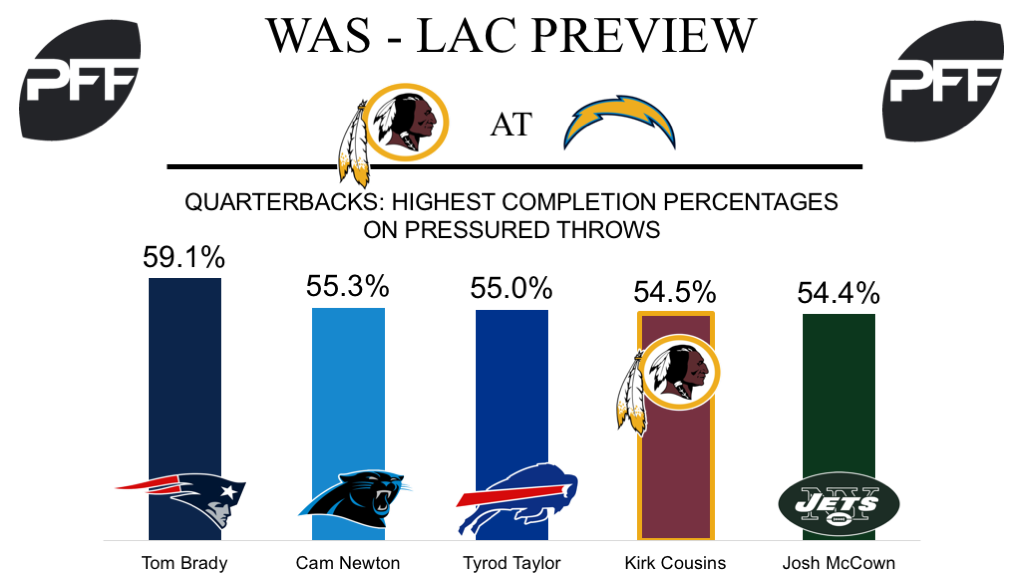 RB Byron Marshall vs. LB Denzel Perryman – In the last three weeks, Marshall has seen both his snap count and number of targets increase every game as Washington seeks to expand his role on the offense. Marshall has caught six-of-seven targets for 36 yards at an average of just 1.00 yards per route run, 49th among backs in that span. This week, Marshall is likely to see his targets increase further, so he'll want to improve on his start with the team. The Redskins should aim to match him up against linebacker Denzel Perryman, who returned from injury in Week 10. Since his return, Perryman has allowed of 1.37 yards per coverage snap, which ranks 21st of 29 4-3 outside linebackers with at least 30 coverage snaps in that span.

Coverage by: Daniel Rymer
QB Philip Rivers vs. CB Josh Norman – Rivers is the Chargers' 2017 season personified. The grit and competitive fire shown by the Chargers while fighting back from an 0-4 start is exactly what you would expect from a team led by the fiery veteran. On the year, Rivers ranks 11th in adjusted completion percentage out of 38 quarterbacks. His favorite route to throw has been the crossing route; on such routes, Rivers has completed 46 of 63 passes for 639 yards and one touchdown. On the other side, Redskins cornerback Josh Norman is one of the most avoided in the league. On 330 cover snaps, Norman has only been targeted 37 times, making him the eighth-least targeted cornerback in the league. However, if we know anything about Rivers so far, it's that he probably won't be scared to test Norman's tight coverage.
T Russell Okung vs. Washington edge defenders – As Rivers' blindside protector, Okung continued his great pass-blocking year by allowing zero total pressures on 44 pass-block snaps last week. On 441 pass-block snaps this season, Okung has allowed just two sacks, three hits and 15 hurries, good for a pass-blocking efficiency rating of 96.5 (12th out of 81 offensive tackles). If the Chargers want to continue to win games (and fans in Los Angeles), Okung will have to play his part by keeping the Washignton pass-rushers from getting to Rivers. Junior Galette and Preston Smith are the team's primary right-side pass-rushers. On 102 pass-rush snaps from the defense's right side, Galette has generated 13 total pressures, giving him a 9.8 pass-rush productivity rating (36th out of 109 edge defenders). Smith has generated 24 pressures on 221 pass-rush snaps from the right side, giving him a pass-rush productivity rating of 8.7 (48th).
TE Hunter Henry vs. S D.J. Swearinger – Henry has emerged as a stud tight end for the Chargers in his sophomore year. He has gained an average of 2.07 yards per route run, making him the third-most efficient pass-catcher at the tight end position. Henry has been heavily targeted on crossing routes and hitches, with nine catches on crosses for 152 yards and eight catches on hitches for 71 yards. With 50 percent of Henry's routes coming from the inline tight end position, the Redskins will look to safety D.J. Swearinger to help cover Henry. On 429 snaps in coverage, Swearinger has allowed an average of 0.88 yards per cover snap, 73rd out of 86 safeties.