The San Francisco 49ers' second-year head coach and general manager combination of Kyle Shanahan and John Lynch will take part in their second draft together at the end of April, just months removed from a five-game winning streak to close out the 2017 season. Their in-season trade for QB Jimmy Garappolo looks more like a steal than ever as they shipped out just a second-round pick for the man who ultimately looks the part of the team's franchise quarterback for years to come.
The 49ers signed several positions of need this offseason including a former division-rival in CB Richard Sherman, hoping to bolster a team who ranked 27th in coverage grades as a team last year. Another cornerback or safety is not off the table in this year's draft, nor would a pass-rushing force from either the interior or outside of the defensive line. From Week 1-5, the 49ers ranked fourth in pressure generated per snap, playing with Arik Armstead. Without Armstead after Week 6, San Francisco generated pressure at the 12th-highest rate in the NFL, showcasing their need for depth and added bodies along their front-seven (even before what looks like the loss of LB Reuben Foster this offseason).

The addition of Weston Richburg at center and Jerick McKinnon at running back will go a long way in the team's depth and offensive attack in 2018 but a need at receiver and depth along the offensive line could also be targets. San Francisco has a front-loaded draft with six of their nine selections in the first 143 overall picks.
Using our Wins Above Replacement (WAR – roughly the number of wins a team gets from replacing an off-the-street player with the player of interest) metric as a model, the aforementioned Armstead has proven a solid player with two plus-numbers in terms of WAR including last season. Fellow defensive lineman DeForest Buckner has also shown great value in his brief time in the NFL, finishing with two positive years, nearly worth a full 1.0 WAR last season. After a down year in 2015, safety Jaquiski Tartt has steadily increased his WAR value, and was worth nearly 0.5 WAR in 2017.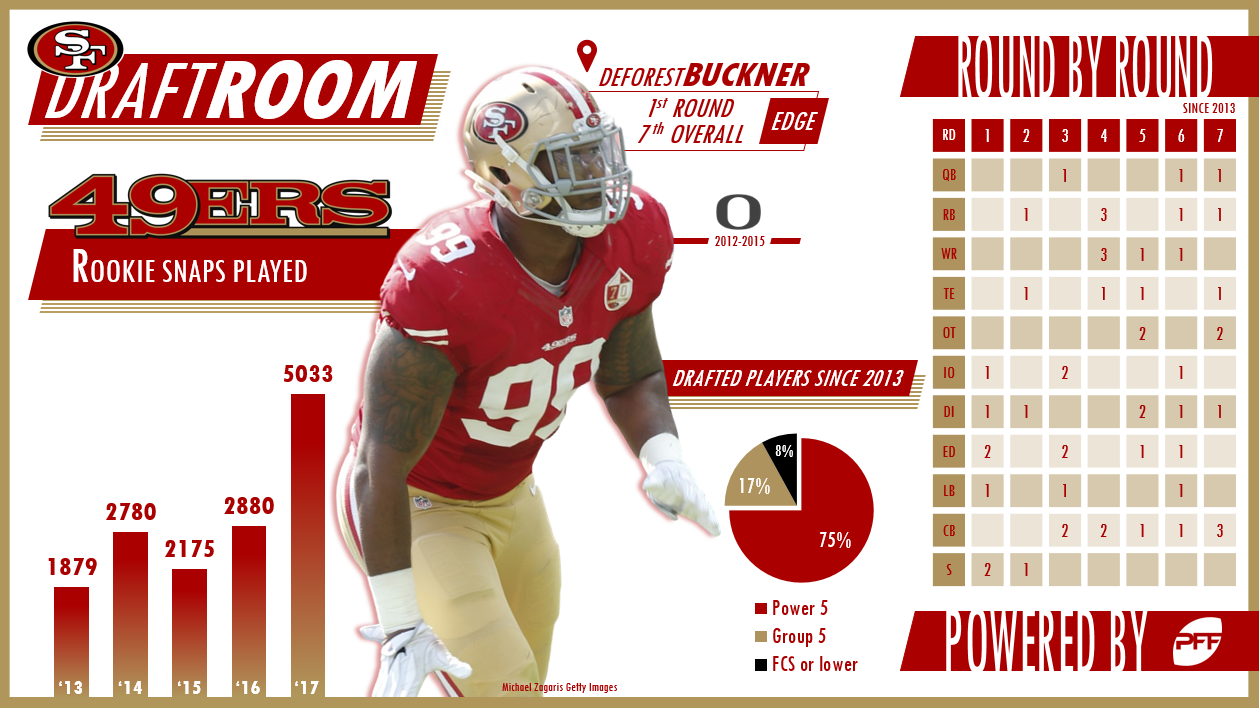 How Have the 49ers' Draft Classes Stacked Up League Wide 2013-2017?
Overall WAR of drafted players for the 49ers: 27th
Drafted Players with the Highest WAR (per season):
– Chris Borland
Retired after one year, but he was terrific in that one season, leading all linebackers in run stop percentage by a mile that season.
– DeForest Buckner
The top-10 pick from Oregon has already generated 10 sacks, 33 quarterback hits, 57 pressures and 66 stops through two seasons.
– Ahkello Witherspoon
Came on strong as a rookie in 2017, breaking up four passes and intercepting two more in just 380 coverage snaps.
Drafted Players with the Lowest WAR (per season):
– C.J. Beathard
Got a chance to play in 2017 and was largely a disappointment, generating a 69.2 passer rating while taking 19 sacks in 257 dropbacks.
– Marcus Martin
Never earned a PFF grade above 40.6 in three seasons with the 49ers.
– Blake Bell
Failed to earn a PFF grade above 50.0 in two seasons with the 49ers.
– Joshua Garnett
Earned a 39.6 grade during his 2016 rookie campaign.