The New England Patriots have had no issue in doing things their own way, with little regard to how others view player values. There has seemingly been a large value placed upon where a prospect plays his college ball as 72 percent of their draft picks have come from Power-5 conference teams since 2013. New England has an extra second-round pick in the 2018 NFL Draft after their Jimmy Garoppolo trade with San Francisco last season as they've been active in trading their draft picks seemingly since last year. They shipped out a sixth-round pick for Jason McCourty to the Browns, a fifth-round pick to the Raiders for Cordarrelle Patterson and received an extra first-round pick from the Rams for receiver Brandin Cooks.
In total, New England has eight total selections including five in the first 95 overall selections, after only four selections in last year's draft. Their penchant for trading selections for veteran players has already reared it's head already this offseason with the aforementioned acquisitions, but with their draft capitol, it wouldn't be surprising to see coach Bill Belichick bring in another veteran or two with possible draft weekend trades.

The Patriots have historically valued length in their front-seven prospects and do not hide their interest in prospects. 3-of-4 drafted prospects a year ago came in for a visit of their facilities and the fourth had an individual, private workout with a position coach.
Speaking to length on their front-seven and using our Wins Above Replacement (WAR – roughly the number of wins a team gets from replacing an off-the-street player with the player of interest) metric as a model, Patriots edge defender Trey Flowers has increased his value to the team, by increasing his WAR in each of the last three seasons. Shaq Mason has also proven value, registering positive WAR numbers (above 0.0) since 2016 while on offense, RB James White has recorded a 0.50 WAR or better in each of his last three seasons.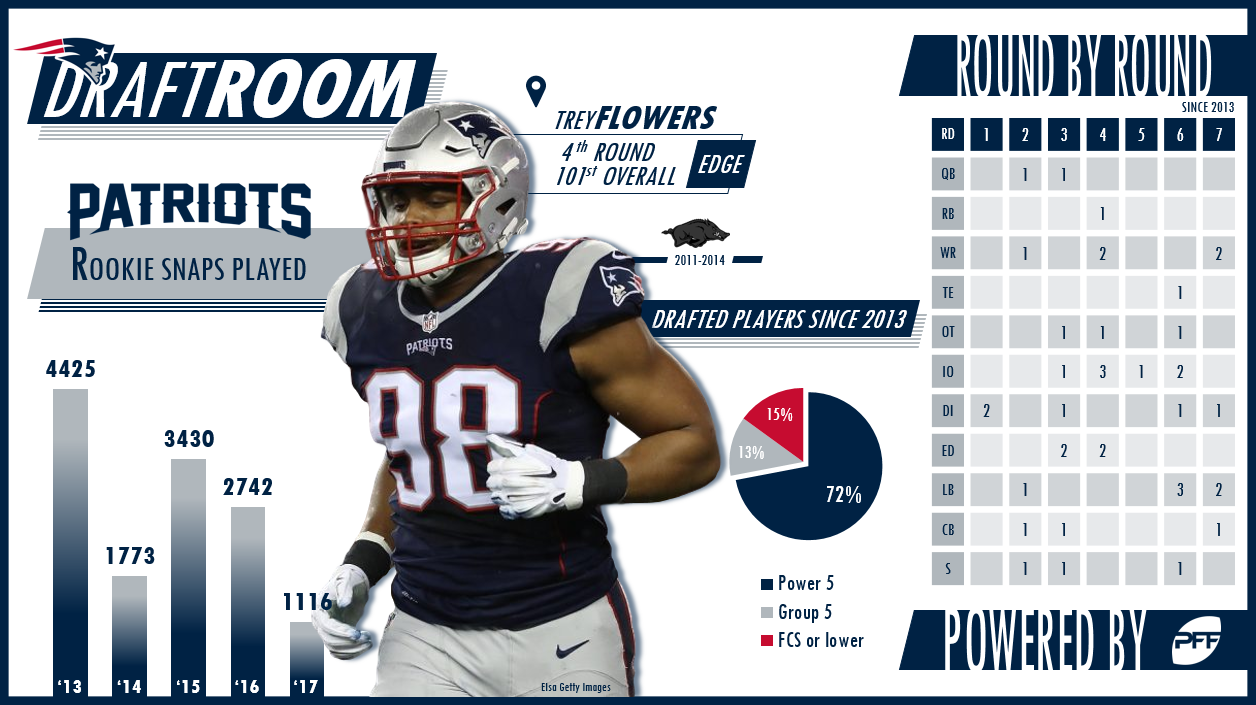 How Have the Patriots' Draft Classes Stacked Up League Wide 2013-2017?
Overall WAR of drafted players for the Patriots: 8th
Drafted Players with the Highest WAR (per season):
– Jamie Collins
Has struggled since leaving the Pats, but Collins was terrific in 2014 and 2015, earning PFF grades of 88.8 and 89.3.
– James White
The hero of Super Bowl 51, White has been a mainstay in the Pats' offense since 2015, generating 1,427 receiving yards after the catch and 15 receiving touchdowns during that time.
– Logan Ryan
Before leaving for the Titans in 2017, Ryan was a solid contributor to the Pats defense, never surrendering a passer rating above 86.0 in four seasons in New England.
– Duron Harmon
Has excelled as a sub-package safety, collecting interceptions on 14 of the 44 passes thrown into his coverage.
Drafted Players with the Lowest WAR (per season):
– Jacoby Brissett
Struggled in his only playing time in 2016 (83.9), but was able to net Phillip Dorsett in a trade the following year.
– Elandon Roberts
Has struggled to take over for Collins since they traded him to the Browns, with PFF Grades of 61.1 and 41.6.
– Aaron Dobson
Never materialized as a receiver for the Pats, getting on the field for only 849 career snaps and struggling when he had opportunities.
– Tre' Jackson
Struggled as a run-blocker and pass protector in 618 2015 snaps.
– Malcolm Mitchell
Dropped 5-of-57 targets in 2016. Missed all of 2017 with an injury.