A new regime in the desert begins as Steve Wilks takes over with a new offensive and defensive coordinator in Mike McCoy and Al Holcomb, respectively. A new staff in place makes pegging what the Arizona Cardinals may do in the 2018 NFL Draft a difficult endeavor. McCoy is know for running a complex offensive scheme which will require a quarterback with a high football IQ. During his last stop in Denver, he lobbied for speed from the interior playmakers of the offense – slot receivers and running backs – to be able to attack and create mismatches with linebackers.
With a hole at the league's most important position, general manager Steve Keim used free agency to attempt to bridge the gap, signing former Vikings QB Sam Bradford and former Bears QB Mike Glennon. Bringing in a young quarterback to compete and add depth in the QB room is a very viable option given the aforementioned reasons.

After being a few picks too late for quarterbacks they coveted in 2017, the Cardinals could move up in the draft to select a quarterback they may be enamored with. Their offensive line is in need of some help, and with the loss of Tyrann Mathieu, there also is a big gap in the secondary, both places that they could look to address at the end of April. The Cardinals have shown a penchant for drafting small school players including players from Delaware State, Grambling State and Midwestern State over the past five years, so a small school product is not off the radar for the later rounds.
Something they've used in the past, the Cardinals could also look to bring in a new 'hybrid' player as they refer to them, or players with positional flexibility to play more than one different position. Players like Mathieu and his now replacement Budda Baker are key examples here. Using our Wins Above Replacement (WAR – roughly the number of wins a team gets from replacing an off-the-street player with the player of interest) metric as a model, losing Mathieu & John Brown combined sheds roughly four wins generated above replacement since 2014. Former first-round pick Deone Bucannon would have ranked as one of the most valuable players had he not struggled in 2017. Their quarterback play is also an example of needed fixes in terms of WAR as Blaine Gabbert ranked as the second-least valuable player in 2017.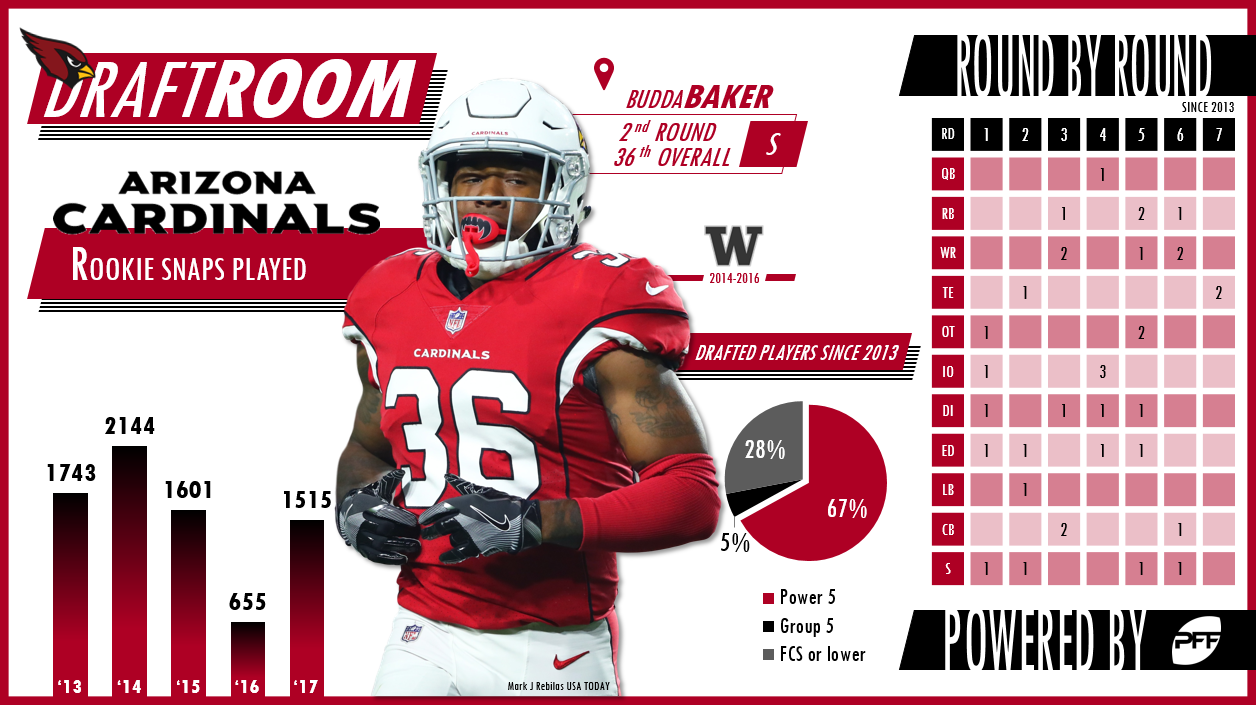 How Have the Cardinals' Draft Classes Stacked Up League Wide 2013-2017?
Overall WAR of drafted players for the Cardinals: 18th
Drafted Players with the Highest WAR (per season):
– David Johnson
Was awarded PFF's Best Receiver in 2016.
– Tyrann Mathieu
Was becoming one of the league's best defensive players before an ACL injury in 2015, just a 77.0 PFF grade in 2017.
– Budda Baker
Made the 2017 Pro Bowl as a rookie special teamer, while coming on strong as a versatile player defensively (15 stops, 11 total pressures, three pass breakups).
– John Brown
Fell off a bit in 2017, with just a 50.2 PFF grade, but went over 1,100 yards in 2015.  Signed with Baltimore this offseason.
– Andre Ellington
Best season was his rookie year (86.5 PFF grade), but has graded below 60.0 in three of the last four years.
Drafted Players with the Lowest WAR (per season):
– Earl Watford
Has never earned a PFF grade above 60.0.
– Will Holden
Played 327 snaps as a rookie and allowed 16 total pressures.
– Brandon Williams
Allowed a 115.3 rating into his coverage in 2016.
– Ed Stinson
Generated only 20 stops and 17 total pressures in 829 career snaps to this point.
– Troy Niklas
Second-worst run-blocking grade among tight ends in 2017.