The 2021 NFL season is officially over, but there's still plenty to discuss in the infancy of the 2022 offseason. PFF readers had questions about the Las Vegas Raiders' offseason, quarterback movement, New England Patriots assistant coaches and more in this week's mailbag. Let's answer them!
---
Click here for more PFF tools:
Rankings & Projections | WR/CB Matchup Chart | NFL & NCAA Betting Dashboards | NFL Player Props Tool | NFL & NCAA Power Rankings
Best Bets Tool
---
The Raiders hired head coach Josh McDaniels and general manager Dave Ziegler from the New England Patriots and also brought over offensive coordinator Mick Lombardi, quarterback coach Bo Hardegree and offensive line coach Carmen Bricillo from New England. Raiders defensive coordinator Patrick Graham and senior defensive assistant Rob Ryan also spent time in New England. They all join Raiders assistant director of player personnel DuJuan Daniels, who also spent years as a scout with the Patriots.
So, how will they attack free agency? The most likely answer is that they'll try to bring aboard guys they're familiar with.
The Patriots' top free agents are:
Other players with a history in New England hitting free agency include:
Familiarity and fit are really important in New England, and I'd anticipate that will extend to Las Vegas. Expect a handful of those players listed above to land in Las Vegas to fill out the Raiders' roster.
As for the draft, there will be some tweaks, but I believe the Raiders will look at similar prospects as the Patriots, as well. Wide receiver, cornerback, defensive tackle and linebacker are the Raiders' top needs. While the Patriots have not drafted well at wide receiver, McDaniels and Ziegler were able to select Demaryius Thomas and Eric Decker in 2010. That's a promising sign as the Raiders look to add weapons for quarterback Derek Carr.
The 2022 wide receiver class, both in free agency and the draft, is pretty interesting due to injuries, as I can't recall so many top players coming off of major knee injuries in the past.
Free agents Chris Godwin and Michael Gallup both tore their ACLs late in the season. Odell Beckham Jr. tore his ACL in Super Bowl LVI. Alabama draft prospects Jameson Williams and John Metchie also will need the offseason to recover from torn ACLs.
Gallup is expected to be 100 percent by August, a source told PFF. He's recovering well from offseason surgery.
Still, it wouldn't be surprising if there were some discounts to be had in this wide receiver class — both through the draft and free agency. Other top free agents, such as Allen Robinson, Will Fuller, JuJu Smith-Schuster and D.J. Chark, also had their seasons shortened by injuries.
If the right wide receiver is there for the Patriots in the first round, then it's worth seeing how he could grow with quarterback Mac Jones. But this is also a good year to need a wide receiver if you're cap-strapped in free agency.
Oh man, there are a lot of them. I think a few good quarterbacks will emerge from this draft class, but reaching for one would be bad news since the top six or so passers seem so close in talent level. It will all come down to preference between Sam Howell, Malik Willis, Kenny Pickett, Matt Corral, Desmond Ridder and Carson Strong.
It's a really interesting and strange quarterback class because those players are interchangeable on boards. It would be entirely unsurprising if a quarterback who is drafted in the second round winds up being better than the first quarterback taken. It's just one of those years.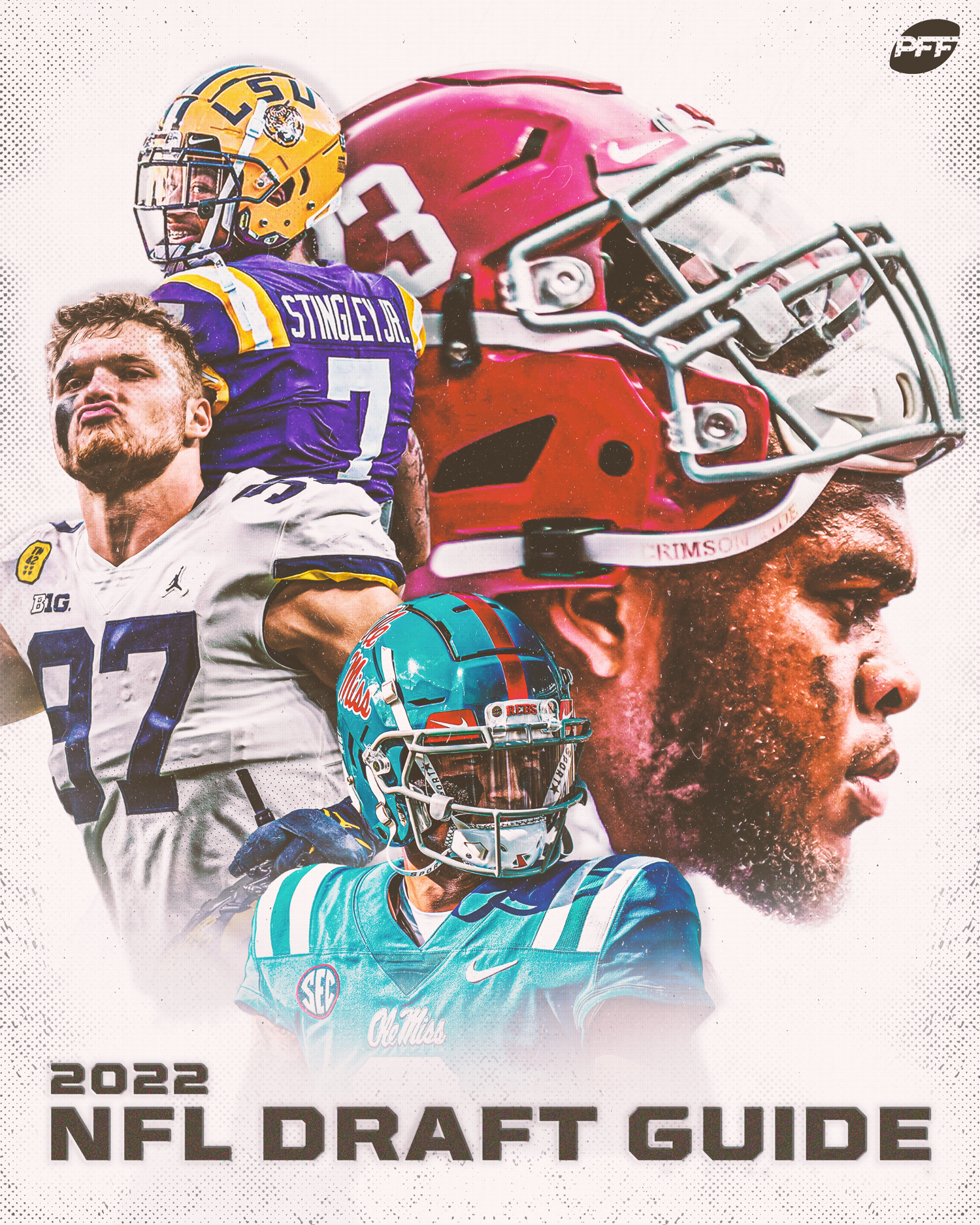 Another major mistake would be overpaying for a veteran who only winds up being an average starting quarterback (or worse). I have no problem with a team trading assets for someone such as Jimmy Garoppolo or even Kirk Cousins if they're an upgrade at the position. But that's not a directive to mortgage the future for an average starting quarterback because that team will probably be looking to draft a quarterback to potentially replace them in the future, as well.
We'll see some teams make mistakes when trying to find a quarterback this offseason. It's just a matter of which franchise.
| | | | | | |
| --- | --- | --- | --- | --- | --- |
| Name | Ovr. Grade | Passing Grade | BTT% | TWP% | Adj. Comp. % |
| Sam Howell | 90.9 | 80.3 | 5.9% | 2.3% | 72.4% |
| Malik Willis | 91.7 | 77.9 | 11.0% | 3.7% | 70.1% |
| Desmond Ridder | 90.7 | 87.1 | 6.5% | 2.0% | 73.9% |
| Matt Corral | 86.2 | 82.4 | 4.3% | 2.0% | 77.2% |
| Kenny Pickett | 92.3 | 92.3 | 5.5% | 2.8% | 78.8% |
| Carson Strong | 89.9 | 89.9 | 5.9% | 2.0% | 77.6% |
My best guess for the Pittsburgh Steelers' quarterback situation in 2022 is that Mason Rudolph will be a bridge starter for Willis, who the team selects in the 2022 NFL Draft.
It wouldn't be shocking to me if they took a swing on a veteran quarterback, but that doesn't seem like the likely option at this point.
New York Jets rookie QB Zach Wilson definitely struggled this season, but he earned a 62.8 overall PFF grade from Weeks 13-18, which ranked first among rookie QBs over that span. Wilson earned a 56.3 overall PFF grade from Weeks 1-12, ranking last among qualified rookie QBs.
Is that enough to convince me he'll be a franchise quarterback? Maybe not, but it was really good for him to show that improvement, and it's a sign of better things to come moving forward. Jets fans shouldn't feel too down about Wilson at this point.
| | | |
| --- | --- | --- |
| | Weeks 1-12 | Weeks 13-18 |
| Overall grade | 56.3 | 62.8 |
| Passing grade | 53.9 | 57.5 |
| BTT% | 3.6% | 1.1% |
| TWP% | 5.2% | 2.3% |
| Adjusted Comp. % | 69.3% | 70.7% |
Josh Allen, but he's an outlier. It's not smart to bank on a quarterback completely fixing accuracy issues from college to the NFL.
I think they should with picks at Nos. 2 and 32 overall plus another at the top of the second round. The Detroit Lions could still drastically improve their team with the second overall pick and their second-round pick while taking the best quarterback available at No. 32 overall to still get the fifth-year contract option.
Or they could even package something with the 32nd overall pick or second-round pick to move up in the draft to take the quarterback they like most.
This isn't the best quarterback class, and it's entirely possible they could take someone such as Bryce Young with a top pick in 2022. But it's also smart to take as many swings at a quarterback as possible to, at least, get a young player in the building to play behind Jared Goff.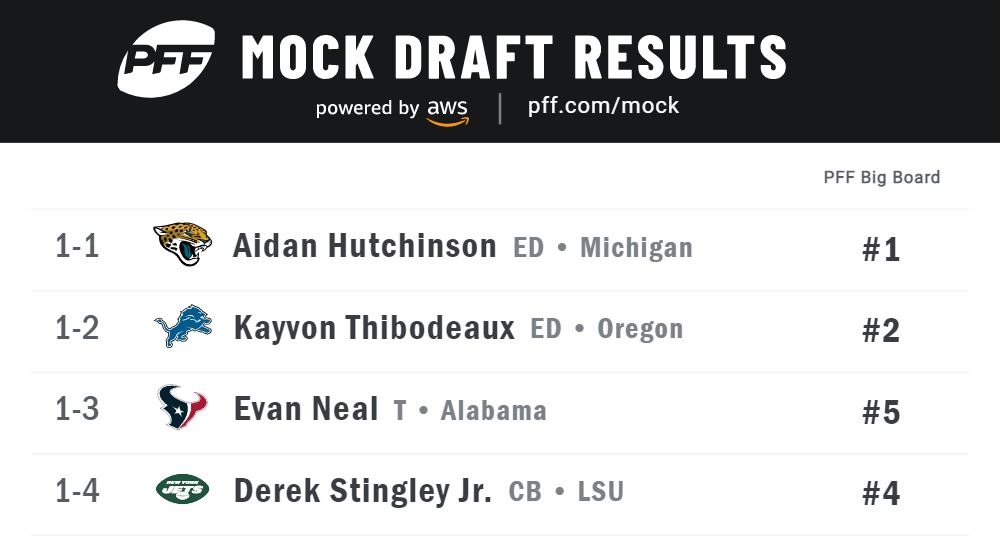 Quarterback, cornerback, edge defender and linebacker are the top needs for the Denver Broncos, so I'd say cornerback or pass rush. Those are the most valuable positions, outside of quarterback, on that list.
As for a quarterback, I'm curious to see what they wind up doing. I'm losing some confidence that Aaron Rodgers will be the answer there, even though it would certainly make sense with Nathaniel Hackett at head coach. The ownership uncertainty needs to be monitored.
I think the Carson Wentz trade is a decent starting point. The Indianapolis Colts gave the Philadelphia Eagles a 2021 third-round pick and a conditional 2022 second-round pick that turned into a first because of Wentz's playing time.
Maybe a team does that without the third-round pick for Garoppolo, meaning a conditional 2023 second-round pick that can turn into a first-round pick?
I think Garoppolo is a bit unfairly maligned. He's a capable starter who can serve as an upgrade on a handful of franchises around the NFL. Teams just can't give up too much for him, and it's worth having some sort of out in the form of trade conditions.
I'm a little bit surprised by how the Patriots are handling their coaching staff after losing McDaniels, Lombardi, Bricillo and Hardegree. Running backs coach Ivan Fears also could retire. They've hired former New York Giants head coach Joe Judge as an offensive assistant. I expected them to either bring on board Bill O'Brien or Adam Gase as offensive coordinator, but it's getting a little bit late in the process to hire either. They also would need to go through a hiring process and satisfy the Rooney Rule by interviewing minority candidates. Would they force minority coaches to go through that process if it wound up being a sham? The Patriots want to run their offense, and unfortunately, there aren't many outside minority offensive coaches with experience in New England's system. So, ultimately, it might wind up being easier and more fair to not name an OC this offseason.
Over the last week, I heard the possibility that former Detroit Lions head coach Matt Patricia or Patriots head coach Bill Belichick could take on bigger roles on offense. The Sports Hub host and former Patriots quarterback Scott Zolak said something similar on 98.5.
On 98.5 today, @scottzolak predicted the Patriots' new coaching staff will look like this:

-QBs/pass game coord.: Nick Caley
-TEs/co-run game coord.: Joe Judge
-OL/co-run game coord.: Matt Patricia
-WRs: Troy Brown

Added: "Billy O'Brien will not be the offensive coordinator."

— Zack Cox (@ZackCoxNESN) February 17, 2022
Patricia was mostly a defensive coach with the Patriots, but he did spend two seasons on the offensive side of the ball and then three seasons as Detroit's head coach.
Regardless of what the Patriots do, it wouldn't be shocking if there were some elements of Alabama's offense added for Jones in 2022.