The Titans were an unexpected participant in the AFC Championship Game last year, with quarterback Ryan Tannehill putting together by far his best season and the rushing attack complementing him to create a potent offense. The Titans are sticking with that main nucleus this season, locking up Tannehill and running back Derrick Henry to long-term deals while drafting potential heirs to their major free-agent losses.
Duplicating last year's success will come down to creating similar production in the pass game, and that will be a challenge given Tannehill's history of mid-tier play. Defensively, the Titans have had a secondary capable of competing against good passing attacks, and they should be in good position once again. This looks like another strong Titans roster that will go as far as the pass game takes them.
Subscribe to PFF's EDGE or ELITE subscriptions to get access to the following tools, charts, etc. 
– All Premium Article Content
– Fantasy Football Rankings & Projections
– Fantasy Football Draft Guide, Cheat Sheets & Advanced Stats
– Fantasy Football Mock Draft Tool (DraftMaster)
– Fantasy Football Strength of Schedule Matrix
– NFL Player Grades
– NFL Premium Stats
ADDITIONS/SUBTRACTIONS
Additions/players brought back:
RB Derrick Henry (franchise tag, long-term deal)
QB Ryan Tannehill (re-signed for four years, $118 million, $62 million guaranteed)
T Dennis Kelly (re-signed for three years, $21 million, $8.75 million guaranteed)
EDGE Vic Beasley Jr. (signed for one year, $12 million, $9.5 million guaranteed)
Losses:
CB Logan Ryan
EDGE Cameron Wake (cut)
TE Delanie Walker (cut)
RB Dion Lewis (cut)
DI Jurrell Casey (via trade)
QUARTERBACK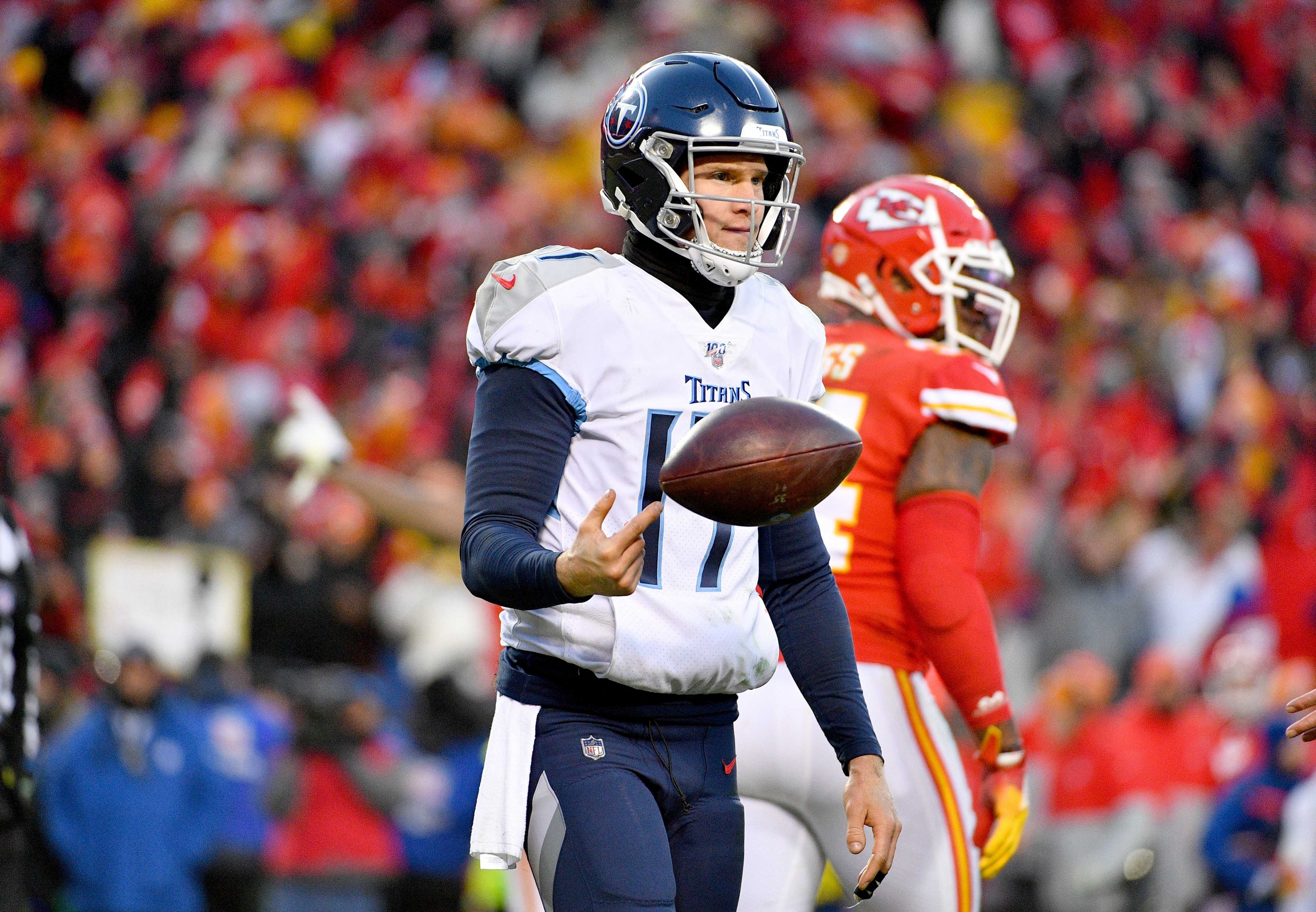 Here's what I said about Ryan Tannehill after the 2019 season:
In one of the biggest breakout seasons in history, Tannehill became one of the league's best passers, dominating at all levels of the field. He more than doubled his percentage of positively graded throws from a year ago, which is a ridiculous feat, even in small sample sizes. Tannehill was accurate to all levels of the field and was the league's best on 10-plus yard throws. His career year led the Titans to the No. 2 passing attack in EPA from the time he took over as starter through the end of the season. While Tannehill had settled in as a mid-tier starter in his first five years in the league, he was the league's lowest-graded starter in 2018 before posting the top grade in 2019, the biggest one-season increase in the PFF era. His 2019 campaign was special, and it's one that will be difficult to duplicate.
There's no denying that Tannehill's 2019 season was a far cry from the rest of his career. Even if this is a turning point in his development, it will still be difficult for him to duplicate the on-field production that carried the Titans' offense last season. That said, Tannehill has always been an accurate quarterback at the short and intermediate levels. Deep passing success is often down to the supporting cast, and that's where wide receiver A.J. Brown provides hope. Expect some regression from Tannehill, especially in positively graded throws, but there's also a chance that he is truly rejuvenated in a system that fits his skill set, which could give the Titans another top-rated offense in 2020.
RUNNING BACK
Last season, Derrick Henry took off once Ryan Tannehill took over at quarterback, and the Titans built an efficient rushing attack to complement one of the most explosive passing attacks in the league. Henry was a monster, averaging a league-high 4.2 yards after contact per rush. It took him a while to get going, but he finally started to run like a player with a 247-pound frame and a 4.54 40 time. He has an impressive 89.3 rushing grade since entering the league and has excelled as a one-cut runner who makes tacklers pay when trying to bring him down.
The backup spot will likely be manned by third-round pick Darrynton Evans, who is the opposite of Henry from a size standpoint but brings explosiveness and 4.41 speed to go with grades in the high 70.0s in each of the past two years at Appalachian State. The six players on the depth chart behind Henry have combined for just 28 NFL carries, so this looks like another bell-cow season for Henry.
WIDE RECEIVER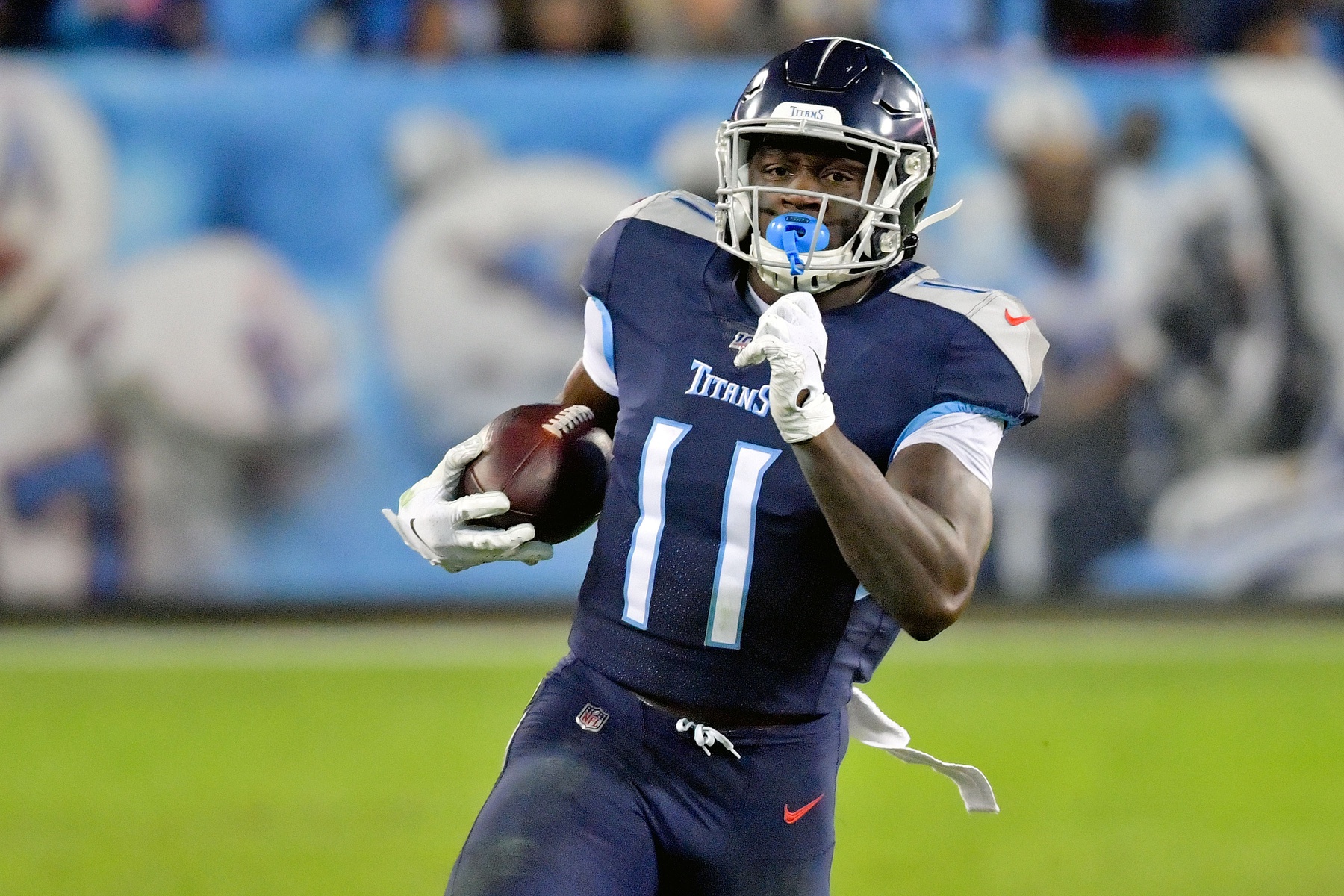 Titans receivers posted the second-best receiving grade during the 2019 regular season at 81.8, led by rookie sensation A.J. Brown. He averaged a ridiculous 20.2 yards per reception, including 8.9 yards after the catch per reception — second-highest in the league. Brown's size/speed combination gave NFL cornerbacks fits, and he established himself as a true No. 1 option quickly.
On the other side, 2017 first-rounder Corey Davis did not have his fifth-year option picked up, but he's still a solid No. 2 option who does his best work at the intermediate (10-19 yards) level where his 442 yards ranked 16th in the league last season. Davis works the vertical route tree well, though he has just 306 receiving yards on deep (20-plus yard) passes in his three-year career, while Brown had 378 in last year's regular season alone. While Davis has not become the three-level receiver the Titans would have hoped for from a No. 5 overall pick, they can still get solid No. 2 production out of him as a complement to Brown.
The No. 3 role is held by Adam Humphries, who had 399 yards in just 13 games last season. His best work came in 2018 when he caught 76 passes for 816 yards and earned a career-high 74.0 receiving grade. A full year of health should add a crucial complement to Brown and Davis on the outside. Kalif Raymond played a key role as the occasional downfield shot player, making the most of it with 10 catches for 215 yards and two touchdowns including the playoffs. Eight other players will battle for the No. 5 role, but the first four spots on the depth chart are well-defined, and it's a good mix of skill sets that should give the Titans one of the better units in the league.
TIGHT END
Jonnu Smith had a breakout 2019 season with a 79.3 receiving grade and 8.1 yards after the catch per reception, which ranked second among tight ends. He brought some stability to the position after Delanie Walker was limited to just six-plus games of action. Walker is gone and Smith should take on an even bigger role, but he needs help from Anthony Firkser, who posted a solid 70.6 receiving grade last season.
Like Smith, Firkser is under 250 pounds and hasn't been great as a run blocker, but they bring added pass-game weapons to take pressures off the receiving corps. MyCole Pruitt is also in the mix after catching 10 passes a year ago. It will be more of a committee approach for the Titans' tight ends, with Smith in line for another statistical jump.
OFFENSIVE LINE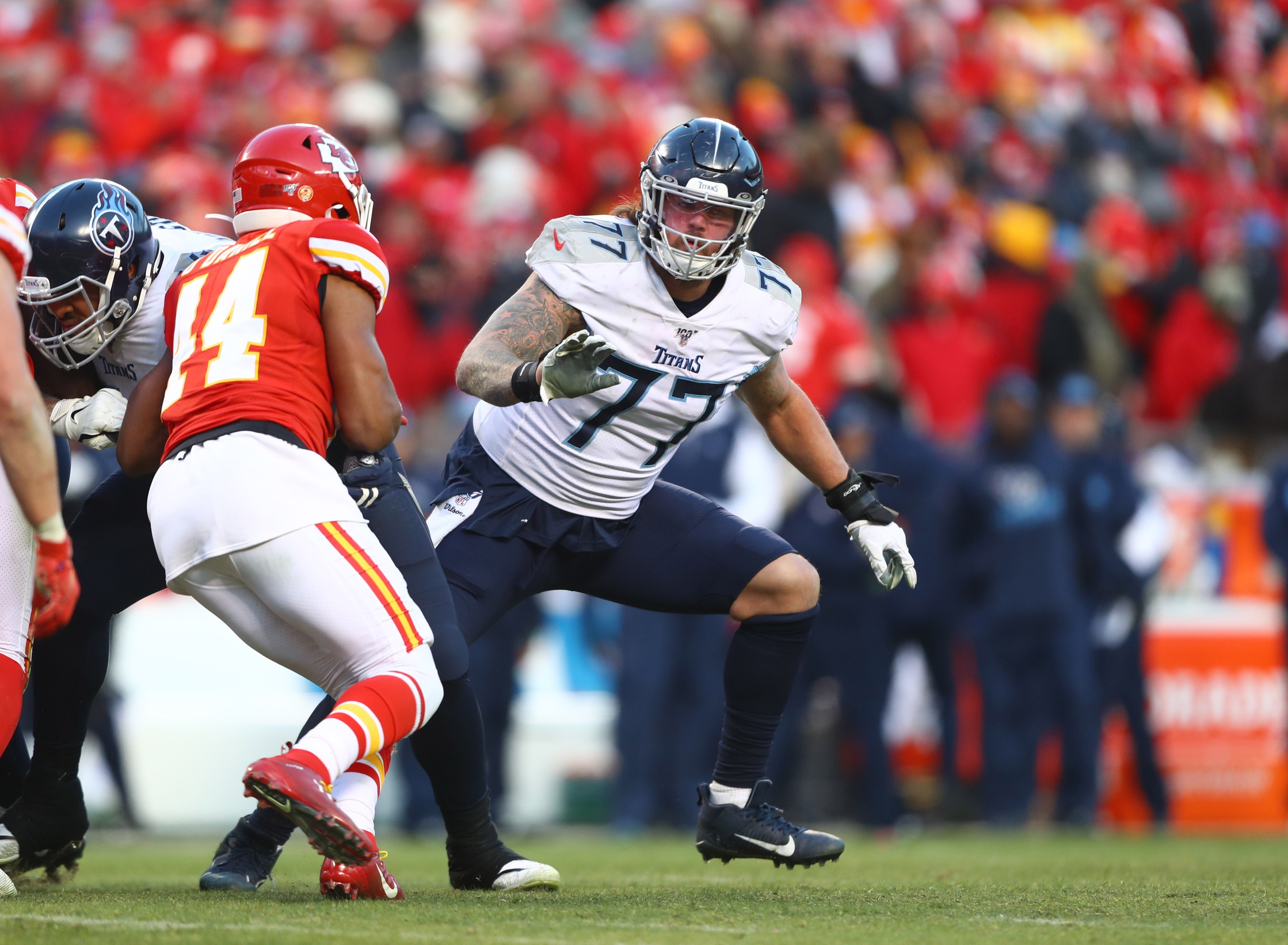 The Titans boasted one of the better all-around lines in the league last year, ranking in the top 11 in both pass and run blocking while finishing eighth in our regular season rankings. Left tackle Taylor Lewan had a monster postseason run, catapulting his grade to 80.2 overall — good for 13th among tackles. Lewan himself ranked in the top 11 in both pass and run blocking, and he's never graded below 76.0 during his stellar six-year career.
Departed right tackle Jack Conklin was right there with Lewan with an 80.5 overall grade that ranked 12th, and he'll be difficult to replace for the Titans. Dennis Kelly will be in the mix, as he's been a solid swing tackle throughout his career, but he hasn't played over 400 snaps since 2012. The Titans drafted Isaiah Wilson out of Georgia in the first round, a monster 350-pounder capable of engulfing defenders in the run game. Wilson has some development to come, as he often struggles against speed and power on the edge — it will be difficult for him to match the production Conklin brought to the offense over the past four years.
On the inside, left guard Rodger Saffold gave up sacks in bunches in the early going last season, but that wasn't indicative of his performance as a pass blocker. He surrendered six sacks over the first six games, but that was it for the season. He went on to finish the season with a 75.5 pass-blocking grade that ranked 17th among guards. Like Lewan, Saffold has shown incredible consistency, grading above 72.0 in each of the past four seasons.
The right guard position showed the growing pains rookies often endure, as 2019 third-rounder Nate Davis graded at just 46.6 overall, ranking 81st out of 89 qualifiers. Davis looked like a project coming out of Charlotte, so he could be in line to take a big step forward this season, especially in the run game. Center Ben Jones has settled in as a solid starter, and his career-high 79.7 overall grade ranked second in the league last season. Jones allowed just 10 pressures including the playoffs on his way to the third-best pass-blocking grade among centers at 85.2.
Three-fifths of Tennessee's offensive line features established starters, while the right side comes with plenty of question marks. The Titans have a potentially volatile group up front but with hopes of ranking in the top 10 once again.
DEFENSIVE LINE
The Titans' defensive line relies on the development of its young players. Jeffery Simmons had a debut to remember after recovering from an ACL injury that most expected to rob him of his rookie season entirely. Simmons had a sack, two hurries and three defensive stops in a performance that earned a 90.6 PFF grade and set pulses racing, but he never quite hit those heights again over the remainder of the season. Simmons has huge talent, and the team was confident enough in his ability to trade away stalwart defensive lineman Jurrell Casey for a throwaway late-round draft pick. Now, Simmons needs to show the Titans that they made the right choice.
Harold Landry is another young player who needs to take the next step. Going into his third year, Landry needs to prove he can be an elite pass-rusher. His sack total more than doubled in his second season, and his total pressures leapt from 34 to 66, but his pass-rushing grade actually got worse (57.8 from 59.4 as a rookie) because his pass-rushing snaps also almost doubled. Landry has flashed the potential to be a high-end rusher, but he now needs to show more than potential and the ability to pick off low-hanging fruit.
After Cameron Wake, DaQuan Jones was the team's highest-graded lineman last year among qualifying players (Wake saw just 195 total snaps). Jones was a plus run defender and a solid pass rusher, and he needs to have that kind of performance again in 2020. Depth is a concern along this defensive line, with little in the way of proven quality — or even players who have shown well in limited snaps and could earn a bigger role because of it.
Larrell Murchison was a fifth-round pick who had solid, but not spectacular, grades over the past two seasons at NC State, where he was more of a run defender than a pass-rushing force. He will hope to earn some playing time as a rotational body early on.
LINEBACKER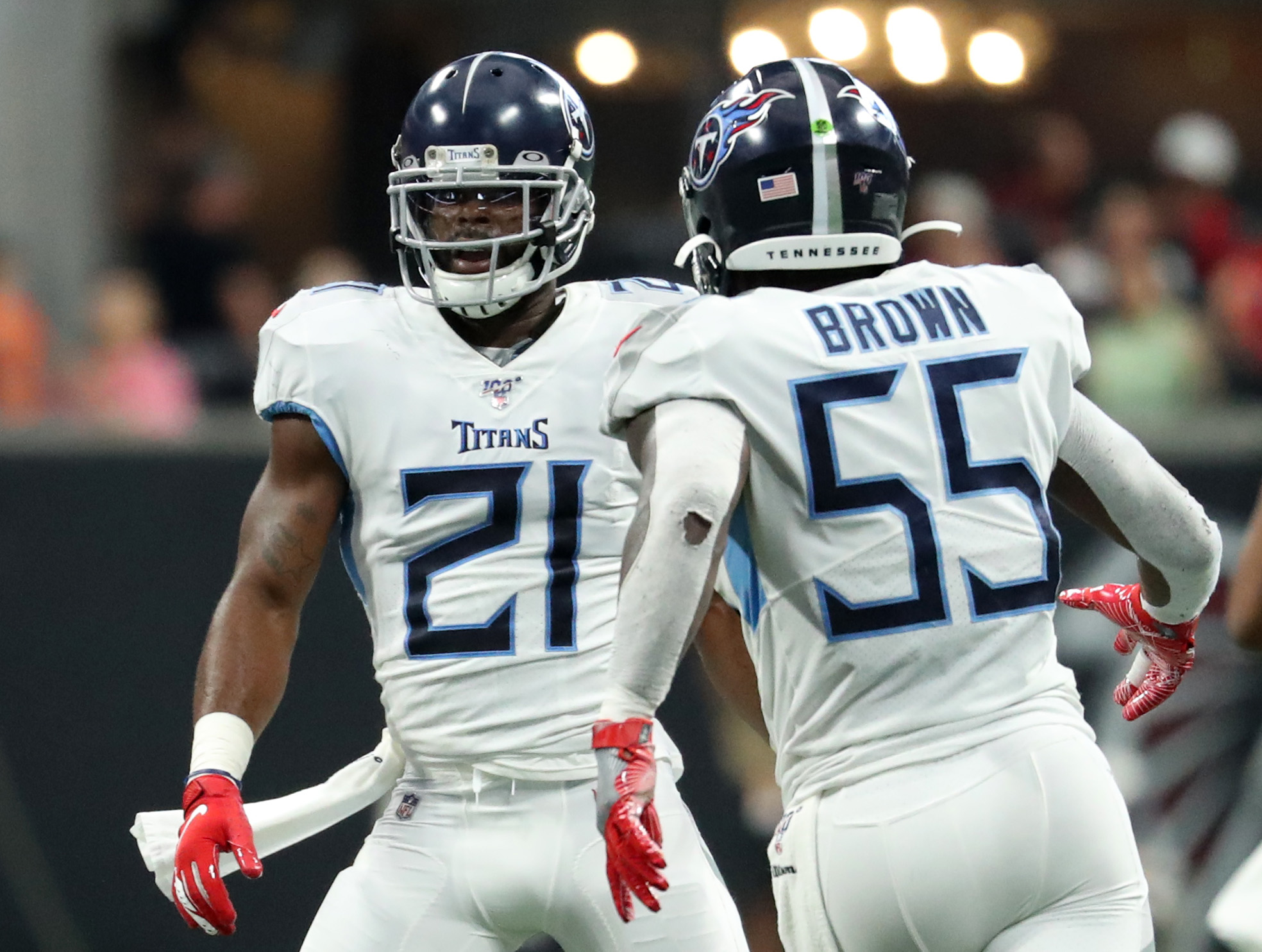 Rashaan Evans and Jayon Brown took most of the Titans' snaps at linebacker last season, and they both return this year. Evans continued his trend of making plays in the run game, putting together a 9.5% run-stop percentage over the past two years that ranks 15th out of 112 linebackers. However, Evans had his struggles in coverage, where he left far too many routes open behind him in zone and surrendered 13.1 yards per reception when targeted. Tackling was also an issue — Evans missed 18 on the season when including the playoffs.
Brown has established himself as one of the better coverage linebackers in the NFL, ranking 17th during the regular season last year after finishing fourth in 2018. He's been excellent at limiting big plays in zone coverage and has forced an incompletion on 7.4% of targets, ranking 18th over the past two years. There's little experience beyond those two, as 2019 sixth-rounder David Long played just 155 snaps as a rookie and Nick Dzubnar, who spent his first five seasons with the Chargers, has 71 career snaps.
Keep an eye on undrafted free agent Cale Garrett, who had three straight years of 80.0-plus grades at Missouri. However, his 4.92-second 40-yard dash time at the scouting combine is worrisome for a linebacker. He'll be yet another case to see if on-field production can overcome physical limitations.
The Titans have a solid unit, and a smoother year in coverage from Evans could vault them into the top 10.
SECONDARY
Kevin Byard is the best player in Tennessee's secondary. He narrowly missed PFF's list of the best 50 players in the NFL entering the season, but on reflection, he probably shouldn't have. Byard was good, not great, last season, but that performance came off the back of two excellent campaigns. Over that entire three-year period, Byard earned the fourth-best PFF grade among all safeties, and he played more snaps than any of the players ahead of him. Byard has elite coverage skills, yet he is also an underrated player against the run. He has missed a total of just 10 tackles in the last two seasons.
Kenny Vaccaro was Byard's safety partner last season. However, he could be pushed for a starting spot by Amani Hooker, who marginally outshined Vaccaro on his 335 snaps as a rookie before struggling during the playoffs.
Logan Ryan departs from the team's 2019 cornerback unit, but the team brought in veteran Johnathan Joseph and drafted LSU's Kristian Fulton. Fulton may be the best zone cornerback in the draft and was a steal in the second round; he has the ability to make game-changing plays on the football in coverage, and he should push to start right away.
Meanwhile, Malcolm Butler hasn't been the same player in Tennessee as he was for a stretch in New England, though he remains a solid member of the secondary, albeit one who will be beaten at times. The big thing that will need to be resolved is how the team defends the slot with no Ryan in 2020. Ryan played the majority of his snaps (855 of them, including the playoffs) inside as a bigger-bodied, physical presence there, and the Titans will need to figure out how to replace that production.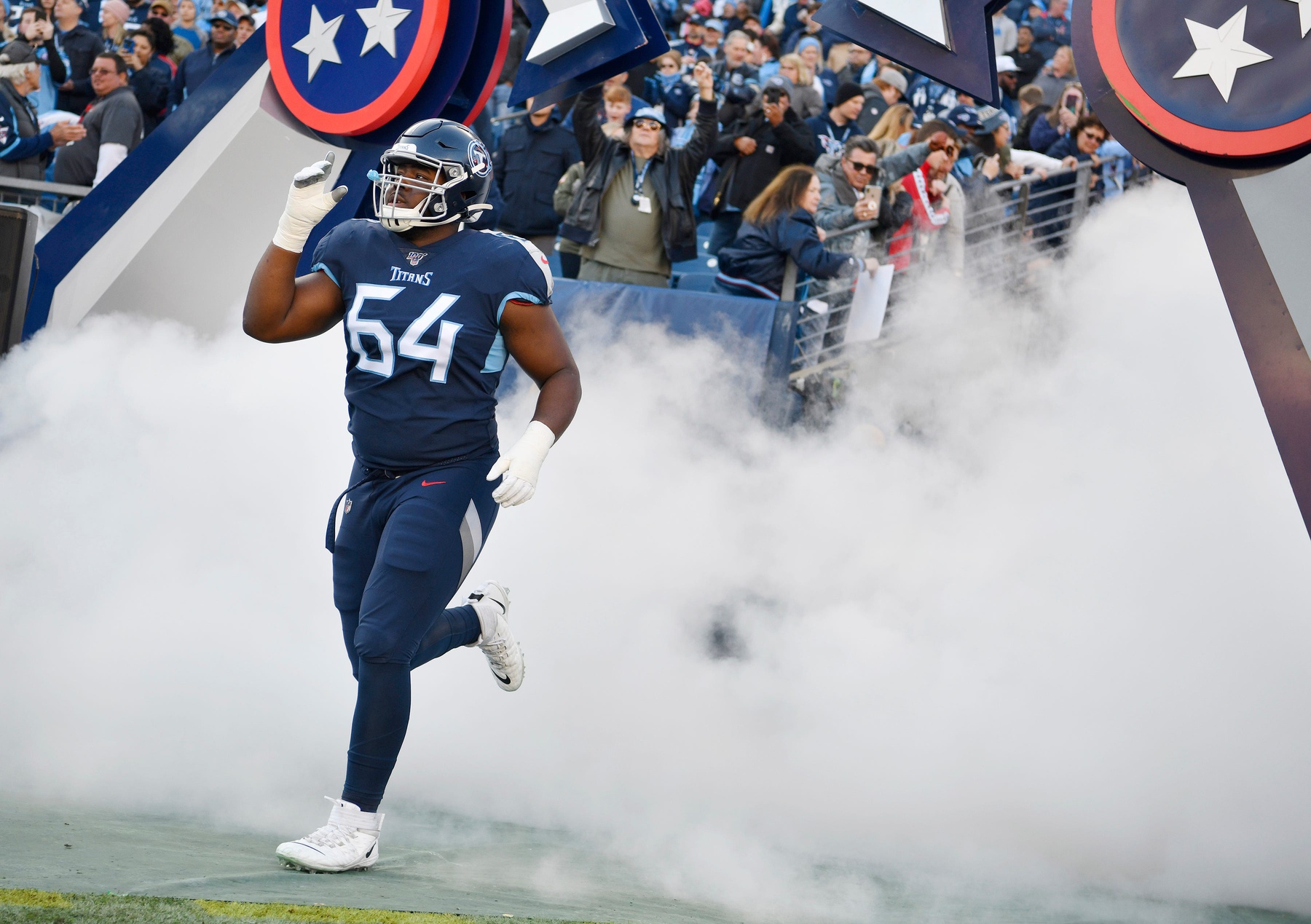 The right side of the Titans' offensive line has major question marks — including rookie first-rounder Isaiah Wilson potentially starting at right tackle. Davis' development next to him at right guard is crucial. Davis had a strong 85.1 pass-blocking grade in his final season at Georgia, but he graded at just 44.8 last year to go with a 21.3 pass-block grade on true pass sets, ranking 79th among 82 guards. Davis must improve in that facet, and while he was never a great run blocker in college, improving in pass protection will aid in Tannehill's quest to replicate his career year.
DRAFT CLASS REVIEW
At No. 29 overall, Tennessee grabbed the No. 111 player on the PFF Big Board in Isaiah Wilson. So, while we aren't high on that pick, the Titans circled back to get our No. 12 player, Kristian Fulton, in the second round — a pick we are obviously high on. Fulton is one of the most important picks in the draft, as the Titans have been rolling three-deep with solid cornerbacks but are now without Logan Ryan.
That provides Fulton a chance to step in and give Tennessee that all-important solid cornerback core. In a six-player class, success will be determined by how quickly Wilson steps in as a viable starter and whether Fulton emerges to give the Titans one of the best cornerback trios in the league once again.
BEST BET
Despite the Titans' appearance in the AFC Championship Game last season, betting markets don't anticipate a repeat for them in 2020. They held onto their main core but are not even favored to win a relatively weak AFC South. If not for the Texans' offseason moves, it's entirely possible that the betting market would have the Titans priced third in the division.
Our simulation results are quite high on the Titans compared to the current betting market. Both the over 8.5 win total and "yes" to make the playoffs are enticing plays at the current price. It's entirely possible — and at a playable price — that the Titans will exceed nearly everyone's expectations again in 2020.