The NFL has fully transitioned into a passing league, and that has heightened the importance of properly evaluating and drafting the wide receiver position in fantasy football leagues. With full-point PPR leagues becoming the norm, even more emphasis is being placed on production coming from the receiver spot.
The following are the top-15 rookie wide receiver situations, listed in reverse order. Factors taken into consideration: individual talent, talent/scheme of the offense they joined and their potential opportunities and market shares.
Potential Contributors
Edwards is the least likely to make an impact this year among this group, mostly due to the lack of market share he's expected to receive, although there could be more work on the horizon. Starter Tyrell Williams will attempt to play through a torn labrum in his shoulder, which could potentially flare up and open more playing time and targets for Edwards.
#Raiders WR Tyrell Williams has a torn labrum in his shoulder, sources say. He's going to try to play through it after rehabbing for a few weeks. A tough task, but the big-play WR will attempt it.

— Ian Rapoport (@RapSheet) August 24, 2020
Edwards is a big-bodied receiver who excels with the ball in his hands. He ranked 16th in yards after the catch (YAC), 30th in yards after contact, 24th in missed tackles forced and 26th in yards after the catch per reception last season in college football among all receivers with 70-plus targets. His skill set fits the Raiders' plans, too, as the team's weapons ranked fourth in the NFL in 2019 in receiving yards after the catch (2,252).
Edwards isn't currently pegged for a major amount of playing time, and PFF's fantasy projections rank him as the WR141 because of it. It's easy to imagine the third-rounder finishing well ahead of that spot if Williams' targets end up being spread around. 
The Ravens continue to add speed to their offense with the addition of Duvernay. While the Ravens lacked true game-changing threats at the receiver position in 2019 (Marquise Brown is on his way), they likely won't in 2020 — the development of Hollywood and the addition of Duvernay should increase their production and doubles-down on the playmaking potential from the positional group.
Duvernay produced across the board with the Texas Longhorns last season — he ranked fourth in YAC, fourth in yards after contact, first in first downs, second in missed tackles forced, 13th in explosive pass plays (15-plus yards downfield) and 28th in yards per route run. Adding such playmaking ability is a major development for a Ravens passing offense that lacked explosiveness and production. They ranked 31st in YAC, 30th in explosive plays passing and 21st in passing yards after the catch per completion.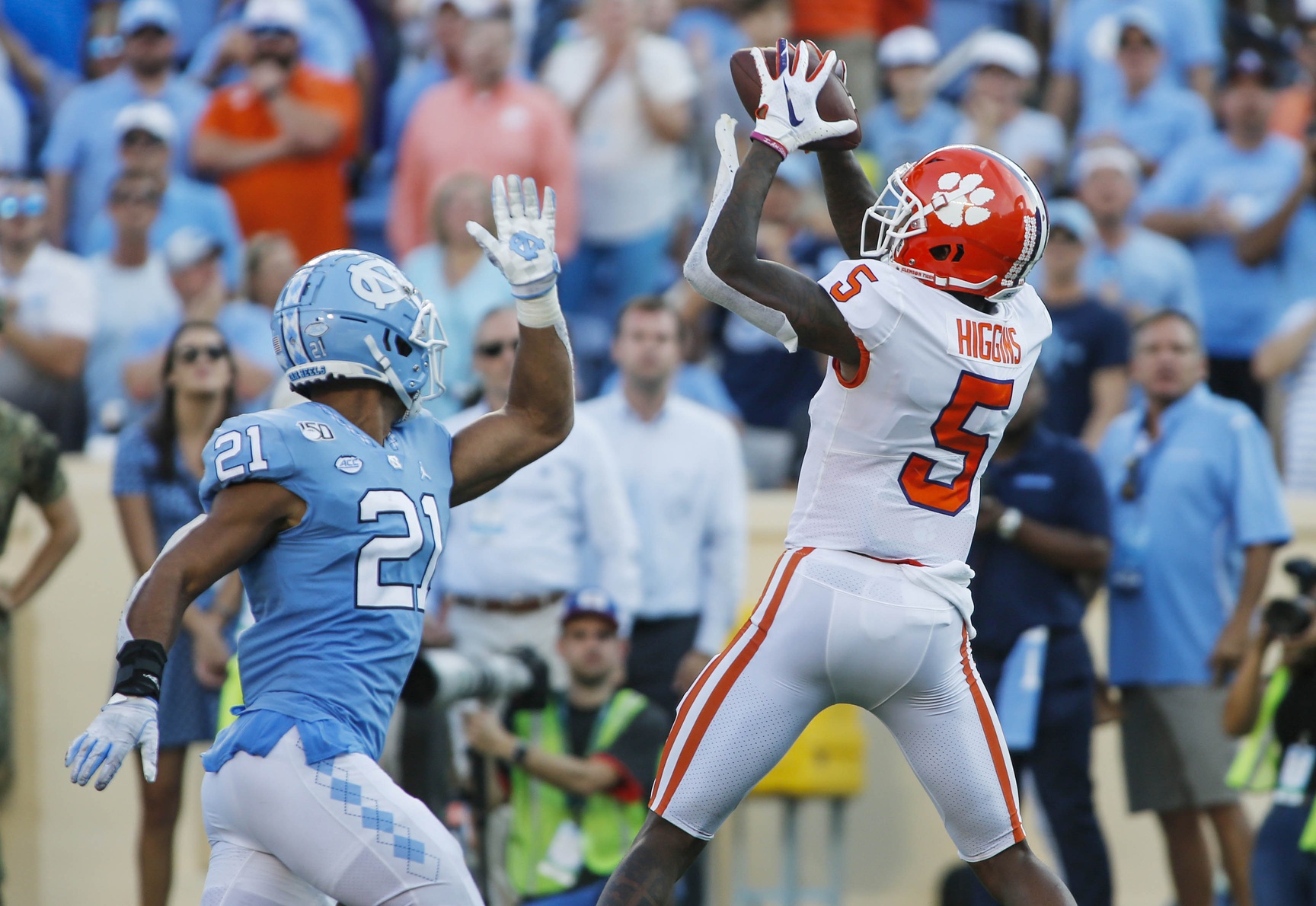 Higgins is a wildly talented receiver who is likely to spend a lot of time on the sidelines in his rookie season. It's not exactly his fault, as the Bengals already have A.J. Green, Tyler Boyd, John Ross and Auden Tate on the roster.
Higgins' jump-ball ability, vertical prowess and efficiency stood out in 2019, as the former Clemson Tiger ranked 18th in average depth of target (aDOT), eighth in receiving yards per reception and 11th in yards per route run.
The Bengals ranked 19th in explosive pass percentage last season. The additions of players like Higgins and the healthy return of Green and Ross should have a profound impact on their offense and their ability to produce big plays in the passing game.
Jefferson was arguably one of the most pro-ready receivers to come out of the 2020 NFL Draft class. His advanced route-running ability and football IQ could set him up to contribute immediately, but the logjam of talented receivers ahead of him on the Rams' roster will make it tough to find playing time and targets in his rookie season. One positive is Brandin Cooks' departure, which frees 67 targets.
Van Jefferson showing off his release at the Sr Bowl:

????Stretch release
????Hard sell inside using violent head/shoulder/hip fakes
????Rocker step sells CB inside and losing outside leverage + allows Jefferson to explode off inside arch of left foot
????Burst creates easy separation pic.twitter.com/nr5UAJCMk6

— Sosa K (@QBsMVP) April 29, 2020
Jefferson's statistics from his final college season won't blow anyone away. He ranked merely average to below average across the board, but he seems like a player who will improve moving onto the next level, similar to what teammate Cooper Kupp was able to accomplish playing under Sean McVay. Jefferson does enter a fantastic situation with the Rams — the team ranked first in receiving YAC, second in explosive plays passing and fourth in explosive pass percentage last year.
Big celebrations from the offense as Van Jefferson gets Jalen Ramsey twice in a row in red zone one-on-ones ???? those two have had some fun battles the last few days.

— Jourdan Rodrigue (@JourdanRodrigue) August 26, 2020
Claypool is an interesting player who could probably move to tight end, though by all accounts he will remain at the receiver position in the NFL. Claypool is a big-bodied receiver who can pull down contested catches (15 last season), create YAC and explosive plays (24) and even be used downfield (12.9 aDOT).
The biggest issue for Claypool is the major logjam of receivers in Pittsburgh — he'll need to compete for time with Diontae Johnson, JuJu Smith-Schuster and James Washington, among others. Claypool isn't likely to immediately explode on the scene, but he enters a fantastic situation with a healthy Ben Roethlisberger. In 2018, the last time Big Ben was healthy, the Steelers ranked first in pass attempts, fourth in deep pass attempts and eighth in explosive pass plays.
Lower-Level Starters
Hamler joins fellow rookie Jerry Jeudy in a talented yet inexperienced wide receiver room in Denver. While the team does have budding star Courtland Sutton at the position, it lacked any other solid options, which has opened the door for both Jeudy and Hamler to make immediate impacts as rookies.
Hamler — who was reportedly showing out in training camp before suffering a leg injury — is an explosive and diminutive receiver similar to DeSean Jackson. His 23 explosive pass plays (48th) and 14.9 aDOT (40th) speak to his downfield potential, which could serve well for a Broncos team that ranked 30th in deep pass attempts and 28th in explosive plays passing in 2019.
hello, kJ hamler

— Austin Gayle (@PFF_AustinGayle) August 16, 2020
Shenault is the first player on this list who moonlights as both a receiver and gadget-style player. While he doesn't possess the same route-running prowess as some of the aforementioned names on this list, he has proven to be able to create yardage with the ball in his hands and to break tackles routinely. Shenault ranked 30th in missed tackles forced (15), 46th in YAC per reception (7.5) and 33rd in yards per route run (2.99) among all college receivers with 50-plus targets in 2019.
Cracking the starting lineup in Jacksonville might not be too tough, as the team only has one potentially game-breaking talent in D.J. Chark at the position. The Jaguars don't appear to be a very talented team and are likely to trail often in 2020, just as they did in 2019 when they ranked second in plays run while trailing. If that's the situation again this season, Shenault could be in line for cheap targets and garbage-time yards, particularly as the team looks to scale back Leonard Fournette's workload as a short-yardage receiver.
The Jets offense as a whole could use more explosion, and that's exactly where Mims factors in. His 27 explosive pass plays ranked 22nd among all college receivers with 50-plus targets in 2019. Mims isn't much of a factor in terms of YAC ability (only 180 YAC yards last season), but his 14.8 aDOT and 2.68 yards per route run both ranked decently and indicate the potential for his downfield vertical usage.
The Jets made a concerted effort to add downfield threats in Mims and free agent Breshad Perriman. The team ranked 24th in deep pass attempts, 25th in explosive plays passing and 22nd in deep pass attempt percentage in 2019. Both players should be welcomed additions and should help replace Robby Anderson's vertical ability as well as his 92 targets last season.
Immediate Contributors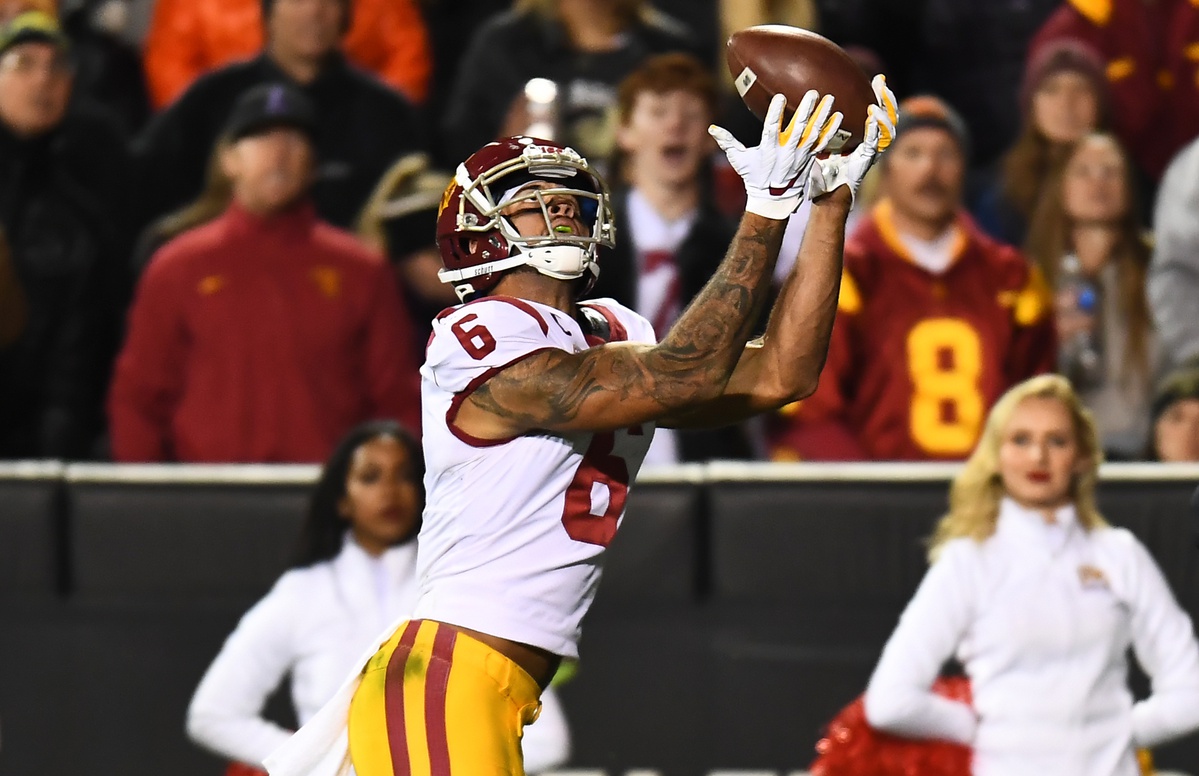 The former USC Trojan had a fantastic finale to his college career, ranking 10th in receiving yards and 18th in yards after contact among all college receivers with 50-plus targets. Pittman projects as Indy's WR2 alongside T.Y. Hilton, which bodes well for his production as a rookie.
Last season, Philip Rivers ranked sixth in deep pass attempts, fourth in explosive plays passing and sixth in explosive pass percentage. Rivers' penchant for attacking the deep parts of the field should pair well with Pittman — and Hilton — in Indy, and speaks to their big-play potential.
PFF's fantasy projections anticipate a decent rookie season out of Pittman, ranking him as the WR78. Colts receivers will face the seventh-toughest schedule, however, according to PFF's SoS metric.
Aiyuk appeared to be entering only a decent situation with the 49ers, though the tables have turned and he's now likely to enter the season as the WR1. Budding star Deebo Samuel is questionable to start the season due to a foot injury and the team just lost second-year player Jalen Hurd to a torn ACL. Emmanuel Sanders and his 96 vacated targets (53 with the 49ers) are also out of the picture. 
Aiyuk's ability to create after the catch fits perfectly with what head coach Kyle Shanahan looks for in pass-game weapons. Aiyuk ranked third in YAC, first in yards after contact, 35th in missed tackles forced and fifth in YAC per reception among all college receivers with 50-plus targets last season. As a team, the 49ers ranked fifth in receiving YAC and fourth in receiving yards after contact in 2019.
Being vaulted upward on the depth chart has resulted in a WR68 projection for Aiyuk, according to PFF's fantasy projections. 
Jeudy is a route-running extraordinaire who joins a Broncos team that severely lacked dangerous pass-game options in 2019. His draft capital and pro-ready skill set are likely to result in immediate playing time and a decent market share, but there are still questions surrounding Drew Lock and his ability to lead a productive passing game.
Jeudy's 2019 campaign should spark excitement — his 48 first downs ranked 20th, 14 missed tackles forced ranked 35th and 2.91 yards per route run ranked 39th. None of these numbers can truly capture his actual ability, though, as Jeudy creates boatloads of separation by way of advanced positioning, football IQ and route running.
Jerry Jeudy with the smooth Blaze-Out. Sell the Post first & then break into the Out flat towards the sideline pic.twitter.com/LqzphII35U

— Receiver Life (@ReceiverLife_) August 26, 2020
Denver's offense did not rank highly in any passing statistics, which is the main reason why Jeudy doesn't rank higher on this list. The Broncos finished the 2019 season ranked 30th in deep pass attempts, 23rd in explosive pass percentage and pass play percentage and 21st in passing yards per attempt.
PFF's fantasy projections expect Jeudy to become an immediate factor and peg him with a WR60 finish. 
The Vikings only ranked 31st in pass play percentage in 2019 (52.0%), but they're an intriguing spot for Jefferson to land, particularly when we highlight the trade of Stefon Diggs and the team-leading 91 vacated targets he leaves behind. Jefferson is likely to line up in the slot from the get-go and has the college production to suggest he can translate relatively seamlessly — the LSU product ranked 21st in YAC, 20th in yards after contact and 18th in explosive pass plays among all college receivers with 50-plus targets in 2019.
Jefferson will compete with Adam Thielen and Olabisi Johnson for targets, but he should be able to surpass the latter rather quickly in the pecking order for an increased target share. As mentioned, the Vikings didn't throw the ball a ton, but they did prove to be efficient when doing so — they ranked sixth in passing YPA, 10th in deep pass attempt percentage and fifth in passing yards after the catch per reception in 2019.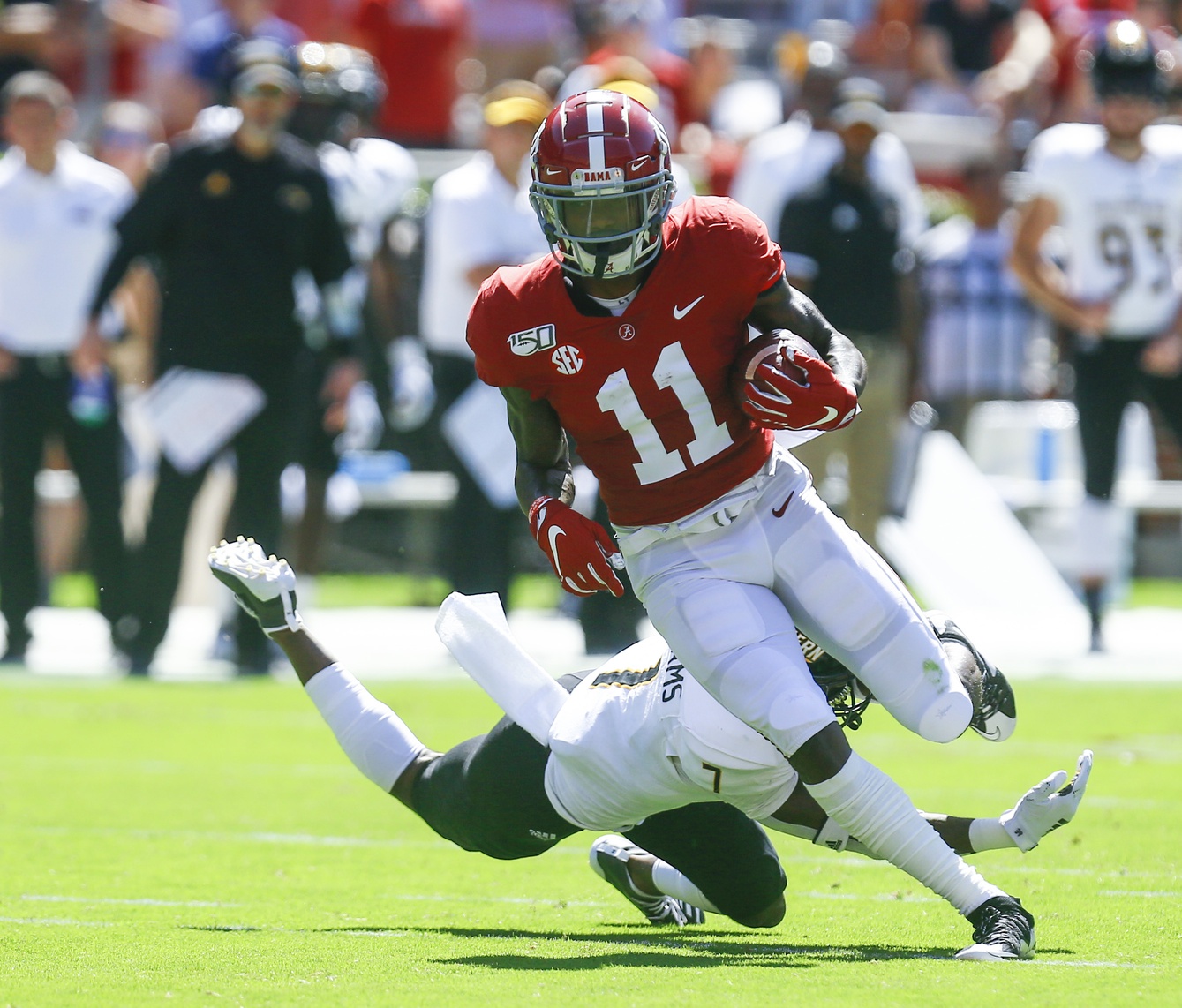 Like Edwards, Ruggs enters a decent situation, though he should immediately slot in as a starting receiver for the Raiders. Ruggs' game-breaking speed and big-play ability are both welcomed additions to a Raiders team that ranked only 29th in deep pass attempts. While Derek Carr may simply prefer to work the shorter areas of the field, Ruggs' addition should force Carr — and the Raiders' offense — to begin taking advantage of working downfield more often.
Ruggs received far fewer targets than Crimson Tide teammates Jeudy and DeVonta Smith but kept pace in explosive pass plays. He ranked first on the team in both aDOT and receiving yards per reception among the Alabama receivers with 50-plus targets.
PFF's fantasy projections expect Ruggs to produce from the jump, ranking him with a WR53 finish, which is one spot ahead of teammate Hunter Renfrow.
Another first-round draft pick, Reagor ranks second on this list based on his situation, talent and some bad fortunes that plagued him in his final college season. While Reagor proved to be a dangerous downfield weapon capable of creating big plays, he ranked sixth among all college receivers in inaccurate targets 20-plus yards downfield due to quarterback play (12). 
Philadelphia suffered a wrath of injuries at the receiver position last season, which led to a shift in their offensive philosophy. The team ranked only 27th in explosive pass percentage, 26th in passing yards per attempt and 17th in deep pass attempt percentage. The Eagles transitioned to a base 12 personnel offense with their lack of healthy receiver options, registering a league-leading 50.0% of their snaps in that personnel package.
Expect the addition of Reagor as well as the health of DeSean Jackson to help tip the scales to a more balanced attack — one that will result in much more downfield usage. 
No player enters a better situation than Lamb, even with two 1,000-yard receivers in Amari Cooper and Michael Gallup already on the roster. Lamb's talent is remarkable — the former Oklahoma Sooner ranked 12th in YAC, 11th in missed tackles forced, fourth in YAC per reception and sixth in yards per route run among all college receivers with 50-plus targets in 2019. His ability to create yardage after the catch and to turn average gains into massive ones truly separates him from his draft-class comrades.
Dak Prescott ranked sixth in pass attempts, second in passing yards and fourth in passing touchdowns among all quarterbacks last season. The Cowboys as an offense ranked ninth in deep pass attempts, third in explosive plays passing and second in explosive pass percentage. The addition of Lamb is likely to take an already amazing passing offense to another level — it's arguably the best in the league.
It should come as no surprise that Lamb is projected to produce the strongest season out of all of the rookie receiver options, as PFF's fantasy projections rank him as the WR38. The Cowboys receivers' 12th-ranked schedule is another positive for this downright elite trio, according to PFF's SoS metric.