Eight weeks into the college football season, star players are making more than just names for themselves across the landscape. Some are making their case for top billing at their position while others are falling off draft boards rapidly.
Among the interior of the defensive line, some household names and other unknown prospects have made their presence felt by their play at any one of the facets required of interior defenders. Speaking to interior defenders stuffing the run, a quintessential skill to have at the next level, these athletes across the country have stood out.
Ranking the top draft-eligible interior defenders by their run defense grade, eight weeks through the NCAA season:
1. Maurice Hurst, Michigan
Run defense snaps/run stops/run defense grade: 150/16/92.3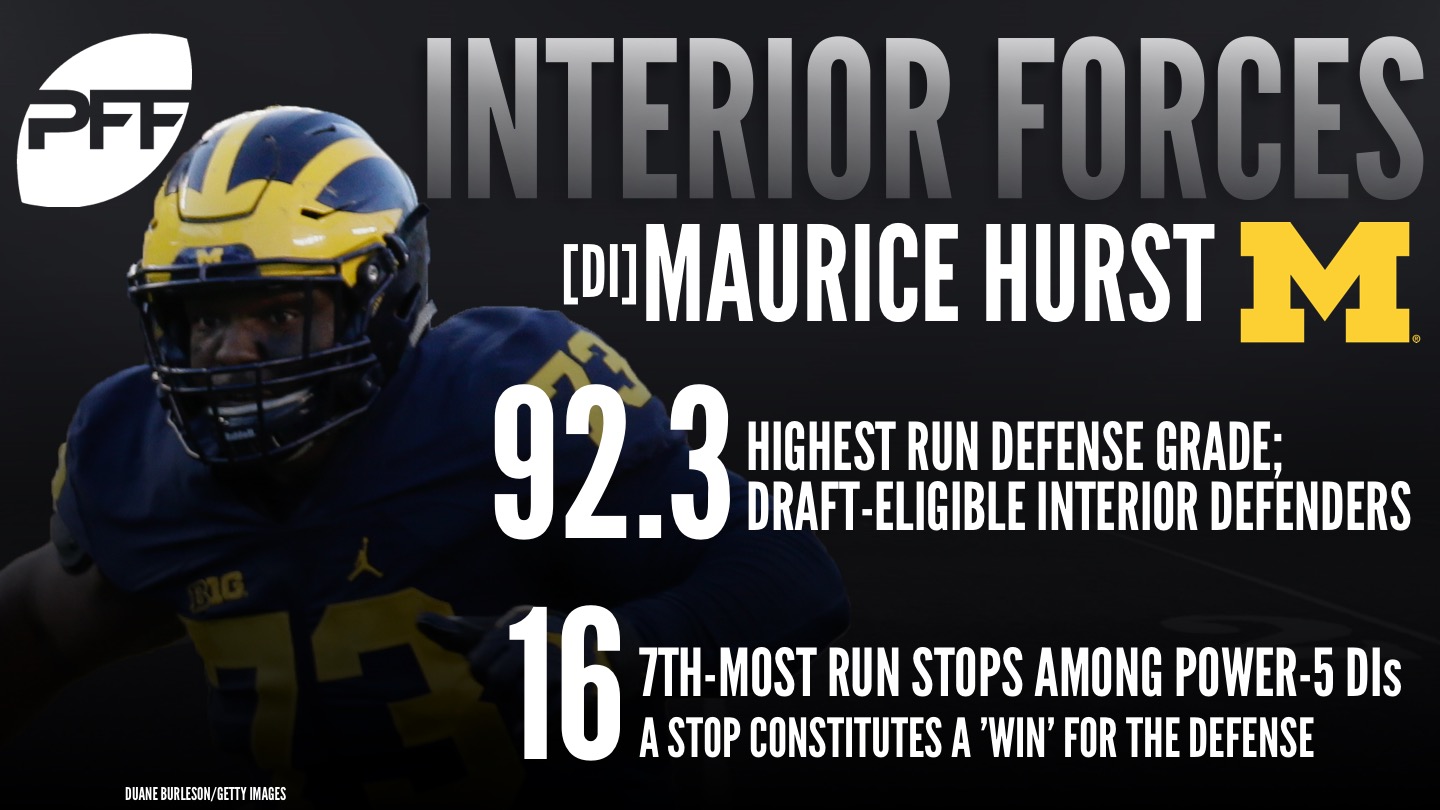 Either on top or in the top 10 of virtually every major statistical category, Hurst is playing at a class of his own right now, especially in term of his run defense. Not only does he lead all defensive interior players in the country by a wide margin in both run defense and overall grades, but he also ranks sixth in his position group in run stop percentage and is 10th in total run stops. Teams may want him as a 3-tech in a 4-3 defense at the next level because of his elite explosion off the snap, but he's proving this year at Michigan he's more than capable of being an elite player at nose tackle as well.
2. Tashon Smallwood, Arizona State
Run defense snaps/run stops/run defense grade: 186/8/87.6
Edge standout Koron Crump was supposed to be the breakout player on the Arizona State defense this year, but with him shelved due to injury, it's been Smallwood who has elevated his game. Run defense has been the hallmark of this four-year starter throughout his college career, as he posted an average of 17.3 run stops per season in his first three years for the Sun Devils, and is on pace to reach that figure in 2017.
3. Derrick Nnadi, Florida State
Run defense snaps/run stops/run defense grade: 132/12/87.5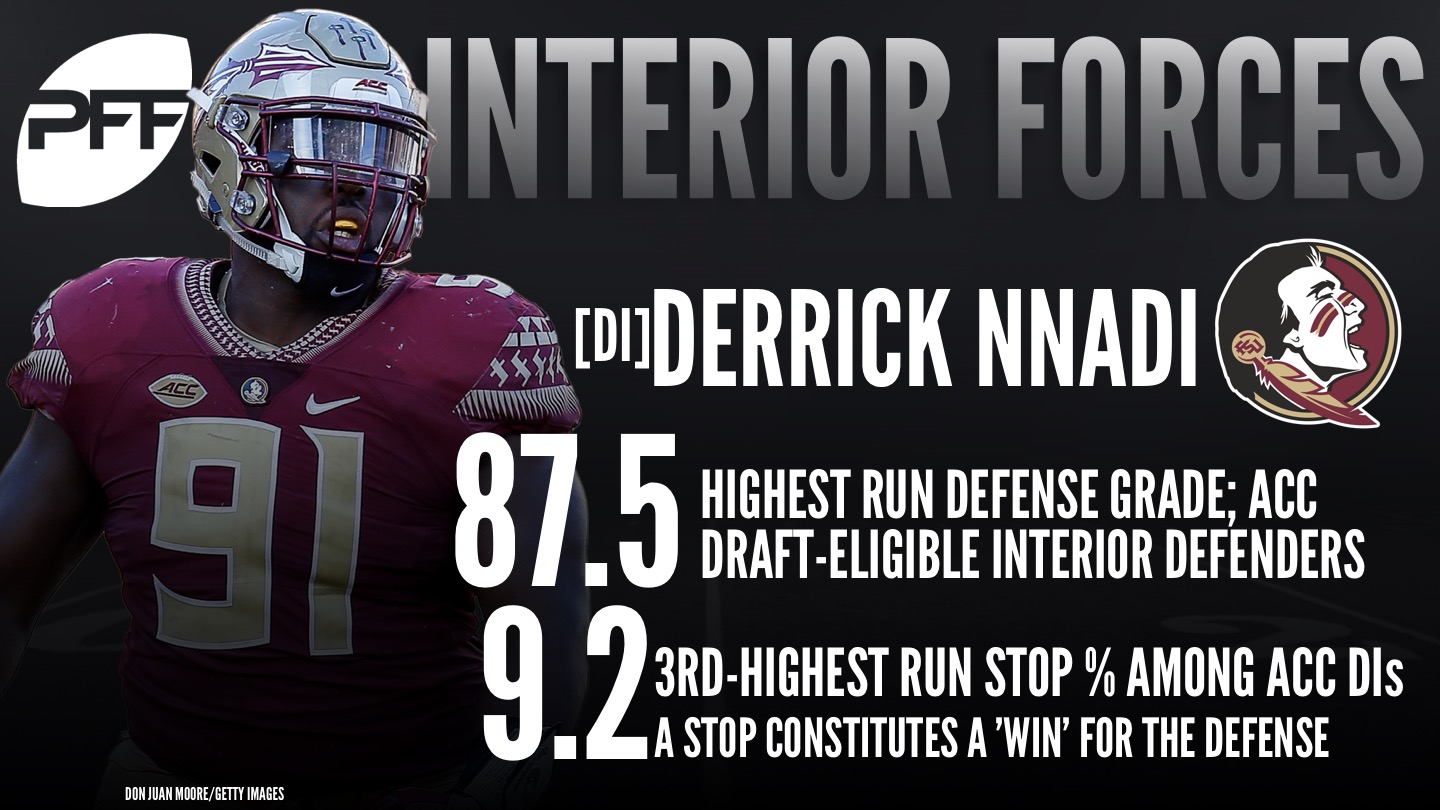 With three QB pressures in three-straight games, Nnadi is finally starting to break out as a pass-rusher this season, but his run defense has been as steady throughout 2017 as it was the prior two campaigns. He set a high standard last year with 26 run stops in 13 games last season, but he is on pace to match last year's total in his senior season.
4. Taven Bryan, Florida
Run defense snaps/run stops/run defense grade: 146/5/87.3
Bryan may not have the eye-popping stats of many of the other players on this list, but his ability to consistently defeat blocks and win his gap has allowed to grade out fourth-best in the class thus far in run defense grade. His best game of the season came this past weekend against Texas A&M, as he added two sacks and two hurries to four run stops.
5. Mychealon Thomas, Texas Tech
Run defense snaps/run stops/run defense grade: 170/16/87.1
Texas Tech has had some surprising defensive performances this season, and it almost always starts with Thomas at nose tackle. The only game this season in which he failed to notch multiple run stops came in Week 2 against Arizona State where he tallied just one, but he was also a huge factor in that game on the pass-rush, as he put up a sack and two QB hurries. He's been particularly on fire the past two weeks, as he's posted run defense grades of 85.9 and 89.4 against West Virginia and Iowa State, respectively.
Catch No.'s 6-20 of the rankings with your PFF Edge subscription!

Subscribe to PFF Edge to continue reading
Already have a subscription? Sign In