Alabama linebacker Reuben Foster missed part of the big win over Arkansas on Saturday night after sustaining a concussion. At publication it's unknown whether he'll miss playing time, which would be huge for the Alabama defense, despite how loaded they are from front to back.
Foster came into this season with high expectations after Reggie Ragland, his partner at linebacker, left for the NFL draft in the spring. He's managed to exceed those expectations and through six weeks of the 2016 college football season is the best, most complete linebacker in the nation. So what makes Foster so special?
Outstanding against the run
What Foster has done against the run so far this season has been impressive. Whether it has come by taking on blocks, or reading a play and making an unblocked tackle, he has made a huge impact for Alabama's run defense. From 106 snaps against the run he's recorded 20 tackles, with 15 of those resulting in a defensive stop, giving him a run stop percentage of 14.2 percent that ranks second in the SEC among inside linebackers. He's also missed just one tackle against the run through six games, which is tied for the sixth-fewest missed tackles against the run in the SEC. The play below against USC is a good example of how good he is, with his reactions off the snap so quick on the run blitz that the USC guard didn't have much hope of preventing. When you combine his quickness and reaction time with his ability as a sure tackler, it's not surprising that he grades as well as he does against the run.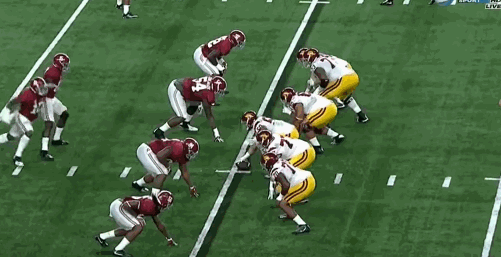 Coverage skills worthy of a top draft pick
Every year we see great linebackers against the run in college football, but what makes the difference between a great college linebacker and one with top pro prospects is how they perform in coverage. That's why Reuben Foster looks like a future first-round draft pick, and potentially a very high one too. Foster has made seven solo tackles on receivers so far this year, with all seven resulting in a defensive stop. Again, it's his ability to react, particularly to a running back out in the flat that allows him to shut plays down here. We also saw him make a play on the ball on Saturday night, covering Arkansas' talented tight end Jeremy Sprinkle on a crossing pattern before swatting away the throw, which was slightly behind Sprinkle.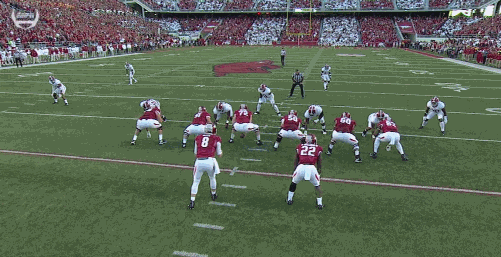 Making an impact on blitzes
Alabama's depth has proven to be huge for them this year once again, and it allows them to be more creative defensively with so many talented and versatile defensive players. They've sent Foster as a blitzer on 29 plays so far this season, and he has responded by registering a sack, five hits and a hurry. Are you likely to confuse him with outside linebackers Tim Williams and Ryan Anderson anytime soon? Of course not, but he has still made an impact here, and the fact that he has knocked opposing quarterbacks to the ground, be it on a sack or a hit, on 20.1 percent of his pass rushing opportunities is not something that should be ignored. Against Arkansas he registered one quarterback hit in just over a half of football before his injury, with that hit coming against Frank Ragnow, the highest-graded center in the nation.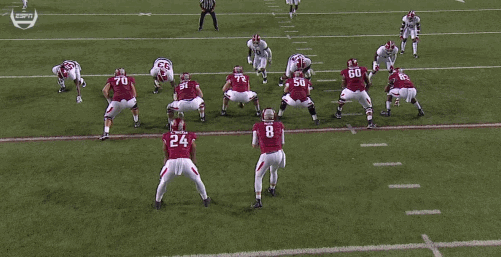 Foster has proven so far this season that he's not just a good linebacker, but an elite one, and one of the best players on an incredibly talented Alabama team. The fact that he simply doesn't make a lot of mistakes, but forces several big plays before and beyond the line of scrimmage in every game, be it in coverage, against the run or as a pass rusher, highlights why he will likely have a long career playing on Sunday's too. With Alabama staying on the march for a second straight National Championship, and the third straight appearance in the College Football Playoff, the leader in the middle of their defense has proven his worth time and time again backing up the belief that he's not just the best linebacker in the nation, but the most complete one.