As the NCAA continues to ease its restrictions on player movement, the most important dominos to fall every offseason will be the quarterback transfers.
This year's crop of graduate transfers is an intriguing one. The group is led by a couple of guys who disappointed in 2019 after a big 2018 season and a couple of up-and-coming players fresh off a breakout 2019 campaign. With all of these players set to start immediately, here are our top graduate transfer quarterbacks as we look forward to the 2020 college football season.
[Editor's note: Check out PFF's 2020 Mock Draft Hub, NFL Draft Big Board and NFL Mock Draft Simulator. PFF Elite subscribers can also download the 1,100-page 2020 NFL Draft Guide.]
1. Jamie Newman: Wake Forest to Georgia
Newman had a breakout season for Wake Forest in 2019 and is now off to become a Georgia Bulldog. There were signs of a good player amid some late-season starts in 2018, including an overall game grade of 88.3 against Duke that season. He would finish that 2018 season with a grade of 77.9 and became the starter for 2019.
Newman came out of the gate as hot as anybody in the country this past season, posting an elite 90.8 overall grade up until and including the game against NC State in Week 11 of the season. Unfortunately, his play dipped after that, with his grade dropping to 64.5 for the remainder of the regular season and bowl game against Michigan State. Still, with some serious playmakers around him in Athens, you'd want to bet on Newman getting back up to speed quickly.
Wake Forest ran the second-most RPO (run-pass option) plays in 2019 in order to help its QB with easy reads. Newman wasn't particularly adept at them, though, and his passing grade of only 72.1 on RPO throws shows this. Where Newman was great, and this is good news for Georgia, was on straight dropbacks, as he compiled a 90.0 overall grade on these plays over the course of the season.
Meeting Newman at Georgia is new offensive coordinator Todd Monken and his vertical passing attack. All Jamie Newman did on deep throws last season was put up the second-highest grade in the country at 96.5. Georgia will trot out a completely different offense than what was seen in 2019 to the joy of Bulldog fans everywhere.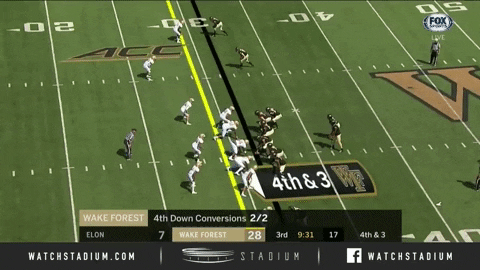 2. D'Eriq King: Houston to Miami
King was one of the two quarterbacks whose play fell off a cliff in 2019, but it's hard to ignore his outstanding play in 2018 when he posted an overall grade of 91.2.
King came away with a ludicrous 92.3 grade on his straight-dropback passes that year, throwing 22 big-time throws to go along with only six turnover-worthy plays. He was also only sacked eight times on those dropbacks. The future looked bright with King leading an upstart Houston team with new head coach Dana Holgersen, but after a horrid 1-3 start, King decided to sit out the rest of the year to gain a redshirt. His overall grade dropped to 75.5, and that was the end of D'Eriq's Houston career.
Although at first it was thought that King would redshirt to play another year at Houston, he ended up transferring to Miami. With him comes new offensive coordinator Rhett Lashlee, who produced a very nice Air Raid-style passing attack the last couple of years at SMU.
When Lashlee wanted to pass the ball, he did it from doubles open or trips open 46% of the time. King wasn't outstanding in these spread Air Raid formations, even in his breakout 2018 campaign. He was, however, lights out running the modern Run N' Shoot concepts he was given that year in Houston. Of King's 16 big-time throws from outside the red zone on straight dropbacks, 12 were on seven-man protection play-action shots down the field.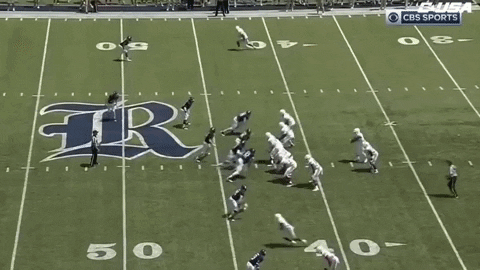 If Lashlee can move away from Air Raid and become a little more Run N' Shoot, King could regain his 2018 form and Miami could be on their way in the ACC.
T-3. K.J. Costello: Stanford to Mississippi State
Costello joins the Air Raid offense coming off an injury-riddled season that saw him post a lowly 63.7 overall grade. However, we have seen Costello play good football. His 84.2 true-dropback grade and 28 big-time throws in 2018 were excellent numbers.
Costello joins Mike Leach in Starkville, where he will be playing in the Air Raid's "four open" style, passing to 2×2 and 3×1 spread sets. Costello's 89.3 true-dropback grade in those formations in 2018 does bode well going forward. With that said, there weren't a ton of Air Raid concepts that Stanford ran last year besides Four Verts.
The first thing you might notice about Costello is how big his movements are in the pocket. His front leg really stretches out, and he overstrides when starting his throw. From his decision to throw the ball to him actually throwing, it takes a long time. He also hitches forward about a yard longer than most quarterbacks do. These traits can give him trouble in a collapsing pocket.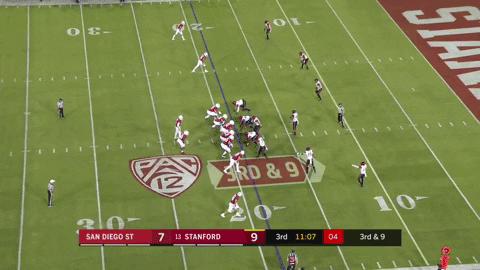 Stanford's offensive line was above average in 2018, posting a 78.8 cumulative grade on dropback passes before falling to 55.5 in 2019. That may have accelerated the quarterback issues the team faced the whole year. In Starkville, the offensive line hasn't posted a grade higher than 68.9 in either year. That unit will have to patch things up to make Costello look like a truly competent player.
T-3. Peyton Ramsey: Indiana to Northwestern
Ramsey will have his work cut out for him in 2020. After a nice breakout season that saw his overall grade jump from 69.7 to 86.7, Ramsey leaves the greener pastures of Bloomington for the windy shores of Lake Michigan and Northwestern University.
Ramsey is tasked with saving what might turn out to be the unsaveable: the Northwestern offense. The Wildcats finished fifth-last in the country in EPA per play last season at an abysmal -.235. Their passing game alone ranked second-to-last, just in front of Big 10 doormat Rutgers, who produced a figure of -.373 EPA per play. That's bad.
Northwestern had only two players on their offense post grades above 70.0, and one was their backup tackle. At the very least, both those players return to help Ramsey. It will be an uphill to even keep Northwestern afloat in the Big 10 West.
Ramsey is a somewhat conservative player, and his 96th-ranked average depth of target shows that. He's going to have to push the ball downfield to give Northwestern any chance of putting together some explosive plays. He has had some success on deep targets, finishing 20th in the country in dropback passing grade on deep throws.
5. Nick Starkel: Texas A&M to Arkansas to San Jose State
Three former SEC starting quarterbacks transferred this offseason in the hope of finding success in new settings. Between Jake Bentley going to Utah, Feleipe Franks going to Arkansas and Starkel leaving Arkansas for San Jose State, the winner by default is Starkel.
The former Texas A&M pivot has at least shown some inkling of viable QB play. As an Aggie in 2017, he earned a true-dropback grade of 82.4, albeit on only 158 dropbacks. It's been a long time since those days for Starkel, though. He posted a true-dropback grade of 63.0 in 2018 for Texas A&M before that dropped to 61.1 in his only season at Arkansas. His new team was able to see Starkel in person, too, as the now-former Razorback quarterback threw five interceptions to San Jose State in an upset loss in Fayetteville last September.
Feleipe Franks had a slightly better overall season than Starkel last year, but joining an Arkansas team devoid of any talent will make for a tough hill to climb. Jake Bentley's supposed breakout 2018 season might have been overstated by traditional stats, as he only graded out at a 73.7 that year. With that said, going to Utah gives him the best shot of the three to make an impact on the national level.
The first four players really could have the ability to be a net positive to their teams. Last year, three transfer quarterbacks made the College Football Playoff, and especially with Newman at Georgia, we could see another transfer star make and potentially win the National Championship.