We're just over the halfway point of the season, so it's time to check in on the All-American race. A few names remain the same since we last updated at the quarter-season mark, but a few new players have emerged as top candidates. The battle at running back, wide receiver, and cornerback may be the most tightly-contested, so they will be watched closely with November right around the corner.
Quarterback: Lamar Jackson, Louisville
The most dynamic player in the nation, Jackson leads all quarterbacks with a 98.1 rushing grade while also leading with 690 yards and 16 touchdowns on designed runs. He's been solid as a passer — a part of his game which continues to improve — and that's a scary proposition for opposing defenses who have still yet to find a way to slow him down in the run game.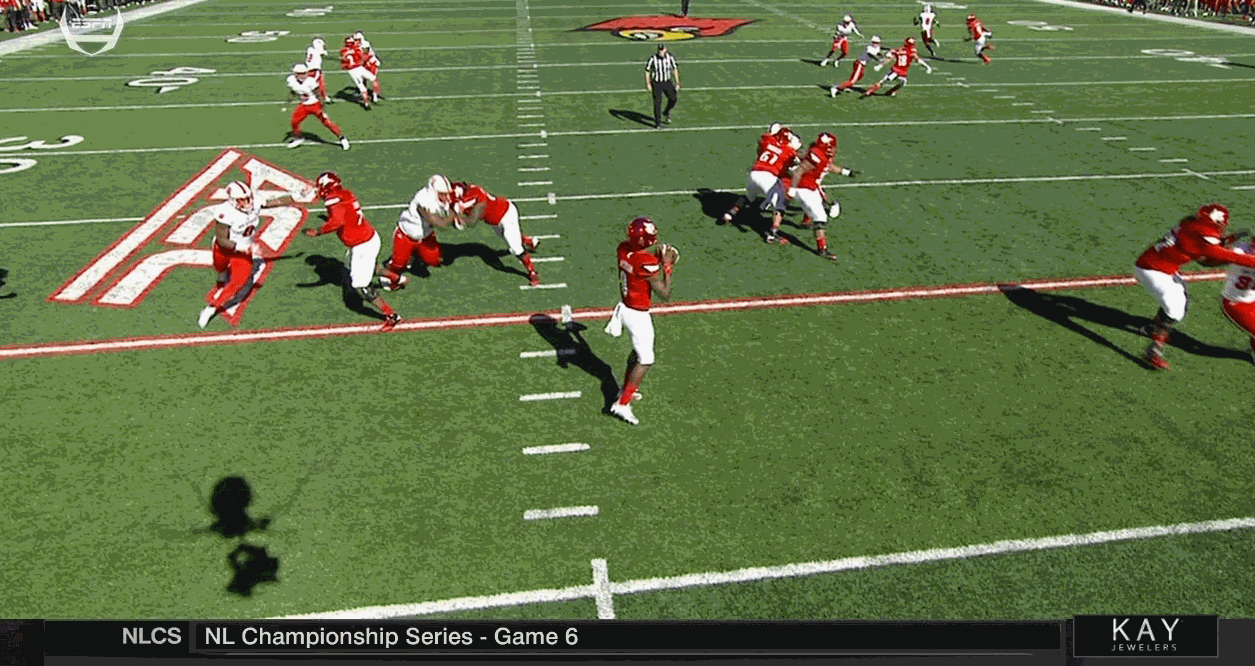 Running Back: Dalvin Cook, Florida State 83.9 and Joe Mixon, Oklahoma 83.6
Even without the breakaway runs for which Cook is usually known, he's made the most of subpar run blocking this season and his 83.2 rushing grade leads all Power-5 runners. He's averaging 5.7 yards per carry while adding 356 yards on 21 receptions in the passing game. Mixon has emerged as one of the nation's most versatile backs as he can also create as a runner and as a receiver. He's averaging 6.7 yards per carry and 14.6 yards per reception, including four receiving touchdowns. His 86.3 receiving grade ranks second among Power-5 running backs.
Fullback: Sam Rogers, Virginia Tech 87.2
Rogers moves around the formation for Virginia Tech, providing strong work as a run blocker (80.1) and as a receiver (77.3) while also carrying the ball 33 times for 109 yards.
Wide receivers: Dede Westbrook, Oklahoma 89.3 and Taywan Taylor 85.0
Westbrook has been in a different world the last four weeks, catching 35 of his 40 targets for 776 yards and 10 touchdowns. He's become the go-to guy for Oklahoma QB Baker Mayfield and he's doing it at every level of the field, including on the deep ball where he's caught 10-of-13 targets for 480 yards and seven touchdowns. Taylor's 993 receiving yards rank third in the nation as he's averaged 15.5 yards per reception while scoring eight touchdowns. Even with the loss of QB Brandon Doughty to the NFL, Taylor has continued to produce at a high level.
Slot receiver: Jonathan Giles, Texas Tech 85.9
Giles has caught 79.1 percent of his targets (53-of-67) for 917 yards and a nation-leading 11 touchdowns. He's run 95.9 percent of his routes from the slot where he's averaged 3.47 yards per route, best among receivers with at least 200 routes from the slot.
Tight end: Evan Engram, Ole Miss 80.2
Leading all tight ends with 605 receiving yards, Engram is tied for the lead with 44 receptions and his five touchdowns are tied for second. He leads all Power-5 tight ends with an 86.6 receiving grade as he's been Ole Miss' top receiving threat this season. 
Offensive tackle: Connor Williams, Texas 84.1 and Brian O'Neill, Pittsburgh 83.6
Williams has been outstanding as a true sophomore, allowing only two hurries on 239 pass blocking attempts this season. He's taken his run blocking to a new level this season and his 81.7 grade rank is tied for fifth in the nation. O'Neill has also been sound in pass protection, surrendering only one hurry on his 189 attempts while showing well in the run game at 78.1.
Guard: Cody O'Connell, Washington State 90.8 and Quenton Nelson, Notre Dame 85.2
Washington State loves to throw the ball but O'Connell has only given up five total pressures on 381 attempts, and his 88.3 run blocking grade leads the nation in what has been a dominant first half of the season. Nelson has done his usual fine work in the run game at 86.3 while only giving up eight pressures on the year.
Center: Frank Ragnow, Arkansas 87.6
A favorite of SEC analyst Gordon McGuinness, Ragnow has been the best run blocker along the offensive line for the Razorbacks and his 86.4 mark leads all centers. There's room to improve in pass protection but nine hurries on 301 attempts has led to a solid 82.3 grade as a pass blocker.
Defense
Edge Defenders: Myles Garrett, Texas A&M 90.9 and Derek Barnett, Tennessee 90.6
Garrett and Barnett. Barnett and Garrett. They've been lumped together since coming in as true freshmen in 2014 and their three-year production is insanely close. This year is no different as they're once again the top two edge defenders in the nation. Barnett actually leads all Power-5 rushers with a 91.5 pass rush grade while Garrett is right behind at 89.5. Garrett has taken his work in the run game to the next level with an 87.7 mark that ranks third among all edge defenders.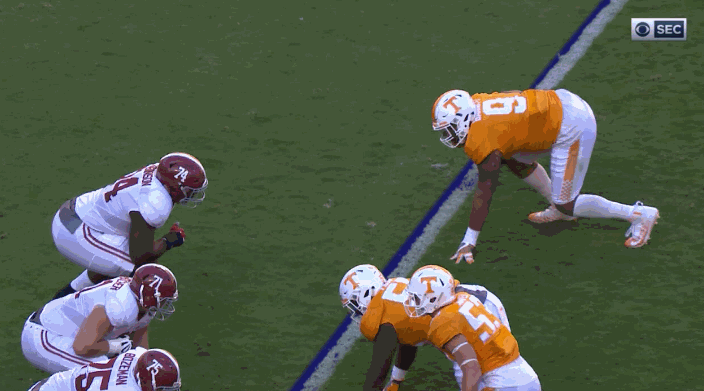 Defensive Interior: Jonathan Allen, Alabama 92.3 and Jake Replogle, Purdue 91.4
The most dominant defensive player in the nation to this point, Allen has efficiently rushed the passer from all over the defensive line and his 94.8 rush grade leads all interior defensive linemen. His two touchdown returns have just been icing on the cake. Replogle remains one of the nation's most underrated players and he ranks right behind Allen with a 91.2 pass rushing grade to go with 87.3 work against the run.
Linebacker: Reuben Foster 92.5, Alabama; Jabrill Peppers, Michigan 82.8; Calvin Munson, San Diego State 89.8
Foster has the top overall grade among all linebackers and he ranks second against the run at 89.5 and fourth in coverage at 87.8. He's only missed two tackles all season. Peppers makes the team due to his versatility, with his best work coming in the run game at 83.6 while making plays on the offensive side of the ball and on special teams. Munson is quietly one of the nation's best linebackers – for the second year in a row – and he's grading 10th against the run at 86.0 and sound in coverage at 83.4.
Cornerback: Aarion Penton, Missouri 90.2 and Desmond King, Iowa 89.5
The nation is loaded with top cornerbacks, but Penton has allowed only 41.5 percent of passes to be completed into his coverage and opposing quarterbacks have a passer rating of 38.9 when targeting him. Penton has five passes defensed and three interceptions in the year. King's three-year consistency since we've started grading has been outstanding and he is once again among the top corners in coverage (88.5) while ranking fourth against the run at 86.1. The best tackling cornerback in the nation has missed only seven tackles on 178 attempts over the last three years.
Slot cornerback: Mike Tyson, Cincinnati 88.8
Tyson has punched out the competition to the tune of five passes defensed and three interceptions, leading to an 88.7 coverage grade that ranks fifth in the nation.
Safety: Nate Gerry, Nebraska 91.0 and Jamal Adams, LSU 90.0
Our top coverage safety at 94.0, Gerry is tied for fifth among safeties with four passes defensed while adding two interceptions. The big improvement in his game is his tackling where he's only missed three all season. Adams has done it all for LSU, and he has the top grade against the run at 85.4 to go with the No. 7 mark in coverage at 88.3.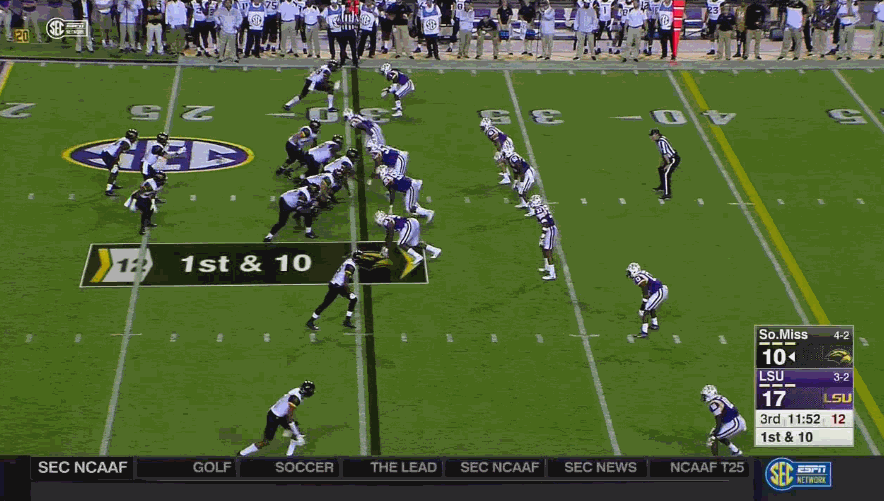 PFF special teams expert Gordon McGuinness checks in with his special teams selections:
Kicker: Zane Gonzalez, Arizona State
What Gonzalez has done so far this year has been incredible and he has showcased a huge leg by going 6-for-7 on field goal attempts of 50 yards or more. He's missed just one FG all year, and has boomed 46 of his 60 kickoffs for touchbacks
Punter: Jake Bailey, Stanford
It's a close battle for our top punter this year, but Bailey leads the way so far. 11 of his 28 punts have landed inside the opposing 20 yard line, while he has averaged 40.2 net yards per punt over the course of the season.
K/PR: Qaundree Henderson, Pittsburgh
Henderson has scored on two kickoff returns already this year, averaging 35.9 yards per kick return through eight weeks. He's also had an impact as a punt returner, averaging 12.4 yards per return on nine punt returns.