With the 2016 season just weeks away, we're taking a look at the top performers at every position to name our annual PFF All-American team.
See who received top honors — along with second- and third-team selections — right here:
Quarterback: Deshaun Watson, Clemson
It was a close call between Watson and Mayfield, but Watson's work down the stretch and his ability to change the game as a passer and as a runner gave him the nod. Watson was the top-graded quarterback in the nation from week nine through the College Football Playoff and he posted the top rushing grade among returning power-5 quarterbacks. Watson is more than just an athlete as he sprinkles in pinpoint throws and good decision-making while his running ability useful both in the designed running game and as a scrambler. With Clemson's defense losing a lot of talent to the NFL Draft, Watson will be relied upon to carry the Tigers in more games this season, and he has the talent to lead them to another CFB Playoff berth.
Second-team: Baker Mayfield, Oklahoma
Third-team: Mason Rudolph, Oklahoma State
Running Back: Christian McCaffrey, Stanford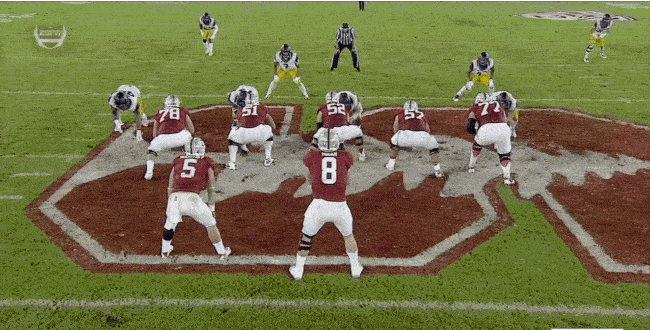 "The year of the running back, part two" will be led by McCaffrey, though there are a plethora of names who would be vying for first-team All-American status in any other year. McCaffrey's all-around game is what sets him apart after he posted the second-best rushing grade among running backs while leading the pack as a receiver by a wide margin. If McCaffrey was solely a slot receiver, he'd likely state a strong case for the All-American team, but that's his secondary role and shows just how versatile he is. With three new offensive linemen blocking in front of him, McCaffrey may not put up the same numbers as last season but it can't take away his place as the best all-around player in the nation.
Second-team: Leonard Fournette, LSU
Third-team: Dalvin Cook, Florida State
Fullback: Shane Smith, San Jose State
The fullback is disappearing at all levels of football but the Mountain West is the place to be if you like good fullback play. Last year's PFF College first-team All-American fullback, Dakota Gordon, came out of San Diego State and Smith is ready to carry on the Mountain West tradition after ranking third overall in the nation and fourth as a run blocker last season.
Second-team: Drew Van Maanen, Wyoming
Third-team: Daniel Marx, Stanford
Wide receivers: Corey Davis, Western Michigan and JuJu Smith-Schuster, USC
Few receivers bring Davis' game to the table as he's an outstanding route runner who can win down the field and after the catch. He posted the nation's No. 2 grade among wide receivers last season after ranking fifth in 2014, and despite playing in the MAC, he's shown that he can do it against top competition as evidenced by a dominant game against Michigan State last season. The other receiver slot was tightly contested but Smith-Schuster has the speed to create big plays at all levels of the field. The Power-5 receiving leader last season, Smith-Schuster did taper off toward the end of the season, so we'd like to see more consistency, but he showed that he's capable of taking over games and he'll be the Trojans' top target once again.
Second-team: Calvin Ridley, Alabama and Mike Williams, Clemson
Third-team: Isaiah Ford, Virginia Tech and Taywan Taylor, Western Kentucky
Slot receiver: Christian Kirk, Texas A&M
As a true freshman, Kirk stepped right in as Texas A&M's top receiver catching 80 passes for 1,009 yards and seven touchdowns. He did most of his work in the short game and he ranked 10th among returning receivers with 637 yards after the catch at 8.0 YAC per reception. Kirk also added a dynamic element to the return game, so expect the Aggies to feature him even more this season.
Second-team: Isaiah Jones, East Carolina
Third-team: Richie James, Middle Tennessee State
Tight end: Jaylen Samuels, NC State
We had to put a position title on Samuels and he lines up at tight end enough to warrant the distinction. He'll line up from tight end to slot receiver to running back to fullback, creating mismatches for the defense along the way. He caught 65 passes for 597 yards and seven touchdowns, posting the No. 2 receiving grade among returning tight ends, but he also tacked on 368 yards on 56 carries and nine scores on the ground. Samuels will get the ball a variety of ways and he's one of the nation's most versatile players.
Second-team: Jake Butt, Michigan
Third-team: George Kittle, Iowa
Offensive tackle: Mike McGlinchey, Notre Dame and Zach Banner, USC
Last year's All-American right tackles head up the team this year as McGlinchey makes the move to the left side for Notre Dame. Both McGlinchey and Banner are similar as they both came into college as projects, both standing six-eight-plus, and both have developed into two of the best tackles in college football. McGlinchey enjoyed a breakout 2015 campaign, leading all right tackles with the best overall grade while ranking second as a run blocker. Banner was right there with McGlinchey, though he ranked second in pass protection among right tackles as he allowed just one sack, two QB hits and six hurries on 426 attempts.
Second-team: Tyrell Crosby, Oregon and Forrest Lamp, Western Kentucky
Third-team: J.J. Dielman, Utah and Adam Bisnowaty, Pittsburgh
Guard: Chase Roullier, Wyoming and Wyatt Teller, Virginia Tech
A perfect fit for Wyoming's power run scheme, Roullier is equally adepts at moving defenders at the point of attack or locking onto a target when on the move as a puller. He finished last season with the fifth-best run blocking grade in the nation to go with the 13th-best pass blocking grade as he allowed only six total pressures on 390 attempts. Teller has the top run blocking grade among returning Power-5 guards and while he still has some work to do to improve in pass protection, few guards can match his two-year production in the running game.
Second-team: Quenton Nelson, Notre Dame and Dan Feeney, Indiana
Third-team: Eduardo Middleton, Washington State and Taylor Moton, Western Michigan
Center: Pat Elflein, Ohio State
We're giving Elflein the spot despite his learning a new position after playing guard in his first three years at Ohio State. He's graded as one of the nation's best run blockers the last two years while his pass protection has been solid with 25 total pressures surrendered on 866 pass blocking snaps. Ohio State has to overhaul most of their offensive line but Elflein should bring stability to the center position.
Second-team: Tyler Orlosky, West Virginia
Third-team: Jon Toth, Kentucky
Edge defenders: Derek Barnett, Tennessee and Myles Garrett, Texas A&M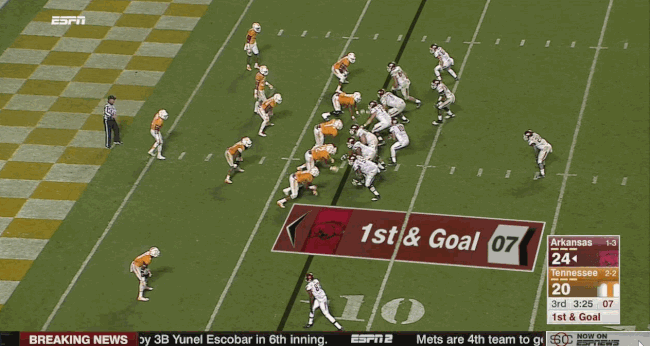 A position that is right up there with running back as one of the deepest in the country, edge rusher can be difficult to sort, even within the SEC alone. Barnett and Garrett came in together as true freshmen in 2014 and they've both dominated ever since. Garrett ranked fourth overall in the nation as a freshman before finishing third in the nation last year, right behind Barnett. Garrett has 22 sacks, 20 QB hits, and 69 hurries on 651 rushes over the two-year period while Barnett has 21 sacks, 19 QB hits, and 69 hurries on 736 rushes in his two years. There are a number of top-notch edge defenders across the country, but Barnett and Garrett stand above the rest.
Second-team: Charles Harris, Missouri and Carl Lawson, Auburn
Third-team: Dawuane Smoot, Illinois and Deatrich Wise, Arkansas
Defensive interior: Jonathan Allen, Alabama and Malik McDowell, Michigan State
College football was deep with interior defensive line talent a year ago, and while most are off to the NFL, there are still quality players remaining across the FBS. Allen turned down an opportunity to go to the NFL after picking up 13 sacks, six QB hits, and 17 hurries on only 258 rushes, giving him 77 total pressures on only 590 rushes the last two years. As for McDowell, he broke out last season, posting the third-best pass rush grade among returning defensive tackles while showing well against the run. The former top recruit has just started to tap into his potential and he could be in line for an even bigger season in 2016.
Second-team: Eddie Vanderdoes, UCLA and Maurice Hurst, Michigan
Third-team: Chris Wormley, Michigan and Charles Walker, Oklahoma
Linebacker: Jabrill Peppers, Michigan; Reuben Foster, Alabama; Raekwon McMillan, Ohio State;
A move to linebacker has re-shuffled the preseason All-American linebacker rankings as Peppers slots in after an outstanding season as a hybrid safety and slot defender. He'll move closer to the line of scrimmage where he excels as a disruptor, but has also shown the skills to cover tight ends and running backs in coverage. Foster is ready to maintain Alabama's tradition of excellence at inside linebacker as he attacks lead blockers in the running game and complemented it with seven passes defensed to tie for the nation lead among linebackers. McMillan is the new star of the depleted Ohio State defense after ranking fourth in the nation in run stop percentage at 13.7 percent last season and he's missed only 13 of his 154 tackle attempts the last two seasons.
Second-team: Zach Cunningham, Vanderbilt; Calvin Munson, San Diego State; Steven Taylor, Houston
Third-team: Jarrad Davis, Florida; Ed Davis, Michigan State; Matt Milano, Boston College
Cornerback: Jourdan Lewis, Michigan and Desmond King, Iowa
Yet another Michigan defensive player makes the team as Lewis had the best coverage grade among all returning cornerbacks. Opponents attacked him often to the tune of 90 targets (10th-most in the nation) and he responded by surrendering only 33 catches (36.7 percent) while getting his hands on 15 passes and intercepting two more. King brings a different style to the table as he's an excellent zone defender with strong ball skills as evidenced by his eight interceptions and 12 passes defensed a year ago. His run grade ranked third in the nation last season and he may be the nation's best tackling cornerback after missing only five tackles on 138 attempts the last two years.
Second-team: Jalen Tabor, Florida and Marlon Humphrey, Alabama
Third-team: Cordrea Tankersley, Clemson and Sidney Jones, Washington
Slot cornerback: M.J. Stewart, North Carolina
Stewart broke out last season, finishing with the nation's sixth-best coverage grade while allowing opposing quarterbacks a passer rating of just 38.9 when targeting him. He's a key cog in a North Carolina defense that returns a number of playmakers as they appear primed to make another run at the College Football Playoff.
Second-team: Chidobe Awuzie, Colorado
Third-team: Minkah Fitzpatrick, Alabama
Safety: Derwin James, Florida State and Marcus Maye, Florida
It's been the summer of Derwin at PFF College as we've touted his versatile skills a number of times. He's the next big thing on the defensive side of the ball as he possesses the rare skills play free safety or strong safety while dabbling as an edge rusher capable of challenging offensive tackles as a designated pass rusher. As a true freshman last season, James posted the second-best overall grade among the nation's safeties and we expect more of the same no matter which role he plays most in 2016.
Maye moves around as well, playing free safety while doing some work in the slot and he finished with the eight-best overall grade among safeties last season. His seven passes defensed tied for fourth and his ability to move around, play the run, and cover tight ends and slot receivers is invaluable to the Florida defense.
Second-team: Eddie Jackson, Alabama and Jordan Whitehead, Pittsburgh
Third-team: Jamal Adams, LSU and DeJuan Rogers, Toledo
Kicker: Daniel Carlson, Auburn
Carlson nailed an impressive 8-of-10 kicks from beyond 40 yards including 4-of-5 from beyond 50. He was also one of the few kickers in the nation to put the ball deep into the end zone on kickoffs on a consistent basis.
Second-team: Michael Badgley, Miami
Third-team: Andy Phillips, Utah
Punter: Hayden Hunt, Colorado State
Last year's PFF College first-team All-American returns after posting the nation's top punting grade last season. He finished fourth in the nation in net yards at 42.2 while kicking only one touchback on 51 punts. Both of those numbers depend greatly on the coverage team, but Hunt put them in the best position of any punter in the nation, thus the top grade.
Second-team: Michael Carrizosa, San Jose State
Third-team: Sam Geraci, Cincinnati
Kick returner: Evan Berry, Tennessee
With three touchdowns on only 21 kickoff returns, Berry was a game-changer while averaging a national-best 38.6 yards per return and tying with Janarion Grant for the top kick return grade in the country.
Second-team: Janarion Grant, Rutgers
Third-team: Christian McCaffrey, Stanford
Punt returner: Antonio Callaway, Florida
As a true freshman, Callaway returned two punts for touchdowns, including one in the SEC Championship game against Alabama, while averaging 17.8 yards per return.
Second-team: Cameron Sutton, Tennessee
Third-team: William Likely, Maryland
Special teams: Dorian O'Daniel, Clemson
O'Daniel led all Power-5 special team players with 17 tackles while posting the top grade on kickoff coverage.
Second-team: D.J. Sanders, Middle Tennessee State
Third-team: Kirk Tucker, Oklahoma State