Michigan Wolverines 45, Colorado Buffaloes 28
Michigan overcame a 14-point deficit in the first half to win a key early-season test against Colorado. Here are the top grades and storylines for the Wolverines' victory:
Michigan Wolverines
Quarterback grade: Wilton Speight, 54.4
Speight was under pressure on 19 of 35 drop-backs, but actually performed better when affected by the rush, and also had a better rating against the blitz. While he completed just seven of 15 passes from a clean pocket for 84 yards (and a NFL QB rating of just 64.3), when pressured he went nine-for-14 for 145 yards and a touchdown, with a rating of 114.6. A good amount of his success under pressure was his ability to get out of the pocket and buy time, as his receivers struggled to gain initial separation against Colorado's outstanding CBs (more on them later). Against the blitz, his rating (99.4) was 30 points higher than it was without (69.6). He completed just two of five passes in the intermediate range of 10-19 yards, and was inaccurate on all six downfield shots 20 yards and beyond.

Top offensive grades:
TE Jake Butt, 82.3
FB Khalid Hill, 82.2
RT Erik Magnuson, 73.3
WR Amara Darboh, 68.0
RB DeVeon Smith, 65.6
Offensive line takes a step backward
After all-around strong showings against Hawaii and UCF, the entire offensive line had struggles on Saturday against the Buffaloes. The unit combined to give up two sacks, a hit and 11 hurries, with C Mason Cole (a sack and two hurries), LT Grant Newsome (a hit and four hurries) and LG Ben Braden (three hurries) having the biggest struggles in pass pro. Newsome and Cole also graded poorly on run blocks, most notably Cole, who was at times seemed physically out-matched against Colorado NT Josh Tupou. RG also graded poorly against the run, and made matters worse by taking two penalties.
On a positive note, TE Jake Butt was nearly uncoverable, as he caught seven passes against five different defenders for 87 yards, with 59 yards gained after the catch. He also had one of his best days as a run blocker, as he did an excellent job of sealing edge players inside on Michigan's outside zone runs. Khalil Hill also did an excellent job on lead blocks, clearly outplaying Henry Poggi, who has split reps with him at FB throughout the season.
Top defensive grades:
CB Channing Stribling, 83.5
LB Ben Gedeon, 82.5
Slot CB Jabrill Peppers, 82.3
DE Rashan Gary, 81.1
CB Jeremy Clark, 80.7
Master of all trades Jabrill Peppers shines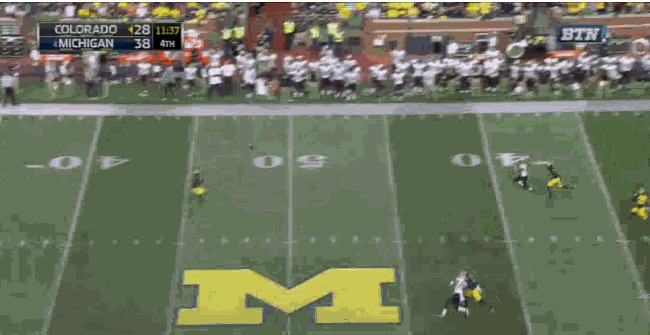 It's important to understand that Peppers' grade here is for his defense alone, and does not reflect play on offense, or his punt and kick returns, which carried the Michigan offense throughout the game. Peppers racked up 86 yards on two kick returns, including a 56-yarder on which only the last man prevented him from scoring. He averaged a ridiculous 24.8 yards on four punt returns, due in large part to his 54 yard TD return which effectively ended the game early in the fourth quarter.
Things did not start out well for him on defense, as he appeared to bust his coverage responsibility on Colorado's opening touchdown. While he gave up three other receptions, they totaled just 15 yards. Beyond his play in coverage he was a dominant, game-changing force. On 12 pass rushes he racked up a sack, a hit and a hurry, and notched seven defensive stops, leading Michigan for the game in the category.
While a number of Wolverines graded out well on defense, two others stood out alongside Peppers. DE Rashan Gary played the most snaps of his young career (43), and was Michigan's highest-graded run defender (four solo tackles, all of them run stops). He also chipped in three QB hits and a hurry on the pass rush. ILB Ben Gedeon is the other Wolverine defender worth highlighting, as he posted ten total tackles, five stops, as well as a sack and a hurry.
Colorado Buffaloes
Quarterback grade: Sefo Liufau, 72.9; Steven Montez, 54.4
Although his final play less than a minute into the second half was a 70-yard touchdown strike to WR Shay Fields on a pass (and coverage bust) identical to his first TD toss of the night to Devin Ross, his injury spelled the end of Colorado's hopes for an upset victory. Contrasting Speight's night, Liufau's downfield passing was outstanding. On throws at least ten yards from the line of scrimmage, he completed six of nine passes for 193 of his 246 yards and all three of his touchdowns. His play versus the blitz was particularly impressive, as he completed eight of 13 passes for two scores when Michigan brought an extra defender, and posted a QB rating of 136.9. Michigan held him to just 15 yards on five designed runs, but struggled maintaining defensive assignments against Liufau's aggressive passing. Montez came on in relief to play the rest of the second half, and did not complete any of his seven passes (one was dropped and two were throwaways).
Top offensive grades:
WR Devin Ross, 74.9
QB Sefo Liufau, 72.9
OT Aaron Haigler, 71.0
WR Shay Fields, 69.9
RB Donovan Lee, 59.4
Ross and Fields help Colorado race out to an early two-touchdown lead
The receiving duo of Ross and Fields had an outstanding first 31 minutes, as they combined for 11 catches on 18 targets for 177 yards and three touchdowns. Both scored on post routes on which they beat their CB inside against no safety help (the safeties bit on play-action both plays), and Ross hauled in the third score on a beautiful corner fade route in the red zone. The run game never really got going, as the Buffaloes averaged just 3.2 yards per carry on 29 rushes, and had to achieve 75 of their 92 rushing yards after first contact.
Top defensive grades:
CB Ahkello Witherspoon, 82.8
LB Kenneth Olugbode, 82.3
CB Chidobe Awuzie, 76.3
DE Samson Kafovalu, 77.3
CB Isaiah Oliver, 75.9
Colorado cornerbacks Akhello Witherspoon and Chidobe Awuzie shine
Awuzie has been on our radar for a long time, but how about the play of Witherspoon? He gave up just one reception on seven targets and broke up a pass. While Awuzie was charged with the Grant Perry catch and run for TD (he vacated his assignment to pursue a scrambling Speight), he otherwise was outstanding, giving up just one catch on three targets for three years, also posting a break-up. The interior duo of Kafovalu and Tupou was excellent in both phases, as they combined for six total stops, two sacks and four other pressures.
Player of the game: Slot CB/returner Jabrill Peppers
While his night will likely be overshadowed by Louisville QB Lamar Jackson's dismantling of Florida State earlier in the day, this was a signature performance from Peppers that could vault him into Heisman discussion. His versatility made it next to impossible for Colorado to account for him on defense, as he took snaps in 15 different alignments – 28 from linebacker positions, 32 at cornerback (all but one from a slot position) and six at safety.