The top story of the season starts and ends with Louisville quarterback Lamar Jackson to this point as the true sophomore has dominated in statistical ways we've never before seen. His 26 total touchdowns look like a misprint given that he's only played in four games and has yet to finish a game due to Louisville blowing out their opponents. He's been unstoppable as a runner and the dynamic element he brings to the designed running game has opened up big play opportunities for the passing game.
The initial response to Jackson's video game numbers was to cite the strength of opposition as Louisville faced Charlotte and Syracuse the first two weeks but they demolished Florida State in Week 3 and ended any concerns that his athleticism would translate against the nation's best. The Cardinals are now sitting at 4-0 and headed to Clemson for a showdown with last year's national title runner-up and Heisman Trophy candidate of their own, Deshaun Watson.
Armed with a variety of talented pass catchers, Watson was supposed to build on last year's campaign that saw him finish third in the Heisman Trophy balloting as a true sophomore. Instead, it's been a slower start than anticipated, even triggering some analysts to question what is going wrong with Clemson's offense.
Watson is actually off to a much better start this season, ranking 15th overall among the nation's signal callers, much better than last year when he ranked 57th overall through four weeks of the season. He turned things around and eventually dominating down the stretch, finishing as the top-graded quarterback from Week 9 through the end of the College Football Playoff, so perhaps what we're seeing is more of a slow starter than an early-season slump. Regardless of the reason for Clemson not living up to their lofty standards, it's far too early to sour on Watson, and given his track record of success, he'll be just fine as the season progresses.
So which team has the advantage once they hit the field on Saturday? Which player is the best college quarterback both right now and for the future? Let's have a look.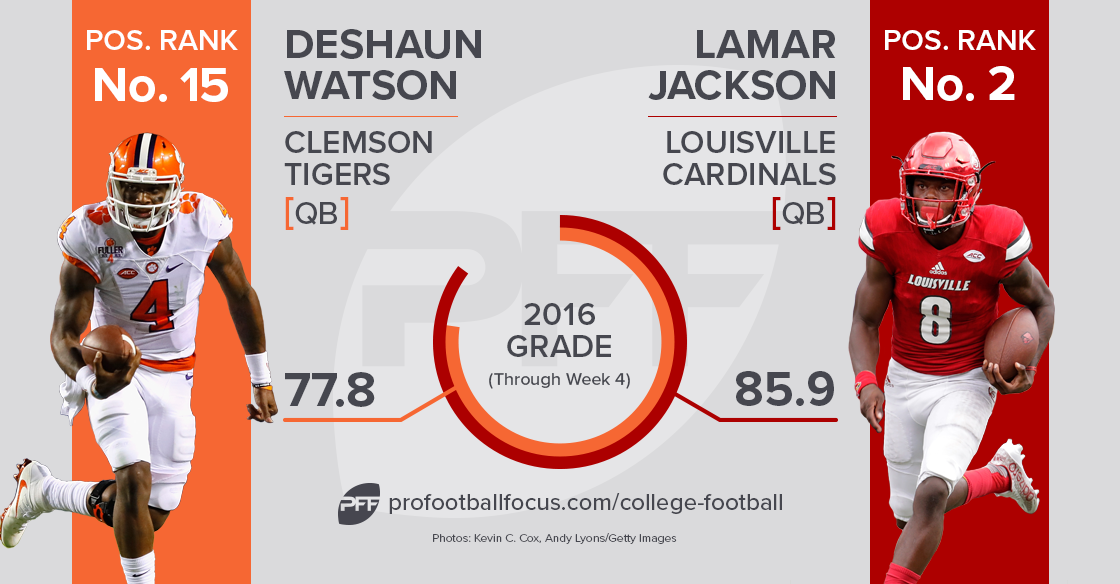 The case for Jackson
Through four weeks, there's no player impacting the game quite like Jackson and it's not really close. As much as we look to quantify player performance on a snap-to-snap basis, Jacksons' impact is hard to put into numbers as he presents a run threat that is unique to anything college football has seen in recent years. ESPN analyst Kirk Herbstreit astutely pointed out in the Florida State broadcast that there were plays in which the Seminoles had players in position to stop Jackson from a scheme standpoint – perhaps due to Jackson making the wrong read in the option game – but Jackson's acceleration was too much and he was still able to create big plays. Jackson's explosiveness breaks the chalkboard – even when a play is played correctly, he can still win.
The designed running game is where Jackson has done the majority of his damage, rushing for 444 yards on 48 carries (9.3 yards per carry) and all 12 of his rushing touchdowns on designed runs alone. That means when he's the primary ball carrier, the Cardinals nearly average a first down and Jackson finds the end zone on over 25 percent of his carries. The other part of the Louisville run game which is difficult to quantify, though Jackson's presence is certainly a factor, is the production of running back Brandon Radcliff who is averaging an identical 9.3 yards per attempt on his 46 carries. While Radcliff deserves credit for his work, defenses have to scramble to set the edge and ensure that Jackson is accounted for in the running game, opening up big holes for Radcliff to run through. The production of the Louisville run game would make the "junior varsity" level on NCAA Football (RIP) blush.
While the rushing yardage jumps off the page, the passing game numbers are just as staggering. Jackson is averaging 10.6 yards per attempt through the air including 13 touchdowns against only three interceptions while averaging 332.5 yards per game. A 300-yard per game passer is usually associated with pass-heavy schemes, but this Louisville attack is anything but as Jackson has averaged just 31 attempts per game.
It all stems from Jackson the run threat. Louisville's play action game has created wide open throwing lanes for Jackson, and not taking away from his production, but he has not had to make many tight-window throws because of how much attention the defense has to pay to him as a runner.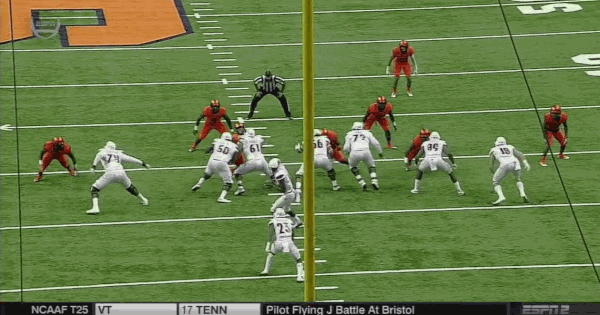 Jackson has an adjusted completion percentage of 50.0 percent on passes thrown at least 20 yards in the air, good for eighth in the nation, and his 529 yards on deep passes rank second. Those numbers have less to do with Jackson as a precision passer and more to do with the offense creating open big-play opportunities due to the run game and the threat of Jackson in the backfield. He's actually missed a number of opportunities, including a 0-for-6 effort on deep passes against Florida State and this wide open miss.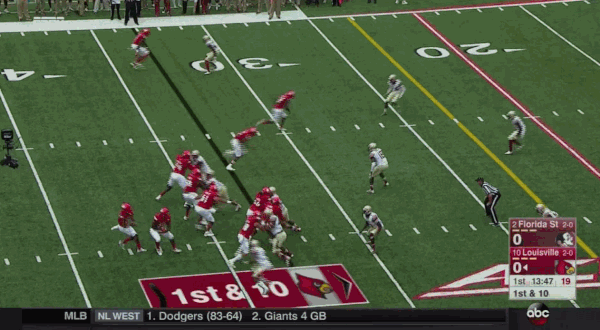 So while Jackson completes a high percentage of his throws to all levels of the field, we see that the offense has created massive passing windows in many cases, and we still see Jackson missing too many throws in the passing game. That was the criticism coming into the season and while Jackson is much improved, there will be a point this season where the run game is at least slowed down enough that the game will come down to Jackson's arm, but his arm is simply not trusted as much as his legs at this point in his development.
Although, more passes like this one against Marshall and Jackson closes in on "unstoppable" territory.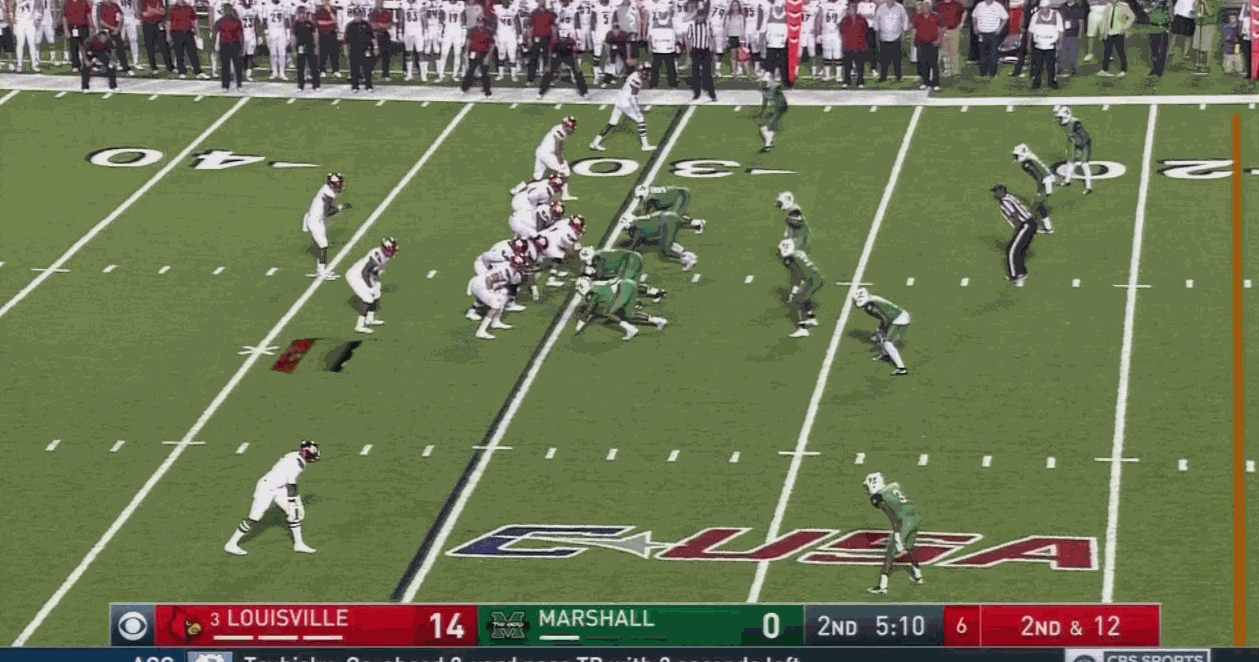 The case for Watson
Let's start with Watson as a passer. Yes, he's off to a slow start compared to the wire-to-wire domination that was expected, but he's still one of the best in the country. Watson has the touch to drop the ball in a bucket down the field and the zip to get the ball to his receivers up the seam or on the post, one of his better throws. His adjusted completion percentage on deep (20-plus yard) passes has dropped from 47.5 percent a year ago (along with 18 touchdowns, second in the nation) to 41.9 percent this season to go with five touchdowns. Prior to the season, we compared parts of Watson's game to Carolina Panthers QB Cam Newton's, namely their ability to make special, accurate downfield throws while showing slightly below accuracy at the intermediate level. That still holds true, and Watson's downfield production should improve as the season progresses.
The one thing that gives Watson the edge as a passer, for now, is his ability to make tight-window throws. Whether up the seam, to the corner, or the deep fade, Watson has all of the throws in his arsenal and has shown an ability to give his receivers a chance to make big plays, even if they're covered well. While Jackson's running ability has opened up the easy throws within the Louisville offense, there are still times in which the defense has receivers well-covered and throws still need to be made – that's where Watson has the advantage.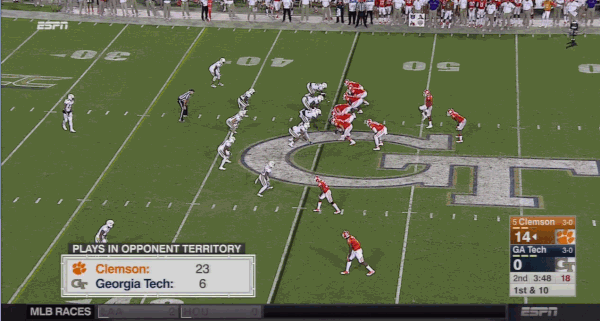 Watson can beat opposing teams with both his arm and his legs as well, but he's more of a pass-first quarterback than Jackson, particularly this season. He was much more a part of the designed running game last season as Watson would pair with RB Wayne Gallman in the backfield to keep defenses off balance with the ability to run power one way for Gallman or counter the other way and Watson finished with 799 yards on 130 designed runs a year ago (6.1 yards/attempt, 53.3 yards/game). This feels like Clemson is sitting on a trump card as they just started to use Watson in the designed run game last week against Georgia Tech and this should increase as the season progresses. While it may not have the same effect as Jackson on the passing game, using Watson in the run game should open easier passes and that will help Watson's production.
Just as we have concerns about Jackson's inaccuracy, there are concerns with Watson's game that have still been prevalent this season. His numbers take a drastic hit under pressure and his 31.8 percent completion percentage when pressured is actually lower than last year's mark of 36.8 percent that was among the worst in the league.
Although, this pass while under heat in crunch time against Auburn was outstanding, and it's something we'd like to see more often.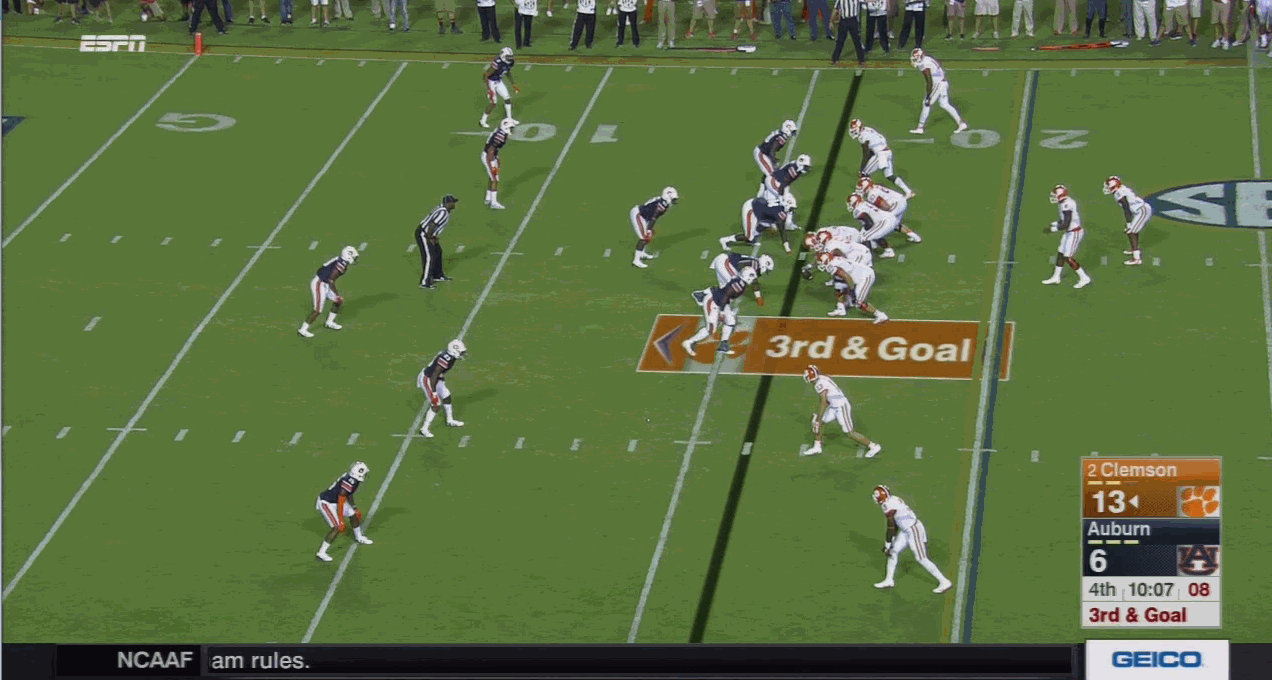 The Verdict
Small sample sizes will always be skewed and there's a fine line between recognizing improvement or a slump from a player while also acknowledging that things will probably regress toward the mean in the long run.
Yes, Lamar Jackson is perhaps the nation's most improved passer and he's playing at a ridiculous clip right now, but it's also normal to think that he won't keep his current pace of scoring 100 touchdowns during the regular season and some of his inaccuracy issues will increase as the season progresses. On the other end, we have a larger sample size of play from Watson and it suggests that he's destined to improve and live up to his preseason hype. His slow start is still miles ahead of where he was last year at this time and if Clemson unleashes his ability in the run game once again, that Clemson offense will be rolling in no time.
With all that said, it's clear that Lamar Jackson is the most dynamic player in college football and it's his Heisman Trophy to lose, but I'll take Deshaun Watson as my long-term answer as a college quarterback because of his better-rounded game as a passer while still supplying enough of a run threat to keep defenses off balance.