The 2019 college football season is behind us and after grading every player on every play in every game, we can now look back and assign some superlatives from the season. Here's a look at the best player in 35 different offensive categories, from who throws the best deep ball to the receiver who runs the best comeback route, and just about everything in between.
[As a part of our partnership with ESPN, this is a part of a story that was originally published on ESPN+ and can be viewed in its entirety here with your ESPN+ subscription – College football's best at everything on offense]
Highest overall grade: Penei Sewell, OT, Oregon
It was a close race all season, but Sewell ends the 2019 year as the highest-graded player on offense, dominating nearly every facet of play with relative ease. Not only was he the best run-blocking lineman in the country, Sewell held his own against a variety of pass-rushers and anchored the talented Ducks offensive line by allowing only seven pressures on his 449 pass-blocking snaps from left tackle.
Best passer, by distance
1-9 yards downfield: Anthony Gordon, Washington State
The Air Raid offense is favorable to short-distance throws but Gordon made the most of those opportunities, even by recent Air Raid QB success rates. He's the nation's highest-graded thrower on passes targeted 1-9 yards downfield by some margin and leads in every major category, including throwing 15 touchdowns and 1,991 yards with just two turnover-worthy passes on his 247 attempts from that distance.
10-19 yards downfield: Justin Fields, Ohio State
Fields was outstanding to the intermediate range of the field, completing 55 of 77 attempts for 889 yards and 11 touchdowns against just one interception. Fields was accurate and sharp with his reads on such throws and led the country with a 76.6% adjusted completion percentage, as four of his incompletions were actually on the money but dropped by his receivers.
20-plus yards downfield: Joe Burrow, LSU
Burrow lit up the field with his deep ball in 2019. He finished second in yards on throws at least 20 yards past the line of scrimmage but completed 56.3% of his deep attempts, leading the nation by hitting 36 of 64 attempts with 19 touchdowns and just two interceptions.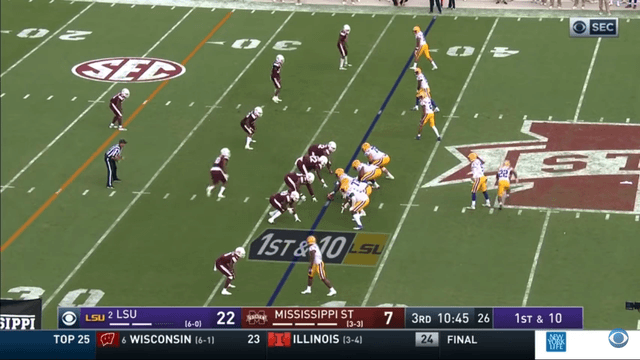 Best passer when kept clean: Justin Fields, Ohio State
The only quarterback to not throw an interception when kept clean from the pocket, Fields led all FBS signal-callers in passing and overall grade when his offensive line kept him away from pressure. Fields hit on 72.5% of his throws from a clean pocket and threw 32 TD passes; he was the only quarterback with at least 150 clean dropbacks and no interceptions.
Best passer when under pressure: Joe Burrow, LSU
Burrow's ability under pressure was never more clear than during the SEC championship game, when he dodged what seemed like the entire Georgia defensive line in the pocket and unloaded a perfect downfield shot. But that was a mere microcosm of his productive season. When pressured, Burrow completed a whopping 69.3% of his passes, hitting 70 of 101 for 1,241 yards and 15 touchdowns against just one interception. He led the nation in every category from a pressured pocket, showing NFL readiness at every turn.
Best passer when targeting past the sticks: Joe Burrow, LSU
Surpassing Fields during the conference championship weekend, Burrow led all passers with a near-perfect grade on throws past the first-down markers in 2019. He completed 134 of 197 attempts, leading the country with a 68% completion percentage and a 71.1% adjusted completion percentage, as his receivers even left six first downs on the table with six drops.
Best passer in the pocket: Justin Fields, Ohio State
Fields completed 165 of 229 attempts for 2,261, 32 TDs and no interceptions on straight-drop concepts and throws from inside the pocket. What set Fields apart on straight dropbacks was his ability to avoid negatively graded attempts, as he led the country with just three turnover-worthy passes on such attempts.
Best passer outside of the pocket: J'Mar Smith, Louisiana Tech
Whether the passing situation called for him to roll out intentionally or if he scrambled out on his own, Smith was a class above the rest of the nation's quarterbacks. He completed under 50% of his pass attempts but had four touchdowns and four big-time throws outside of the pocket while limiting himself to zero turnover-worthy passes when on his own outside.
Best red-zone QB: Trevor Lawrence, Clemson
A key aspect to any quarterback's repertoire is the ability to find open throws in the red zone while also possessing the required arm strength to fit throws into tighter windows inside the opponent's 20-yard line. Lawrence did that better than any other quarterback this season, completing 31 of 42 passes for 240 yards and 18 touchdowns while avoiding any turnovers and leading the country with his 73.8% completion percentage.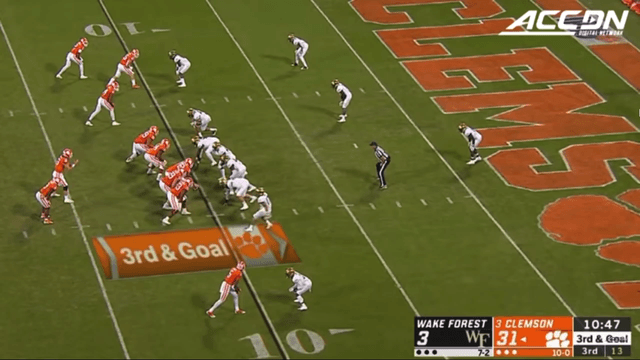 Most elusive RB on rushes: Travis Etienne, Clemson
At no point in the history of PFF's time grading college games have we seen a running back break tackles more frequently than Etienne did in 2019. He forced a missed tackle on 46% of his carries, breaking 84 tackles on his 181 attempts and gaining 969 yards after contact. He was the nation's most elusive back, and it wasn't even close.
Most elusive RB after the catch: Max Borghi, Washington State
No running back ran more pass patterns than Borghi, who saw time as an eligible pass-catcher on 534 total snaps. He was the only FBS running back to break over 20 tackles on his receptions this year; he totaled 25, breaking a tackle on over 31% of his receptions.
Best pass-catching RB: Raheem Blackshear, Rutgers
Finding a Rutgers player on the superlatives list might come as a shock to some, but not if you watched the Scarlet Knights. Blackshear's 11.1 yards after the catch per reception is by far the highest among running backs who averaged a depth of target at least 1.5 yards downfield, meaning he was getting the ball at the same depth as receivers in some instances and still churned out ridiculous amounts of production on his own.
Best RB through contact: A.J. Dillon, Boston College
Dillon led the nation with 79 missed tackles forced and gained a whopping 1,104 yards after contact. He was dominant when tasked to run the ball, even though the defense knew the Boston College offense ran through him as he toted the rock 317 times this year.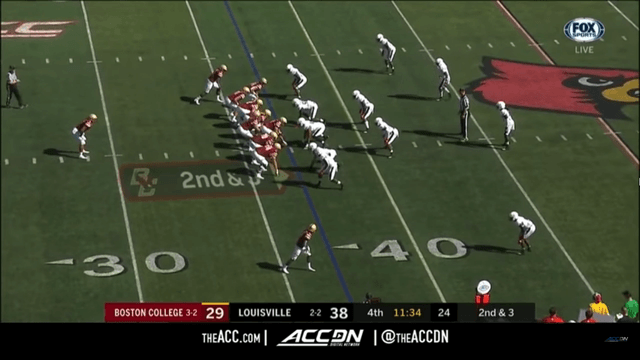 Best WR by route
Screen: Jaylen Waddle, Alabama
This one wasn't even close. Waddle took eight screens for 167 yards and two touchdowns, churning out four more first downs in the process. His speed to beat any defender worked to his advantage in the screen game and he forced three missed tackles and led Power 5 receivers with four screen passes going for 15 yards or more. He averaged 20.9 yards per screen pass, another Power-5 best.
Out: Joe Reed, Virginia
Leading the nation with a combined 17 receiving conversions, including three scores and 14 first downs on out routes, Reed also finished the season with the most yards (313) and yards after the catch (179) on out routes. He was the highest-graded receiver on such routes and even brought in four contested catches on the route, tying for the most in the nation.
Slant: Devin Duvernay, Texas
Duvernay used his speed and sure hands to dominate over the middle of the field, leading the nation in receiving grade on slant routes and finishing the season with a perfect 13 receptions on 13 catchable targets on the route. He turned those into 263 yards as he scored one touchdown and turned 11 other receptions on slants into first downs.
In: Michael Pittman Jr., USC
On 12 targeted in routes, Pittman led the nation in overall grade and hauled in 10 catches for 135 yards. The epitome of a converter, Pittman scored two touchdowns on such patterns and churned out a first down on the other eight catches. He saw the nation's best passer rating when targeted (153.1) on in routes as well.
Comeback: Chris Olave, Ohio State
Olave was the nation's best on the seldom-used comeback route, making six receptions on the route. He turned those into 88 yards and all six went for first downs. Somehow, despite the route literally coming back to the line of scrimmage, he gained positive yards after the catch and four of those receptions churned out 15 or more yards.
Hitch: Omar Bayless, Arkansas State
The nation's leading receiver in total yards was targeted 30 times on hitches, hauling in 24 catches for 374 yards. He gained 173 yards after the catch on the concept, an impressive feat for a route that has you breaking the opposite direction of the way you'd need to go to gain yards after the catch.
Post: Brandon Aiyuk, Arizona State
Hauling in all seven of his post-route targets, Aiyuk was the country's best when breaking toward the goalpost from an outside receiver alignment. He ripped off 357 yards on those seven catches, gained 176 yards after the catch and broke 120 yards after contact, all of which lead the nation by a comfortable margin.
Corner: Tutu Atwell, Louisville
The emergence of Atwell came largely at the hands of his success on corner routes. One of the more difficult routes to accomplish, its usage has certainly gone down over time, but Atwell still made four receptions for 81 yards and a score. He connected on three more first downs and, most notably, was the only receiver in the country to see at least four catchable post routes and not drop one.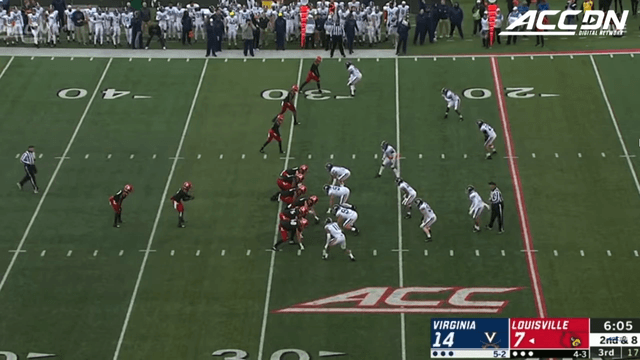 Go: Antonio Gandy-Golden, Liberty
Gandy-Golden recorded 13 receptions on go concepts for a nation's best 466 yards, gaining a ridiculous 35.9 yards per reception while racking up 10.6 yards after the catch per reception. He was in a class of his own on go routes, recording five contested catches and 12 explosive plays of at least 15 yards.
Crossers: Justin Jefferson, LSU
Jefferson was the country's best on crossing routes, finishing the season with 15 receptions for 334 yards, leading the country in both metrics. Three of those receptions went for a score and he finished with nine explosive plays of at least 15 yards or more on crossers, forcing three missed tackles after the fact.
Best slot receiver: Tutu Atwell, Louisville
Leading all receivers who played at least 100 snaps in the slot in overall grade, Atwell emerged onto the scene in a big way in 2019. He hauled in 49 catches from an interior alignment, ripping off 1,007 of his yards and 12 of his touchdowns from the slot. He made four contested catches and led the country with an average of 20.6 yards per catch from the slot.
Best red-zone WR: Isaiah Hodgins, Oregon State
A good receiver will have the ability to go and get the football at pivotal times, none more pivotal than in the red zone and in contested situations. Hodgins was the nation's best inside the opponent's 20-yard line, catching all 12 of the passes thrown his way, including all three contested-catch opportunities. He gained just 110 yards on such throws but scored a national-best nine touchdowns and was the only player to see at least two contested red-zone targets and haul in all of them.
Best pass-blocking TE: Kylen Granson, SMU
There were 93 tight ends who stayed in to pass protect on at least 45 snaps this season, and Granson by far dominated the group with a ridiculous set of pass-blocking moves. He blocked for the pass on 81 snaps and allowed just a single hurry despite facing some ferocious pass-rushers.
Best run-blocking TE: Harrison Bryant, FAU
Bryant finishes as arguably the most well-rounded tight end at the FBS level, as he also led in receiving grade and overall grade. FAU running backs averaged more than 2.0 yards before contact when rushing around the tight end spot this season.
Best pass-blocking OT: Blake Brandel, Oregon State
The nation's leader in pass-blocking grade is a left tackle from the state of Oregon but it's not Penei Sewell. Instead, Brandel was the most dominant left tackle in the country against the pass-rush, seeing 473 snaps in pass protection and allowing all of five total pressures while being called for just a single penalty.
Best run-blocking OT: Penei Sewell, Oregon
You knew you'd find Sewell on here somewhere. He routinely forced defenders off their spot and took on two defenders at times. Ducks running backs averaged 2.5 yards before contact on carries to either side of Sewell in 2019.
Best pass-blocking OG: Ben Bredeson, Michigan
The nation's best pass-protecting guard put forth some dominant outings and kept a clean sheet against some top-notch defensive lines. Bredeson spent 451 snaps in pass protection and allowed just seven hurries with no QB hit or sack allowed. He didn't allow a single pressure against Iowa, Notre Dame or Michigan State and allowed just two pressures against Ohio State.
Best run-blocking OG: Kevin Dotson, Louisiana
The Ragin' Cajuns ran the ball extremely effectively, thanks in large part to Dotson. He churned out the nation's top run-blocking grade among interior offensive linemen and put forth the best run-blocking grade we've seen from the Sun Belt since 2014.
Best pass-blocking C: Cesar Ruiz, Michigan
If you ever wondered why the Michigan offense got rolling late, look no further than the interior of that offensive line, which sports two guys on our list for best pass protectors at their respective position. Ruiz spent 447 snaps in pass protection and allowed just seven total pressures, including eight games without a pressure allowed. He hasn't allowed a single pressure since Week 7 against Illinois.
Best run-blocking C: Matt Hennessy, Temple
Finishing as the nation's highest-graded center, Hennessy used his strength in the run game to bolster his overall grade. He was by far the highest-graded center in the run game and finished as the only center with an elite grade above 85.0 when blocking for the run.
Least penalized offensive line: Florida International
The FIU offensive line was the most dominant group in the country in terms of limiting mistakes and egregious penalties. They were called for only nine penalties between their offensive linemen, two fewer than any other line in the country. Three of those penalties came on pass plays and just six were on run plays, ranking inside the top 20 in each category as a unit.