All season long, our analysts at PFF have been grading every player on every play of every college football game that includes an FBS team. That tracking of the best performances in college football culminates here in our end-of-season award-winners. Below, we've named the winners of 16 awards, from best overall player to best pass-rusher, with everything in between.
Our analysts give an explanation for each award, along with the players' PFF grades and position ranks. While our experts have used PFF grades as a guide for their selections, they still made some subjective judgments — including strength of competition and a player's overall impact on his team — in deciding on the winners for each award.
Check out all 16 awards below, or use the list below to navigate to a specific award.
Best player
Jonathan Allen, DI, Alabama
PFF grade: 92.6; Pos. rank: 2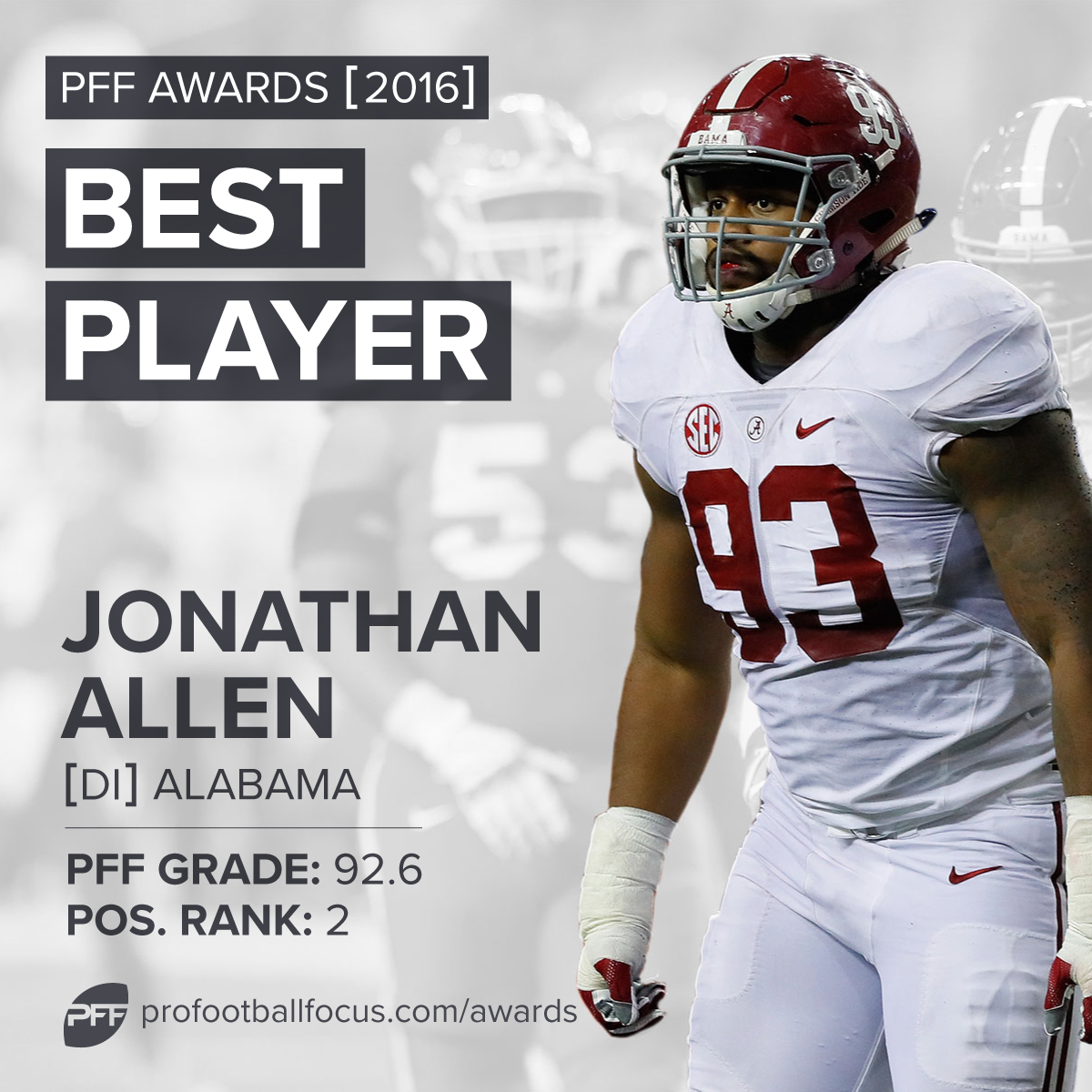 The best player on the best team in the nation, Allen grew from star to superstar this season on his way to dominating as a pass-rusher from start to finish. He led all interior defensive linemen with a 93.6 pass-rush grade while also leading with 64 total pressures (11 sacks, 12 QB hits, 41 hurries) heading into the national title game. Allen was also excellent against the run with an 87.2 grade, good for 11th in the nation. He saw a career-high 254 snaps against the run this season and didn't budge one bit, showing that he can destroy blocks, disrupt plays and finish them, as his run-stop percentage of 12.4 percent ranked sixth in the nation.
No player had a bigger impact on both facets of the ball (even those who graded slightly higher in PFF's 0-100 scale), and Allen did it for the best team in the nation and perhaps a historically great team when it's all said and done. Beyond the snap-for-snap dominance, Allen had a few memorable plays, such as his "superman" sack in which he shed a block then leaped over a running back to sack Texas A&M quarterback Trevor Knight, or his two returns for touchdowns, one on a fumble and one on an interception.
While the Alabama defense is loaded on all three levels, Allen was the best of the bunch, and he brought a versatility to the defensive line that allowed him to win on the interior or on the edge when needed. He set the tone for a dominant defensive season for the Crimson Tide as an every-down player capable of making plays both against the run and as a pass-rusher. – Steve Palazzolo
---
Best passer
Baker Mayfield, QB, Oklahoma
PFF grade: 96.3; Pos. rank: 1
It's not always conventional, but Mayfield continues to get the job done. No quarterback has the combination of accuracy, decision-making and strong work under pressure that Mayfield has, and it led to our No. 1 passing grade at 90.9. No matter which way the stats are sorted, Mayfield sits near the top. He ranks second in adjusted completion percentage at 80.1 percent and he leads in adjusted completion (63.5 percent) and passer rating (125.5) on deep (20-plus-yard) passes. When under pressure, Mayfield also leads in both categories at 67.6 percent and 119.9 respectively. In our play-by-play grading, Mayfield has the highest percentage of positively graded throws and the lowest percentage of negatively graded throws, making him by far the most efficient passer in the nation.
The raw stats sum up the story well, as Mayfield averaged 11 yards per attempt and he had an NFL passer rating of 134.5 this season. He's shown the ability to create within the flow of the Oklahoma offense, but he also has a knack for creating outside the structure as well, and that's what makes him so dangerous as a passer. Aside from some early inconsistent efforts against Houston and Ohio State, Mayfield put together strong efforts week after week, and he led Oklahoma to a 10-game winning streak down the stretch, culminating in a Big 12 championship and a win in the Sugar Bowl over Auburn. – Steve Palazzolo
---
Best runner
Dalvin Cook, RB, Florida State
PFF Grade: 89.3; Pos. rank: 2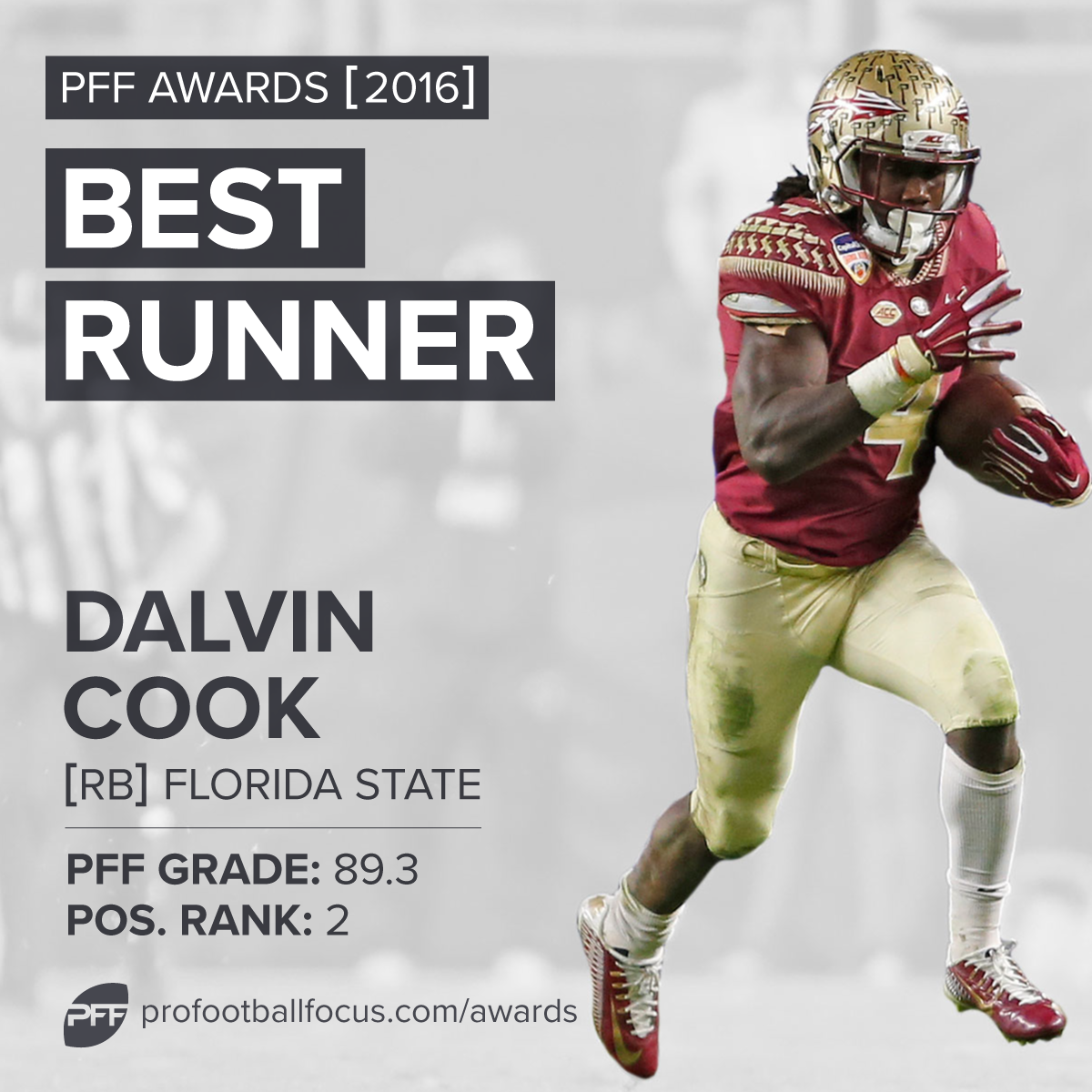 Coming into the year, the big question was who would emerge as the best running back in the nation, with strong candidates in Florida State's Dalvin Cook, LSU's Leonard Fournette and Stanford's Christian McCaffrey. In the end, it was Cook who had the best year, capping off an incredible collegiate career with an impressive three-game stretch to end the year that summed up his play nicely. In games against Syracuse, Florida and Michigan, he averaged 3.7, 4.8 and 6.0 yards after contact per carry, and forced 33 missed tackles. Particularly against Michigan that really is incredible, with 119 of his 145 yards coming after contact and Cook forcing a missed tackle once every two carries.
Cook led all running backs in 2016 with 1,195 yards after contact, the most of any running back in the nation, but also more than all but 31 running backs managed total rushing yards. The best pure runner in the nation, Cook stands out in terms of raw stats, advanced stats and passes the eyeball test too, with plenty of quality runs of four and five yards in his repertoire. In a year when many of the top running backs in the nation didn't live up to expectations, Cook was able to tie a career best in touchdowns and post career-best numbers in rushing yards and yards after contact. Only Toledo's Kareem Hunt earned a higher PFF grade among running backs this season than Cook, who put up outstanding numbers against tougher competition. – Gordon McGuinness
---
Best receiver
Dede Westbrook, WR, Oklahoma
PFF Grade: 88.5; Pos. rank: 4
What's most startling about the numbers Dede Westbrook put up this year is that he didn't top 70 receiving yards in any of the first three games of the year. From that point on however, his lowest yardage output in a single game was 59 yards in the Sooners' bowl game, and he dipped below the 100-yard mark just three times from the game against TCU in Week 5 to season's end. Westbrook forced 20 missed tackles on 80 receptions, averaged 19.0 yards per catch, 9.7 yards after the catch and scored 17 touchdowns, proving to be the key offensive weapon on one of the most high-powered offenses in the nation.
Westbrook averaged 4.03 yards per route run, third at wide receiver behind only Jalin Robinette at Air Force, and Colorado State's Michael Gallup. He also has a pretty reliable pair of hands, dropping just four of the 84 catchable passes thrown his way. He ranked behind only Northwestern's Austin Carr among Power-5 wide receivers in PFF grades, and his overall body of work and consistency week to week made him our choice for this award. With a fantastic ability to find the big play, both downfield and by making defenders miss in space after the catch, Westbrook won the Biletnikoff Award this year and is also our top receiver after such a strong end to the year. Baker Mayfield's top target, Westbrook's numbers in 2016 are far too good to ignore. – Gordon McGuinness
---
Best offense lineman
Frank Ragnow, C, Arkansas
PFF grade: 89.4; Pos. rank: 1
Ragnow has been a PFF favorite since his outstanding run-blocking performances against Louisiana Tech and TCU in Weeks 1 and 2, and he held his impressive standard of play throughout the season. For the second straight season he did not give up a sack, and lowered his total pressures yielded from 19 in 2015 to just 12 this year. He was even better on run plays, as his 88.9 run-blocking grade was more than five points better than the next closest center. To top his grades off, he also posted the second-highest raw grade on screen passes among all FBS linemen.
What makes Ragnow's accomplishments even more impressive this season is the fact he did them in Arkansas' pro-style offense against a loaded SEC interior class. He didn't have the benefit of the quick-passing offense of Washington State OG Cody O'Connell, or the inferior competition level of UTEP's standout OG Will Hernandez. Fortunately for Razorbacks fans, Ragnow announced before Arkansas' Belk Bowl matchup against Virginia Tech last month that he plans to return to Fayetteville for his senior season. While duplicating his 2016 campaign will difficult, his outstanding combination of flexibility, power and hand placement suggests he is more than capable of showing the level of consistency he did this past season. – Josh Liskiewitz
---
Best offensive line
LSU
Pos. rank: 1
As a collective unit, no offensive line performed better than that of the LSU Tigers in 2016. The group finished atop our offensive line metric, largely because all three starting interior players had overall grades of at least 74.5. The Tigers were led by C Ethan Pocic, whose overall grade of 82.7 was bolstered by his pass-blocking performance that saw him yield just 11 total pressures with no sacks or hits allowed. LG Will Clapp was also outstanding in pass protection, as he was responsible for just nine total pressures, with two hits and no sacks. RG Josh Boutte was the only member of the interior trio to give up a sack, but his lone sack charged to him was accompanied by just seven other pressures.
Not surprisingly, the success of LSU's run game can be directly attributed to the outstanding play of the offensive line. Tiger runners averaged 6.6 yards per carry on the season, and earned 46.8 percent of their yards before initial contact. By comparison, Alabama and Clemson runners gained 40.7 and 40.1 percent of their yardage before contact, displaying perfectly just how much more efficient the play of the LSU offensive line was. With Pocic and Boutte both graduating and onto the next level, the Tigers are unlikely to duplicate this year's effort in 2017. However, this year's group can take pride in knowing the unit put together a truly elite 2016 campaign. — Josh Liskiewitz
---
Best pass protector
Will Hernandez, G, UTEP
PFF grade: 94.5; Pos. rank: 1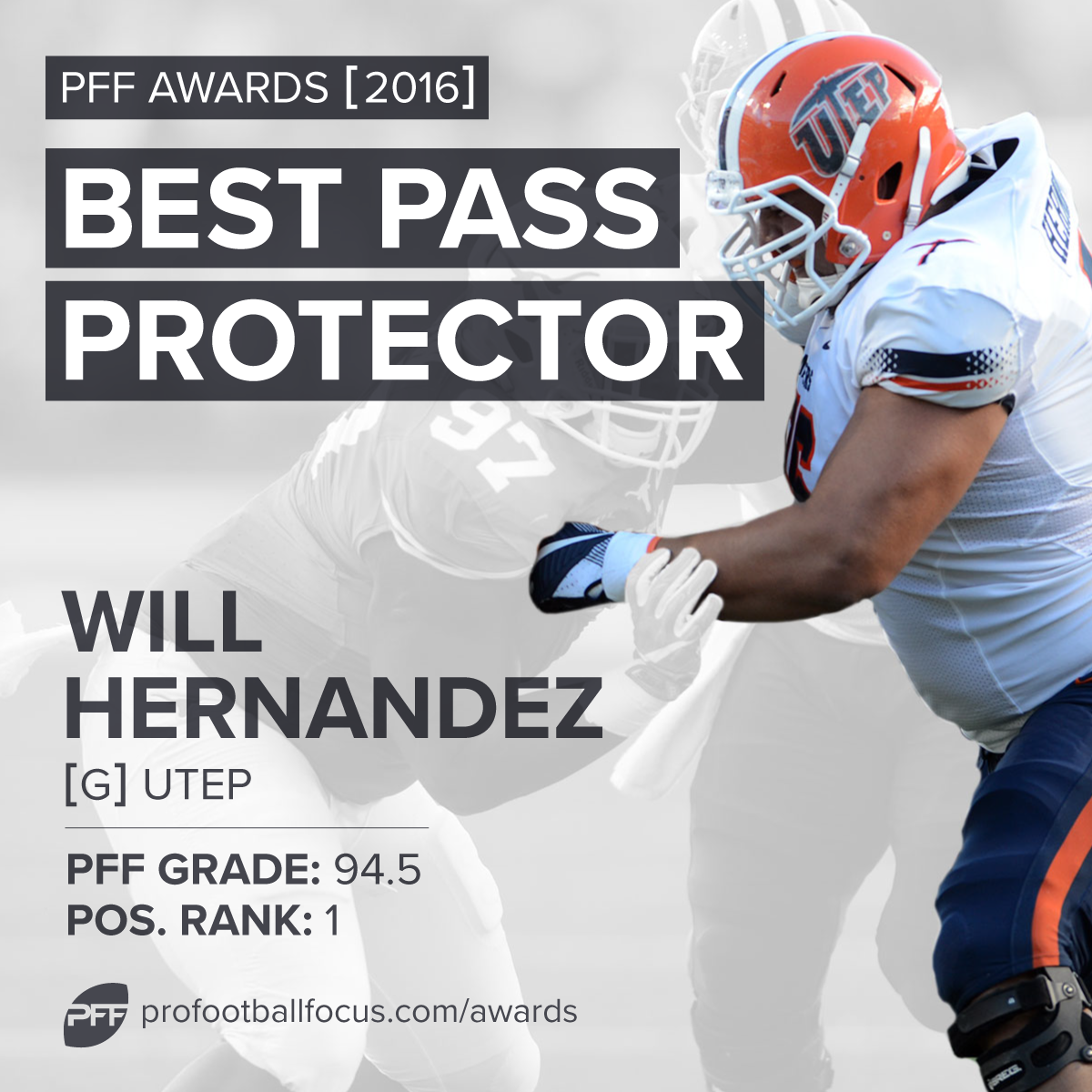 Will Hernandez isn't exactly a household name, as guards from the University of Texas at El Paso don't receive much attention during the year. However, PFF offensive line analyst and former college offensive line coach Taylor Wright raved about Hernandez's dominant performances to the rest of the PFF College analysis team all season long. Hernandez is a very strong player who can steer the engagement his way once he has his hands on his man. Hernandez also seems to enjoy contact as he really finishes his blocks or looks to block multiple people per play. Hernandez played at a consistently high level all season long as both a run-blocker and a pass protector. Hernandez's 94.5 overall grade was No. 1 among all FBS guards and his 91.5 run-blocking grade was the best run-blocking grade of all FBS guards.
As a pass protector, Hernandez possesses the lateral foot speed to slide from side to side to pick up stunting defenders but he often wins with brute strength much like he does as a run-blocker. Hernandez can really hold his ground or "anchor" well in pass protection and graded positively as a pass protector in every game this season. Even more impressively — and the reason he won this award — is that on Hernandez's 378 pass-block snaps this season, he didn't allow a sack, hit or hurry. In fact, Hernandez hasn't allowed a sack in 22 games or since Week 2 of the 2015 season. If Hernandez puts together another season like this next year he could hear his name called in the 2018 NFL draft. – Jordan Plocher
---
Best run blocker
Frank Ragnow, C, Arkansas
PFF grade: 89.4; Pos. rank: 1
Arkansas's offense isn't as conventional as many of the modern college football offenses that are focused on spreading teams out and throwing the ball all over the place, but rather the Razorbacks lean heavily on a smashmouth NFL-style running game that tries to physically punish their opponents. Ragnow played guard in 2015 for the Razorbacks but then moved from guard to center in 2016 and really came into his own at the new position. Ragnow was a big part of the Razorbacks' running success and a key factor to running back Rawleigh Williams III rushing for more than 1,300 yards this season. The Razorbacks' offense averaged 5.31 yards per carry when backs ran through either gap between a guard and Ragnow at center.
Ragnow excels at moving people on the line of scrimmage and walling his man off to create a nice running lane for his running backs. However, Ragnow is at his best when he is operating in space and asked to block on the move. Ragnow is asked to pull block at times in the Razorbacks' offense and he does it well, showing a level of coordination not often seen by offensive linemen. Ragnow appears to always put himself in the right place to seal off defenders by quickly sliding his hips to either side of a blocker to control the encounter. Ragnow's run-blocking grade of 88.9 ranked No.1 among all FBS centers. – Jordan Plocher
---
Best pass-rusher
Derek Barnett, ED, Tennessee
PFF grade: 92.1; Pos. rank: 3
This may not be a big surprise, but Derek Barnett had a pretty phenomenal season. While Barnett's run defense was far from anything to scoff at, it was his ability as a pass-rusher that truly set him apart. While players like Kansas State's Jordan Willis and FAU's Trey Henrickson had great pass-rushing seasons, Barnett absolutely deserves the award for best pass-rusher.
Barnett finished the year with 13 sacks, 22 hits and an additional 42 quarterback hurries. Those 75 total pressures ranked fourth in the country among all edge rushers. His 16.1 pass-rushing productivity of 16.1 also ranked fourth, showing that he didn't just rack up a ton of pressures based on volume of snaps. He also had an additional 13 plays in which he cleanly beat his man rushing the passer, but was unable to record a pressure (due to a quick release by the QB or something similar).
Barnett was a consistent force for opposing right tackles, and had some massive games for the Tennessee defense. He had seven games in which he had more than five total pressures and three games where he had more than 10 pressures. He never had a below-average pass-rushing grade in any game this season. His 92.6 season pass-rush grade ranked second among all edge defenders (trailing only Willis). While some edge rushers may have had more pressures than Barnett, few were as consistent and as dominant as Barnett was. That's why he deserves this award. – Bryson Vesnaver
---
Best run defender
Solomon Thomas, DI, Stanford
PFF grade: 91.6; Pos. rank: 3
Stanford didn't have quite as successful a year as they would've liked, but there were still plenty of bright spots for the team. One of those bright spots was defensive tackle Solomon Thomas, who's strong play has earned the PFF Best Run Defender Award.
While many took notice of Thomas' strong play in the Sun Bowl (he had a 92.5 overall game grade), it was nothing out of the ordinary for his season. Thomas finished the year with the highest run-defense grade in the country among all interior defenders at 92.0. His lowest run-defense game grade of the year was 77.4 in Week 10 against Oregon State, which is still above average. He had nine games in which his run-defense grade was above 80.0, and two where it was above 90.0. While some players had great games, Thomas was consistently dominant against the run in every game he played.
Thomas finished the year with a very impressive 37 solo run stops, which was the most among all defensive tackles in the country. He didn't just get so many stops due to volume either, as his run-stop percentage of 12.3 percent ranked fifth among all defensive tackles. He made big stop after big stop, and there were just so many games in which his run defense seemed to single-handedly lift Stanford's defense to success. While there were plenty of strong candidates, nobody was stronger than Solomon Thomas. – Bryson Vesnaver
---
Best coverage defender
Tedric Thompson, S, Colorado
PFF grade: 83.8; Pos. rank: 11
The Colorado Buffaloes' performance and them getting to the Pac-12 Championship Game was one of the surprises of the season. A big part of Colorado's success was the play of their secondary and how they could shut wide receivers down for entire games. While there were three elite performances from cornerbacks on that team, the award goes to Thompson, who lined up occasionally as a cornerback, but played the majority of his snaps as a free safety. His position, combined with his playmaking ability, made quarterbacks think twice about targeting the middle of the field and his range forced opposing signal callers to be more precise on sideline passes as well.
Thompson, who edged out Nebraska's Nate Gerry for this award, recorded seven interceptions this season, tied for third-most in the nation and tied for most for safeties in college football. Furthermore, the Colorado safety had seven pass breakups as well, tied for third among safeties. Thompson's best outing came against the Utah Utes, as he allowed only two receptions for one yard on 11 targets while also recording two interceptions and two pass breakups in that game. Also, unlike some other players, Thompson not only made big defensive plays, but also did not allow a lot of offensive plays. As a result, he allowed only one touchdown in coverage, which led to an opposing passer rating of 22.3 on the season, the second-lowest among safeties in the nation. His grade wasn't the tops among all safeties this season, but his overall body of work in coverage made him our selection for this award. – Zoltan Buday
---
Offensive player of the year
Baker Mayfield, QB, Oklahoma
PFF grade: 96.3; Pos. rank: 1
Our best passer is also our best offensive player as Mayfield's week-to-week consistency was unmatched around the country. Heisman winner Lamar Jackson of Louisville garnered strong consideration, and this may have been his award to lose prior to the bowl games, but he had his struggles against LSU while Mayfield capped the year with another dominant outing against Auburn in the Sugar Bowl, securing his standing as the best offensive player in America. Mayfield ticks every box from a grading standpoint, showing at or near the top of every category whether he's in a clean pocket, under pressure, being blitz, or avoiding negative throws. His 96.3 overall grade is the best of any player in the country. – Steve Palazzolo
---
Defensive player of the year
Jonathan Allen, DI, Alabama
PFF grade: 92.6; Pos. rank: 2
Our Best Player Award winner doubles as our best defensive player, as Allen's season was outstanding from start to finish (see Best Player Award). While he established himself as a superstar in the early going, there was plenty of competition for the award, particularly along the defensive line in the SEC with edge rushers Derek Barnett of Tennessee and Myles Garrett of Texas A&M lurking all season. Even fellow teammate Reuben Foster has a strong case as our top-graded linebacker, but Allen was a dominant force while playing up and down the Alabama defensive line and his impact was greater than any other player in the country. – Steve Palazzolo
---
Comeback player of the year
James Conner, RB, Pittsburgh
PFF grade: 76.8; Pos. rank: 33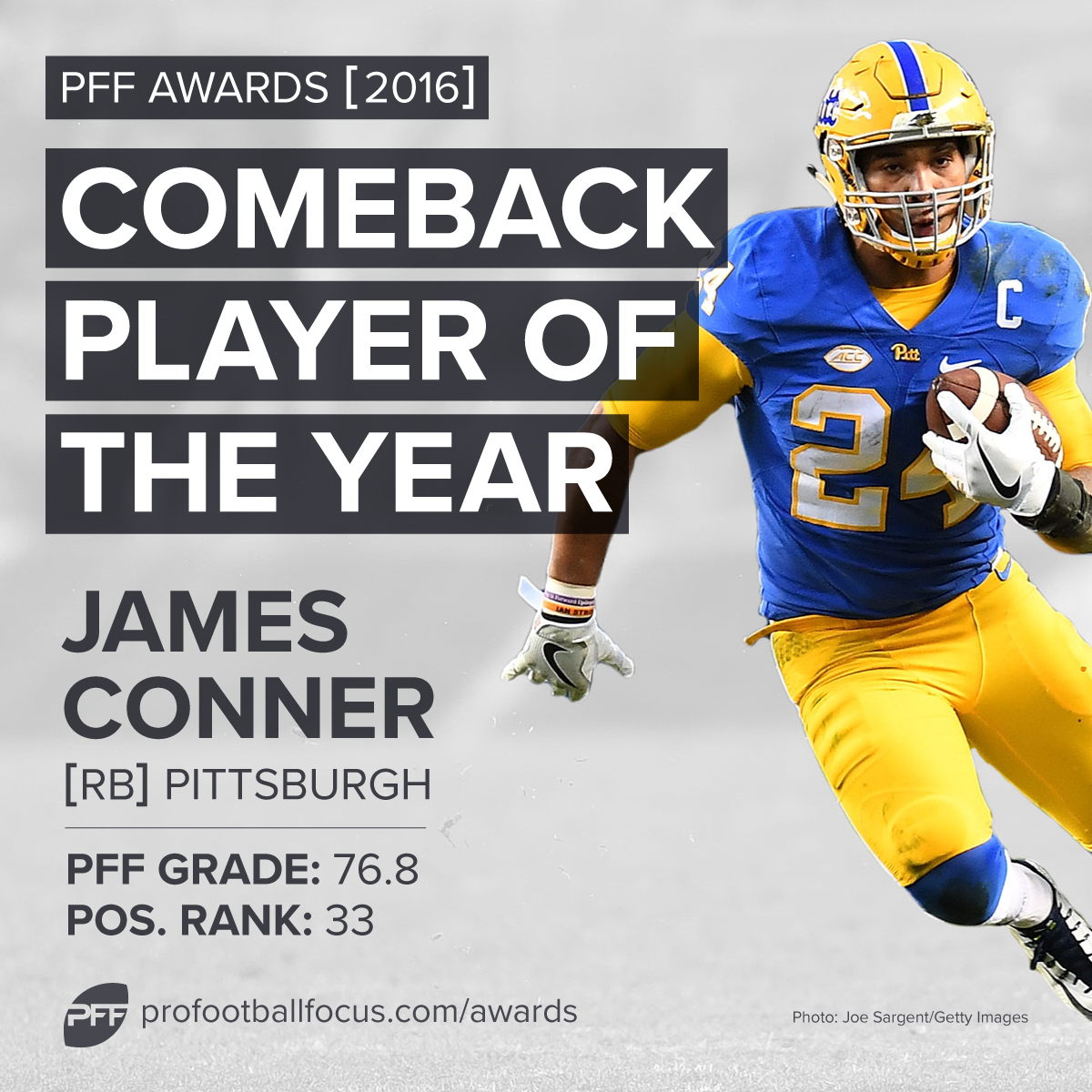 James Conner beating cancer and playing college football again would have been one of the more remarkable stories of the 2016 season even if the Pitt running back was average on the field. However, Conner did even more than that and finished the year with 16 rushing touchdowns, tied for 15th in the nation. Furthermore, he had the 33rd-highest PFF grade among running backs with a season grade of 76.8. Pittsburgh relied heavily on Conner, as he led the team with 216 carries, and he did not disappoint the Panthers.
Conner started the year strong as he had 63 carries in his first three games against Villanova, Penn State and Oklahoma State. In addition, he ran for 277 yards in these games and scored a touchdown in each contest. The redshirt junior was tough to bring to the ground all season as he averaged 2.95 yards after contact, the 32nd most in the Power-5. Conner has been elusive too, as his 39 forced missed tackles on runs ranked 22nd in the Power-5, ahead of Nick Chubb and Samaje Perine. While Conner is best known for his physical running style, he has been a reliable receiving threat out of the backfield as well. Although he only saw 24 targets in 2016, Conner was very efficient and averaged 2.17 receiving yards per route run, sixth-highest in the Power-5, ahead of backs like Christian McCaffrey and Dalvin Cook. – Zoltan Buday
---
Breakout player of the year
Lamar Jackson, QB, Louisville
PFF grade: 87.8; Pos. rank: 7
A difficult end to the season should not distract onlookers from Jackson's incredible year. He flashed plenty of potential as a 2015 freshman, but truly emerged as a legitimate star in 2016. To announce his arrival, he dropped nine first-half touchdowns on lowly Charlotte, blowing them away in the opening moments. Tallying 51 total touchdowns (21 rushing) across the season is a fantastic feat.
Jackson's rushing production exploded his sophomore year. He collected 1,887 yards on 215 carries after posting 1,144 on 141 attempts the season prior. Jackson also boosted his average after contact from 3 to 4, and upped his broken tackle count from 37 to 53. He ended the season with a rushing grade of 96.2, good for second in the nation. The Heisman winner is electric in the open field, capable of outrunning defenders with the angle through sheer speed. Coupled with crazy lateral agility, Jackson represents a defensive coordinator's worst nightmare.
Single-threat quarterbacks, though, are not particularly difficult to defend. Jackson's arm ensures plenty of big plays in the passing game, added to those on the ground. In Bobby Petrino's quick-paced vertical offense, Jackson has thrived. Improvements in accuracy have perpetuated his breakout season. Jackson's location improved dramatically in 2016, illustrated by a boost in his accuracy percentage from 69.2 to 63.8. Issues remain for Jackson facing pressure, exacerbated by a faulty front, but his development as a passer makes Louisville a legitimate contender moving forward. – John Breitenbach
---
Rookie of the year
Dexter Lawrence, DI, Clemson
PFF grade: 87.6; Pos. rank: 9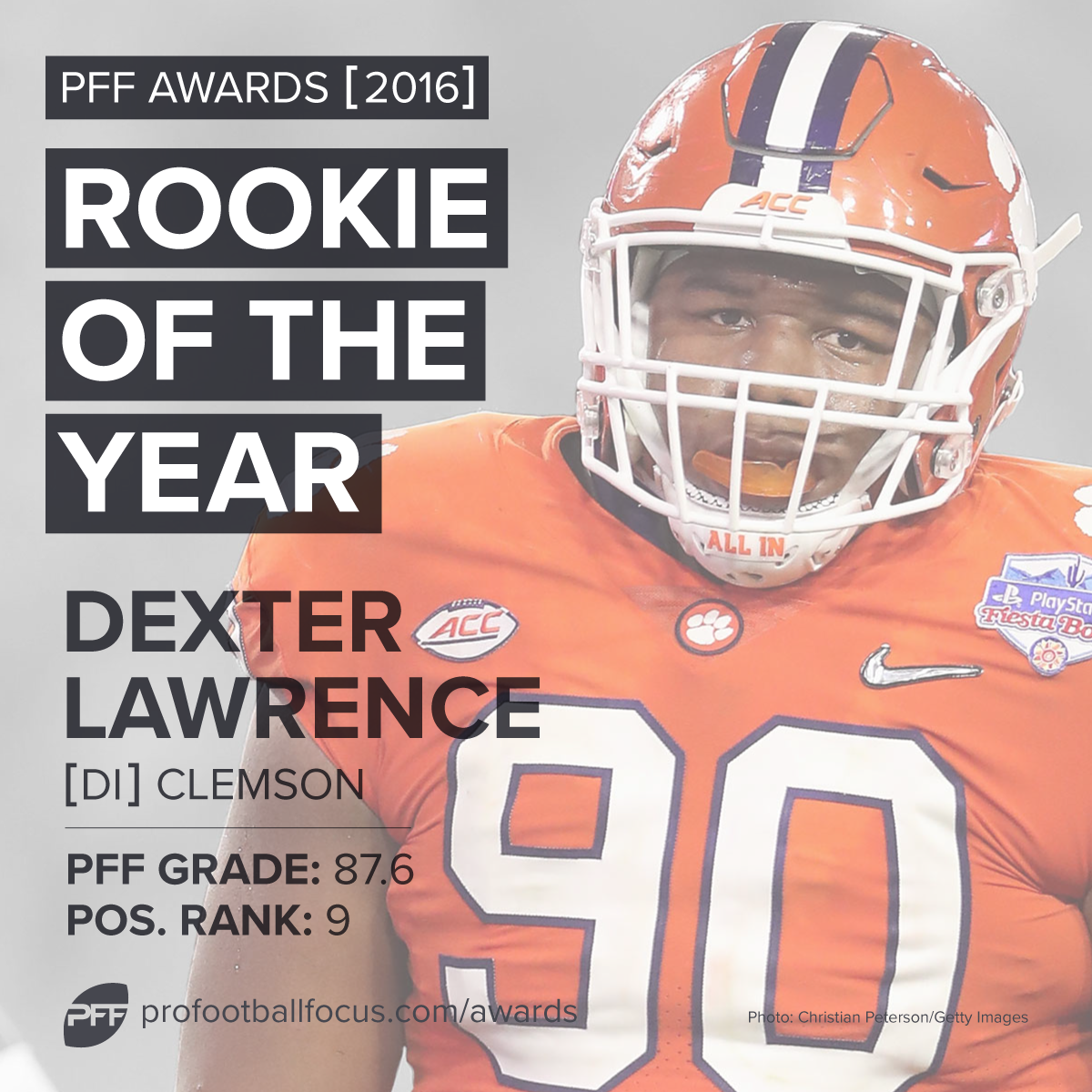 Clemson defensive coordinator Brent Venables personally recruited Lawrence this offseason, highlighting the desperation in the search for reinforcements. Credit Clemson's staff, they have built a unit that perhaps even surpasses the 2015 class. Developments from within have been essential, but striking gold with freshman Dexter Lawrence and Clelin Ferrell was at least equally as vital. To be fair, Lawrence's signature always appeared an asset of the highest value. Teenagers rarely weight in at 340 pounds and stand 6-foot-4. Lawrence, though, unlike many freshman, knows how to use his freakish frame.
Venables teaches his lineman to penetrate with their explosion off the snap. Lawrence's reach and athleticism make him an ideal fit. Single-blocking him is futile. He frequently overpowers interior offensive linemen instantly, generates vertical movement, then finishes plays behind the line of scrimmage. In total, Lawrence amassed 22 stops and missed just one tackle against the run. It would be remiss at this point to ignore Ed Oliver impact in Houston. The stout nose tackle has 43 defensive stops this season, and a CFB-leading nine batted passes.
Clemson's explosive offense provides them with plenty of leads, and Lawrence is at his best in that scenario. He smashed the previous record for freshman with 47 combined pressures, beating the previous record of 26 set in the past three years. For a man so large, he moves fantastically, winning with finesse frequently as a pass-rusher. In Clemson's biggest game of the season, against undefeated Louisville, he systematically dismantled the Cardinals' front, finishing with a season-high two hits and seven pressures. Poised to claim a second successive national championship, the Crimson Tide must first navigate the fierce resistance of the freshman phenom. – John Breitenbach