In a game that will be dominated with talk of Ohio State QB Dwayne Haskins' throwing the ball, Buckeyes WR K.J. Hill deserves his praise for turning in an even more impressive display of receptions and route running as he hauled in the most receiving yards from an OSU receiver since 2004.
This recap is brought to you by Eckrich, the Official Smoked Sausage of the College Football Playoff.
Haskins did connect on 33-of-44 pass attempts for 412 yards but Hill's impressive day certainly came to the aid of his quarterback. Hill's highlight came when he snagged a one-handed grab after slipping past the zone defender with a swift cut over the middle of the field, finding the hole in Minnesota's coverage.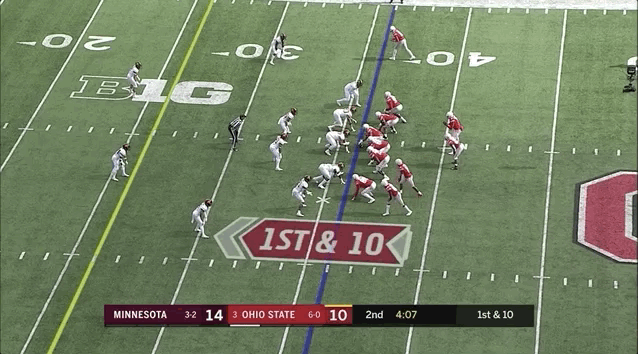 His day was capped with a 27-yard touchdown in the waning moments after a missed field goal from Minnesota in the fourth quarter. Hill finished with nine receptions on 10 targets for 187 yards and two touchdowns. He saw a perfect 158.3 passer rating on his targets and a game-high 90.4 overall grade.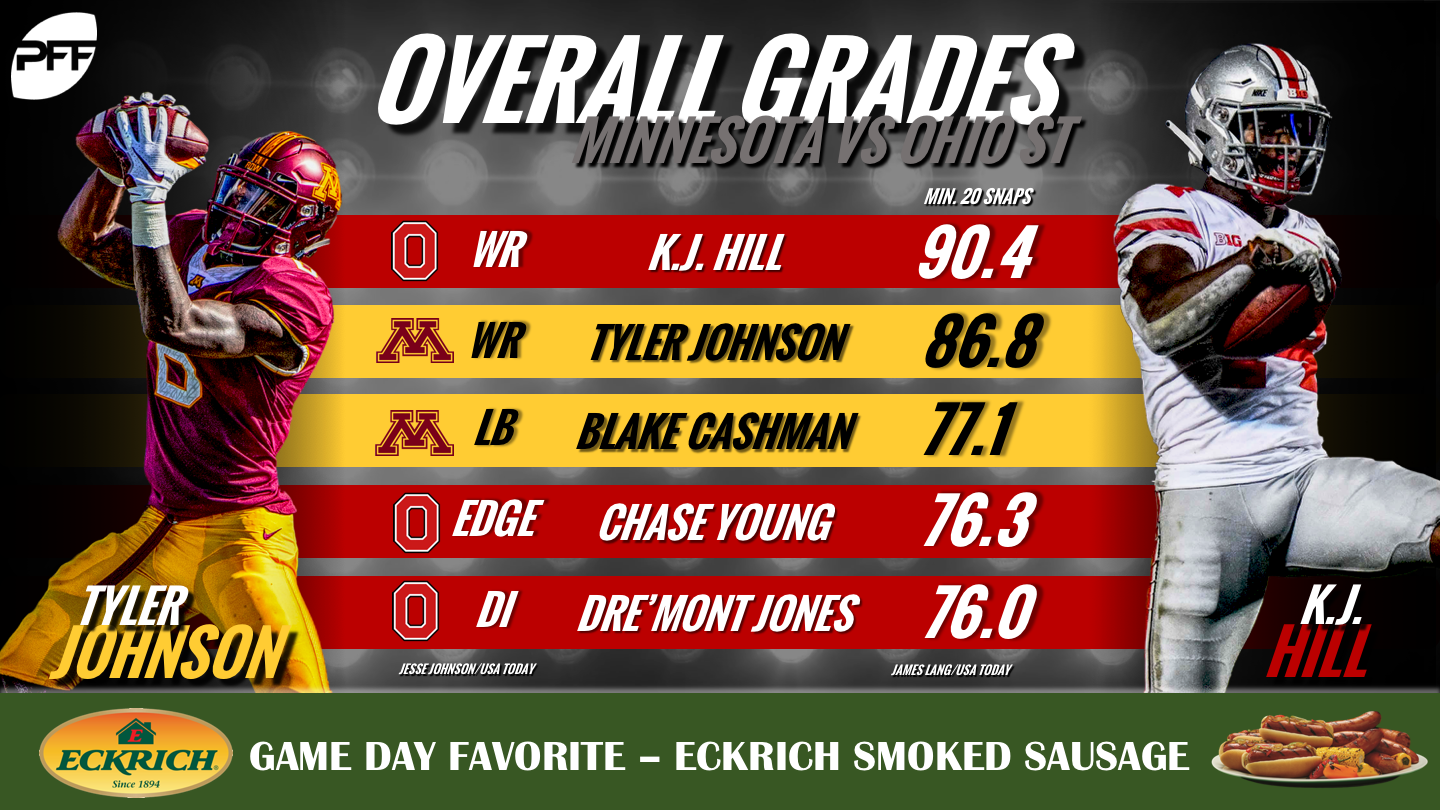 Fellow wide receiver Parris Campbell was kept largely in check despite eight receptions. The usually elusive receiver forced two missed tackles but only gained 16 yards after the catch, leading to only 56 yards on his eight receptions.
Minnesota did their best to keep this game close throughout but was ultimately undone by two untimely missed field goals, including a 48-yard attempt that would have pushed the score to within one possession in the final quarter. The Golden Gophers limited the Buckeyes rushing attack to just 82 rushing yards on designed runs.
On defense, Ohio State was paced by their defensive line duo of Chase Young and Dre'Mont Jones, each of whom had their moments when rushing Minnesota QB Zach Annexstad. Jones had a game-high five QB pressures including a sack and two QB hits while Young brought in four pressures.
For Minnesota, in what could be seen as a bit of a surprise, only targeted four different receivers as Tyler Johnson led all pass-catchers with 13 targeted passes. Johnson hauled in eight passes for 111 yards and despite a fumble, had a team-high 86.8 overall grade.
Blake Cashman was all over the field for the Gophers defense with 77 snaps on the field. He recorded 13 solo tackles as eight of his tackles were for a defensive stop and despite dropping into coverage on 54 snaps, allowed only 24 yards after the catch.