College football continues to deliver early in the season for those who can tune out the vicious Saturday NFL news cycle. Week 2 was no different as we saw LSU travel to Texas and outlast the Longhorns in an offensive shootout that had a ridiculous 25 explosive pass plays between the two teams.  Michigan survived a pesky Army team in overtime, USC started life without JT Daniels on the right foot. There were some back door covers and unexpected blowouts that we will touch on below in our updated top 25 PFFELO ranking writeup. 
PFFELO is an iterative system that updates each team's rating after each game based on two things: how well they played against their opponent and how well they were expected to play against their opponent. The PFFELO rating system measures the former using our unique offensive, defensive and special teams grades, while the latter is determined by the PFFELO ratings leading up to the game and where the game is played.
For example, a heavy favorite playing at home is expected to outplay the visitor, so a victory would result in only a small rise in their PFFELO rating and a similarly small decrease in the defeated team's. But if an upset were to happen, the visiting team would see their PFFELO rating rise substantially, and the home team's see a similarly sized drop.
Sometimes in football the best team does not win, and PFFELO accounts for these oddities by using our grades. Hence, there will be teams rated higher or lower in this system than their win-loss record would suggest. While adjustments are made using preseason market data, along with recruiting rankings, the majority of these numbers are derived using our grades. Since PFF began charting college football in 2014, the difference in PFFELO values alone has been able to explain over three-fourths of the variance in the closing Vegas line. Check back for weekly college spread picks using this model (as well as other information) and check out PFF College Greenline for a full slate of against the spread and total lines based on this on our rating metrics.
[Editor's Note: All ELITE subscribers have access to PFF Greenline, an online dashboard with projections for the spread, total and moneyline for NFL and FBS games every week. Subscribe today to gain access!]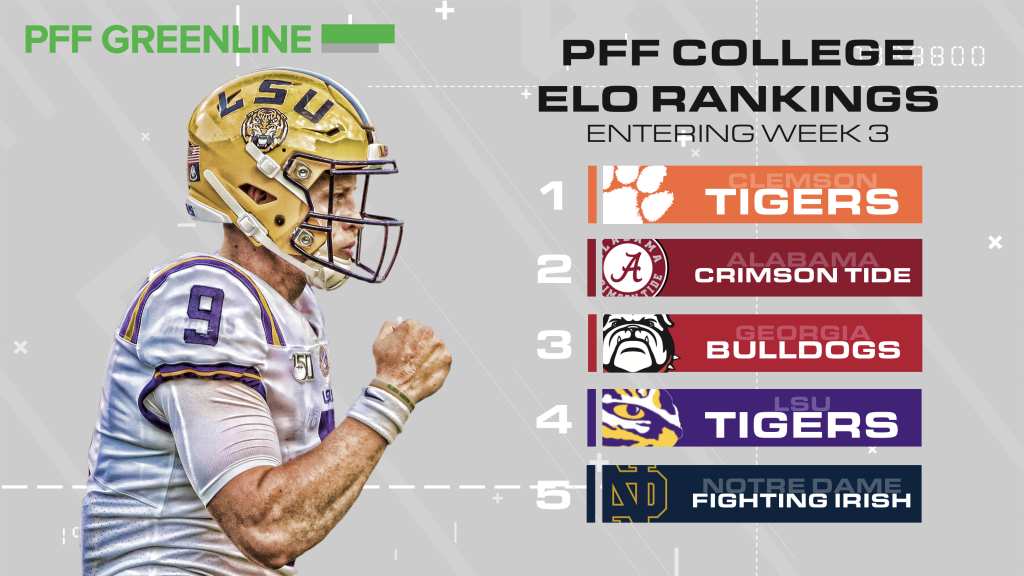 Top 25 Rankings
Clemson controlled the entire game against 15th-ranked Texas A&M and coasted to a 24-10 victory. The Aggies scored a garbage-time touchdown to steal the cover away from Clemson backers, but this game was not as close as the final score indicated. Trevor Lawrence had a much improved Week 2 performance with a 79.1 passing grade. He had four big-time throws with a 77.8 adjusted completion percentage. What was once the scariest ACC regular season matchup, Syracuse has struggled to start the season. Most assume they will not offer Clemson much of a game this weekend. According to our rest of season simulations, Clemson has a 75% chance of winning the ACC championship and a 33% chance of repeating as national champions.
The Crimson Tide did everything expected of them in their 62-10 thrashing of New Mexico State and still didn't cover the ridiculous 55.5 pregame spread. Things get a little more difficult as Alabama heads on the road to South Carolina where they only have to cover half the amount of points as the week before, opening as 25.5-point favorites. After LSU's signature win, everyone has the November 9th matchup identified as the key to getting to the SEC Championship. After playing out the rest of the season on a spreadsheet, our model gives Alabama a 70.5% chance of returning to the SEC Championship game, down only 2% from last week. 
Quickly becoming the forgotten team in the SEC, Georgia rode a 35-point second quarter to a rout of Murray State. The Bulldogs have one final tuneup game before their home matchup against fourth-ranked Notre Dame followed by their SEC schedule. It will be a tough test, as the Bulldogs have the third-most difficult rest of season schedule in the FBS according to current ELO rankings. With Auburn and LSU also looking the part of contenders early, Georgia will have a difficult matchup no matter who they face if they make it to the SEC Championship. After this past weekend, our simulation gives them a 60% chance of getting to the SEC championship game while claiming the SEC championship 31% of the time. 
4. LSU
Noticeably absent or so low few even noticed Joe Burrow's Heisman Trophy odds to start the season (some books listed him at +15000). Burrow has now not only lifted LSU squarely into the College Football Playoff discussion, but his Heisman Trophy chances have skyrocketed as well (currently listed at +1800). No, it's not stable and still a small sample size, but Burrow has posted a 90.9 passing grade when pressure is registered with three big-time throws.  If he can continue his exceptional play, LSU has a very real shot of surviving their brutal SEC schedule. After this past week's game, our simulation gives them a 10% chance of getting to the SEC Championship. Their playoff chances also increased by 8% from last week's chances before their signature win against Texas. 
Notre Dame received an early season rest before their matchup against New Mexico. It should be an easy test in Week 3 to help them work out any issues before heading to Georgia followed by a matchup against Virginia. Their showdown against the Bulldogs is make-or-break if they want to return to the College Football Playoff. Keeping Ian Book clean is absolutely paramount to success, as his career passing grade drops almost 38 points when pressured (42.5) versus when kept clean (80.4). 
Ohio State made quick work of what was perceived to be a strong Cincinnati Bearcats squad, pitching a shutout in a 42-0 victory. After being perfect from a clean pocket in Week 1, Justin Fields rightfully continues to receive early Heisman Trophy buzz with a 90.9% adjusted completion percentage. Binjimen Victor is beginning to flash on the outside in limited opportunities with 4.2 yards per route run. He has been a perfect seven for seven on targets thrown his direction. The Big Ten battle will come down to the final week matchup with Michigan, but we currently give Ohio State a 19% chance of taking the conference crown. 
7. Michigan
Michigan squeaked by an upstart Army team after two overtimes, narrowly avoiding the first big upset of the college football season. Shea Patterson was abysmal under pressure. Through two games with 17 dropbacks, he has a 29.7 PFF grade under pressure. Things do not get any easier for the Wolverines, as they have the second-toughest remaining regular-season schedule in the FBS. It starts after this week, as they get a much-needed rest before heading to Camp Randall Stadium to take on the 19th-ranked Badgers. 
Boomer Sooner rolled through an overmatched South Dakota squad, registering 12 explosive pass plays. As a rushing unit, the Sooners are averaging 4.3 yards after contact per attempt. Jalen Hurts finds himself third in Heisman Trophy odds while Oklahoma has a 35% chance of winning the Big 12. The odds of Oklahoma getting to the College Football Playoff have settled at 22%, as they are still our most likely fourth team in the playoffs. Oklahoma heads out west to take on UCLA before their Big 12 schedule kicks off. 
Florida took one quarter to get rolling and dismantle an overmatched UT Martin squad. Again, it was against UT Martin, but Feleipe Franks turned in an adequate performance. Franks play when kept clean has been encouraging with a 78.7 PFF passing grade and an 85 % adjusted completion percentage. Not so encouraging is his aDOT when clean (4.7) or the amount of times thrown past the sticks (25.7%). The Gators head to Kentucky to take on the 18th-ranked Wildcats. Opening as 8.5-point favorites, this line has moved down a full point with Greenline siding with the home dog. It will take a performance we are not sure if Franks can deliver in order to cover on the road this Saturday. 
The fifth SEC team in our top-10, the Tigers have one cupcake matchup before diving into their SEC schedule. Set to face three of the four SEC teams above them on the road, Auburn has a minuscule 5% chance of getting to the SEC title game despite their top-10 ranking. Bo Nix flashed a clutch gene in his opening game performance against Oregon but will need to play elite throughout the entire football game if Auburn wants a shot at pulling any upsets in the coming weeks.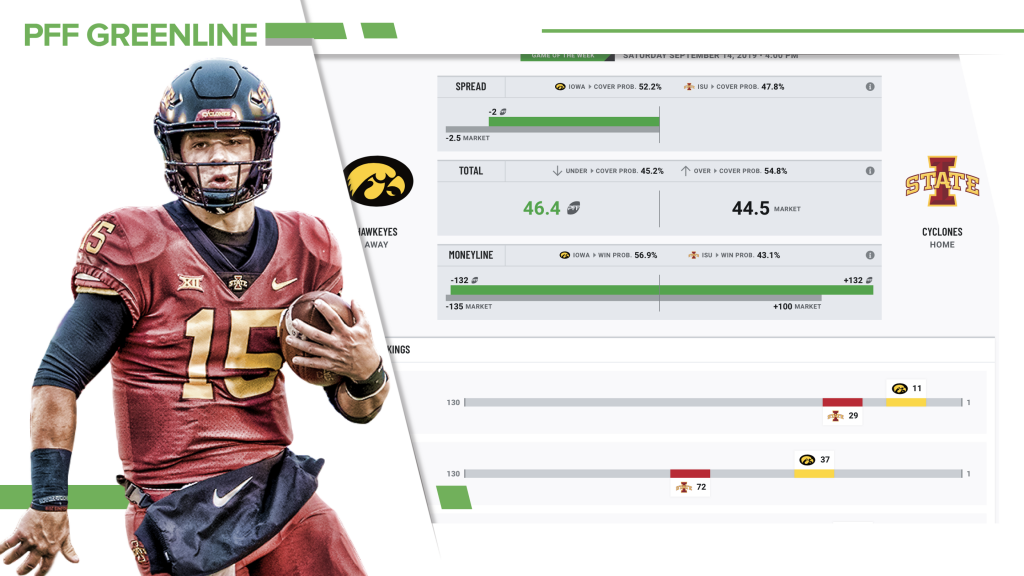 Iowa is set to square off against in-state rival Iowa State in PFF Greenline's Game of the Week this Saturday. After opening as a one-point dog, the Hawkeyes have flipped and are now laying 2.5 points on the road. Greenline is intrigued with this matchup and has Iowa covering 52.2% of the time. The over also appears to be in play with 54.6 percent cover probability. After a hot start, Iowa is now projected to play in the Big Ten championship game 44% of the time with odds of winning the Big Ten around 20%.
Despite trailing at the half, Penn State utilized a 28-point third quarter and took care of Buffalo at home. With the ninth-most difficult rest-of-season schedule, the Nittany Lions need to improve if they want to play for the Big Ten title. Right now, they have an 11% chance of playing and a 7% chance of winning the Big Ten. Sean Clifford will need to improve on his play from a clean pocket, as he has a 68.9 passing grade with a 63.9 completion percentage. He could use some additional help on the outside, as over 65% of his yards came through the air. He is averaging 14.9 aDOT while throwing past the sticks on 50% of attempts.
With home games coming up against LSU and Alabama, Mississippi State is relevant to how this season's College Football Playoff picture is formed. From a clean pocket, Tommy Stevens has an 82.3 passing grade and an adjusted completion percentage of 82.8 while having an ADOT of 11.6. Kylin Hill has looked the part of a generational running back, forcing a missed tackle on 37 percent of attempts. Defense has been where the struggle lies and will need to improve if the Bulldogs want to pull off a big upset in the coming weeks. 
After pretty much everyone went to bed Saturday night, Cal ground out a last-second field goal to upend the Huskies at home. After a quality Week 1 performance, Jacob Eason did not perform in Week 2, posting a passing grade of 48.4 with two turnover-worthy throws and four sacks. Eason was under pressure on nine dropbacks, but it was his play from a clean pocket that was most frustrating. Washington's chances of repeating as Pac-12 champions took a drastic hit with both Utah and USC favored at a much higher rate currently. 
15. Texas A&M
The Aggies played well defensively but couldn't keep pace with Clemson, falling 24-10 on the road. After playing the No. 1 team in the nation, Texas A&M still has the 11th-hardest rest-of-season schedule with road matchups against Georgia and LSU and home games against Auburn and Alabama in the coming weeks. Kellen Mond continues to receive little help from his pass-catching unit, which has seven dropped passes and an overall receiving grade of 63.9. With over 65% of total passing yards coming through the air, someone needs to emerge downfield to make plays after the catch if the Aggies want any shot at an upset in the coming weeks. 
It was a wild game at Memorial Stadium that lived up to the hype and turned into an offensive shootout. The Longhorns came within one 3rd-and-17 stop of having a shot to pull off the upset, but their defense couldn't get off the field, especially when it mattered most. Sam Ehlinger and his trio of receivers proved they can keep pace with anyone after having an ADOT of 13.3 against LSU. Ehlinger had zero turnover-worthy throws and was a big reason why Texas kept the game close throughout. The Longhorns saw their playoff chances cut in half but can remain relevant if they knock off the Sooners at home next month. 
17. Missouri
After an opening week loss to Wyoming, Missouri got back on track in Week 2 by beating West Virginia 38-7. Despite a low ADOT, Kelly Bryant looked like a new quarterback in his second appearance for the Tigers .With a passing grade of 83.5, Bryant cut out costly decisions that plagued him Week 1. Avoiding most of the SEC powers by playing in the East division, Missouri has a 14% chance of playing in the SEC title game if Georgia has a slip-up. 
The Wildcats have quietly covered twice for us against quality, small school opponents and now face their first real test in the SEC with Florida coming to Lexington. Greenline gives Kentucky a 58.4% chance of covering as a home dog with over a touchdown spread. Betting markets give Kentucky an implied win probability of 27.5% with Greenline liking that price as the weekend approaches. With the up-and-down play of both quarterbacks, it may come down to who can avoid costly mistakes in this SEC matchup. 
19. Wisconsin
We should find out next Saturday if Jonathan Taylor deserves to be the first non-quarterback in the Heisman Trophy discussion. So far, Taylor has looked the part, averaging 4.8 yards after contact per attempt. To survive the Wolverines at home, Jack Coan will most likely need to turn in a performance similar to his play against Central Michigan, where he had an 87.8 passing grade with two big-time throws and an 85% adjusted completion percentage. Wisconsin matches Michigan's week of rest with their showdown looming in two weeks.  
20. Utah
With California knocking off Washington early in the season, Utah preseason backers have to be ecstatic with where the Utes currently find themselves in the Pac-12 title race. Our simulation gives Utah a 34% chance of getting to the title game and winning 21% of the time. The Utes' main Pac-12 competition at this point is the Trojans with backup quarterback Kedon Slovis. Things appear to be setting up nicely for Utah to justify the steam that was placed on them in the preseason. 
It took some time to get rolling, but the Trojans went off for five unanswered touchdowns and ended up routing Stanford 45-20. It was a battle of backup quarterbacks, but Kedon Slovis looked superior navigating the USC offense. The Trojans have an easy home game against Idaho State before their main competitors in the Pac-12 south come to Memorial Stadium. This matchup should pretty much decide the Pac-12 south with USC most likely a small dog at home against the Utes.  
Virginia continues to look like the real number two challenger to Clemson in the ACC. The Cavaliers have a 43% chance of taking on Clemson in the ACC Championship, as they have only one remaining game against a ranked opponent, a non-conference matchup against Notre Dame. The play of Bryce Perkins needs to improve, however, as he had four turnover-worthy throws in their matchup against WM & Mary. The Cavaliers' rushing has generated the majority of their offense. As a rushing unit, they have an 85.6 rushing grade while generating .15 EPA per rush attempt. 
The Spartans are a distant fourth in the Big Ten East race despite solid quarterback play from Brian Lewerke. It is a frustrating setup, as the Spartans would most likely be favored to come out of the west if divisions were set up different. Lewerke has been better than expected, posting an 81 passing grade when kept clean. With three tough road matchups against Ohio State, Wisconsin and Michigan on the horizon, the Spartans could fall quickly out of relevance in the Big Ten title race. 
The Wolfpack have had an easy start to their 2019 schedule but have done everything required to look dominant in their first two matchups. Through two games, their coverage unit looks elite with a 90.4 overall coverage grade which ranks third in the FBS. This unit has allowed a -.34 EPA per pass attempt with only 33% of passes being successful. If they continue to cover at this rate, they should improve on their odds to play in the ACC title game, which right now are at only 3%.
Things took a quick turn for the worse Saturday, as the Cardinals appeared to have no answer for the USC offense in the second half. It was said in the preseason this team will go as far as K.J. Costello can take them. With him missing action, the offense also fell apart quickly. Costello is set to return this week, but the Cardinals schedule doesn't get any easier. They travel across the country to take on Central Florida before returning to a must-win matchup against Oregon. They have a 16% chance of getting to the Pac-12 title game but must win out in order to keep that hope alive.