While early on the Houston Texans looked to be game, the Rams eventually ran away with the game, winning 33-7 in Los Angeles Memorial Coliseum.
QB Jared Goff and RB Todd Gurley were both efficient with the ball, with Gurley going to 136 yards on 17 touches and Goff going 25-of-37 for a whopping 355 passing yards. The Texans failed to get to either player regularly, helping the Rams offense to a big day.
QB Tom Savage was over matched in this one, and while RB Lamar Miller was able to find some room on the ground, 11 carries for 60 yards, they could not feature him enough in the run game due to the widening score. DI Aaron Donald had his usual dominant effort, leading a good defensive effort for the Rams.
With that, we give you our PFF exclusive takeaways from the contest for each team.

Top 5 Grades:
DI Aaron Donald, 93.7 overall grade
DI Michael Brockers, 90.3 overall grade
WR Robert Woods, 87.5 overall grade
S Lamarcus Joyner, 85.5 overall grade
LB Mark Barron, 83.1 overall grade
Performances of Note:
Robert Woods was Jared Goff's favorite target on the afternoon and he hauled in 8 of the 10 passes his way. Woods finished the day with 171 yards receiving, with 94 of those on one play when he beat Jonathan Joseph for the long touchdown. Woods has been playing well recently and has at least 55 yards receiving over the past five games. He's been a reliable target for Goff throughout the year, catching 39 of his 57 targets with only two drops.
Even with the light work load running the ball, Gurley made the most of his attempts, running for 68 yards on 11 carries while forcing three missed tackles. Gurley continues to be a major factor in the revamped Rams passing attack as he caught six passes for 68 yards with 65 yards coming after the catch, most by way of screen and check down passes. Gurley's lone blemish on the day came on a dropped pass, otherwise he continues to have a very strong season.
As per usual this season, Donald was unblockable against one-on-one blocks, and not much worse against double teams. Donald's biggest play was his first-quarter strip sack of Savage, but he finished the game with an additional hit and six quarterback hurries on 34 pass-rushes. Donald also made two solo run stops and added a batted pass for good measure as he continues his impressive season.
While Donald was a beast rushing the passer, Brockers did most of his damage against the run. Brockers finished with a game-high run-defense grade of 89.1. Brockers had just one solo run stop, but he was as disruptive as could be all game. Nobody on the Texans' offensive line could block him and he consistently forced the Texans' running backs to change where they wanted to run the football. For good measure, Brockers also added a sack and three quarterback hurries.

Top 5 Grades:
CB Kevin Johnson, 83.0 overall grade
S Andre Hal, 80.1 overall grade
S Corey Moore, 80.1 overall grade
WR DeAndre Hopkins, 78.8 overall grade
RB Lamar Miller, 78.1 overall grade
Performances of Note:
When the Texans lost rookie sensation QB Deshaun Watson, everyone knew that this offense would struggle. This game showed just how much they'll miss Watson for the rest of the season. Savage has the arm to make good throws, and he had some nice ones today on a couple of deep passes that were completed. But he's just too prone to bad decisions, and those were his undoing in this one. He struggled mightily under pressure, completing just 4-of-12 for 28 yards and taking three sacks. His two interceptions were very poor decisions and he had at least three other passes that should've been picked off to go with his poor ball security.
All season long Hopkins has had great success for the Texans, seeing the second-most targets in the NFL and being one of the highest graded receivers. Without Watson, it was clear that Savage was going to be forcing the ball to Hopkins all day long. He was targeted 13 times and caught seven of them for 111 yards. He did have a dropped pass and had an offensive pass interference penalty, but five of his catches went for a first down and he also drew a defensive pass interference penalty.
The third-year cornerback out of Wake Forest was one of the only bright spots for the Houston defense who played well in the first half but their play dropped off considerably in the second. Johnson was stout in coverage, as he was only targeted twice, allowing one catch for negative two yards. Johnson also contributed in run defense, with two stops on his way to a 87.6 grade in that department.
On limited snaps, Corey Moore made the most of his day, recording two stops in the run game which led to an 80.0 run-defense grade, while in coverage he allowed one reception for seven yards. After seeing at least 40 defensive snaps the first three weeks, Moore has seen only 37 defensive snaps the past two weeks, perhaps he'll work his way into the lineup the next few weeks after a solid outing against the Rams.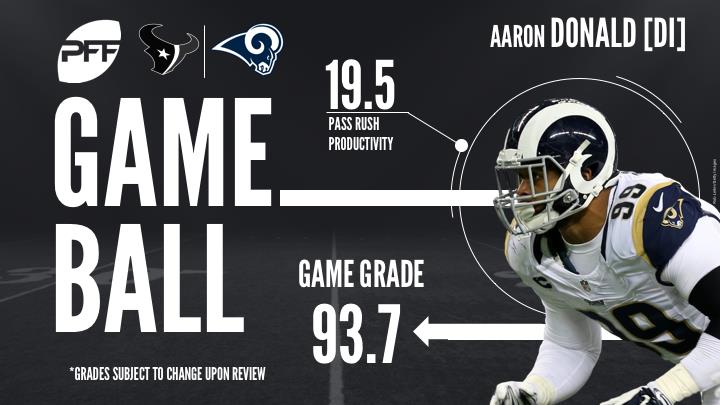 *Grades are subject to change upon review