With the Super Bowl in the books, NFL news will be relatively quiet until the start of the new league year. One thing teams will need to worry about before then is whether or not to exercise the franchise tag this offseason. From February 20 to March 6, teams can place the franchise tag on any pending free agent. With at least five players being franchised every year for the last decade, here are the five players we deem most worthy of the franchise tag.
DeMarcus Lawrence, Dallas Cowboys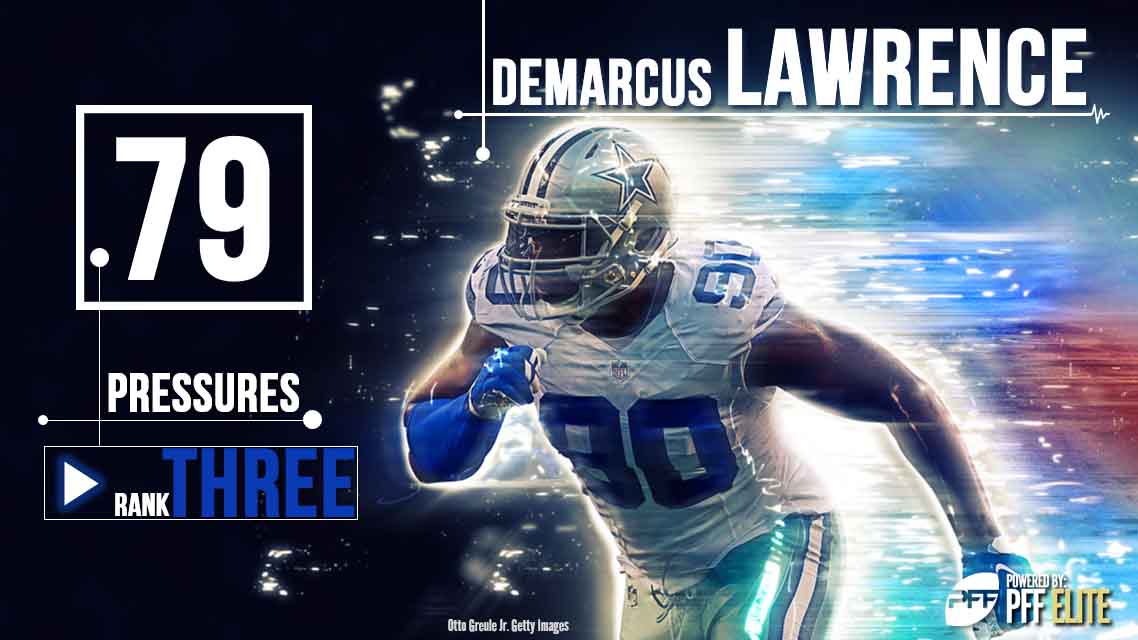 There may never have been another non-quarterback in NFL history who makes more sense for the franchise tag than DeMarcus Lawrence. He had a breakout year so far and away better than any other season in his career that he's going to have to prove it wasn't a fluke. Combine that with the fact that Lawrence was the only competent edge defender on Dallas' roster a season ago and it's a no-brainer.  Lawrence's 79 total pressures were 57 more than the next best edge rusher on the Cowboys' roster (Benson Mayowa). That sort of production would leave a monstrous hole to fill in the Dallas defensive line.
Jimmy Garoppolo, San Francisco 49ers
Another player who is undoubtedly worthy of receiving the tag before the deadline, Jimmy Garoppolo isn't going anywhere anytime soon. It's unlikely Garoppolo will be willing to sign any sort of extension until he sees the dust settle in free agency and lets players like Kirk Cousins set the market for him. The 49ers performance over the last five games of the 2017 season will certainly let him name his price tag. He ended up a top-10 graded quarterback for the season despite his limited playing time. It was as impressive a debut on a new team as we've ever seen in our 12 seasons of data.
Le'Veon Bell, Pittsburgh Steelers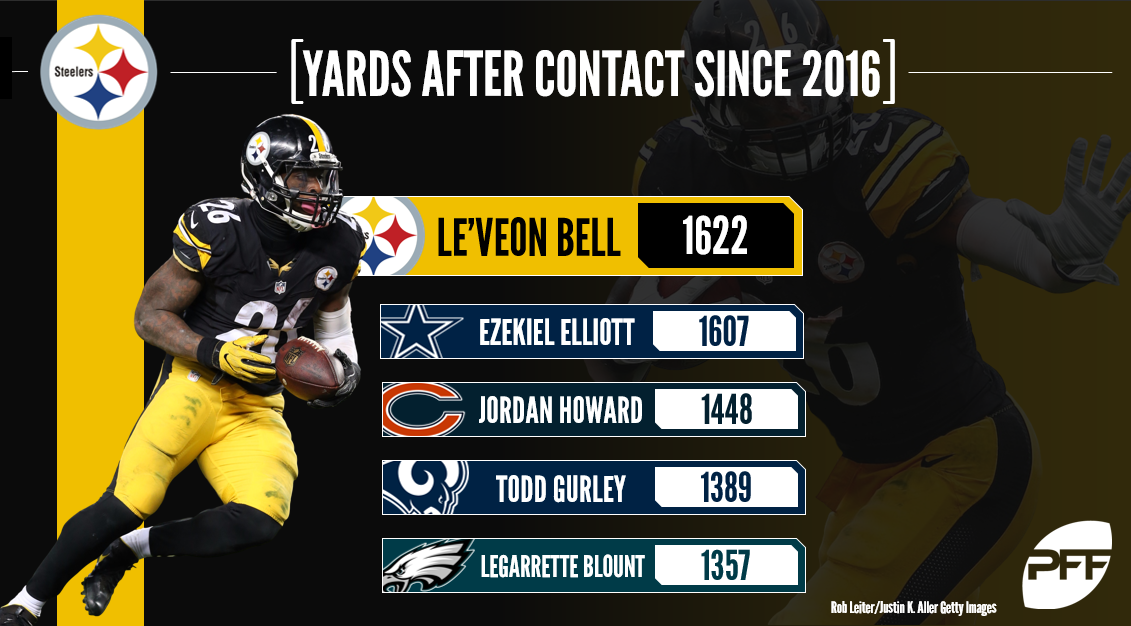 This is a tricky one because Le'Veon Bell is already coming off a season in which he played under the franchise tag. That means his one-year guaranteed salary will see a 20 percent escalator, making his cap number $14.5 million if he's franchised. Despite the dip in his efficiency numbers, Bell was still PFF's seventh-highest graded running back this season. His value is also maximized in Pittsburgh, where he virtually never comes off the field. His 1,021 snaps this year were 174 more than the next closest running back.
Andrew Norwell, Carolina Panthers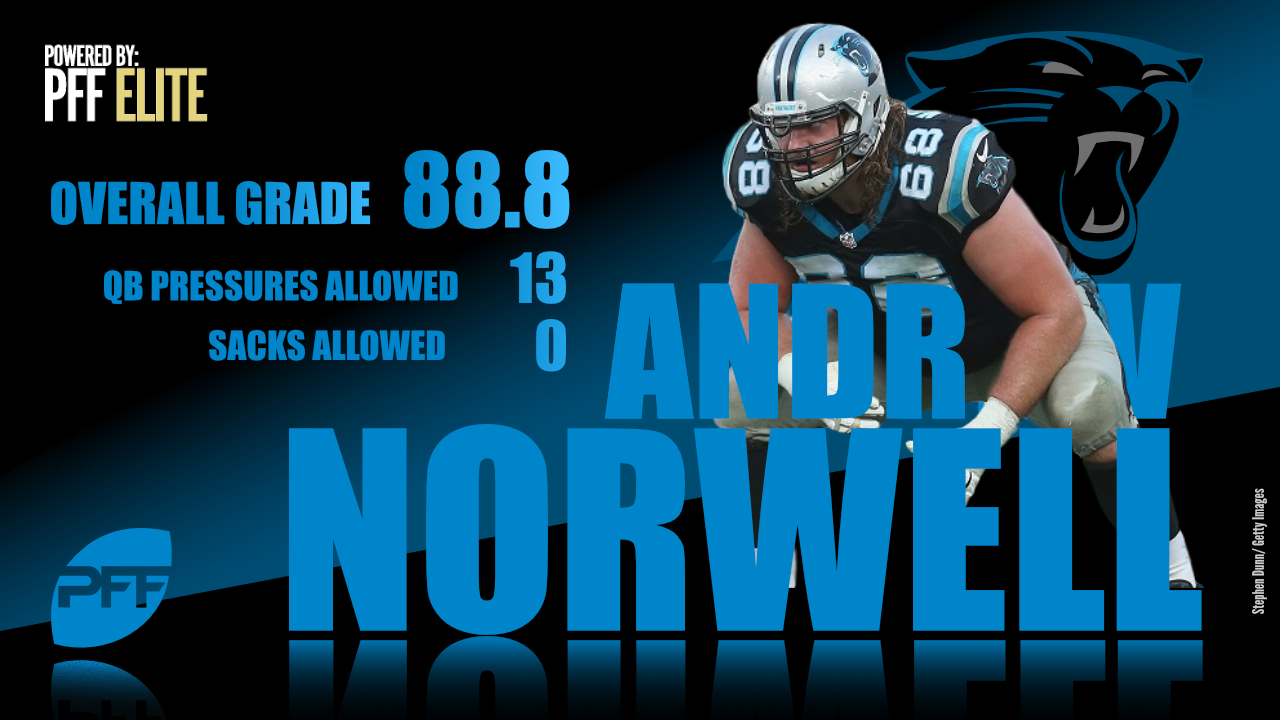 The Panthers already have Matt Kalil, Ryan Kalil and Trai Turner locked up with big money contracts for 2018, but the Kalil brothers could be gone by 2019. Carolina can't afford to bleed too much more talent along the offensive line and subject Cam Newton to more hits than he already takes. This is especially true in Norv Turner's offense, which has traditionally emphasized deep drops. It will mean a lot of cap space invested in one unit though they could use the tag to simply buy themselves more time to negotiate a long-term deal that has a low 2018 cap figure. Norwell was PFF's third-highest graded guard in 2017 with a career-high 88.8 overall grade. The left guard didn't allow a single sack or hit this past season and could very well set the market if he hits free agency.
Jimmy Graham, Seattle Seahawks
Graham found out the hard way during his last offseason with the Saints that the franchise tag at tight end pales in comparison to that at receiver. This offseason that difference is over $6 million, as the tight end franchise number is just a shade over $10 million. The Seahawks aren't necessarily swimming in cap space, but losing a red-zone threat like Graham would be a blow to an already inconsistent offense.
2018 free agency
---
2018 Free Agent Previews
---
Arizona Cardinals / Atlanta Falcons / Baltimore Ravens / Buffalo Bills /
Carolina Panthers / Chicago Bears / Cincinnati Bengals / Cleveland Browns /