The 2018 season came and went, with the New England Patriots taking home their sixth Lombardi Trophy in nine tries. While the ending to the year may have seemed oh so familiar, the season itself was filled with exceptional performances and some late-season drama. The 2018 class of rookies had their fair share of moments, from Baker Mayfield reinvigorating the city of Cleveland to Saquon Barkley almost single-handedly dragging the 3-13 New York Giants to 5-11, en route to offensive rookie of the year honors.
Some rookie performances weren't as prominent, however, whether that be due to lack of playing time, injury, or just a slow start. With the new league year just months away, it's inevitable that veterans will move on, guys will get healthy, and there will be players all over the league who will want to build on their rookie years. Here's a list of 10 players who we think are primed for big sophomore campaigns.

The fifth-round pick looked destined for a big role in the middle of the Patriots defense after an excellent preseason campaign that earned the sixth-best coverage grade (85.8) among all NFL linebackers with 30-plus coverage snaps in the preseason. To perform as well as he did in coverage – a facet that's vitally important for linebackers in today's NFL – was impressive enough in the preseason, but he continued that performance up into the regular season as well. From Week 1 to Week 3, Bentley was targeted five times in coverage and surrendered three catches for a total of just 19 yards with one interception to boot. His coverage grade of 84.5 ranked sixth among linebackers with at least 45 coverage snaps in that three-week span, while his 28.3 passer rating allowed ranked first. A torn biceps prematurely ended his rookie season after Week 3, but when he gets healthy, Bentley figures to be a force in the middle of New Englands front seven in 2019.
A preseason calf injury slowed Vea's arrival to the NFL, but when he finally broke through the ranks, he made an immediate impact for the team. Over the last six weeks of the season, Vea's 19 total pressures led all first-year interior linemen, and his 16 defensive stops ranked second. From Week 12 to Week 17, Vea's 84.6 overall grade ranked 15th among all interior defenders and was more than 10 points higher than the next rookie with at least 200 snaps in that span. If he can continue his momentum into the 2019 campaign, the Bucs may well have one of the league's best forces in the middle of their defensive line.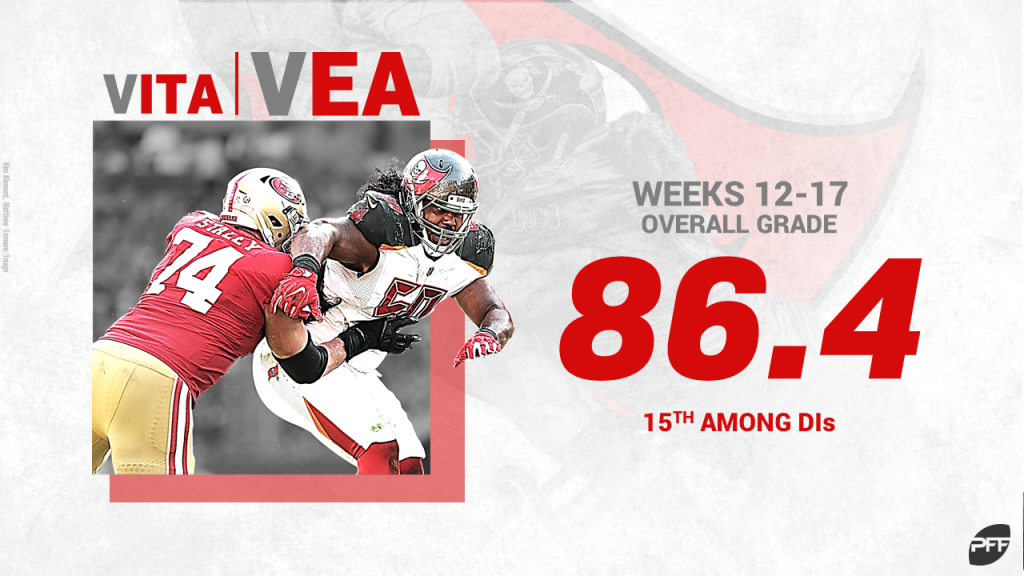 It's true, Herndon had his fair share of ups and downs this year. He finished nine of his 16 games with a game grade less than 65.0, but he also finished six of his 16 games with grades of at least 70.0 with his best single-game mark (92.9)  coming in Week 16 against the Green Bay Packers. All told, Herndon hauled in 39 of his 54 targets for 502 yards, five touchdowns, and 24 first downs, while his receiving grade of 78.9 bettered the marks of notable names such as Rob Gronkowski (78.0), Jordan Reed (75.5) and Greg Olsen (69.6). One of the best aspects of his impressive rookie year was his red-zone performance, where his 73.3 receiving grade ranked 11th among tight ends with at least five targets, and his 152.7 WR rating ranked first. Now that he's shown his ceiling, the Jets will hope they can build around him in 2019. 
Hurst entered the draft as not only the highest ranked interior defender in the class but the third-highest player on our big board, so to say that the Raiders got a bargain when they selected him in the fifth round would be an understatement. Entering the draft, there was no other interior player that came close to matching Hurst's skillset, and his four-year college grades are still unlike anything we've seen before at the defensive tackle position. While he took a little bit of time to acclimate to NFL life, Hurst showed his elite potential in Week 4 against the Browns, where he recorded a career-high 90.5 overall grade on the back of three total pressures and three defensive stops. Hurst may have finished 50th among interior defenders in terms of overall grade this year, but there were times when he reminded us of the player we saw at Michigan, and if he can replicate that more often in 2019 he could very well be the next big thing at the position.
Entering the draft, Foster did not have a proven track record of success in college, far from it. Foster notched a career-high 14 receptions in his senior season with an overall grade of just 48.6. However, Foster exceeded expectations as an undrafted rookie wide receiver; his role in the Bills' offense grew as the season progressed and he eventually solidified himself as one of the top two receiving options for quarterback Josh Allen. In particular, Allen looked Foster's way often deep downfield. In Weeks 10-17 – when Foster began to see consistent snaps – he recorded 304 receiving yards on passes 20 or more yards downfield, which ranked fourth in the NFL over those eight weeks, trailing only T.Y. Hilton, Tyreek Hill, and Antonio Brown. With one year under the belts of both Allen and Foster, and an offseason to further develop their chemistry, Foster could be primed for a big year as part of the Bills' passing attack.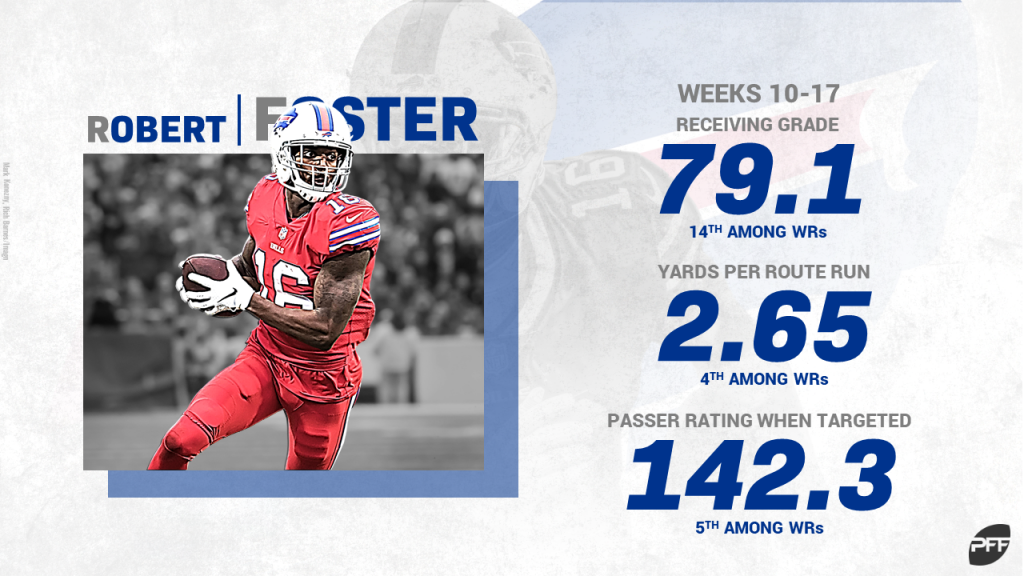 The undrafted cornerback out of Maryland didn't claim his spot on the starting lineup until Week 13, but he more than repaid his coach's faith in him with his play down the stretch. From Week 13 until the Super Bowl Jackson allowed a passer rating of just 71.7 on throws into his primary coverage, while he ranked third among cornerbacks with at least 25 targets in forced incompletion percentage over that span. Now entrenched as the starter and with a Super Bowl-winning season under his belt, Jackson will look to build on his late-season performance in Year 2.
Over the first eight weeks of the season, it looked as if nobody could stop the former Alabama pass-catcher. In that time, he racked up 27 catches from 34 targets for 392 yards, 143 yards after the catch and a near-perfect WR rating of 154.3. He leveled out towards the end of the year, but if Ridley can find his early season form and build upon it next year, the Falcons could be in the conversation for having the best receiving tandem in the NFL.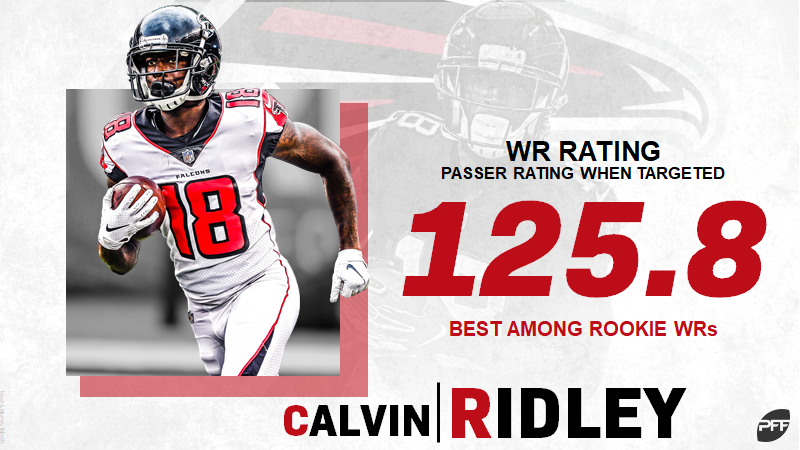 Sutton became a much more prominent feature of the Broncos' offense after longtime pass-catcher Demaryius Thomas was traded to the Houston Texans, and the flashes of potential that he showed during his time as the starter should give Broncos fans high hopes for Year 2. From Week 9 on, no Broncos wide receiver played more snaps than Sutton's 443, and he caught 25 of his 44 targets for 380 yards and two touchdowns, with 101 of those yards coming from deep passes. If he can clean up the drops in his sophomore year (Sutton spilled nine of his catchable passes in 2018), Sutton has the chance to be the next big-name receiver in Denver.
The Titans got incredible value in the second round of the 2018 NFL Draft by grabbing Landry, who was PFF's top edge defender at the time, and with the retirement of Brian Orakpo and Derrick Morgan set to hit free agency Landry has the chance in 2019 to remind us all why we ranked him so highly. He may have only played 592 snaps in 2018, but he was relatively productive – as we expected – as a pass-rusher, where he produced 34 pressures from 355 pass-rushing snaps. With a chance to crack the starting lineup in 2019, a breakout season from Landry shouldn't be out of the question.
#TreyQuinnSzn may have been cut short thanks to a number of ankle injuries, but 2018's Mr. Irrelevent has the chance to be anything but that in 2019, as longtime slot receiver Jamison Crowder is set to test free agency. Playing just 107 snaps in three games, Quinn ran 78.1% of his routes from the slot and racked up seven receptions from eight targets for 65 yards and a touchdown. If the team opts to let Crowder walk, Quinn will have the chance to prove that his 2017 college season – where he earned the third-highest grade among college receivers – was no joke.