The Cleveland Browns visit the Los Angeles Chargers in Week 13 of the 2017 NFL season. PFF previews the top player matchups of the game.

PFFELO Ranking: 32
Coverage by: David Neumann
WR Josh Gordon vs. CB Casey Hayward — All indications are that we'll see Josh Gordon on the field for the first time since Week 16 of the 2014 season. Gordon was one of the NFL's most productive wideouts prior to his extended absence — from 2013 to 2014, Gordon averaged 2.59 yards per route run, a mark eclipsed only by Julio Jones (2.72). There will be no easing back into things for Gordon, however, as he'll face off against this season's No. 1 graded cornerback in Casey Hayward. The Chargers' shutdown corner has shadowed an opponent's top wideout on five different occasions — Demaryius Thomas twice, Alshon Jeffery, Amari Cooper and Dez Bryant — and that hasn't gone well for those wideouts. With Hayward in coverage, only Thomas managed to crack 20 yards receiving (61 in the first matchup; he was held without a catch in the second game) and the opposing quarterbacks had a combined 41.3 passer rating when targeting those receivers, slightly better than simply throwing the ball into the turf (39.6).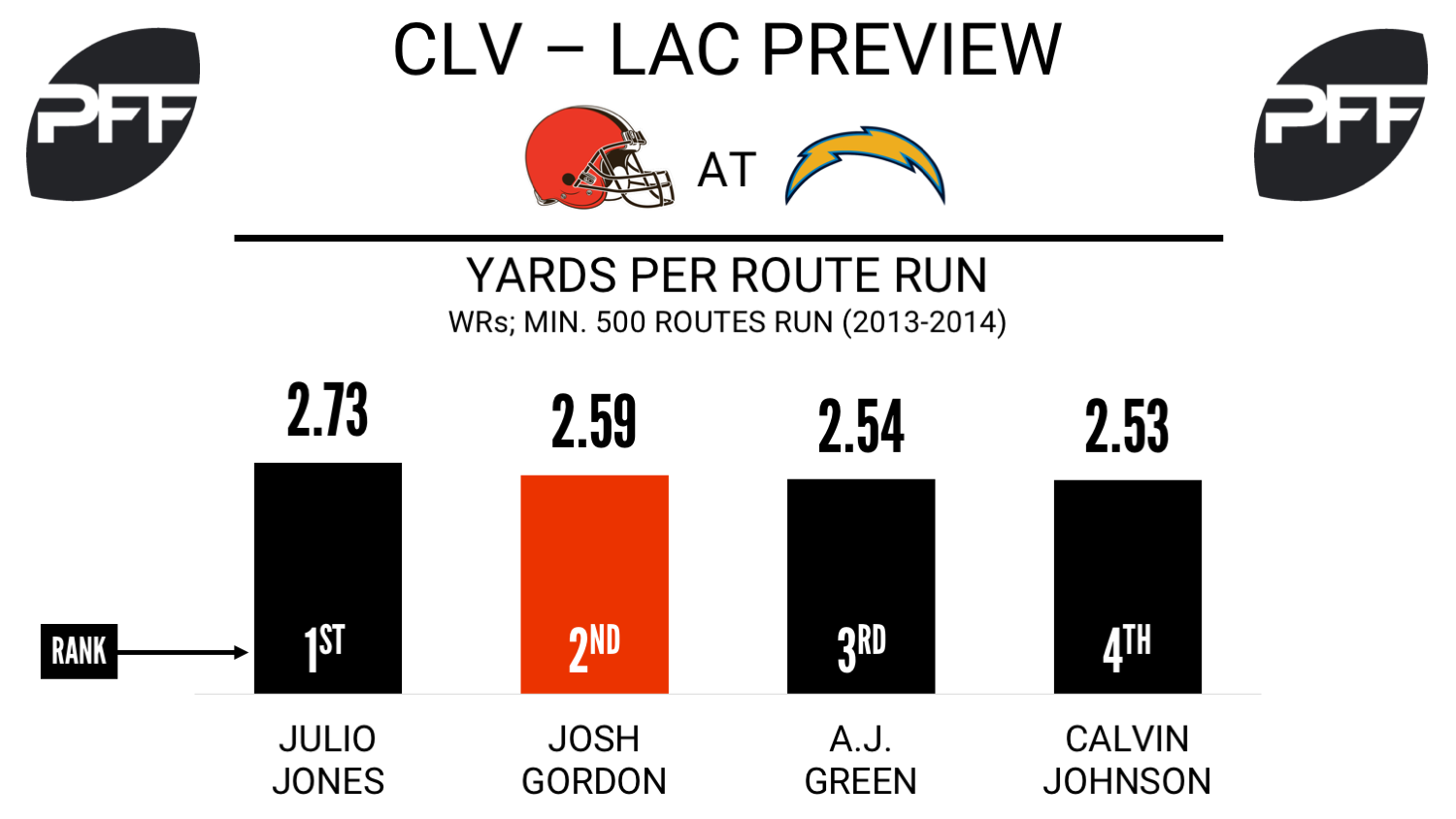 T Spencer Drango and Shon Coleman vs. Edge defenders Joey Bosa and Melvin Ingram — For Gordon to even have a chance to make an impact in his first game back, the Browns will need to figure out a way to protect against two of the NFL's most dominant edge rushers. Bosa (92.3) and Ingram (90.6) are two of only seven edge defenders to earn a 90.0 overall grade or higher this season, and have recorded 58 and 55 total quarterback pressures, respectively, the two highest totals among edge defenders. On the other side, Cleveland's tackles have struggled protecting the passer without Joe Thomas. Since Week 8, Thomas' first full game out of the lineup, Browns tackles have surrendered 32 total quarterback pressures, the third-most of any team. Cleveland is the only team in the top five to also have their bye week during that span.
QB DeShone Kizer when pressured —Kizer has had two of his best graded games of the season in his last three games, predictably faltering against Jacksonville in between. Kizer earned 86.1 and 88.5 overall grades in those two games, both coming after the bye. Kizer was markedly better under pressure in those two games, posting an 84.5 passer rating when pressured (would rank fifth on the season) compared to a 38.7 passer rating when pressured before the bye (would rank 31st). It will be tough to continue that performance with another difficult matchup this week, but he should have plenty of opportunity to give it a go with the Chargers pressuring quarterbacks on 35.8 percent of dropbacks this season, the 10th-highest rate.

PFFELO Ranking: 11
Coverage by: Daniel Rymer
WR Travis Benjamin vs. Browns safeties – Last Thursday, when many football fans were deep into their turkeys, Benjamin went deep into the Cowboys' secondary on the Chargers' second pass of the game; he caught a deep post for a 46 yard gain and instantly sucked the life out of AT&T Stadium. Benjamin has been targeted on deep passes (throws 20-plus yards downfield) 18 times out of 40 total targets, which is the highest rate (45 percent) among wide receivers with at least 25 total targets. On his 18 deep targets, Benjamin has gained 199 yards and caught two touchdowns. If the Browns want to stop Benjamin from blowing the top off their defense, safeties Derrick Kindred and Jabrill Peppers will have to stay disciplined in coverage. On the season, Kindred has allowed 1.07 yards per cover snap, 79th among 85 qualifying safeties. Jabrill Peppers has allowed just 0.37 yards per cover snap, tied for 19th.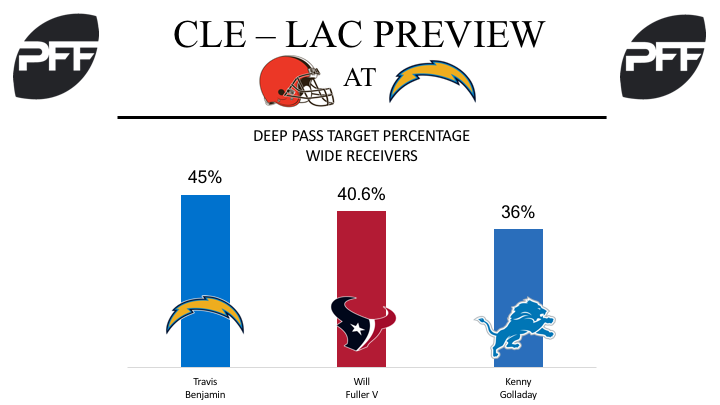 T Russell Okung vs. Edge Myles Garrett – The Chargers are surging at the right time and they look ready to take over the AFC West. One of the many reasons for the Chargers winning five of their last seven games is Russell Okung and his reliable pass protection. On 397 pass-block snaps, he has allowed just two sacks, three hits, and 15 hurries, good for a pass-blocking efficiency rating of 96.1 (14th out of 80 offensive tackles). However, he will have to fend off Cleveland's Myles Garrett this week. Garrett has shown that he is worthy of being the first-overall pick, as he has the highest overall grade (86.0) among rookie edge defenders. Garrett also has the second-best pass-rush productivity rating (12.3) from the defense's right side among qualifying 4-3 defensive ends. On 138 pass-rush snaps from the right side, Garrett has five sacks, seven hits, and nine hurries.
RB Melvin Gordon vs. DI Danny Shelton – Gordon has had a productive year so far and has an overall grade of 78.1. He has shown big-play ability with eight runs of 15-plus yards, tied for 12th among running backs. On 226 touches this season, Gordon has broken 36 tackles and gained an average of 2.34 yards after contact per attempt, giving him an elusive rating of 37.3, which ranks 29th among running backs. Cleveland's interior defender Danny Shelton, who has an overall grade of 80.5, will try to keep Gordon from getting to the next level. With 19 stops on 195 run snaps, Shelton has a run-stop percentage of 9.7, ranking 18th out of 65 qualifying interior defenders.