Interior defensive line is one of the wider-ranging positional designations in football. It pulls together any defensive lineman who spends the majority of their snaps lined up between the tackles. That group includes a five-technique like J.J. Watt, who spends time both inside and outside of the tackles, and players who are more of true nose tackles in the mold of Grover Stewart or Greg Gaines. 
In all, 129 interior defensive linemen played at least 250 defensive snaps in 2021 — plenty of competition for the top 25 spots on this list. 
Tier 1: One of one
Calling Donald "elite" is doing him a disservice. He's earned his own tier after recording the highest overall PFF grade of any defensive player in each of the past five seasons. 
Highest single-season PFF grades since 2017
| | | |
| --- | --- | --- |
| Player | Season | PFF grade |
| Aaron Donald | 2018 | 94.8 |
| Aaron Donald | 2017 | 94.4 |
| Aaron Donald | 2020 | 94.2 |
| Aaron Donald | 2019 | 93.6 |
| Aaron Donald | 2021 | 93.5 |
Donald's peers are the NFL's all-time greats on defense — the Reggie Whites and Lawrence Taylors of the world — rather than anyone else currently playing. The last time Donald recorded a PFF run-defense or pass-rush grade lower than 85.0 was during his rookie season in 2014. 
Tier 2: Elite
Heyward is set to enter his 12th NFL season at 33 years old, but he has only gotten better with age. The three highest-graded seasons of his career all came in the past three years. Heyward does a great job of winning with strength both against the run and the pass, employing one of the league's better bull rushes.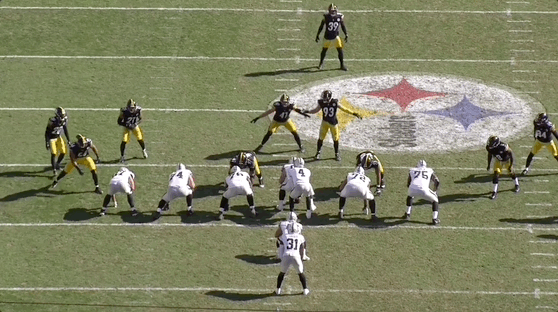 He should once again anchor the strength of Pittsburgh's roster — a top-tier defensive front. 
Jones isn't the same reliable run defender that Cameron Heyward is, but he's the most disruptive interior pass-rusher in the NFL outside of Aaron Donald. Jones has recorded a 17.8% pass-rush win rate since he was drafted in 2016. The only other interior defensive lineman with a pass-rush win rate over 16% in that six-year stretch is Donald (23.3%). 
Between the trade compensation and a new contract, it wasn't cheap for the Colts to acquire Buckner, although he has provided plenty of production as return value. His length and explosiveness complicate matters for opposing offensive lines, with his 45 combined sacks and quarterback hits over the past two seasons ranking fourth among all interior defensive linemen. 
Prior to 2021, Jarrett rattled off four straight years with 80.0-plus PFF grades with the Falcons and established himself as one of the best all-around interior defensive linemen in the NFL. Jarrett fell off slightly from that level in 2021, but he still profiles as Atlanta's only defensive lineman who offenses have to worry about. Jarrett's 93 quarterback pressures since 2020 are over 50 more than any other player on the Falcons' roster. 
Tier 3: Very good
What separates Clark from most nose tackles is his pass-rushing impact when he's lined up over center. Across the past four seasons, no player earned a higher PFF pass-rushing grade from nose tackle alignments than Clark (91.9), and he tallied 14 more pressures from those alignments than any other player in the league since 2018. 
Vea's combination of size, strength and athleticism gives him a unique skill set at the position. Since he was drafted in 2018, only the New Orleans Saints have had a more efficient run defense by expected points added per play than the Buccaneers. Vea has missed some time over that stretch, but he's been a big part of one of the best run defenses in the NFL when on the field.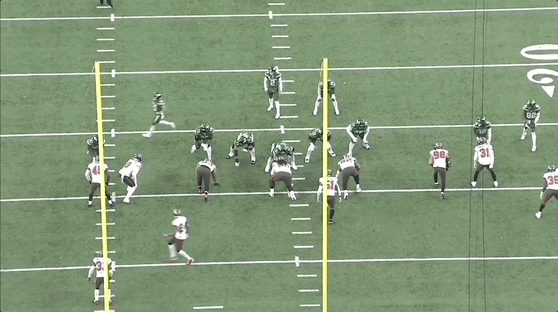 He's also been a highly productive interior pass-rusher on a per-snap basis. Vea's 11.3% pressure rate is a top-10 mark among 119 players with 500-plus pass-rushing snaps since 2018. 
Allen didn't get off to the fastest start to his NFL career, but he has quietly developed into an impactful interior pass-rusher over the past two seasons. 
His 114 quarterback pressures since 2020 are fewer than only Aaron Donald, Chris Jones and Cameron Heyward. And those pressures are backed up by an 18.5% pass-rush win rate that also ranks fourth in the NFL. The only reason Allen isn't higher than eighth is that he hasn't had quite the same impact against the run.  
Any list of the best young interior defensive linemen in the NFL is going to have Simmons' name near the top. The soon-to-be 25-year-old ranks 12th in PFF's Wins Above Replacement (WAR) metric among interior defensive linemen since 2020, and he's coming off a 2021 season where his 62 quarterback pressures ranked fifth at the position. Simmons is the centerpiece of a defensive front that the Titans have invested heavily in over the past few seasons. 
Few defensive linemen have been more reliable than Williams since he entered the league in 2015. In each of the past seven seasons, Williams recorded at least 700 defensive snaps and at least 45 quarterback pressures. He's not quite the elite interior defensive lineman the Giants are paying him to be at $21 million per year, but he can be counted on to provide borderline top-10 play at the position year in and year out. 
Reader — a seventh-year, 347-pound defensive tackle out of Clemson — isn't the flashiest player at the position. However, it's hard not to notice the impact that a healthy Reader had on Cincinnati's defense last season after he missed much of his first year with the team due to injury. Reader ranked in the 92nd percentile of all qualifying interior defensive linemen in PFF run-defense grade on a per-snap basis in 2021. That's been a consistent theme throughout much of his career. 
The strides that Wilkins made in his third NFL season last year seemed to fly under the radar. 
Wilkins PFF grade and positional rank by season
| | | |
| --- | --- | --- |
| Season | PFF grade | Positional Rank |
| 2021 | 83.3 | 6 / 109 |
| 2020 | 68.9 | 47 / 126 |
| 2019 | 64.4 | 71 / 116 |
Wilkins was one of the best run defenders at the position in 2021, but where he made the biggest stride was as a pass-rusher. The former first-round pick out of Clemson graded out in the 80th percentile on "true" pass rushes last season compared to the 29th percentile across his first two NFL seasons. 
Tuitt's potential return is one of the more underrated storylines for the Steelers entering the 2022 season. The former second-round pick out of Notre Dame missed the entire 2021 season as he dealt with a knee injury and the tragic loss of his brother in a hit-and-run accident. However, Tuitt recorded 71 quarterback pressures (second-most among interior defensive linemen) the last time he saw the field in 2020. 
Tuitt and Heyward are a very difficult duo to contend with on the inside. And that's before considering T.J. Watt's presence on the edge. 
Tier 4: Nearing end of career, but still impactful
Watt will go down as one of the greatest "what-ifs" of this generation of NFL players. A dominant four-year stretch from 2012 to 2015 that included three Defensive Player of the Year trophies was followed by fewer than 500 defensive snaps in three of the next four seasons. Watt failed to reach that threshold again last year with the Cardinals. 
When healthy, he's still one of the most difficult defensive linemen in the league to block. Watt's 18.3% pass-rush win rate ranked fifth among all interior defensive linemen with at least 100 pass-rushing snaps prior to his injury in 2021. 
Campbell may be nearing 36 years old, but there's no downswing in sight. Over the past two seasons in Baltimore, he has graded out in the 85th percentile of all players in PFF pass-rushing grade and the 97th percentile in PFF run-defense grade on a per-snap basis. He's been one of the more consistent run defenders in the NFL over the past few years, regardless of position. 
Cox is younger than the two players above him in this tier, but he has shown more signs of decline than Watt and Campbell over the past two seasons. After posting a 92.7 PFF grade from 2014 to 2019 (third among qualifying interior defensive linemen), Cox has earned just a 73.3 overall grade since 2020 (30th). The Eagles' addition of Jordan Davis to a defensive tackle rotation that already included Javon Hargrave and 2021 draft selection Milton Williams could allow the team to rotate Cox more and keep him fresh. 
Health has been one of the bigger concerns for the 32-year-old Hicks, who played over 400 defensive snaps just once in the past three seasons. Hicks might not quite be the same pocket-pushing presence he was in his first three seasons with the Bears, but he has profiled as an above-average run defender and pass-rusher for the position when healthy over the past three years. Hicks is a strong late addition for the Buccaneers if he can stay on the field.
Tier 5: Above-average starters
Tomlinson began his career with the Giants as a run-stuffing specialist, but he's started to make more of an impact as a pass-rusher over the past two seasons. He ranks in the 66th percentile of all qualifiers at the position in PFF pass-rushing grade since 2020 compared to the 14th percentile across the first three years of his career.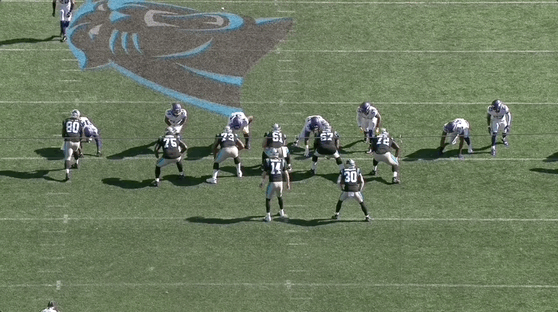 Minnesota will be counting on him to continue to provide interior pressure while also solidifying their run defense alongside free agent acquisition Harrison Phillips as they transition to a new scheme under Ed Donatell. 
Lawrence is a massive, 340-plus-pound presence on the interior who isn't just a run stuffer. His 74.0 PFF pass-rushing grade in 2021 was the highest of his three-year career, as were his 43 quarterback pressures. Between Lawrence, Leonard Williams and young edge rushers such as Kayvon Thibodeaux and Azeez Ojulari, New York is putting together an intriguing collection of talent along its defensive front. 
Hargrave developed into a strong all-around nose tackle in four seasons with the Steelers, but he was still somewhat of a rotational player who operated behind Cam Heyward and Stephon Tuitt. In an expanded role across two seasons with the Eagles, though, he has emerged as one of the better interior pass-rushers in the league. His 19.7% pass-rush win rate since 2020 ranks third at the position, behind only Aaron Donald and Chris Jones. 
The only reason Hargrave doesn't come in any higher on this list is that his run defense has taken a hit since he joined the Eagles, with his PFF run-defense grades falling below 50.0 in each of the past two seasons. 
Williams looked like a breakout candidate entering the 2021 season. He had improved his overall PFF grade from 67.4 as a rookie in 2019 to 81.4 in 2020, and last season was primed to be the year that the former No. 3 overall pick lept into the elite tier at the position. 
Instead, Williams took a step back with a performance more reminiscent of his rookie season, struggling to progress in Robert Saleh's first year as head coach. The talent didn't go anywhere, though. It's reasonable to expect a bounceback season from Williams in 2022. 
Onyemata missed the early portions of the 2021 season while serving a suspension for violation of the NFL's performance-enhancing drugs policy, but he was the same impactful presence he has been for much of the past five years on their interior defensive line when he returned. Despite Onyemata missing some time, his 141 quarterback pressures since 2018 are tied for 14th most among all interior defensive linemen. 
Ford emerged onto the scene as an undrafted free agent in 2018, grading out extremely well (90.3 PFF grade) in a limited role. He built up his snap count in each of the past three seasons to 802 defensive snaps in 2021 — 10th-most among all interior defensive linemen. While he might not quite be repeating his grading success from his rookie season each year, Ford has still earned PFF grades above 73.0 in each of the past three campaigns. 
Sieler's inclusion on this list might surprise some, but he's been a key part of Miami's defensive line rotation over the past two seasons. He came away from the 2021 campaign with PFF run-defense and pass-rush grades north of 75.0 and an 84.9 overall mark. A few more seasons with that kind of production will erase the "under-the-radar" label accompanying his name. 
There's plenty of reason to believe Barmore could place much higher on this list at this time next year. It often takes rookie defensive linemen a little bit of time to find their footing. Barmore's rookie season wasn't perfect, but he was already a more productive pass-rusher than any other rookie defensive tackle drafted in the past five years. 
Most QB pressures by a rookie interior defensive lineman since 2017
It wouldn't be surprising to see Barmore build on that rookie performance with a big 2022 season.