PFF previews the AFC & NFC championship games, highlighting players to watch while also taking a fantasy football and betting approach to offer insight for every NFL fan.
[Editor's Note: ELITE subscribers have access to all of PFF's fantasy football projections, rankings and lineup tools in addition to PFF NFL and College Greenline, an online dashboard with predictions for the spread, total and moneyline for every FBS and NFL game every week. Subscribe today to gain access!]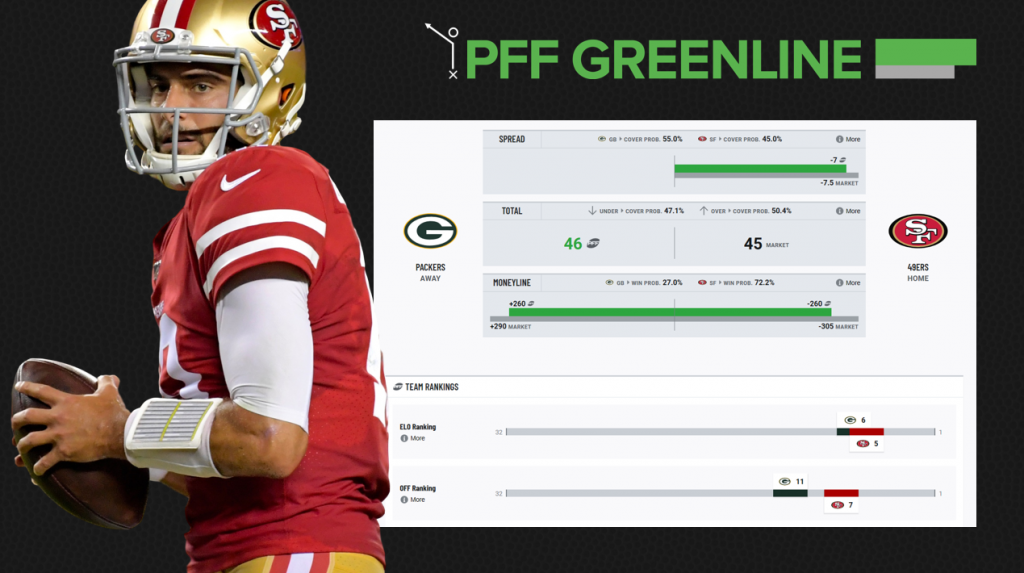 Headline of the Game: The Titans' recent formula for victory won't work in Kansas City
The Titans have shocked the NFL world with back-to-back wins against last season's Super Bowl champions (New England Patriots) and this season's Super Bowl favorite (Baltimore Ravens). They've done so by rushing for 251 more yards than they have picked up by passing the ball, which is a real oddity in the modern NFL. The narrative that has developed is that their defense and run game, led by an inhuman postseason performance from Derrick Henry, has brought them this far and can take them to the Super Bowl. 
The truth is that the Titans' offense hasn't been great in those two games, even though Henry has, and their defense that finished the 2019 regular season ranked 14th in expected points allowed per play is punching well above its weight. With the explosiveness of the Chiefs' offense and the ability they've shown to produce even when placed in a big hole like they did last week against the Houston Texans, Ryan Tannehill is going to have to make more plays for the Titans to win this game. As the highest-graded quarterback in the NFL over the course of the regular season, he has shown that he can do just that, but the fact of the matter is that the Titans will not be able to rely on defense and the run game to beat Kansas City.
Fantasy football preview
Leading all other quarterbacks in fantasy points per game (by 4.6) and with the highest implied point total of the slate (by 3.0 points), it's hard to imagine Patrick Mahomes isn't the chalk this week. And with the softest matchup of the slate, it's hard to argue against him. When looking to stack Mahomes, make Travis Kelce your priority. He's outscored Tyreek Hill in six of their last eight games, while averaging a whopping 21.3 fantasy points per game over this span.
Kansas City has been one of the league's top run-funnel defenses, ranking fourth-worst in PFF run grade and fourth-worst in rushing yards allowed per carry, while ranking sixth-best in opposing passer rating (80.6). During the regular season, the Chiefs surrendered 37% of their total yardage on the ground, which ranked seventh-most. Meanwhile, Derrick Henry is on an unparalleled streak – averaging 26.1 fantasy points per game over his last nine games and exceeding 22.0 fantasy points in eight of them.
Betting Preview
Fifty-one points later, our odds-on favorite to win the Lombardi Trophy opened north of a touchdown favorite at home to the underdog Tennessee Titans. The spread has held steady, but the total has jumped a full point since the open. The Titans and their vaunted rushing attack currently rank first overall in our Massey offensive rankings while Mahomes and company are 13th, but the Chiefs showed just how quickly they can open the flood gates with their offensive explosion against the Houston Texans in the Divisional Round. PFF Greenline thinks this total still has some movement available but is firmly locked into a certain side of the spread at the current 7.5-point price.
Headline of the Game: The version of Aaron Rodgers that shows up will determine the game
Many were ready to write off Rodgers in the conversation of elite quarterbacks after the second half of the regular season — a nine-game stretch in which he looked entirely mediocre. Against the Seattle Seahawks in the divisional round, though, he got back to excelling in the areas that he has excelled in throughout his career. Rodgers was a perfect six of six for 145 yards and two touchdowns on passes traveling 10 or more yards downfield, less than 10% of his targeted passes were uncatchable, and he made big-time plays at big-time moments in the game. In short, he was the version of Aaron Rodgers that we have grown accustomed to watching over the past decade, not the version from Weeks 9-17 that looked like a quarterback on the decline.
He'll need to play as he did against the Seahawks again this upcoming Sunday, but this time, against a much better defense. The San Francisco 49ers made life very difficult for Rodgers in their first matchup this season back in Week 12, holding him to a 41.1 PFF passing grade and just 3.1 yards per pass attempt. They're coming off a dominant showing against the Minnesota Vikings in which they generated pressure on half of Kirk Cousins' dropbacks and held the Vikings to negative rushing yards before contact on the game. It's a whole different animal than a Seattle defense that finished the 2019 regular season ranked 27th in average yards allowed per play. If a Super Bowl appearance is to become a reality for Rodgers and the Packers, we're going to need another vintage performance from the highest-graded postseason passer in the NFL since 2006.
Fantasy football preview
Aaron Rodgers was arguably the single most matchup-dependent player in fantasy this year. Against bottom-six opponents, he averages 27.8 fantasy points per game. Against all other opponents, he averaged just 14.3. I suppose that's bad news this week, against a 49ers defense that gave up the fourth-fewest passing fantasy points per game to opposing quarterbacks. On paper, Aaron Jones seems in for a long day as well – the 49ers gave up the third-fewest fantasy points to opposing running backs this regular season.
Raheem Mostert came into last week's game averaging 17.8 fantasy points per game over his prior six, drawing 60% of the team's snaps over that span. Tevin Coleman, meanwhile, averaged just 4.4 fantasy points per game and 32% of the snaps over the same span. However, Coleman stole the show in last week's game – on 49% of the snaps, Coleman turned 22 carries into 105 yards and two touchdowns. Mostert, meanwhile, turned 12 carries into 58 yards. Typical Shanahan shenanigans. For DFS, Coleman might feel safer, but Mostert would probably be the better play from an ownership perspective. During the regular season, Green Bay gave up the fourth-most rushing touchdowns and the seventh-most rushing yards, while also ranking fifth-worst in yards allowed per carry (4.86).
Betting Preview
Another 7.5-point spread awaits in the nightcap; the only difference is that the 49ers gained the hook since the opening touchdown number. According to our ELO rankings, these two teams are evenly matched, with both defenses sitting in the top five of our Massey defensive rankings. The total has held at 45 since the open, with PFF Greenline finding a consensus at that price. A certain lean exists on the spread, but with this figure bouncing between key numbers, it is imperative to monitor Greenline throughout the week.