• Jerick McKinnon isn't a one-game-wonder: McKinnon followed his 134-yard, two-touchdown Week 14 performance with 122 yards and another two scores in Week 15.
• Rashid Shaheed's ascension continues: The former Weber State receiver has gone from being an undrafted kick-return specialist to one of the Saints' best wide receivers. 
• Chigoziem Okonkwo continues to lead the Titans: The fourth-round rookie has 322 receiving yards since Week 9, the third-most among tight ends in that span.
Estimated Reading Time: 7 minutes

PFF's fantasy football recap focuses on player usage and stats, breaking down all the vital information you need to achieve fantasy success in 2022. Here, we touch on players who are only relevant in fantasy football. 
These are my 10 biggest reactions to the games from the Week 15 Sunday slate. To get a more in-depth breakdown, check out my full Sunday recap.
McKinnon led the Chiefs in snaps played en route to another dominant fantasy performance.
McKinnon played most of the third downs this week, as he has all season.

He also took the majority of goal-line and short-yardage plays. He's been the primary back in these situations all season.

Isiah Pacheco

played every first- and second-down snap in the first quarter. McKinnon started to rotate in for those situations at the start of the second quarter.

Pacheco lost a fumble early in the second quarter, which quickly led to a Texans touchdown, and he

was benched for the rest of the quarter. This allowed

Ronald Jones

to play a few snaps.

McKinnon served as the primary early-down back in the second half, with Pacheco still playing plenty of snaps.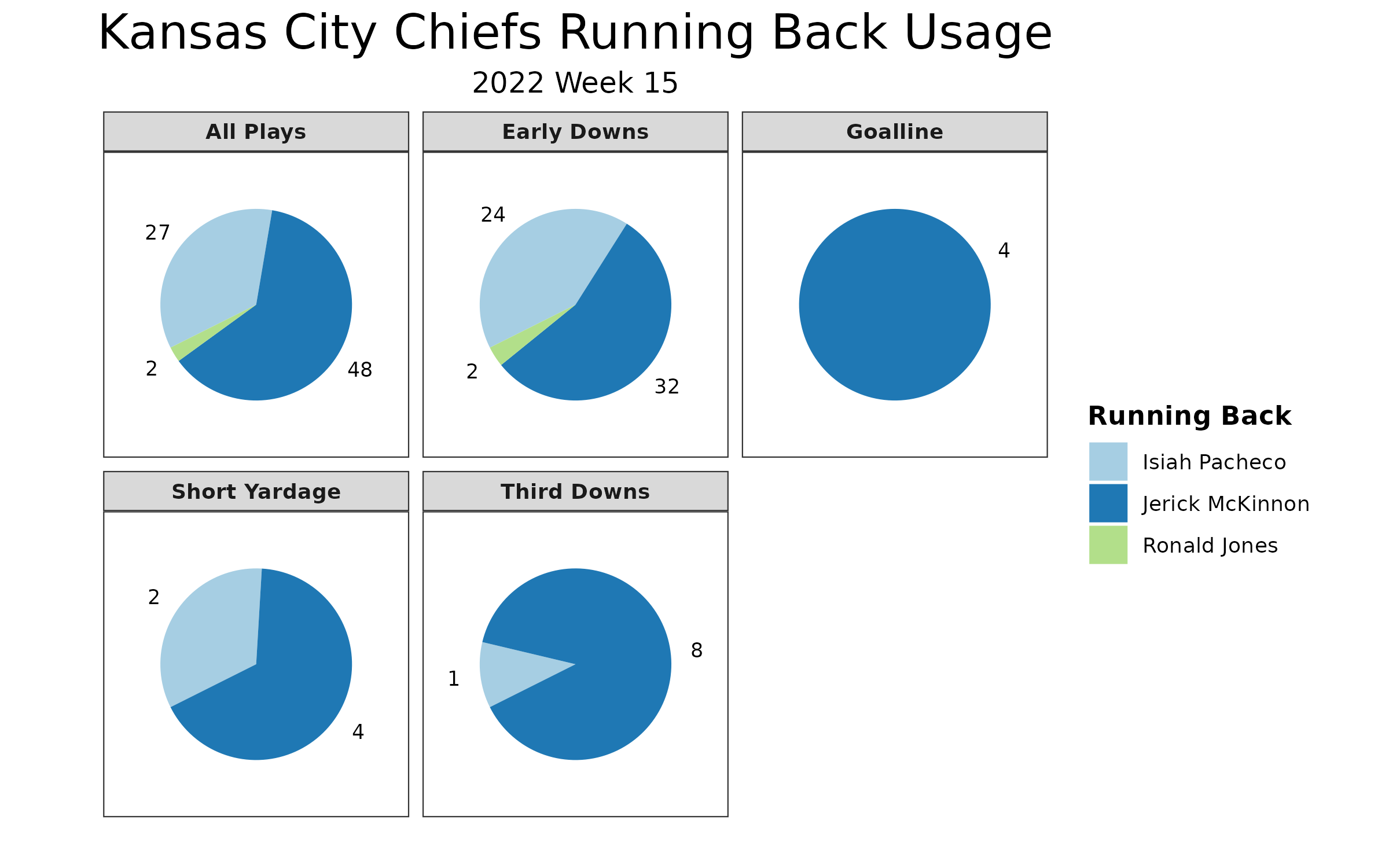 The sophomore running back handled his largest role of the season for the Panthers.
He gained only 10 yards on four carries but caught three passes for 57 yards.

D'Onta Foreman

was ineffective, gaining nine yards on 10 carries with no targets.

Foreman hasn't averaged more than 5.0 yards per carry since Week 7. This was his fourth game in six weeks at 3.5 yards per carry or less.

Hubbard has typically played most passing downs, but this was his first time playing 100% of those snaps. He also played a decent amount in short-yardage situations, as he has all season.

Most notably, he played most of the snaps on early downs, which should mean more carries going forward.

Carolina has average matchups the next two weeks, but it's generally good to roster the top running back on any team, even if it's to prevent someone else from picking him up.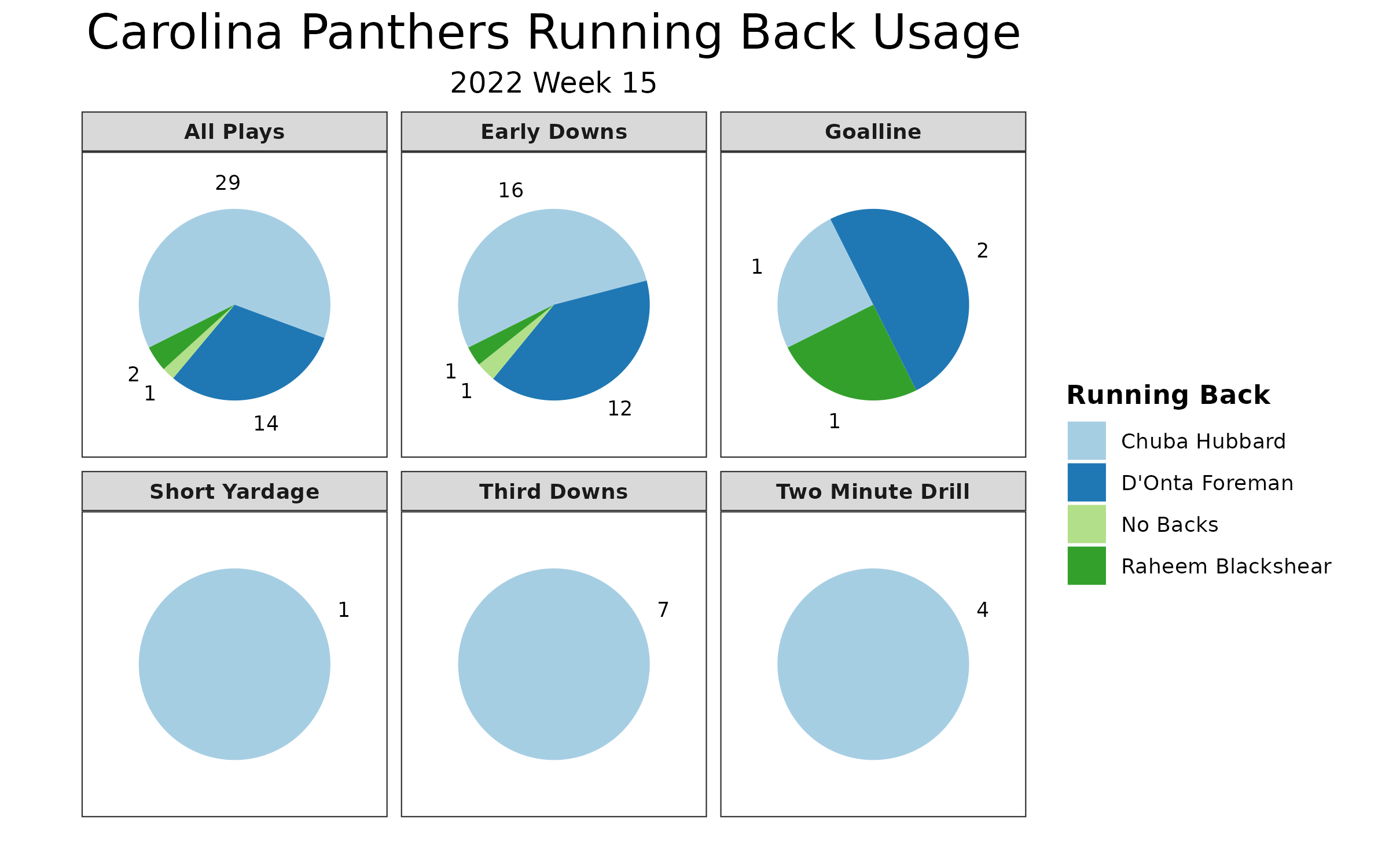 Last week, Pierce suffered an ankle injury that landed him on injured reserve. He won't return this season.
Dare Ogunbowale

started the game for Houston and shared early-down snaps with

 

Royce Freeman

.

Rex Burkhead

served as the third-down back.

Ogunbowale dominated early-down snaps in the first quarter but gained just nine yards on six carries.

Freeman was the Texans' top back for the rest of the game, leading snaps 22-to-12 on first and second downs the rest of the way.

Freeman also had 11 carries over the last three quarters compared to Ogunbowale's two.

If this game is any indication, Freeman will likely start next week. That could mean Ogunbowale overtakes Burkhead on third downs.

This is likely a situation to avoid, as it's a fluid three-back committee.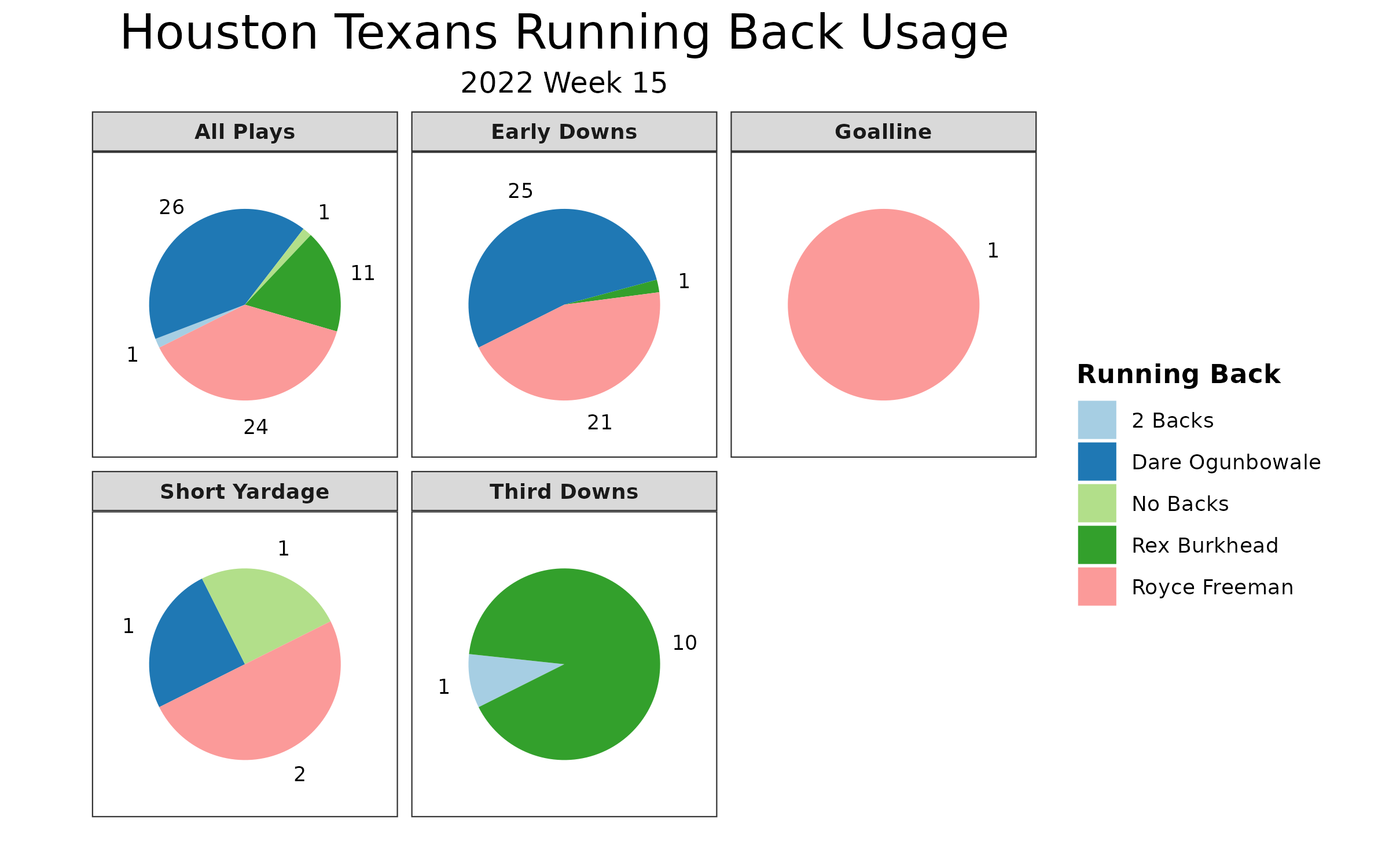 New Orleans signed David Johnson to the active roster earlier in the week, and he and Alvin Kamara were the Saints' only active running backs in Week 15.
Kamara typically plays more than usual when

Mark Ingram II

is out of the lineup.

Ingram landed on injured reserve this week, ending his regular season.

Kamara didn't see his normal snap increase. Instead, Johnson took Ingram's role.

Last week, Kamara played less than 60% of snaps for the first time since 2020. He just barely exceeded 60% on Sunday.

Kamara didn't have a bad day by any means, as he recorded 91 yards on 21 carries and added another 13 receiving yards.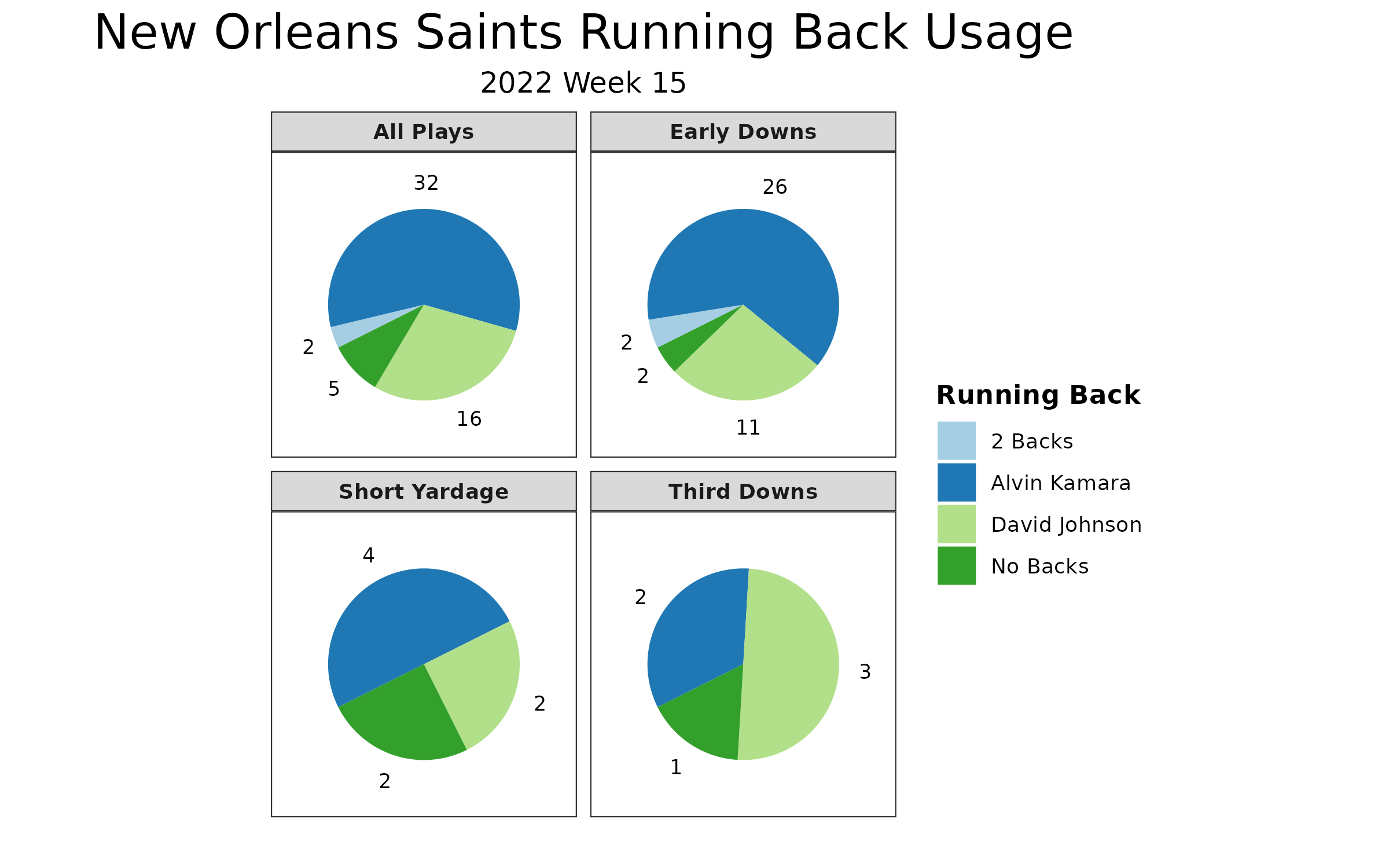 The undrafted rookie led the Saints' skill players in snaps played (39), routes run (20) and receiving yards (95).
His playing time has slowly but surely been rising in recent weeks.

This was his third straight game with more than 50 receiving yards.

He's run a similar number of routes and seen a similar number of targets to

Chris Olave

and

Jarvis Landry

over the past three weeks, but this was the first time he was clearly ahead of Landry.

His matchups over the next two weeks aren't necessarily good enough to put him in fantasy starting lineups, but he could very well be a starter for New Orleans in 2023. If the Saints can upgrade at quarterback, there is a chance he becomes someone worth selecting in fantasy drafts in August.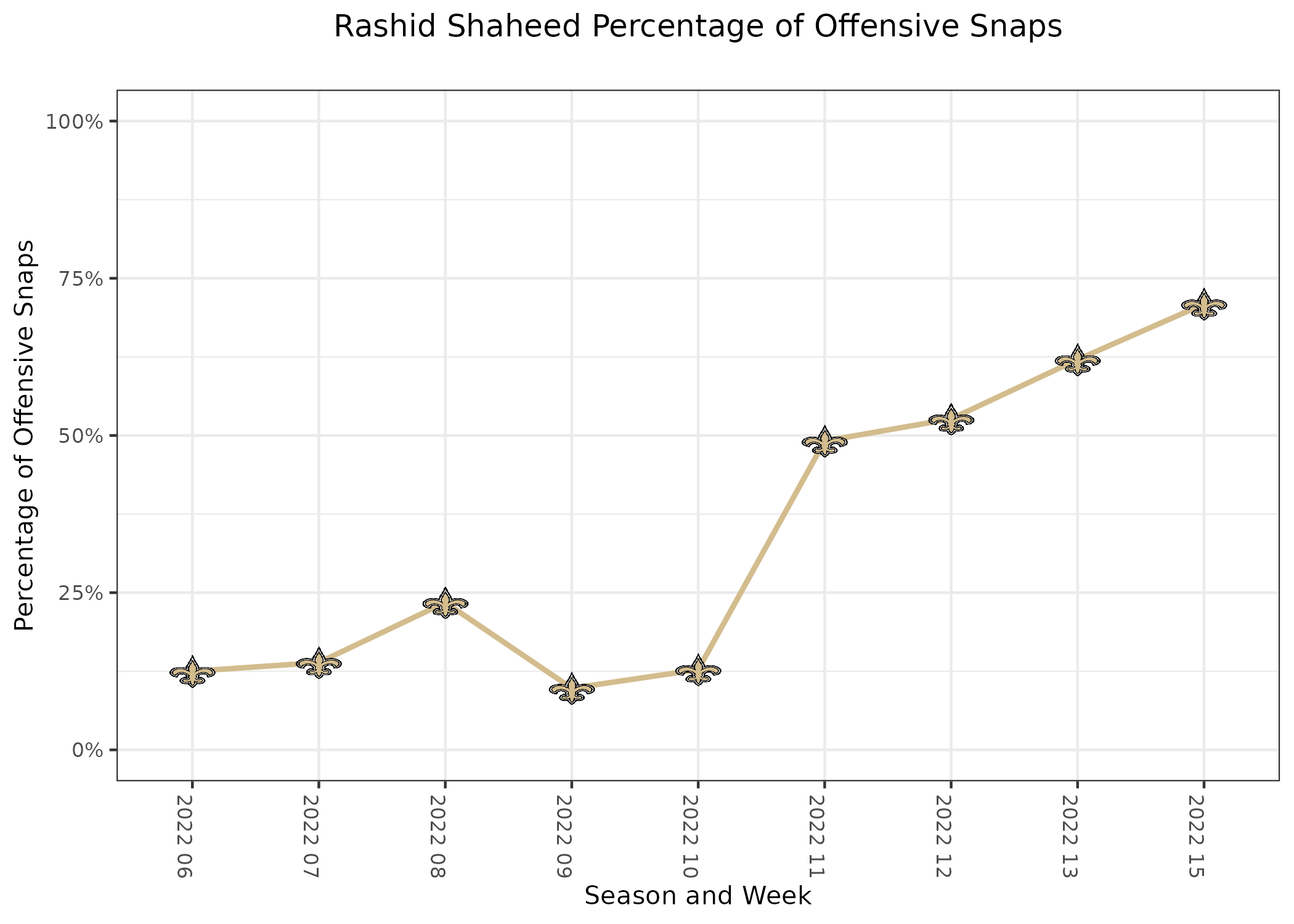 Williams has now played three games for the Lions, but his role has barely increased.
Williams is being used in various personnel groupings on offense but sees only a few snaps in each.

The most important grouping for wide receivers is 11 personnel, and he played only four of a possible 38 snaps in that grouping this week, making it impossible to start him next week.

The best-case scenario is that he somehow becomes a full-time starter during next week's game, but even if that happens, the Lions play the

Bears

in Week 17, which isn't a favorable matchup.

It's still OK to take a chance on Williams in DFS in case he makes a big play or two.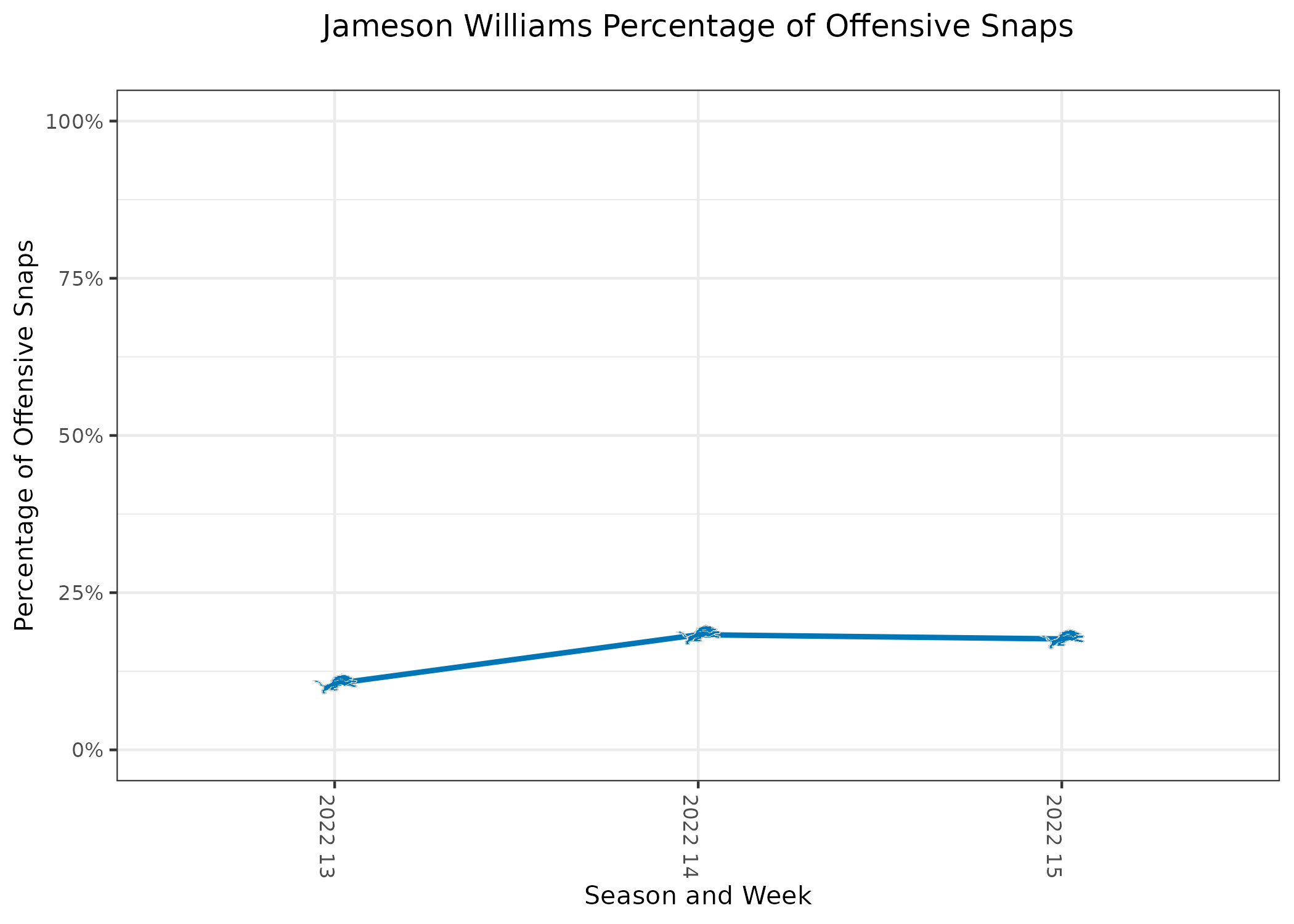 Both veterans returned from injured reserve earlier in the week and played part-time roles as the Raiders eased them back into action.
Waller split playing time with

Foster Moreau

, and

t

hey shared the field for a rare two-tight-end set. Moreau typically played in 21 personnel, which gave him the snap lead, while the two were used interchangeably in 11 personnel.

Renfrow and

Keelan Cole

split playing time in three-receiver sets.

Renfrow had a clear advantage in snaps, but they were also used interchangeably in the slot.

We can expect Renfrow and Waller to play a higher percentage of snaps next week, assuming they didn't suffer any setbacks.

Renfrow hasn't been a fantasy starter all season, so it's probably OK to avoid him. Waller can likely return to the ranks of fantasy starters.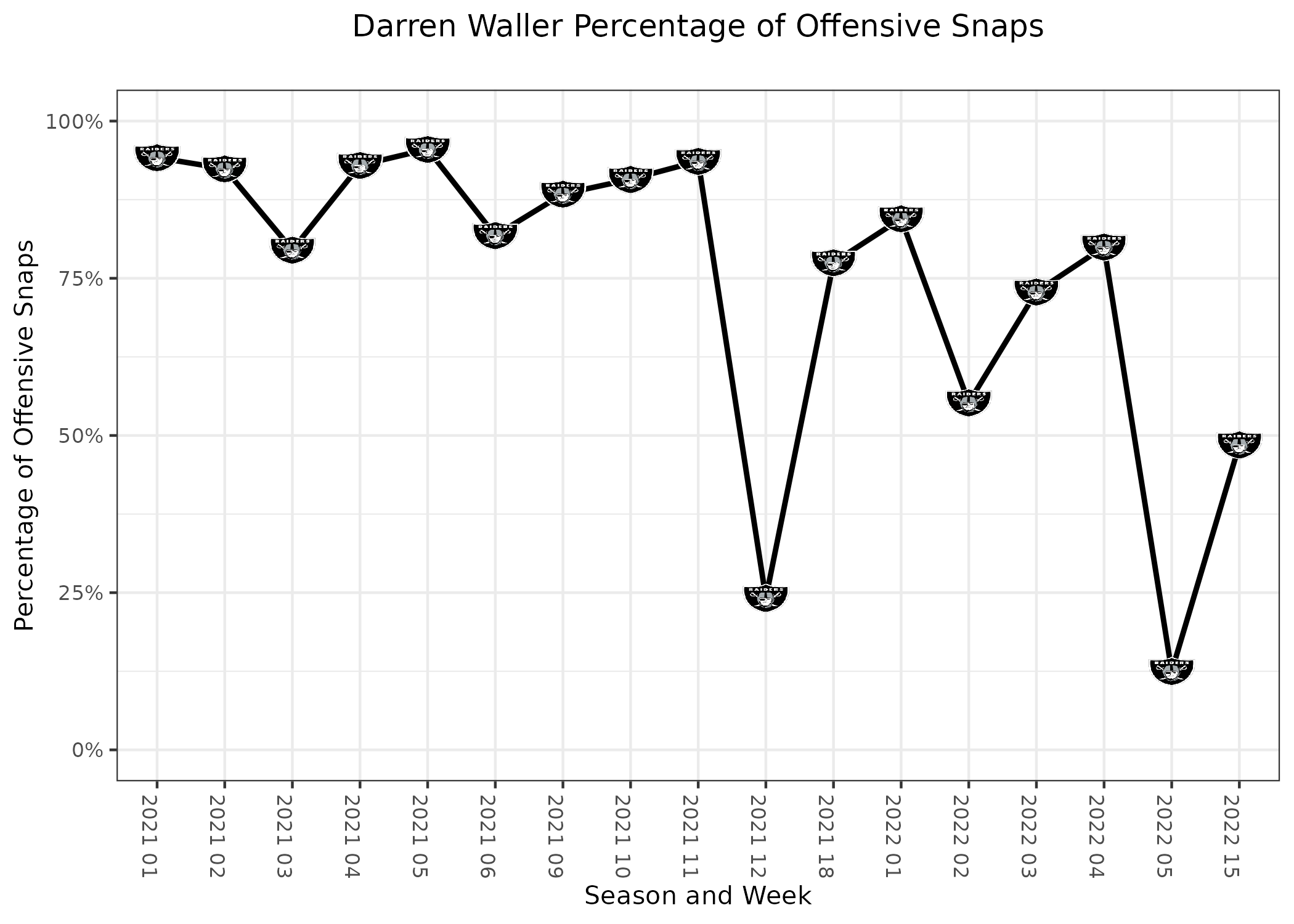 Freiermuth was held without a catch for the first time in his NFL career.
He not only didn't catch a pass but was also held without a target — even including plays called back by penalty.

This was the third straight week Freiermuth played a reduced role on first and second downs in 11 personnel.

He played 15 of a possible 33 snaps from 11 personnel on early downs this week.

Zach Gentry

played 15, while

Connor Heyward

handled three.

Freiermuth should remain in fantasy starting lineups over whatever is available on the waiver wire, as he should get back to seeing targets next week. His ceiling isn't as high as it was earlier in the season, but he still offers more than most tight ends.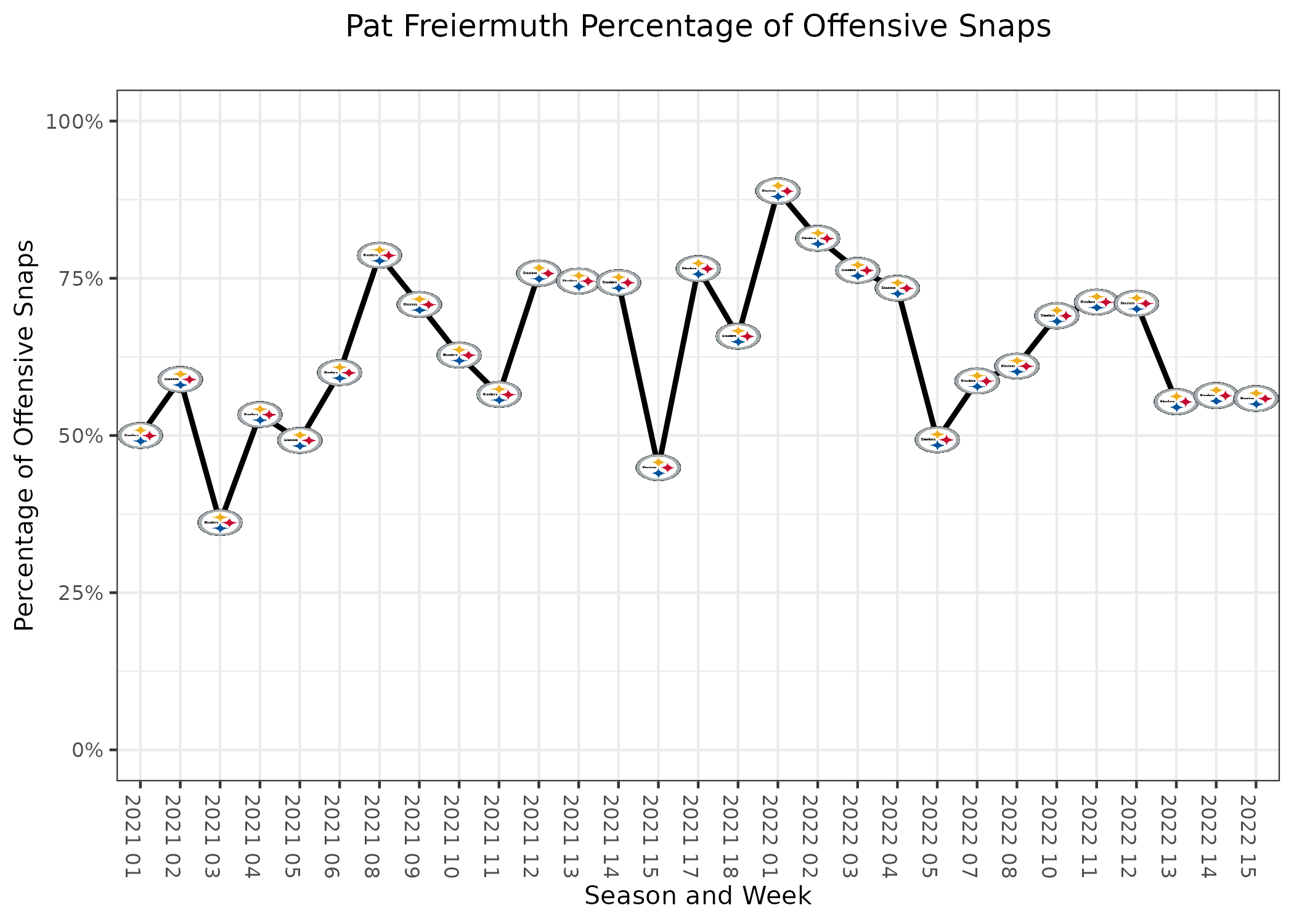 Parham was elevated off injured reserve Saturday and joined the Chargers' tight end rotation.
He was placed on injured reserve in early November with a hamstring injury. He had played only two games this season.

The tight ends were largely used interchangeably by formation.

Gerald Everett

played the majority of snaps in 11 personnel, but Parham took several snaps from that group, including some snaps on third downs.

All three of them took significant snaps in two-tight end sets. Typically, if only one of them ran a pass route, it was Everett.

Parham mostly ended up taking snaps from

Tre' McKitty

, but he also cut into Everett's snaps and routes.

Three of Everett's six worst games in terms of offensive snap percentage have come in Parham's three outings this season.

Everett is still likely good enough to be a fantasy starter these last two weeks, but his ceiling is lower now.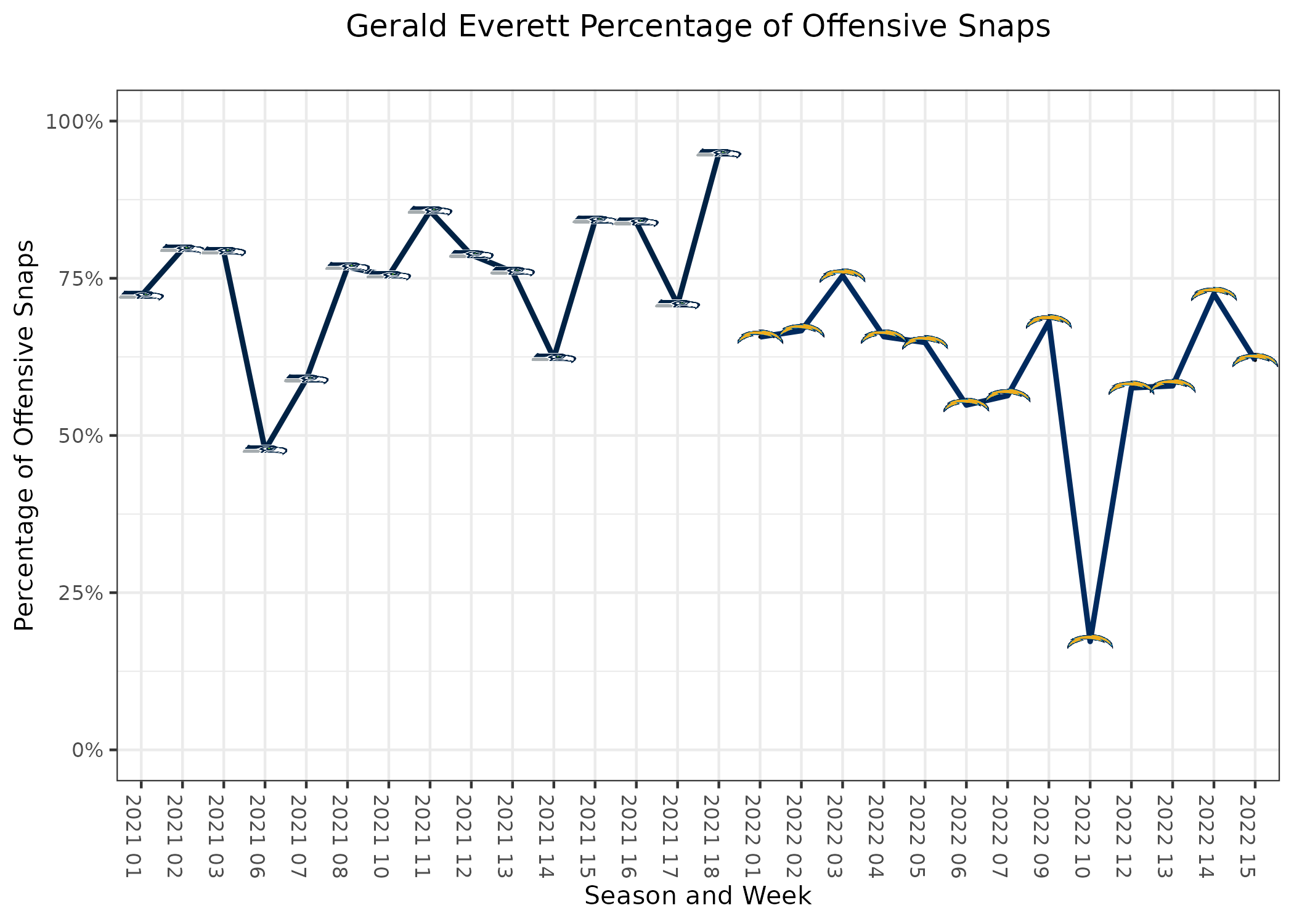 Okonkwo led the Titans in targets and ran more pass routes than Austin Hooper.
He caught four of his five targets for 54 yards. He finished second on the team in receiving yards.

He's played 32 snaps in 11 personnel over the past two weeks after playing 40 snaps from 11 personnel over the first 13 weeks.

The Titans even gave him a carry, on which he gained six yards.

He remains the top tight end in terms of yards per route run (2.63) among those with at least 50 routes. The next closest player is

Travis Kelce

at 2.26. 

Tennessee has a favorable matchup against Houston next week. There is plenty of room for Okonkwo to grow in terms of playing time and routes run, but he's been the clear top target in Tennessee recently, and he can be in fantasy starting lineups.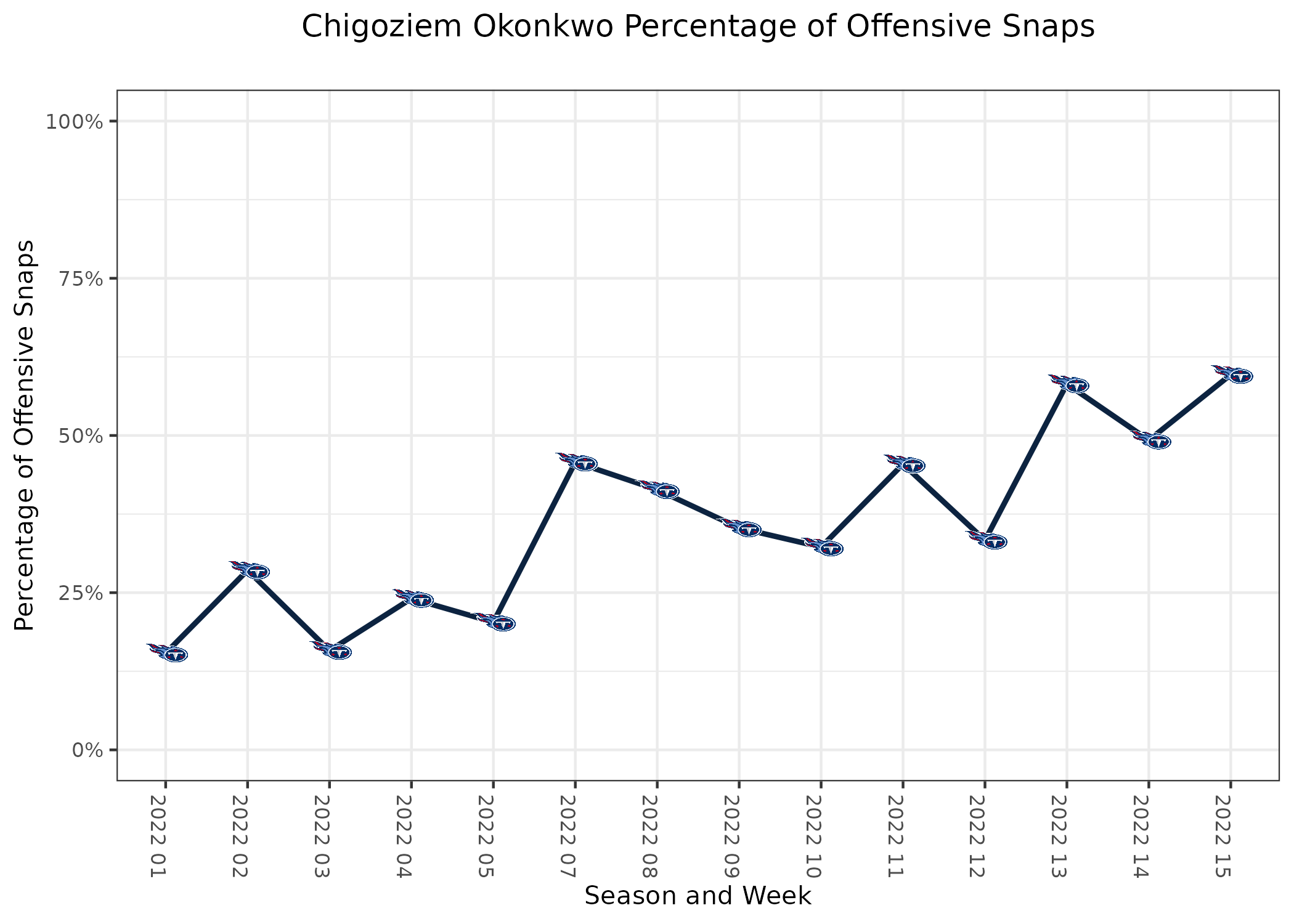 [/am4show]