"He looks like a national champion." – Joe Burrow when showed a picture of himself as young child during CFP Media Day
Joe Burrow called his shot and hit the nail on the head. He and the LSU Tigers were as dominant against Clemson as they were throughout regular-season play, snapping their 29-game win streak and being crowned the 2019-20 College Football Playoff National Champions. What Burrow and the Tigers did was improbable — the offense went from average to one of the best in the FBS, and Burrow went from an afterthought to consensus number one overall pick. It's like art — they painted a picture with their success and called it "celebration" featuring head coach Ed Orgeron yelling out "Go Tigahs!"
Clemson was the underdog heading into the battle but certainly had the talent to compete with LSU. True sophomore quarterback Trevor Lawrence started off the year uncharacteristically but came around as of late and was on a hot streak. He had to keep up the hot streak to carry his team past LSU, and unfortunately for the Tigers, he went cold. That being said, diving into PFF's database that is used by all 32 NFL teams and 70 FBS programs, these are the five biggest takeaways from the CFP National Championship:
Isaiah Simmons' versatility is rare and will be highly coveted come April 23
It was pretty well-known coming into the game that Isaiah Simmons looked the part of the perfect modern-day linebacker, and he only verified that notion with his performance against LSU. Prior to his team's loss to in the CFP title game, Simmons played over 100 snaps on the line, in the box, in the slot and at free safety. Against LSU, Simmons played over 64% of his snaps in the box while splitting the rest of his time all over the field. Regardless of alignment, Simmons shined in coverage, allowing just two catches for 21 yards on his five targets with two forced incompletions. NFL defenses are trending more and more to nickel and dime packages as their standard, and having a player who can play off-ball linebacker, deep safety or in the slot fits that mold. Oh, and he can rush the passer effectively, too.
Simmons was commonly used as a blitzer in 2019 and often found success, generating 26 pressures on his 55 pass-rushes. Against LSU, Simmons rushed the passer far more than he ever has in a single game in his collegiate career with 15 pass-rushes, all of which were on blitzes. He recorded only three pressures — with one being a sack — but he's proven game after game he is the whole package. Simmons has played his way into the first half of the first round of the 2020 NFL Draft and may even end up top-five when it's all said and done.
Ja'Marr Chase is an early favorite for WR1 in 2021
Sophomore wide receiver Ja'Marr Chase is hands down the number one player at his position returning to college football in 2020 and a star in the making. Chase was an explosive play waiting to happen for LSU in the CFP title game and has been just that all year long — he had the most 15-plus yard receiving plays (41) and added five more to that total against Clemson. Not to mention, he had two more 50-plus yard touchdowns than any other receiver in the FBS (eight), one of which came against Clemson. Yes, there was one instance of poor ball tracking that resulted in a drop by Chase and would've added to his CFP final performance, but we can't ignore all the consistent good we witnessed from start to finish because of that.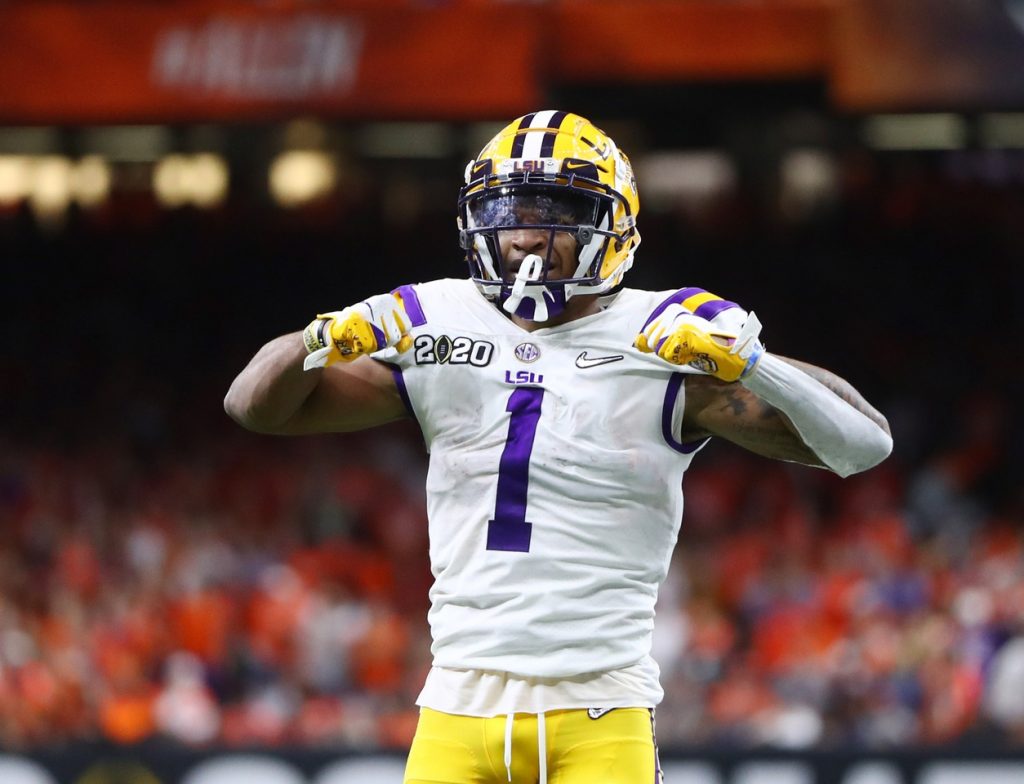 © Mark J. Rebilas-USA TODAY Sports
Most of Chase's routes yesterday were against corner A.J. Terrell, who pressed him at the line of scrimmage often. That was a bold move considering Chase is one of the best receivers against press-man coverage and has rarely been beat on such plays. Entering the game, Chase had 58 targets against press coverage and caught 38 for 870 yards (most by 237) and 10 touchdowns. Nine of those 10 touchdowns against press coverage were 20-plus yard passes through the air. He beat cornerbacks with his strength off the line of scrimmage, subsequently firing past them for an open target or winning in contested situations. Forty-two of Chase's 58 routes ran were against press yesterday, and he clearly could not be stopped. It's not like Terrell or whomever else was guarding Chase was doing poorly — Chase is just another breed and hard to stop.
The Cincinnati Bengals are getting the best college player PFF has ever seen in Joe Burrow
Cincinnati is on the clock, and it's almost a given they'll be handing in the card with Joe Burrow's name on it. All throughout the year, Burrow had been putting on a clinic against elite SEC defenses, and he maintained that against one of the best in the country in Clemson. From Week 1 to now, Burrow's 94.8 PFF grade is the best grade we have ever seen from a college quarterback, and his PFF wins above average (WAA) total is far and away the best — regardless of position.
Clemson had a unique game plan, similar to that of Texas earlier in the year, of blitzing Burrow to knock him off his rhythm. Clemson sent five or more on 26 of his dropbacks, and the results weren't exactly as the Tigers hoped. Fifteen of those 26 blitzes failed to obtain pressure on Burrow, and he shredded the defense for 232 yards and three touchdowns on those plays. His composure is elite and easily seen on the field. Regardless of scenario throughout the season, Burrow thrived and was above all of his competitors at his position. He's the most complete quarterback at this very moment and arguably the best/most-hyped quarterback prospect since Andrew Luck. As long as Cincinnati doesn't force him to play their system, they ought to be happy with him under center.
Trevor Lawrence's performance was reminiscent of his early-season struggles
As a true freshman in 2018, Trevor Lawrence was getting Peyton Manning comparisons for his elite play that resulted in an undefeated year and a National Championship. Heck, if he were eligible to enter the 2019 NFL Draft, he probably would have gone first overall. All eyes were on him entering 2019 to see if he could top, or even sustain, what he did last year, and the initial results were underwhelming. Lawrence produced the 48th best PFF grade over the first four weeks and looked uncharacteristic. Lawrence came around and was first in PFF grade from Week 5 through the conference championship game, but his performance against LSU was just like the early-season struggles we all didn't want to see.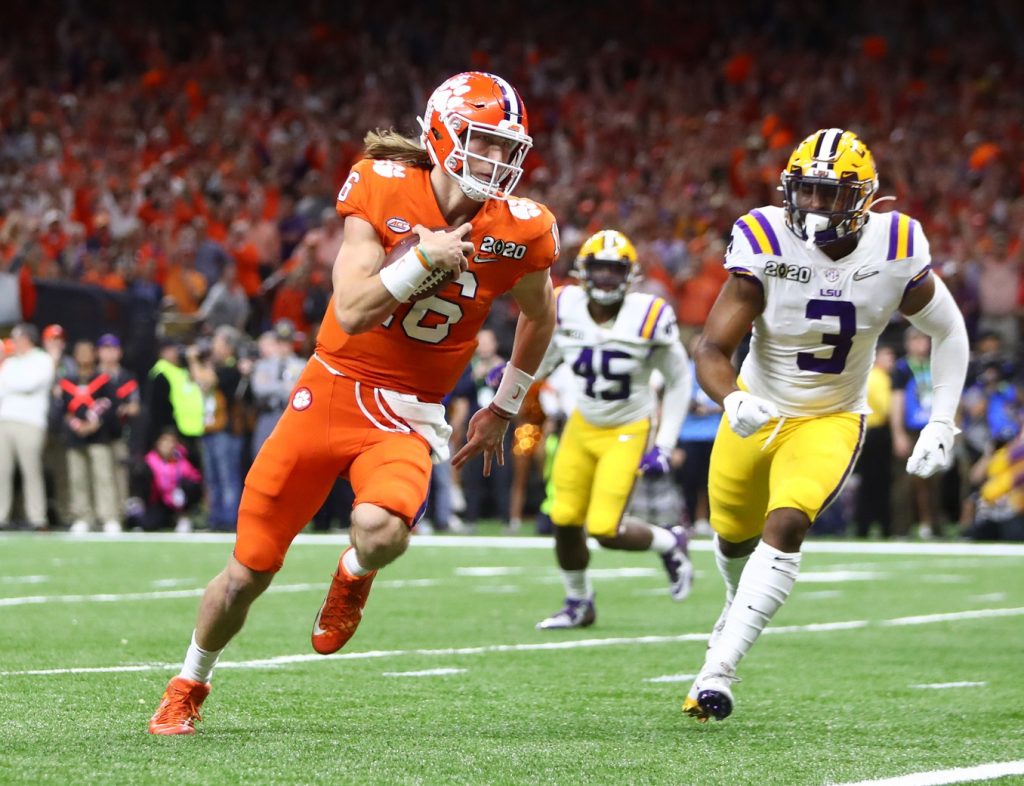 © Mark J. Rebilas-USA TODAY Sports
Over a quarter of Lawrence's pass attempts resulted in an incompletion that was faulted to him, with most of those being an overthrow. His PFF passing grade barely cracked 60.0 and joined his Ohio State performance as two of the four worst games of his 2019 season. Is this cause for concern? Yes. Is Lawrence still the favorite to be the number one overall pick in 2021? Yes. Despite this, he still finished as one of the six most valuable players in regard to PFF WAA. He wasn't able to come in clutch when needed most against LSU, but you shouldn't be bullish of Lawrence's future because of that. It's just something to remember as we enter into the 2020 college season in August.
Clemson intentionally tried to avoid Derek Stingley Jr. — and understandably so
In PFF WAA, the most valuable non-quarterback in college football this year was true freshman cornerback Derek Stingley Jr. He has been, without a doubt, the best cornerback in the game, and Clemson wasn't going to let him ruin their attempt for glory. With the game close in the first half, Lawrence threw Stingley's way just twice while throwing toward first-round prospect Kristian Fulton eight times. Once the game started getting out of hand, Stingley saw four desperation targets, and he wasn't giving any sympathy. He ended the night with just one catch allowed on his six targets in coverage.
Stingley doesn't shadow a specific receiver in the game. He'll typically stay put at right outside corner, and he did just that against Clemson, locking up Justyn Ross, Tee Higgins or whichever receiver he mirrored in man-to-man coverage on a consistent basis. The fact he's doing this now in his first year is incredible. LSU and Coach O have to be ecstatic to have Stingley on their roster for at least the next two seasons, as he is one of the best prospects in the 2022 class.