•  Because Derek Carr's Raiders have a history of struggling to extend leads: Bet the live under after they initially go ahead of the Texans.
• Titans are No. 1 in drive quality on scripted plays, No. 32 on unscripted plays: Look to bet the Tennessee team total vs Colts as it creeps up to 27-28.
• The Bucs' offense is bad when it runs on early downs (-0.24 EPA) and good when it's passing early (0.05): Wait and see how Tom Brady and Co. attack the Panthers and react accordingly.

Last updated: Fri. Oct. 21, 3:00 p.m.
Estimated reading time: 3 mins
---
Live betting can be one of the better ways to profit, as sports books are slower to adjust to new information than in other markets. 
But with 12 games on Sunday in Week 7, it can be quite overwhelming for the bettor to follow the different markets and capitalize on inefficiencies. The goal in this space is to provide angles to monitor and capitalize on specific team tendencies not accounted for in live markets, helping bettors cut through the noise with a gameplan and better process for how to profit live betting. 
Live-bet gameplan: If the Titans go up, continue leaning into their drastic splits on scripted vs non-scripted plays — bet team total under at 27 or 28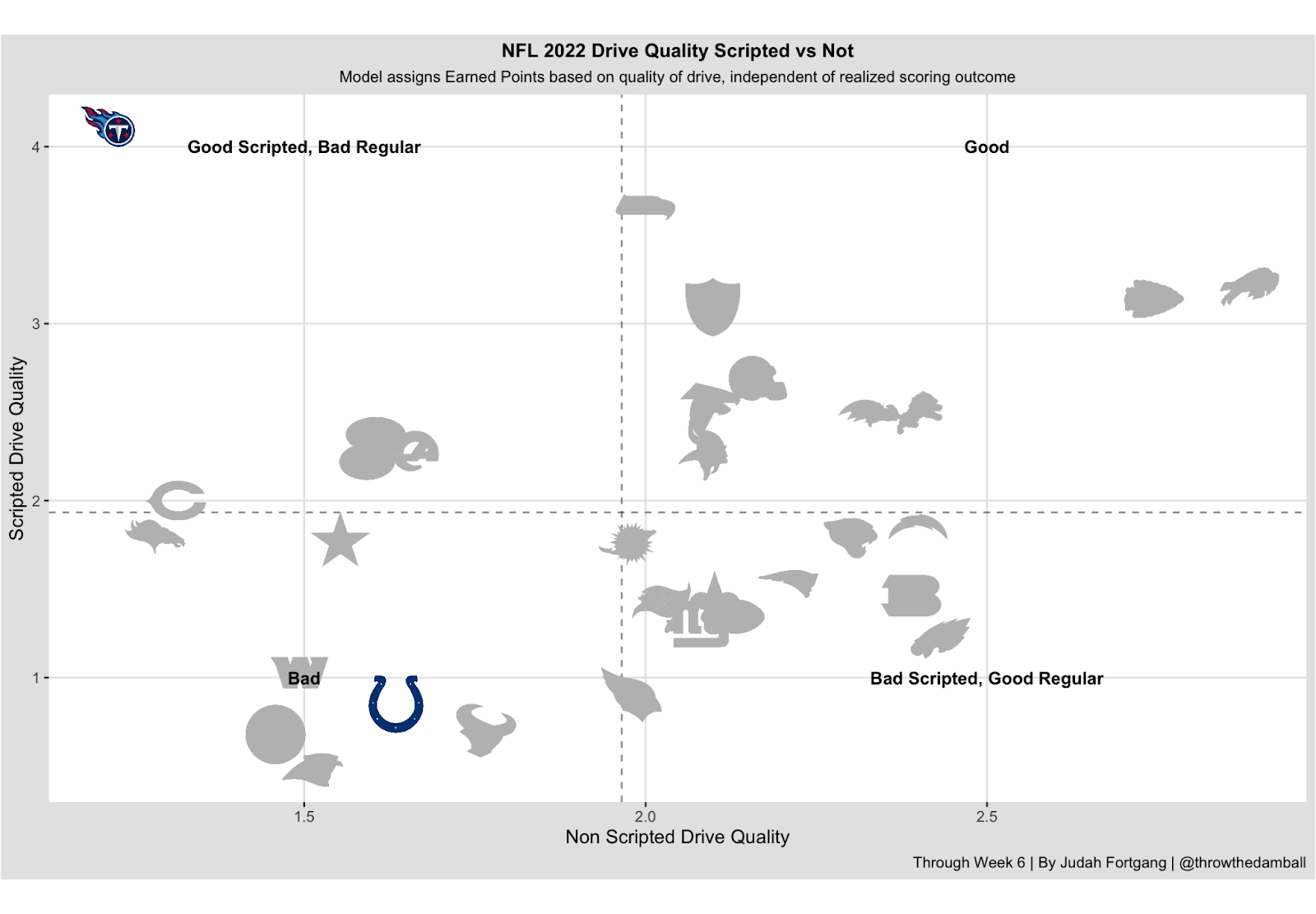 • Titans are No. 1 in drive quality on scripted plays, No. 32 on unscripted plays: We're going back to the well here. As we discussed on the PFF Forecast this week, the Titans lead the league in drive quality on scripted plays, and they rank last when the offense is off script. Sportsbooks don't currently team-adjust these live totals, leaving us opportunity to exploit them.
• Should the Titans continue their early offensive success: Look to bet their team total as it creeps up to the 27-28-point range.
• Team total decreases variance: I like the team total market here because the Colts are better off script than on, and narrowing our bet to only one team allows us to limit variance.
Live-bet gameplan: Look to bet the live under if the Raiders jump out to an early lead. 
• The Raiders are in the bottom-fourth of the NFL moving the ball on scripted plays, while the Texans are 31st: It would be unsurprising, then, to see the Raiders jump out to an early lead. 
• But see below how the Raiders have struggled to extend and build leads: This is a large sample size over the past 5 years of Derek Carr and Co. struggling while playing ahead.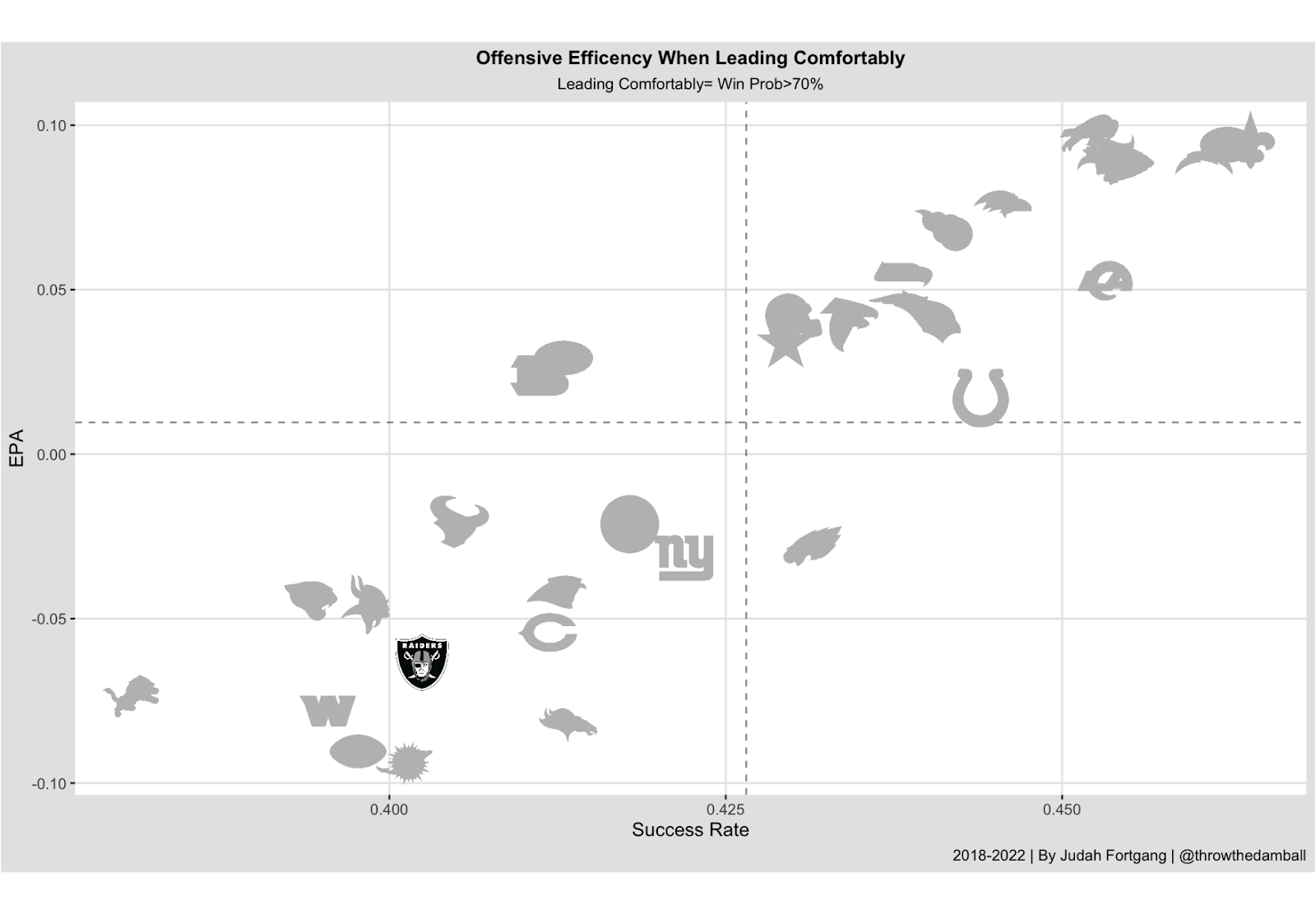 With a lead, the Raiders' efficiency plummets to the bottom of the league in EPA and Success Rate.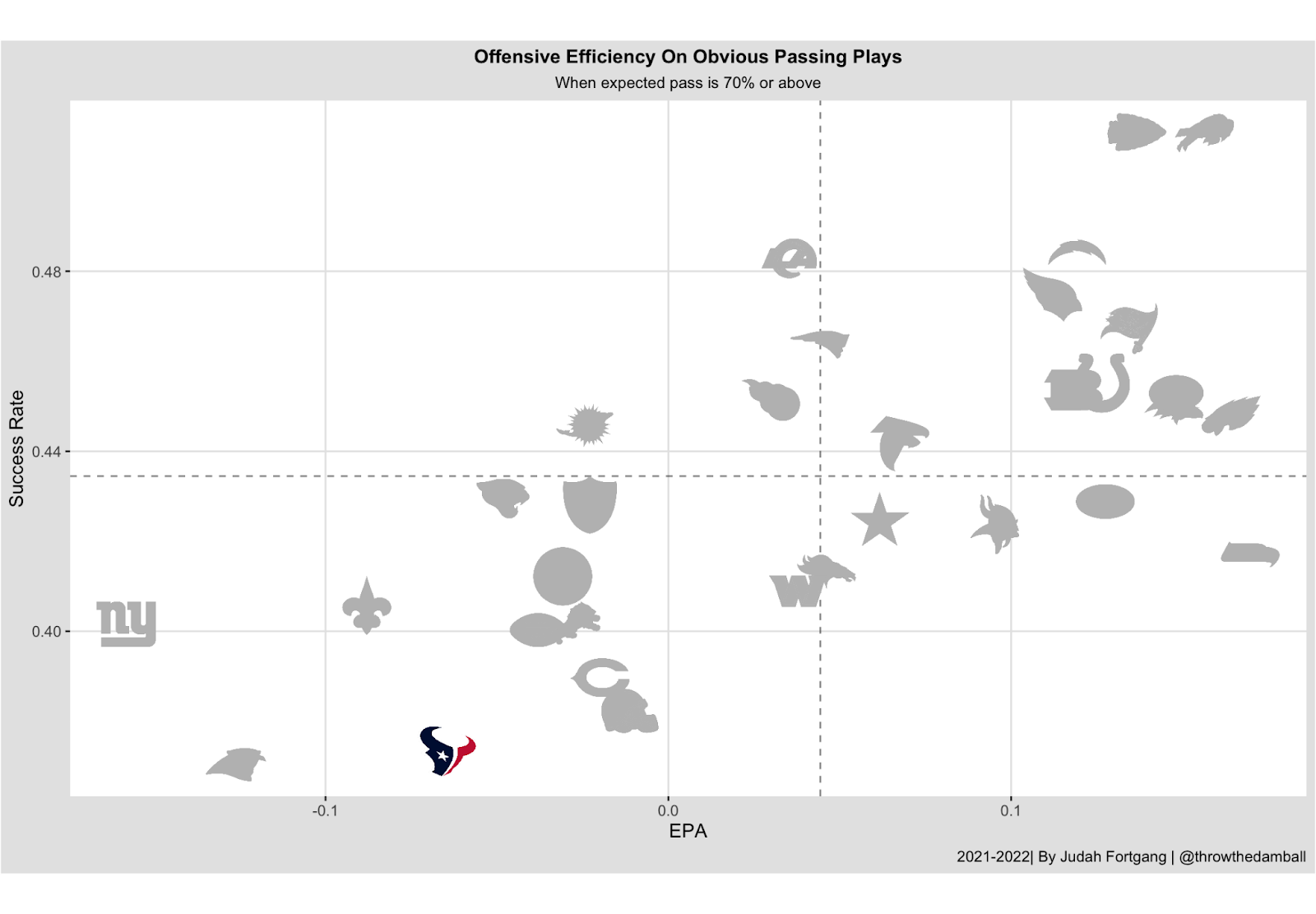 • With Davis Mills as their starter, the Texans are 31st in EPA and 29th in Success Rate when forced to pass: Unlike our strategy in Colts-Titans, this bet is a two-sided play. 
• If the Raiders go up: And the game total subsequently climbs, look to capitalize on the team angles contained in this specific game script and live bet the under. 
Live-bet gameplan: If bucs are run-heavy on early downs, bet panthers on spread and Tampa team total under. But if tom brady is firing early and often, the opposite approach is recommended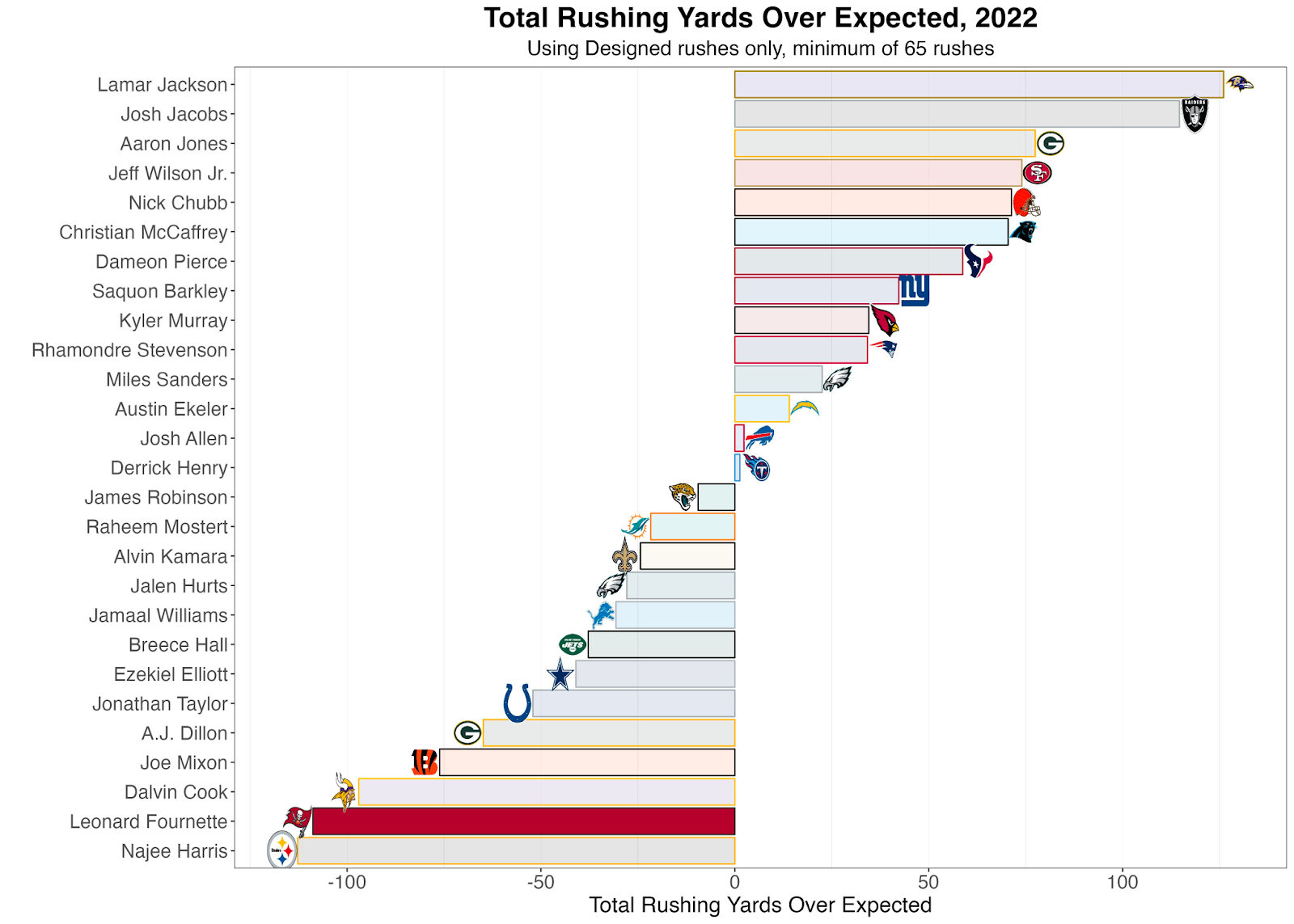 • Because of Leonard Fournette's struggles: The success of the Buccaneers' offense has largely depended on its early-down run/pass tendencies. 
• On drives when Tampa Bay runs the ball over expected on early downs: The Bucs' EPA is -0.24.
• But when throwing the ball early over expected: EPA jumps to 0.05. 
The problem from a pre-game standpoint is that these ratios have varied from week-to-week.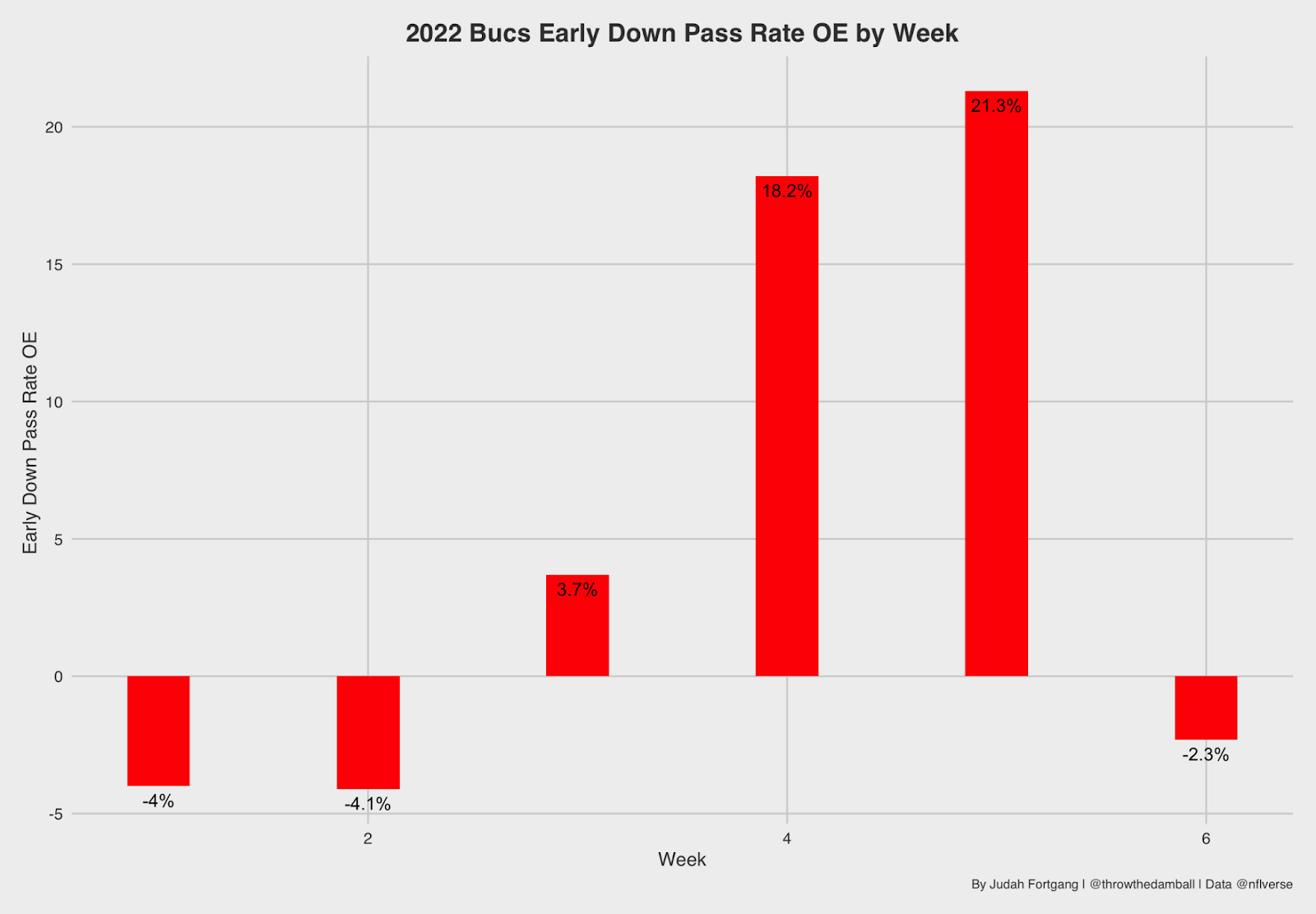 • But as live bettors, rather than guess pre-game how the Bucs will run their offense, we can react to the gameplan and adjust accordingly:
· If Tampa is running on early downs, I'd look to take the Panthers spread or bet the Bucs' under.
· If the Bucs are passing early and often on first and second downs, the opposite bets are appealing.