The New York Jets soundly defeated the Buffalo Bills 34-21 in MetLife Stadium Thursday night. They used a potent running attack and solid defense to get an early lead and maintain it throughout the game.
QB Josh McCown wasn't asked to do much through the air, and his rushing touchdown helped grab the Jets early momentum. The Jets relied upon a three-headed run game in this one, as Matt Forte, Bilal Powell, and Elijah McGuire all exceeded nine carries on the night. Combined, they rushed for 181 yards. Meanwhile, their defense harried the Bills all night, combining for seven sacks and shutting down the Bills run game.
QB Tyrod Taylor lacked efficiency in the passing game until the Bills went on a scoring tear late, and the RB LeSean McCoy could had no room to run, finding only 25 yards on 12 carries. The Bills defense looked over matched on the night, especially in run defense.
With that, we give you our PFF exclusive takeaways from the contest for each team.

Top 5 Grades:
LB Darron Lee, 86.0 overall grade
DI Steve McLendon, 84.0 overall grade
RB Bilal Powell, 83.7 overall grade
DI Muhammad Wilkerson, 83.5 overall grade
RB Matt Forte, 83.2 overall grade
Performances of Note:
RB Bilal Powell, 83.7 overall grade and RB Matt Forte, 83.2 overall grade
The Jets had a ton of success running the ball, but it largely was not due to the offensive line. Powell and Forte combined for 151 rushing yards on 23 carries, and 126 of those yards came after first contact. Five of their runs gained 10-plus yards, and they combined to force 11 missed tackles by the Buffalo defense.
Beachum had a rough outing for a second consecutive week. The Jets ran just 27 pass plays and Beachum managed to allow one hit and five pressures, although one pressure did not count due to a penalty elsewhere on the play. He also directly allowed three short tackles, including two for losses, and was called for a holding penalty in the run game.
The New York Jets defensive line was too strong for the Bills to handle, time and time again the Jets where able to at least collapse the pocket, if not outright get into the face of Tyrod Taylor. Wilkerson recorded 2 hurries, a hit and a sack against the Bills while also performing well in the run game.
Darryl Roberts had the best game of his young career against the Bills. He used his physical nature to his advantage against the Bills wide receivers, who are not a big threat to run past him. While Roberts allowed 5 catches on 9 targets, he only allowed 3 yards after the catch and knocked 2 passes down.

Top 5 Grades:
DI Kyle Williams, 86.1 overall grade
CB Leonard Johnson, 85.8 overall grade
LB Preston Brown, 84.8 overall grade
WR Zay Jones, 82.3 overall grade
Edge Ryan Davis, 81.3 overall grade
Performances of Note:
While Tyrod Taylor was not his best on Thursday night, he still was able to produce some quality throws while also getting himself into trouble. He had two sacks, a hit, and a hurry charged against him by moving out of the pocket early or not throwing the ball away.
WR Zay Jones, 82.3 overall grade
Zay Jones had an interesting game against the Jets. He left the game for a short time with what looked like was going to be a serious injury only to return in the second half. Jones has struggled to adjust to the NFL this season, however against the Jets he caught all 6 passes thrown his way. However, he still struggled to create much separation and continued to record very low yards after catch with only 2 yards after catch in this game. His season total is 15 yards after the catch on 16 catches.
Brown was one of the few players who played pretty well against the run. He had six defensive stops overall, five in run defense and one in coverage. Brown missed a tackle, but on a night where the Bills had 12 players combine for 22 missed tackles, doesn't seem quite as bad and his five run stops outweighed the one missed tackle.
Johnson played 17 snaps in pass coverage and 31 snaps overall. He was targeted twice, did not allow a catch, and broke up a pass that could have been an interception.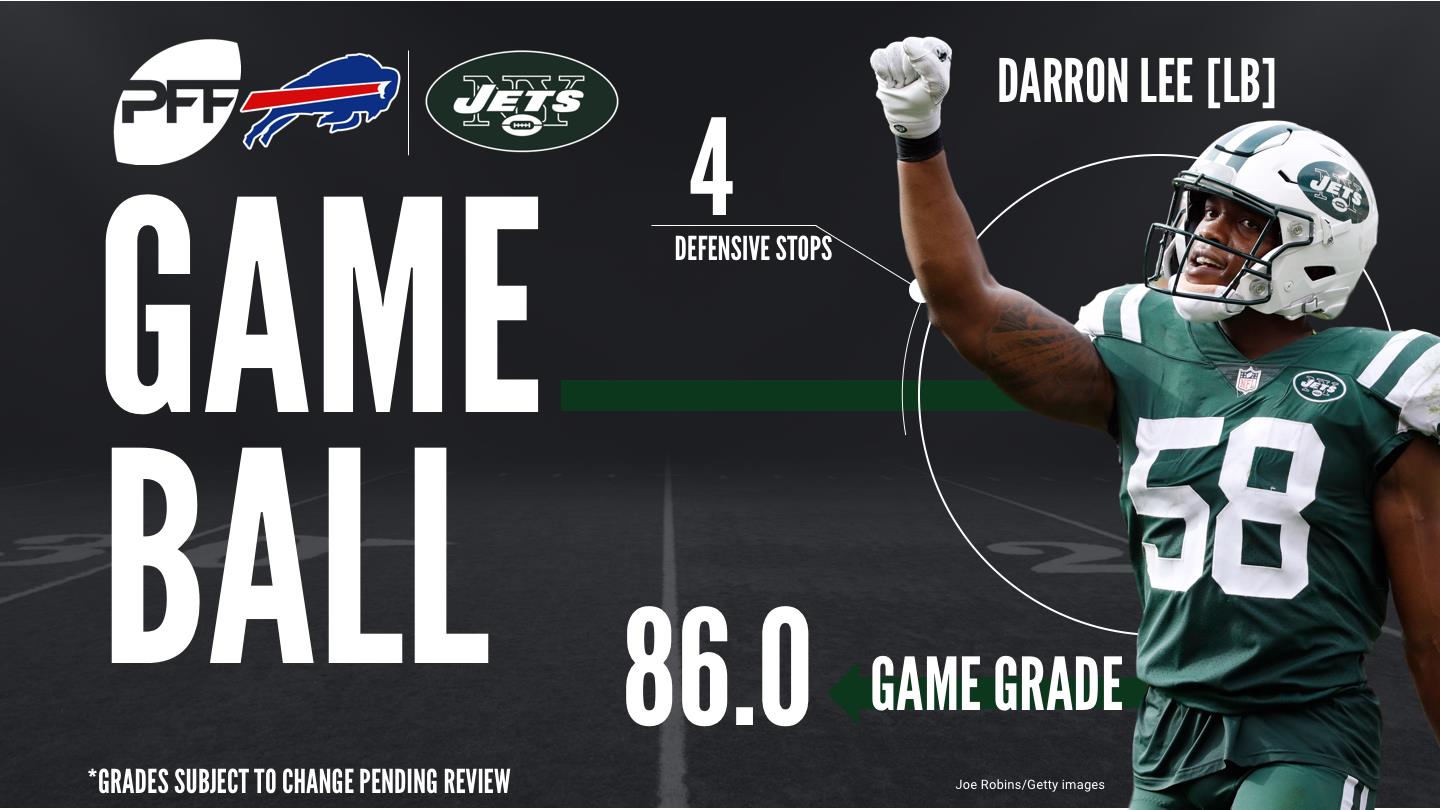 *Grades are subject to change upon review