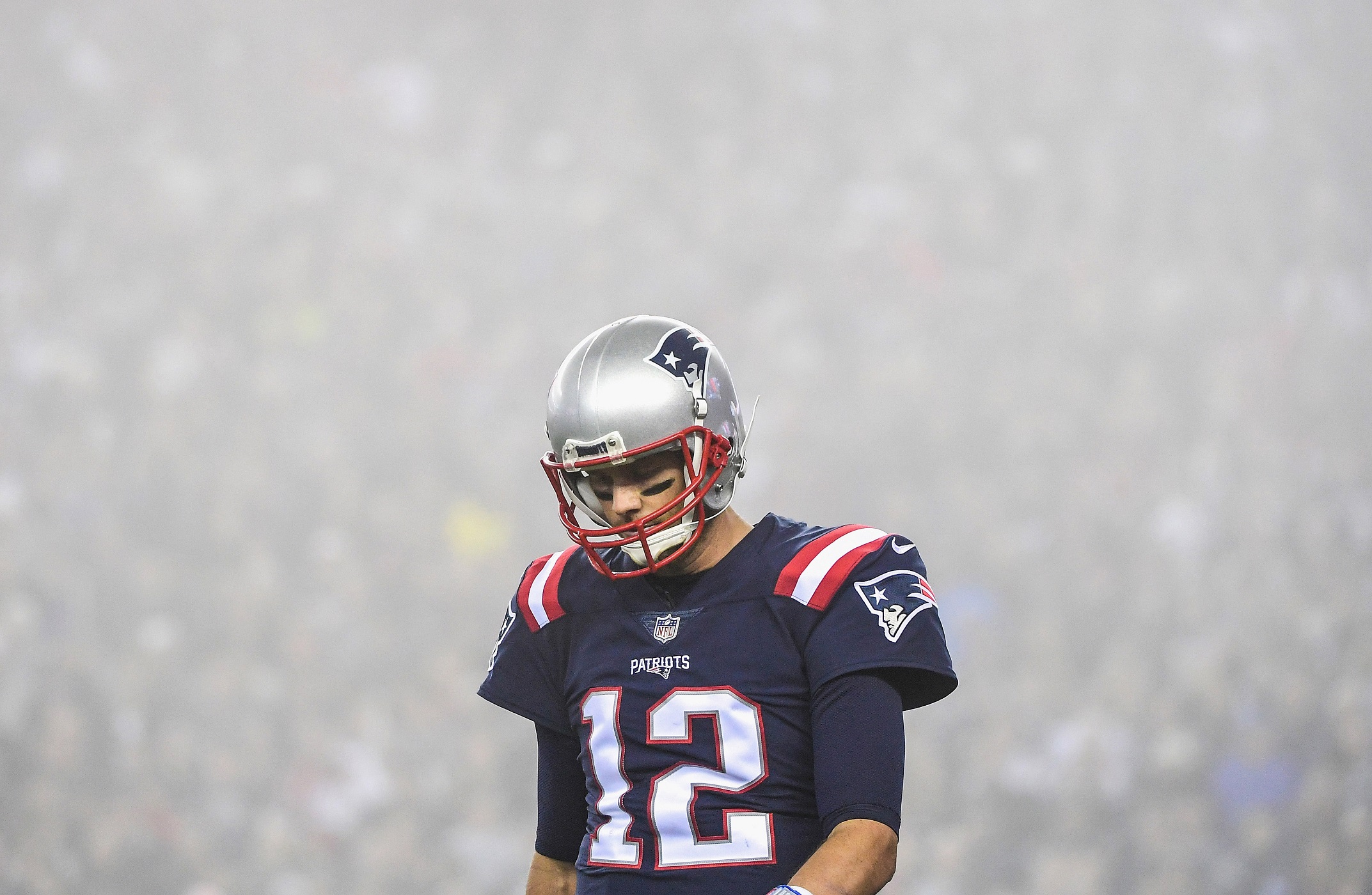 FOXBORO, MA - OCTOBER 22: Tom Brady #12 of the New England Patriots reacts during the third quarter of a game against the Atlanta Falcons at Gillette Stadium on October 22, 2017 in Foxboro, Massachusetts. (Photo by Billie Weiss/Getty Images)
The New England Patriots got an all around good performance from both their offense and their defense against the Atlanta Falcons and would take away a 23-7 victory from Gillette Stadium tonight.
QB Tom Brady was efficient, going 21-of-29 for 249 yards and two touchdowns. Their host of running backs went for 157 rushing yards as well and were instrumental in their closing out of the game.
QB Matt Ryan and the Atlanta offense were comparably out of sync, although it's not like they were performing poorly. RB Devonta Freeman and Julio Jones did their parts, going for a combined 171 total yards, but they could not put together consistent scoring drives, ultimately finding the endzone only once throughout the game.
Defensively, the Patriots relied not on any one massive performance, but on a true team effort to keep the Falcons grounded. With that, we give you our PFF exclusive takeaways from the contest for each team.

Top 5 Grades:
C David Andrews, 94.4 overall grade
T Marcus Cannon, 86.0 overall grade
QB Tom Brady, 84.1 overall grade
WR Brandin Cooks, 83.1 overall grade
CB Malcolm Butler, 82.9 overall grade
Performances of Note:
QB Tom Brady, 84.1 overall grade
Tom Brady still shows no sign of slowing down, while he didn't throw for 250 yards, Brady was on the money. Strangely enough the best and worst throws Brady made where nullified by penalties. Brady completed 72.5 percent of his passes but there where 3 dropped passes, which gave Brady a 82.8 percent adjusted completion percentage, the highest for the week so far with only Monday Night Football remaining.
While David Andrews may not be as well known of a center as his counterpart in this game Alex Mack, Andrews was dominant against the Falcons. Andrews was able to reach block both Dontari Poe and Grady Jarrett on outside zone runs and then showed his power when they ran it up the gut, as he created movement in the middle of the field.
Butler allowed five catches on six targets, but those went for only 44 yards in total. He broke up one pass and was in perfect position to break up the fade pass to Julio Jones at the end of the game, but was out-muscled by Jones for the touchdown despite playing it as well as he could.
Edge Trey Flowers, 79.5 overall grade
The Patriots didn't pressure QB Matt Ryan all that often, but Flowers was responsible for three disruptions, including one of two hits on Ryan. He led the defense with three run stops, which is the most of any 4-3 defensive end in Week 7, prior to Monday Night Football.

Top 5 Grades:
T Ryan Schraeder, 85.0 overall grade
WR Julio Jones, 82.9 overall grade
CB Robert Alford, 82.2 overall grade
S Keanu Neal, 80.9 overall grade
QB Matt Ryan, 80.4 overall grade
Performances of Note:
WR Julio Jones, 82.9 overall grade
Jones found the endzone for the first time this season, but it was late in the game with a comeback already pretty well out of reach. Jones ended up a yard shy of 100 for the night on nine catches, those catches coming against five different defenders in coverage. Jones produced a wide receiver rating of 117.1 on the night, good for fifth among receivers this week with only one game remaining.
Freeman's grade isn't all that high due to limited touches, however, he was pretty effective as a runner when given the ball. On 12 carries, Freeman gained 47 yards after first contact, and forced four missed tackles. He also added three catches, one of which picked up a first down.
S Keanu Neal, 80.9 overall grade
Kenau Neal drew a tough assignment in covering Rob Gronkowski for the majority of the game, and when he was in coverage vs Gronkowski, he only allowed one catch on four targets for 13 yards. In the run game Neal made three run stops on 35 run snaps.
Alford might be the lesser-known corner in the Falcons secondary, but against the Patriots he proved he is a very good player in his own right. He only allowed three catches on five targets for 38 yards and knocked down a pass, with the longest reception against him going for 18 yards.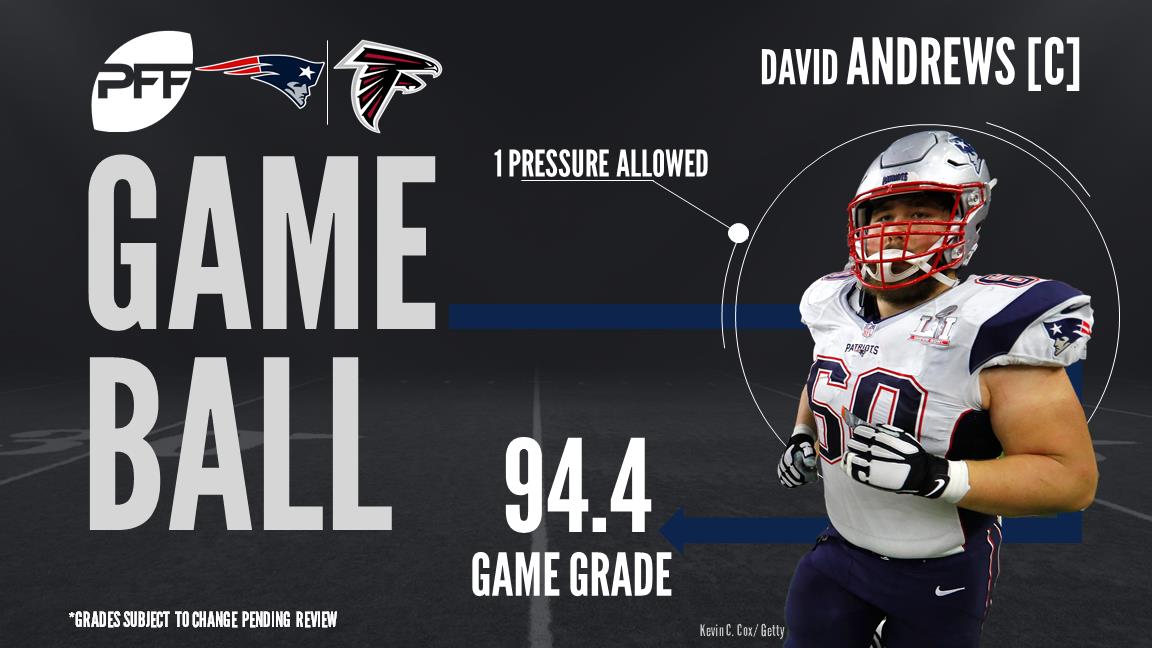 *Grades are subject to change upon review