With the threat of his six-game suspension looming, Dallas Cowboys RB Ezekiel Elliott put it all aside with his strongest showing of the year against the San Francisco 49ers, totaling three touchdowns and 219 total yards from scrimmage in the Cowboys 40-10 rout over the 49ers. Elliott scored twice in the first quarter on one-yard and 25-yard touchdown runs pacing the day for Dallas. He added a long 72-yard touchdown reception early in the third quarter and the rout was on.
Cowboys QB Dak Prescott played an efficient game, completing 16-of-25 passes for 234 yards and three scores including one future Hall of Famer in TE Jason Witten and another to WR Dez Bryant.
On the other side of the field, new starting quarterback C.J. Beathard had a rough outing after falling down 20-3 at halftime as the San Francisco offense was unable to muster much. Beathard finished the day with 235 yards through the air and was able to punch in a four-yard touchdown run late in the fourth quarter. The Cowboys lead was able to take the ball out of hand of 49ers RB Carlos Hyde who registered just 14 carries and was able to gain 68 yards on the ground.
The Cowboys out-gained the 49ers by a combined margin of 501 to 290 and with that, we give you our PFF exclusive takeaways from the contest for each team.

Top 5 Grades:
RB Ezekiel Elliott, 93.7 overall grade
TE Jason Witten, 89.8 overall grade
G Zack Martin, 89.7 overall grade
WR Dez Bryant, 85.8 overall grade
DI David Irving, 83.0 overall grade
Performances of Note:
If there were any concerns over how Ezekiel Elliott had been playing this season, they were blown to pieces this game. Only 50 of his 147 rushing yards came after contact, but he was consistently picking the right cuts and heading to space. Elliott added a 72-yard touchdown in the air the one time he was thrown the ball.
The entire Dallas offense was too much for the 49ers to deal with, and it's telling that even Jonathan Cooper was able to grade above average and perform well. Cooper didn't allow a pressure all game, and also made some significant blocks in the run game, even if he did have a bad play or two across the game.
It wasn't a perfect game for Smith on his 32 snaps, but he made the splash plays the Cowboys envisioned when they drafted him in the second round of the 2016 NFL draft. After getting lost in coverage on a dig route and missing a tackle on RB Carlos Hyde, Smith made a spectacular play against ther run, shedding LT Joe Staley's pull block to get in on a stop. He later showed his closing speed on a sack, and while it was an unblocked straight shot to the quarterback, his closing speed led to a forced fumble and a turnover for the Cowboys' defense. In a season of ups and downs in Smith's return from injury, this was a positive step back in the right direction.
Irving made his presence felt for the second straight game as he followed up last week's five-pressure outing with four against the 49ers (one sack, three hurries, one batted pass) on only 23 rushes. He also added value in the run game, forcing a fumble on RB Matt Breida while rarely being caught out of position.

Top 5 Grades:
CB Adrian Colbert, 85.2 overall grade
G Brandon Fusco, 81.6 overall grade
DI DeForest Buckner, 80.9 overall grade
WR Marquise Goodwin, 78.0 overall grade
RB Carlos Hyde, 77.7 overall grade
Performances of Note:
Hyde ran hard in the 49ers' defeat, hitting holes with authority while tying a season-high with four forced missed tackles on only 14 carries. It was a mixed bag as a receiver where he caught four passes, but also dropped two, but overall, it was one of Hyde's better games this season.
There were some expected rookie struggles from Beathard who finished 22-of-38 for 235 yards while getting sacked five times. He did a nice job working the middle of the field, finishing 10-for-15 for 144 yards in between the numbers, but he got away with a dangerous sideline pass that was nearly hauled in by CB Orlando Scandrick and two of the sacks resulted in fumbles.
Robinson was the lowest-graded player in the game, and it was largely due to penalties. He was beaten for Dez Bryant's touchdown on a double move in the end zone, but he was also flagged twice in coverage, once for pass interference and once for illegal contact, effectively giving up a big play any time the ball came near him.
If there was one player that just about held his own against a strong Cowboys front it was Buckner, who continued his strong start to the season. Buckner began the game with back-to-back batted passes, but also had a hit and a hurry and two defensive stops over 50 snaps. He was the only member of the 49ers front to at least maintain parity with the Cowboys line.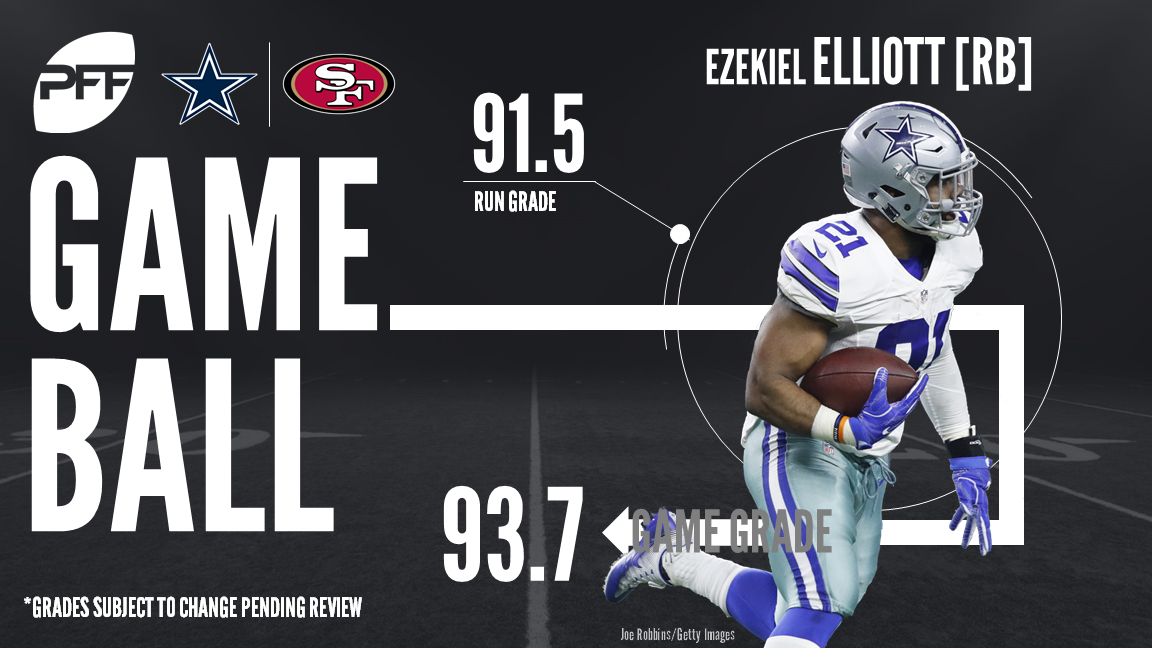 *Grades are subject to change upon review