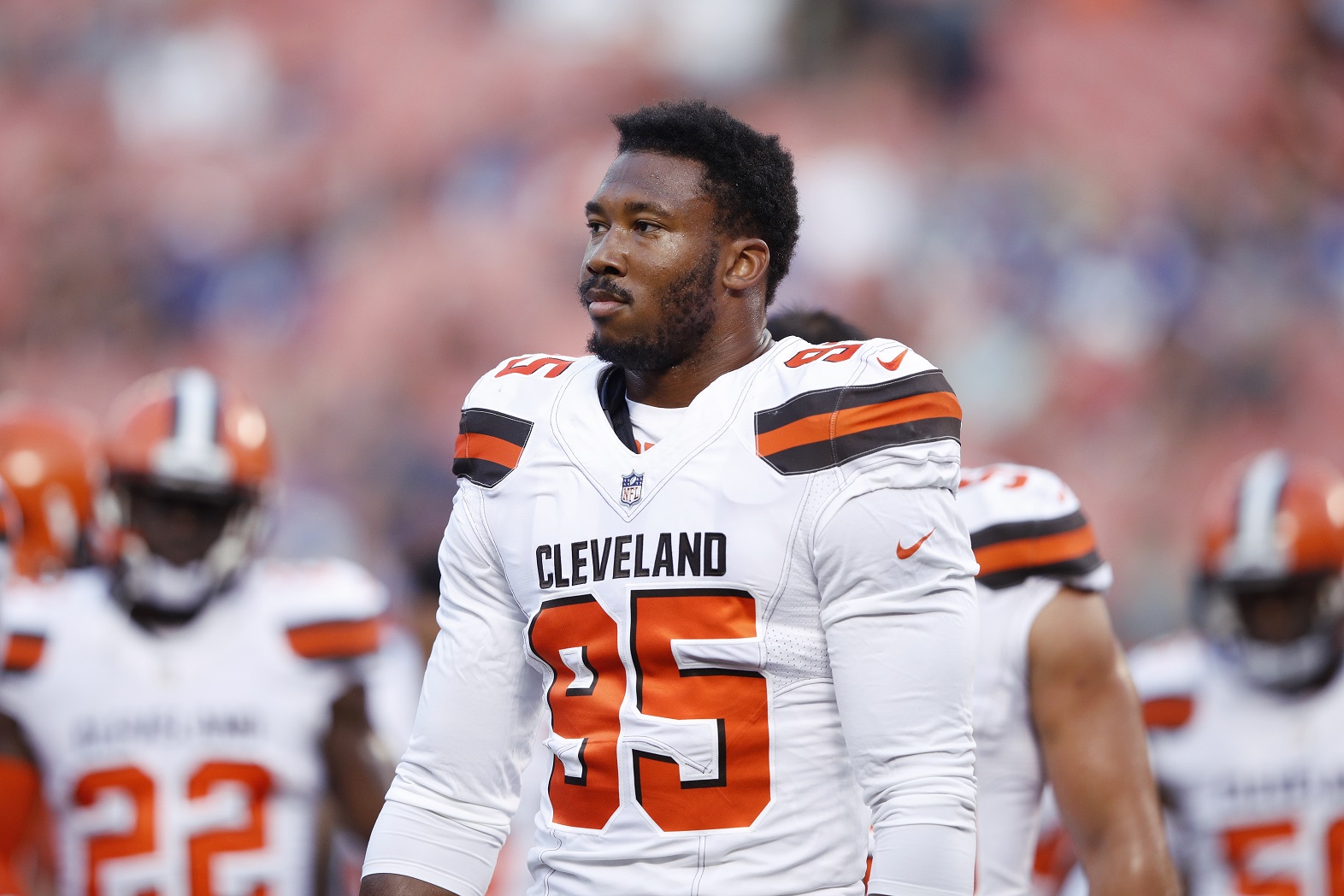 CLEVELAND, OH - AUGUST 21: Myles Garrett #95 of the Cleveland Browns looks on during a preseason game against the New York Giants at FirstEnergy Stadium on August 21, 2017 in Cleveland, Ohio. (Photo by Joe Robbins/Getty Images)
The preseason has come and gone, and the full weekend slate of NFL games is almost upon us. Each week, PFF will reviewed the performance of each of the first-round draft picks from this year's NFL draft, and with the preseason over and done, here is the final review of how each rookie performed this preseason:

This isn't breaking news, but it looks like Garrett is pretty good at football. Despite playing only 68 total snaps all preseason, Garrett earned an overall grade of 83.0, which was good for the seventh-best mark of all edge rushers. Garrett had a sack, two hits and four hurries, and looked just as capable against the run. He represents one big reason to be excited for the Browns.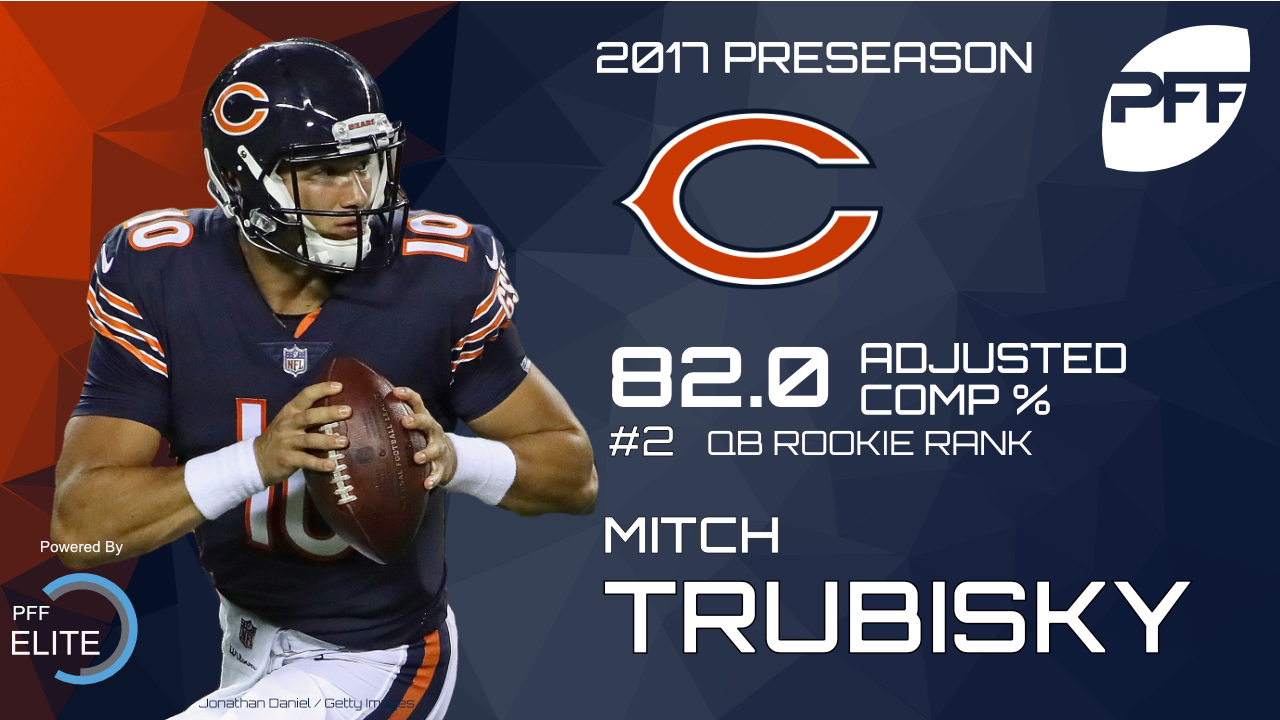 Trubisky began the preseason on fire with a fantastic debut against the Denver Broncos, but was never able to hit those heights again in three more games. Being asked to play with the third team didn't help his play at times, and with Mike Glennon struggling, he made the depth chart at the position a lot more of a close run thing.
Thomas didn't record a sack across the preseason but on 65 snaps he did record a hit and three hurries and graded well against the run, displaying the same kind of quickness off the ball and ability to penetrate that made him such an enticing prospect at Stanford. He was among the key players kept in cotton wool for the final warmup game.
Fournette saw a dozen snaps in the first preseason game but missed the rest of the games with a foot injury.
The Tennessee Titans receiver was sidelined throughout preseason but looks to get his NFL career on track in the regular season.
After a pretty heavy workload in preseason, Adams saw only 12 snaps in the final warm up game. The entire preseason showed that the Jets plan to use Adams as a true jack of all trades on that defense. Adams spent time at linebacker, safety, covering the slot and even split out as a true cornerback over the preseason.
The top pick of the Chargers has been dealing with a back injury that is set to cause him to miss the entirety of the preseason and some of his rookie year. The team is targeting an October return for him.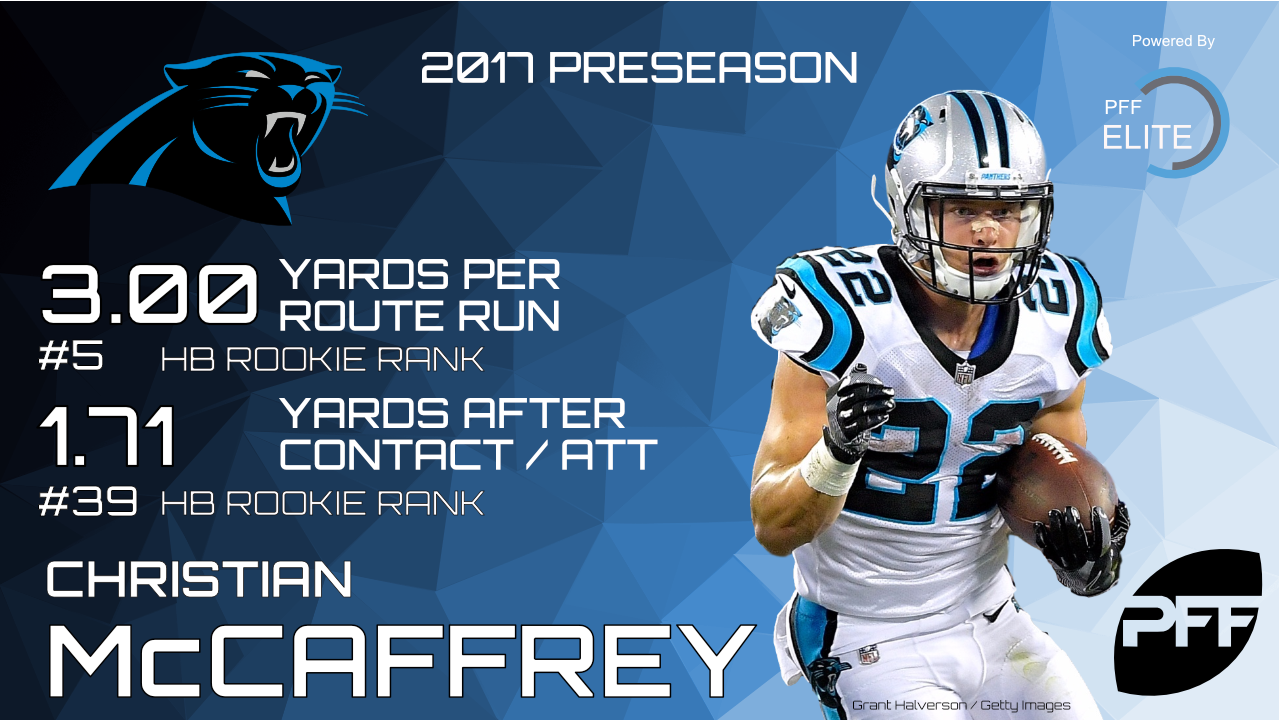 The Panthers haven't deployed McCaffrey much, or with great variety in the preseason, but the speculation remains that he will be a key focal point to their offense as a matchup weapon this season. Even in limited snaps in preseason he showcased some of that ability, gaining an impressive 3.0 yards per route run.
Ross dealt with a shoulder injury this preseason, which kept him to a relatively low number of snaps, but he did display that trademark speed on an end around when he was on the field. We will have to wait to the regular season to get a good handle on what he can bring to that offense.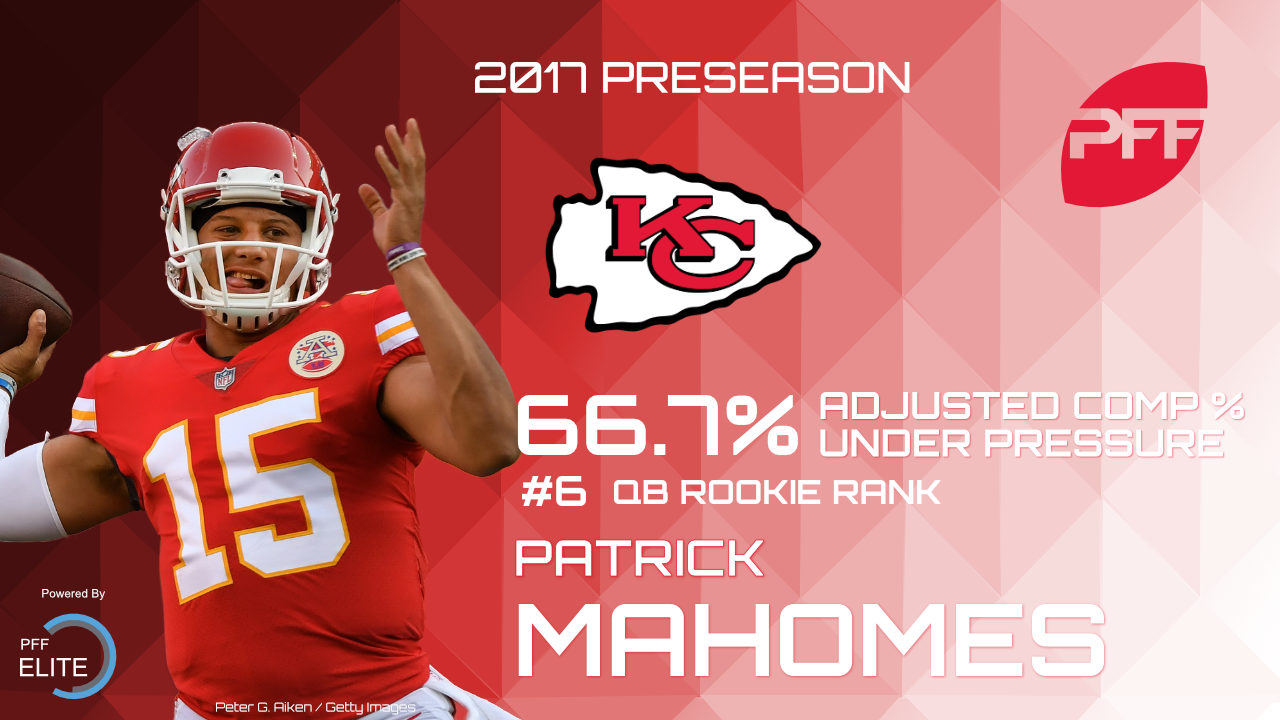 One of the stars of the preseason, Mahomes may not be pushing for the starting job in Kansas City any time soon, but he did display the kind of big-time playmaking ability that will have Chiefs fans excited about his and the team's long-term potential. His eight big time throws this preseason led all quarterbacks, and was four times the number Alex Smith achieved.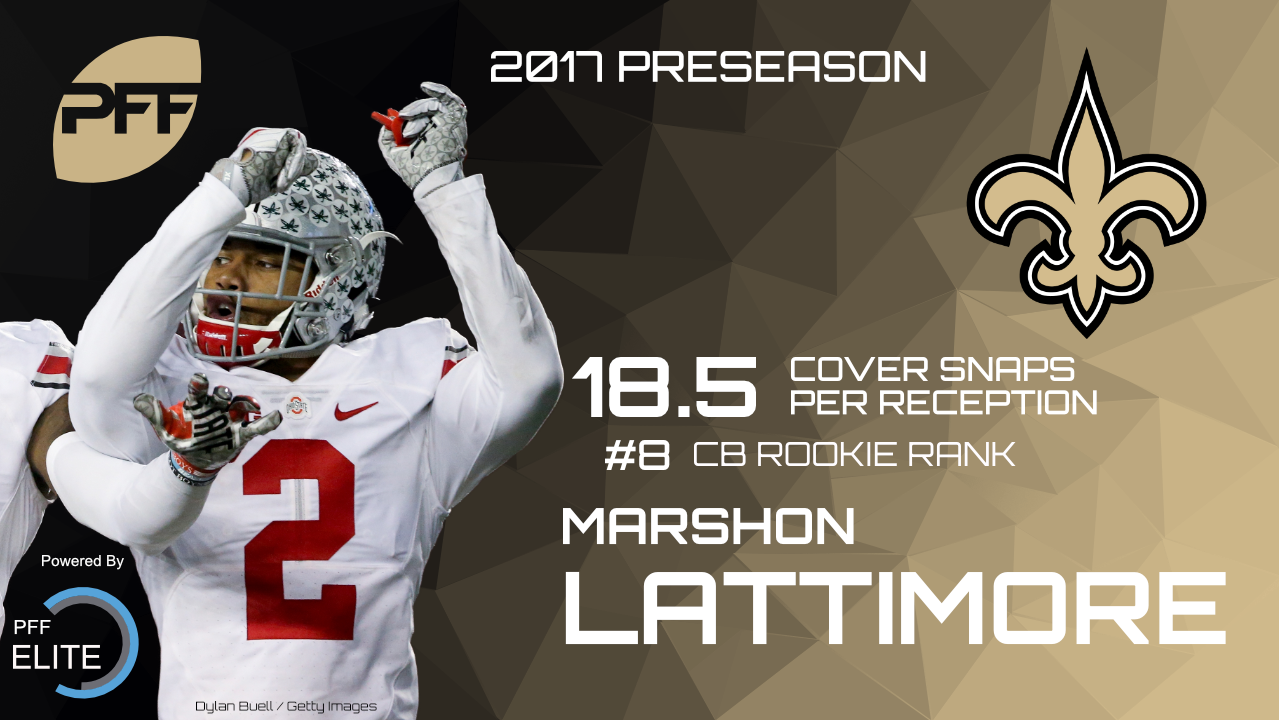 Lattimore only played 54 snaps and saw four passes come his way all preseason, but he broke up two of those passes and the two completions he allowed went for a total of just 20 yards. He should be the Saints No. 1 CB.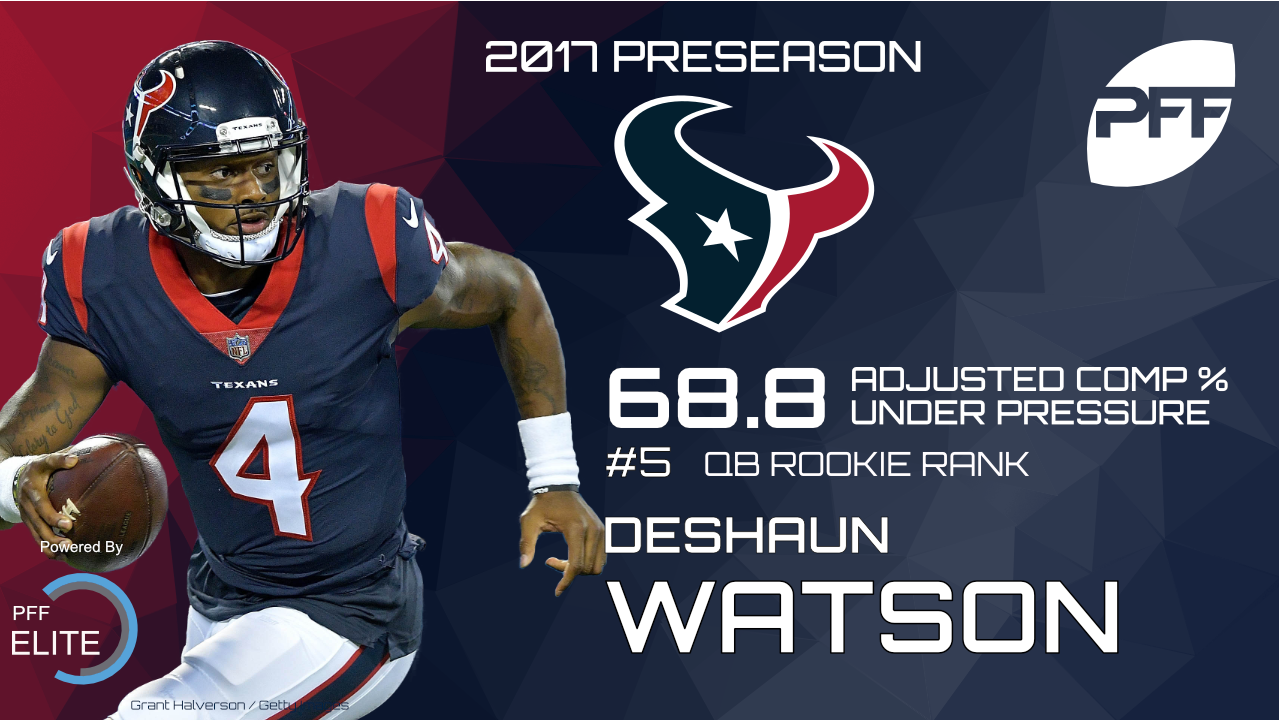 Watson flashed some playmaking ability for the Texans, but also struggled in some areas, and completed just 52.9 percent of his passes when kept clean in the pocket, failing to throw a touchdown on those plays. His numbers actually looked better when under duress, and his play wasn't good enough to unseat Tom Savage as the incumbent starter.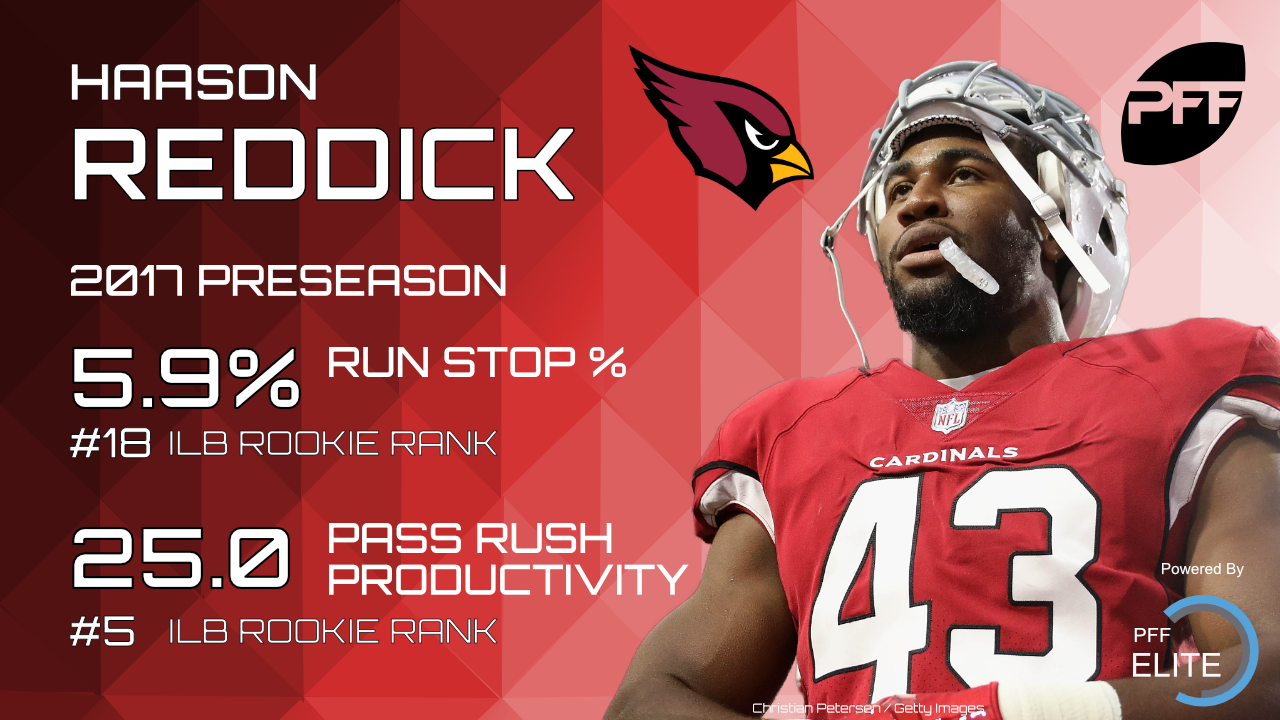 Reddick didn't have the best preseason. He missed four tackles and was kept curiously out of the passing game from a pass-rush perspective, but remains a big enough part of Arizona's plans on defense this year that he wasn't risked in the final game.
Three sacks is a good return over the preseason for Barnett, but he also notched two hits and six additional hurries, steadily working his way up the Eagles depth chart and now figures to be a healthy part of their D-line rotation in his rookie season.
Hooker never made it back onto the field after injuring his shoulder earlier in the preseason. He is expected to be a full go in the regular season.
Injury kept Humphrey sidelined for the majority of the preseason, but the team took advantage of his availability for the final game of the preseason by keeping him out there for 76 snaps, the most of anybody on defense that week. He was targeted eight times, allowing just two catches for 14 yards, while breaking up one of the incompletions.
Allen earned a PFF grade of 78.4 overall for his work this preseason, with solid marks in all phases of the game. He recorded a sack, hit hurry and three defensive stops across his 49 snaps.
Adoree' Jackson struggled a bit this preseason, surrendering a catch on 75.0 percent of the passes thrown his way for a passer rating of 104.9. He didn't intercept or break up any of the 12 passes thrown his way, but did flash ability in the return game.

Howard was only thrown the ball five times this preseason, and he caught four of them, but he was extensively used as a blocker in two-TE sets by the Bucs and looks to have the kind of power and blocking skills needed to execute the types of blocks most TEs – especially rookies – struggle with.
Though he didn't allow either a sack or a hit this preseason, Bolles had plenty of ugly pass blocking plays, and surrendered eight hurries over his games. His run blocking was significantly better, but his discipline was also an issue, surrendering four penalties.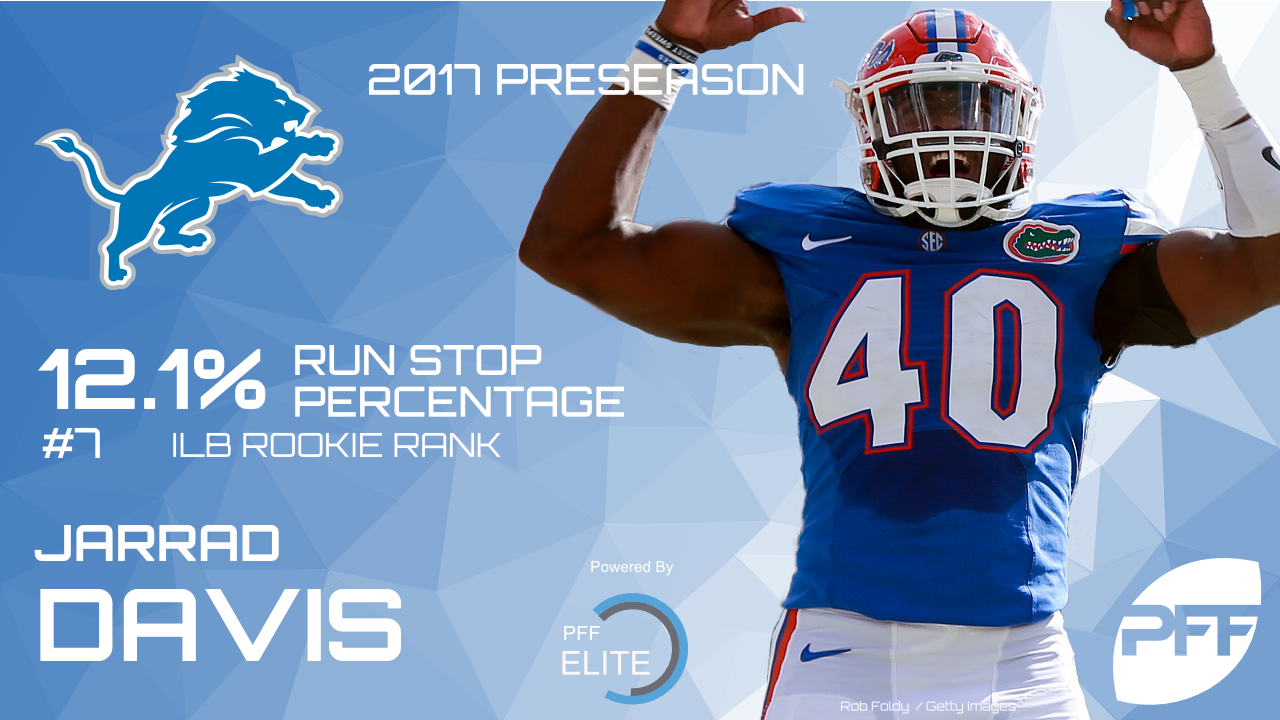 Inserted straight into the starting lineup in Detroit, Davis didn't have the best preseason of players on this list, coming out of the warmup games with an overall PFF grade of just 41.4. His coverage and run defense grades were suspect even though he didn't miss a single tackle.
Working exclusively from the right side of the Miami line this preseason, Harris spent almost all of his snaps outside as a conventional defensive end, but did have five snaps lined up inside as a defensive tackle. He didn't have a sack, but did take the quarterback down twice and have five additional hurries.
Engram was deployed as an in-line TE on 65.2 percent of his snaps, a significant reversal of his college play that saw him feature more as a big slot receiver than a real tight end. His overall grade of 76.9 was 12th among all players at the position over the preseason.

Conley never made it onto the field for the Raiders, and we will have to wait until the regular season to see him on an NFL field.
One of the surprises of preseason has been Peppers not because of how well he has played but because of how the Browns have deployed him – with 77 of his 81 snaps coming as a true free safety. Peppers has looked good as a center field player, showing good range and instincts.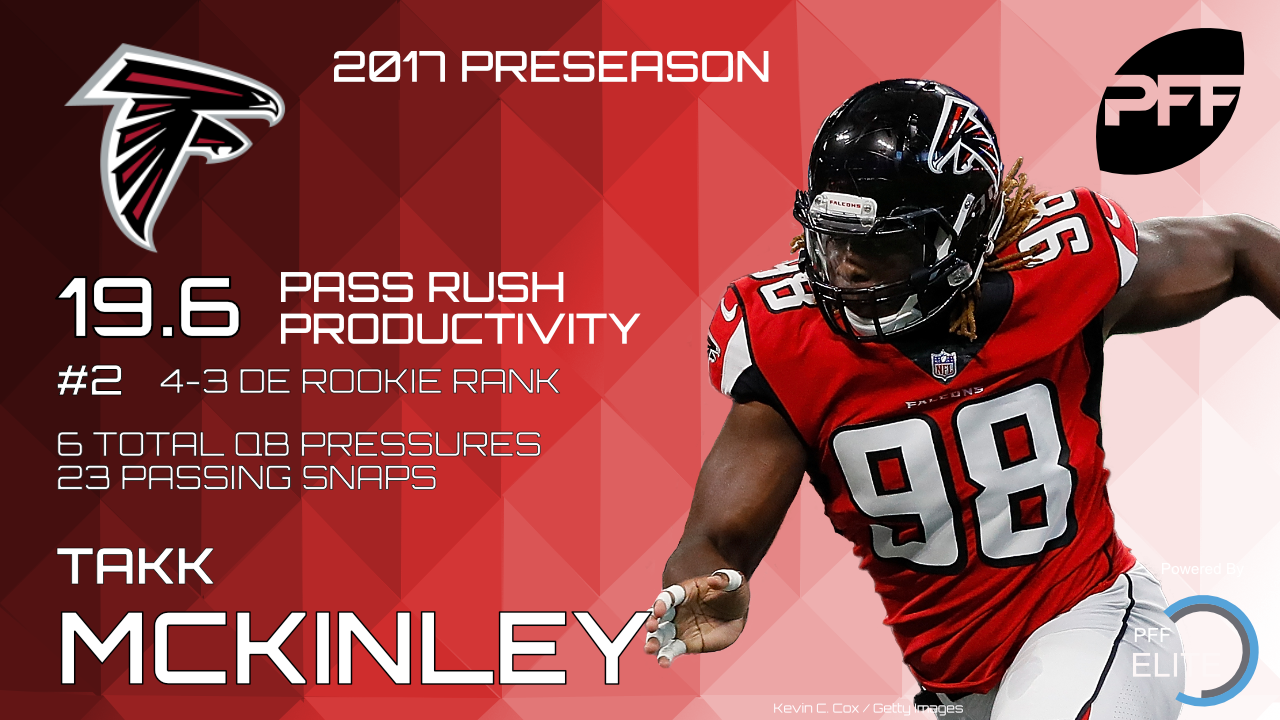 Just 35 snaps to his name, but McKinley has nevertheless made an impact when he has been on the field, with two hits, four hurries and a fumble recovery to his name. He has looked like a player that can add some pressure to that Falcons defensive front.
With the trade of Ronald Darby, White became Buffalo's No. 1 cornerback by default early in the preseason. He has spent almost his entire time at left cornerback, the more heavily targeted side typically in the NFL, but likely won't be asked to track receivers any time soon. He allowed eight catches on nine targets, but those catches went for a total of 74 yards.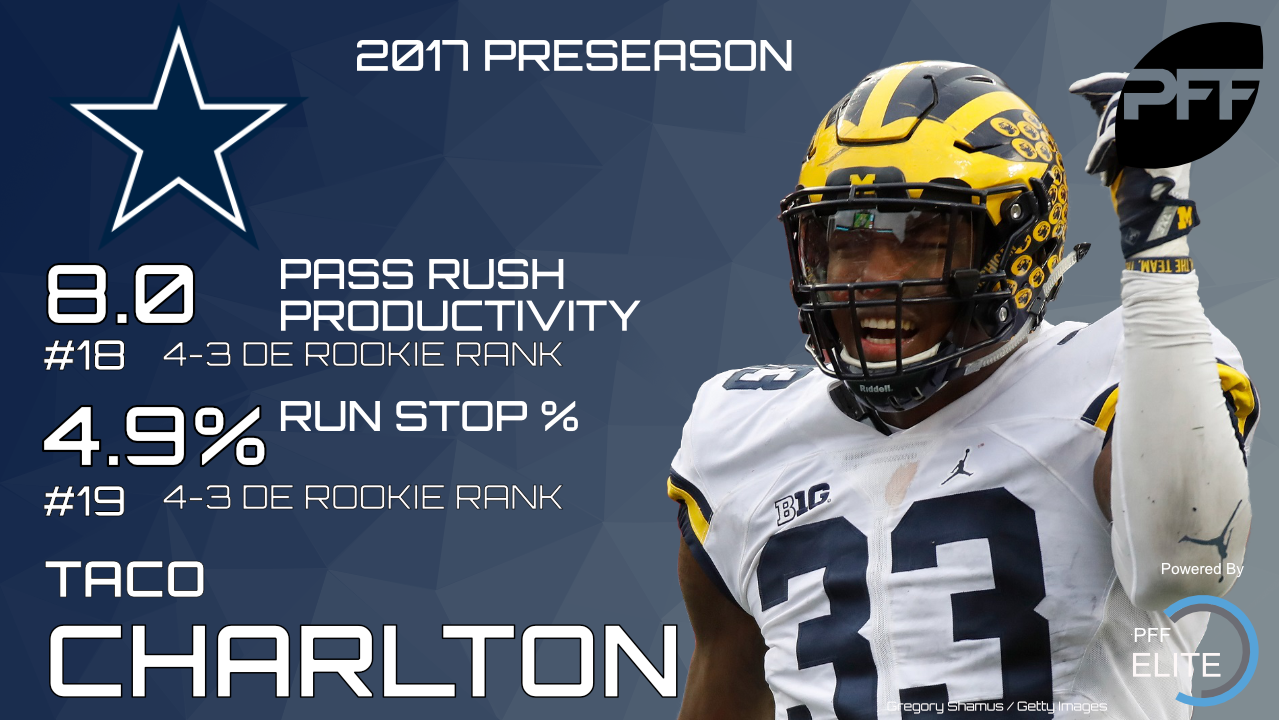 A couple of sacks flattered Charlton's preseason play a little, and with two additional hurries he totalled four overall pressures across his games, while also notching three defensive stops for the Cowboys.
The best part of Njoku's game this preseason has actually been his run blocking, but much of that has been the Browns QBs missing him when they had the chance to make a play. He has only caught four of eight targets, but dropped only one of the incompletions.
Only nine edge rushers played more snaps than the 126 Watt managed this preseason, and none of those were high draft picks. Watt recorded two sacks, a hit and four hurries over the preseason, but didn't repeat his best game, which came in his preseason debut.
Foster looks like the steal we believed him to be at No. 31 in the draft with his preseason showing. His overall PFF grade of 82.0 was seventh-best among linebackers, just three spots below the league's best linebacker, Luke Kuechly. Foster made five defensive stops and has looked like an impact player on the 49ers defense.
Ramczyk didn't get a whole load of playing time this preseason after dealing with injury, but on the 38 snaps he did play he surrendered one sack and no other pressure while run blocking well. Some of that pass blocking is flattered by two penalties he surrendered rather than pressure.