The Baltimore Ravens visit the Pittsburgh Steelers in Week 14 of the 2017 NFL season. PFF previews the top player matchups of the game.

PFFELO Ranking: 11
Coverage by: Daniel Cohen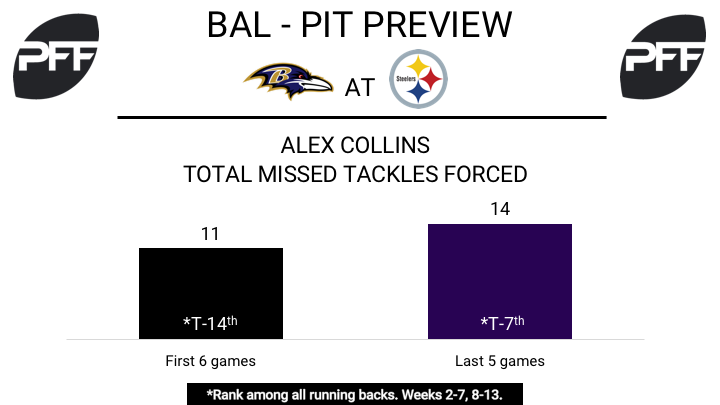 WR Mike Wallace vs. CB Artie Burns – Wallace continued his solid play in the second half of the season with 116 receiving yards last week, catching two of three passes traveling 20-plus yards downfield (deep passes). Wallace has reeled in six of 14 deep targets (42.9 percent catch rate ranks 18th) and sees a deep pass on 24.6 percent of his targets. Burns has been targeted on deep passes 17 times this season (tied for sixth-most), though he's allowed just four receptions.
C Ryan Jensen vs. DI Javon Hargrave – While Jensen has been solid in the run game this season, his weakness lies in pass blocking, while Hargrave has been effective rushing the passer. Jensen has allowed three sacks this year, tied for third-most by a center, though he is coming off his highest-graded pass-blocking game of the season. Hargrave's pass-rush grade of 77.3 is tied for 32nd of 110 interior defenders, but he has accumulated just one pressure (a lone hurry last week) over his last four games. With Jensen's recent success and Hargrave's recent struggles in the passing game, this will be an intriguing matchup to watch.

Coverage by: Mike Manning