NFL teams make their first-round selections every year in the hopes of finding an impact performer to add to their roster. Each week PFF will review the performance of each of the first-round draft picks from this year's NFL draft. Here's how the first round rookies played in Week 3 of the preseason: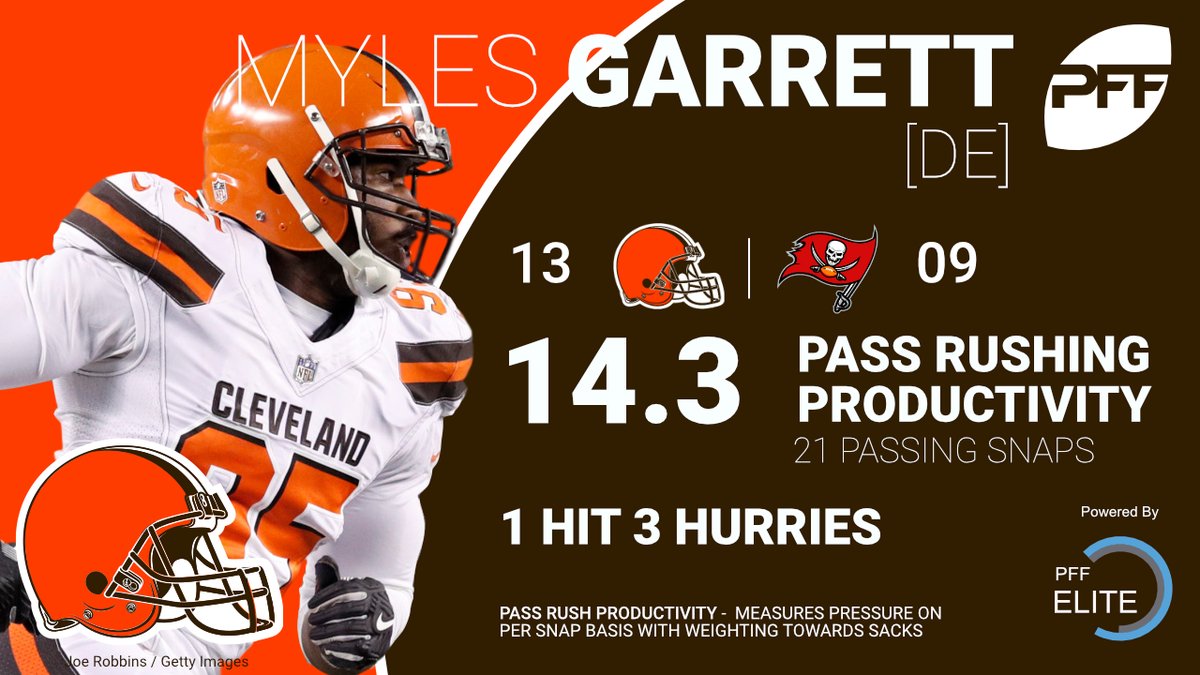 Garrett has been ramping up his playing time over the three preseason games he has played in, and only ramping up his dominance in response. He didn't record a sack against the Bucs, but did notch a hit and three hurries, and at times seemed to be beating Tampa Bay LT Donovan Smith every single time they went one-on-one. Cleveland looks to have a superstar on their hands.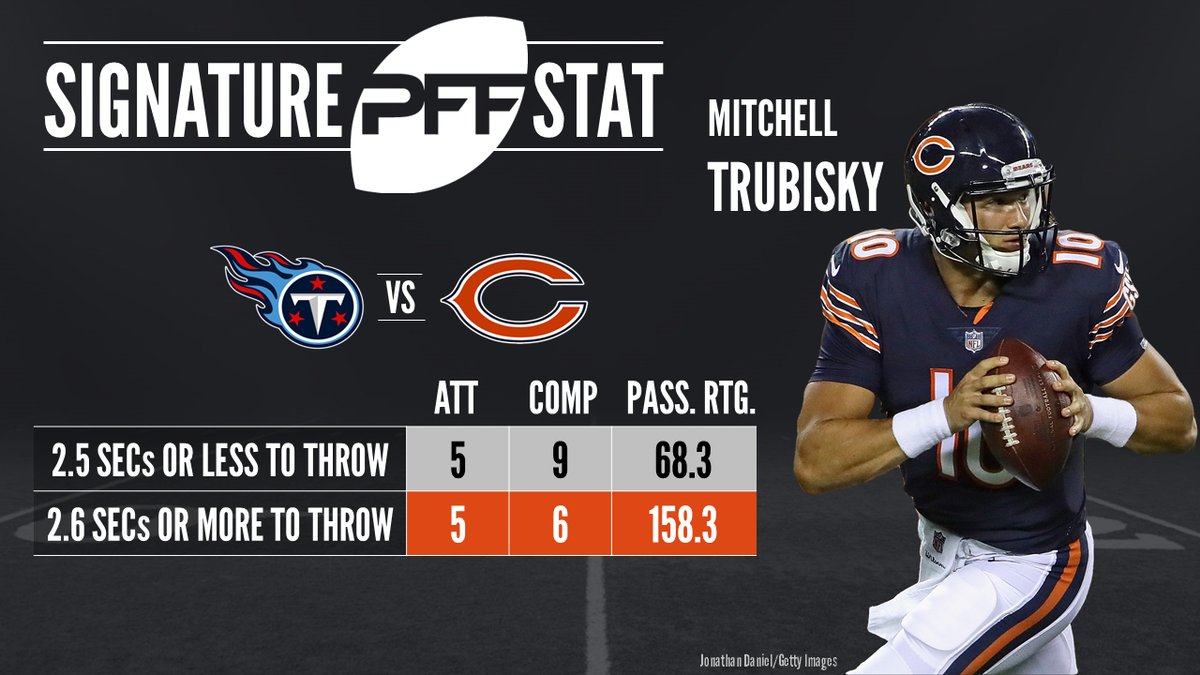 Trubisky has yet to recapture the level of his debut performance, but he was once again efficient and accurate this week against the Titans, with 81.8 percent of his passes complete when thrown from a clean pocket for 10.8 yards per attempt and a passer rating of 142.0. Trubisky also scrambled once for nine yards, and while Mike Glennon was better this week, there is still little to separate him as the starter in Chicago.
Another solid outing from the Stanford product this Sunday night against the Vikings. Thomas registered a hurry but no other pressure from his 19 pass-rushes and that was his only entry onto the stat sheet. Just three of his snaps came on non-passing plays.
Fournette continued to miss time with a foot injury that is expected to keep him out of the remainder of the preseason games. He expects to be ready to play in Week 1 of the regular season.
The Tennessee Titans receiver has been sidelined thus far in preseason with a hamstring injury, but is focused on a return in time for the preseason finale against the Chiefs.
Adams is nothing if not active in the games he plays in, and this week was another example of how he can find himself all over the field. Against the Giants this week, he played linebacker (18 snaps), strong safety (4), free safety (5), slot corner (3) and even split wide at boundary cornerback (1), where he broke up an end zone fade route to save a touchdown.
The top pick of the Chargers has been dealing with a back injury that is set to cause him to miss the entirety of the preseason and some of his rookie year. The team is targeting an October return for him.

15 snaps from Christian McCaffrey was enough to see him touch the ball eight times, with seven carries and one catch. The reception went for 12 yards and we once again saw glimpses of the playmaking ability he possesses. His deployment remains relatively vanilla, at least in preseason, with just one snap split wide as either a wide receiver or slot receiver.
Ross made his Bengals debut this week with 19 snaps in his initial preseason outing after recovering from injury. He was targeted twice in the game, against Bashaud Breeland and Kendall Fuller, but didn't make either catch. Of his 19 snaps he lined up in the slot four times, but out wide the majority of the time.
Patrick Mahomes continues to display the kind of enigmatic ability that makes him such an intriguing quarterback. He completed just 42.9 percent of his passes from a clean pocket against Seattle this week. Of his passing plays, exactly half took longer than 2.5 seconds to come out, with his numbers actually improving on those plays.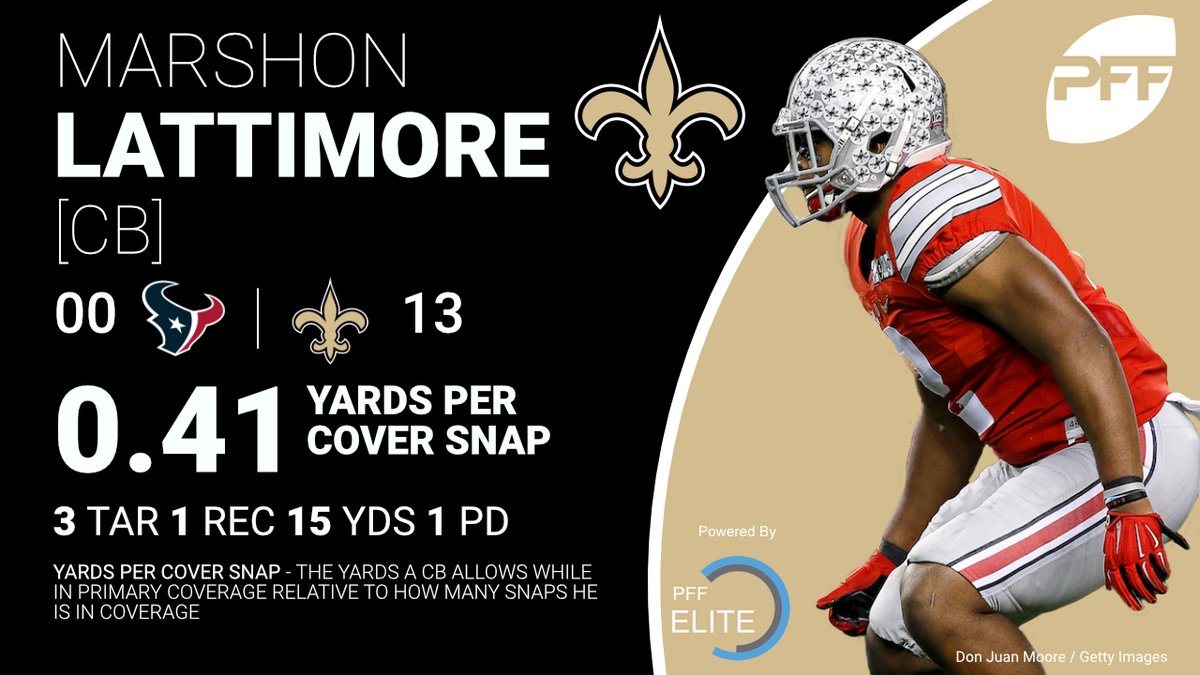 This wasn't Lattimore's debut, but it was his first real dry-run game, seeing 38 snaps against the Texans, which tied with fellow rookie Marcus Williams and second-year cornerback P.J. Williams for the team-lead. Lattimore was targeted four times, allowing two receptions for 20 yards, but he broke up the two incompletions.
The Houston Texans have handed the starting job to Tom Savage, meaning Deshaun Watson will begin the season as the backup. In part, that was Savage doing nothing this preseason to lose the job, but Watson has also looked raw enough that he didn't actively take it from him. Against the Saints, he had a passer rating of just 35.4 when under no pressure at all, and more of his passes came out in more than 2.5 seconds, than not.
Reddick had another quiet game for the Cardinals, playing 19 snaps against the Falcons and missing another tackle while registering one stop and a pair of tackles.  Reddick didn't rush the passer once – a key part of his skill set – but was deployed all over the field in various linebacker positions across the defense.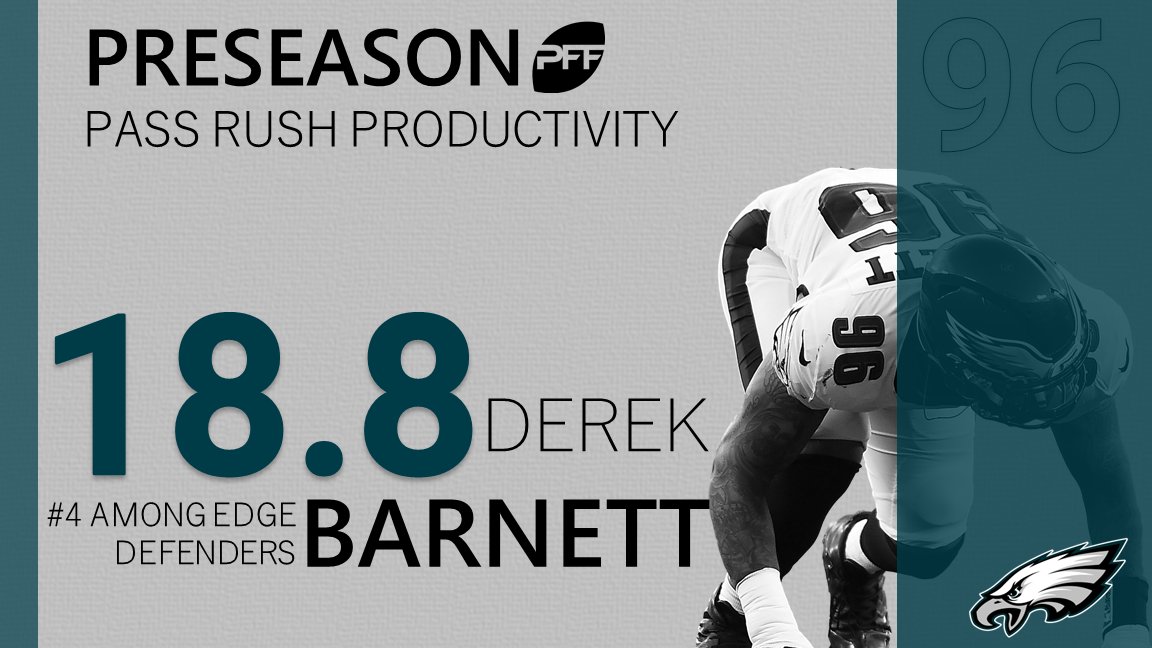 Barnett had his quietest game of the preseason as he stepped up and started for 17 snaps against the Miami Dolphins, but still notched a pair of hurries on 10 pass-rushing snaps. Barnett has been a pass-rushing force this preseason and figures to get snaps in the Philadelphia rotation this season.
Hooker's injured shoulder kept him out again this week. Neither Hooker, nor the Colts, believe it's a long-term or serious issue and he hopes to return to practice this week, but it's a potentially worrying injury for a player who has battled shoulder problems in the past.
Humphrey is currently sidelined with a 'soft tissue injury', but returned to practice and should be ready to hit the field again for the final game of the preseason.
Another player who hasn't quite recaptured the fire of his debut preseason outing, Allen has nonetheless put together a solid preseason since, and against the Bengals he played 18 snaps, almost double the previous week. He didn't register any pressure, but notched a defensive stop in the run game.
This was a pretty ugly game for the Titans first rounder, with nine targets coming Jackson's way against the Bears, and seven of them winding up in the hands of the receiver he was covering. Five different receivers beat Jackson for catches, for 97 yards and a passer rating of 111.6 when targeted.
Two passes went in the direction of Howard, and both were caught for 15 yards, but again blocking made up the majority of Howard's diet against the Browns. 14 of his 30 snaps were run blocking with another three being held in to pass protect on passing plays.
Bolles played 47 snaps against the Packers, significantly more than the rest of the Broncos starters on the offensive line. He didn't allow a sack or a hit in pass protection, but surrendered five hurries, though his run blocking was better this week – his strength as a college player.

Davis' 41 snaps at middle linebacker for the Lions led the team on defense in terms of playing time this week. Davis also led the Lions with six solo tackles and three defensive stops in the game against the Patriots, but struggled in coverage, allowing a catch every time he was targeted, including a touchdown. He ended the game with an overall PFF grade of 40.4.
Though he didn't record a sack against the Eagles, Harris did notch a hit and a hurry on the quarterback across his 16 pass-rushing snaps, and ended the game with a solid grade of 77.0 rushing exclusively from the right side. He also saw three snaps lined up inside at defensive tackle in sub packages.
Engram saw three passes thrown his way against the Jets, catching two of them for 32 yards. He came close to snagging the third, which would have been a touchdown, only for Jets rookie S Jamal Adams to throw up a punch to deflect the ball at the last second. The Giants continue to deploy Engram very much as an in-line tight end, with just four of his 24 snaps coming split as a slot or wide receiver.
Conley suffered a shin injury in minicamp that cost him all of the team's training camp, and has sidelined him for half of the team's preseason games so far. Latest reports are that he is expected to play in Week 1 of the regular season.
Peppers seems entrenched as the team's free safety, defying the pre-draft expectations that he would be used as more of a box safety or hybrid weapon as he was in college. Peppers did play two snaps closer to the line of scrimmage this week, but they were just two of 37, and the rest were all lined up as a deep lying safety.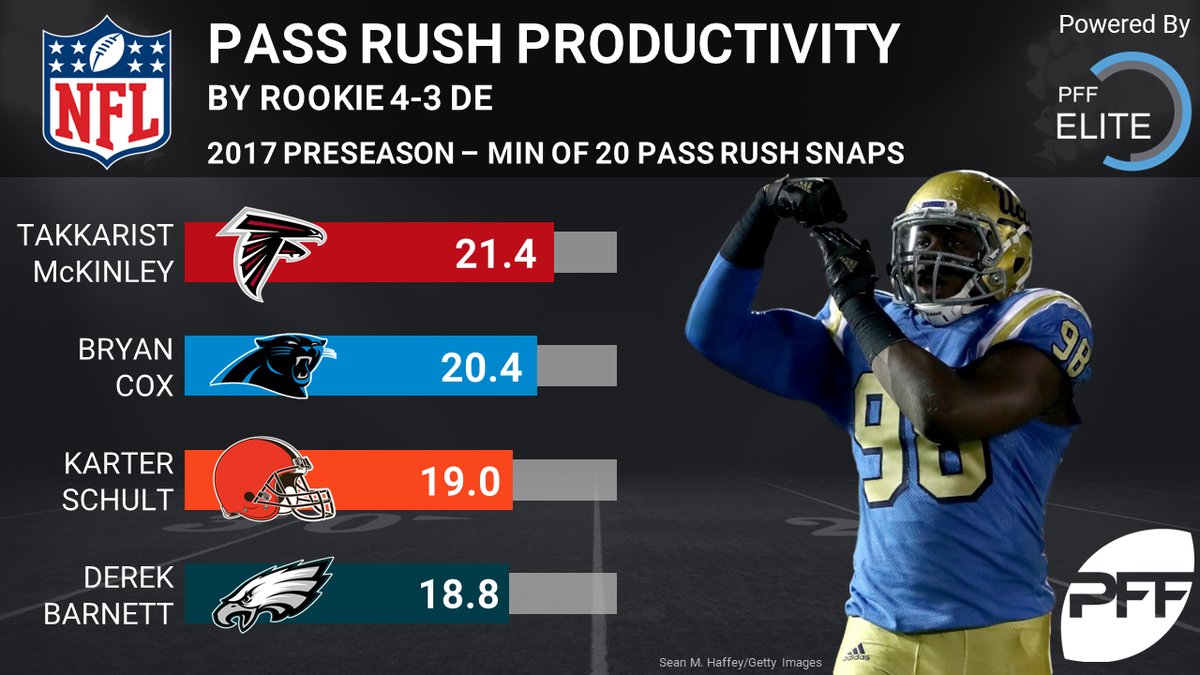 McKinley had a strong game against the Cardinals this week, scooping up a fumble, but also recording a hit and two pressures on his 14 pass-rushing snaps. Much of his work came against some suspect second-team blocking by the Cardinals, but he took advantage of the mismatch well.
For the second week in a row, White allowed a catch every time he was targeted, but again those catches didn't do too much damage, going for a total of 29 yards this week against Baltimore. One of the receptions went to WR Chris Matthews who had a six-inch height advantage and around 30 pounds of weight over White.
Though he got the sack to keep the highlight reel ticking over, Charlton actually had a far quieter game this week against the Raiders. That sack was his only pressure over a dozen pass-rushing snaps and the only evidence that he played on the stat sheet. His overall grade of 70.3 was almost exactly average.
In rainy conditions against the Tampa Bay Buccaneers things were always going to be tricky for a player working in traffic, but Njoku played 27 snaps on offense, running routes on 17 of them. He saw the ball come his way twice, and snagged one of them for 12 yards. He did not split out from the formation at all.
Working primarily against a solid veteran LT in Anthony Castonzo, T.J. Watt struggled starting for the Steelers against Indianapolis this week. He didn't generate any pressure on eight pass-rushing snaps, but was also handled in the run game, particularly by the Colts' tight ends, who were able to collapse him into the line on more than one occasion.
Foster made a nice splash play on Sunday night against the Minnesota Vikings, closing quickly on Vikings RB Dalvin Cook on a swing pass to make a quick stop. He had another strong outing for the 49ers and looks like a star performer.
Hey Reuben Foster pic.twitter.com/72K3J3o64q

— Steve Palazzolo (@PFF_Steve) August 28, 2017
Ramczyk left practice during the week with an undisclosed injury, and sat out the preseason game this week, but returned to practice Monday and is expected to be good to go.