For six months out of the year, enemy lines are blurred in the NFL.
Case in point: From September to February, the New England Patriots and Buffalo Bills are bitter divisional rivals. NFL teams will go to extreme lengths to prevent opponents from gaining even the slightest advantage, whether it's knowing the status of an injured player an hour early or which practice squad player will be elevated to the active roster in the morning on the day before a game rather than at 4 p.m. EST.
But during the offseason, all bets are off, which is why Bills wide receiver Gabe Davis and Patriots wideout Tre Nixon spent the spring and summer making each other better players.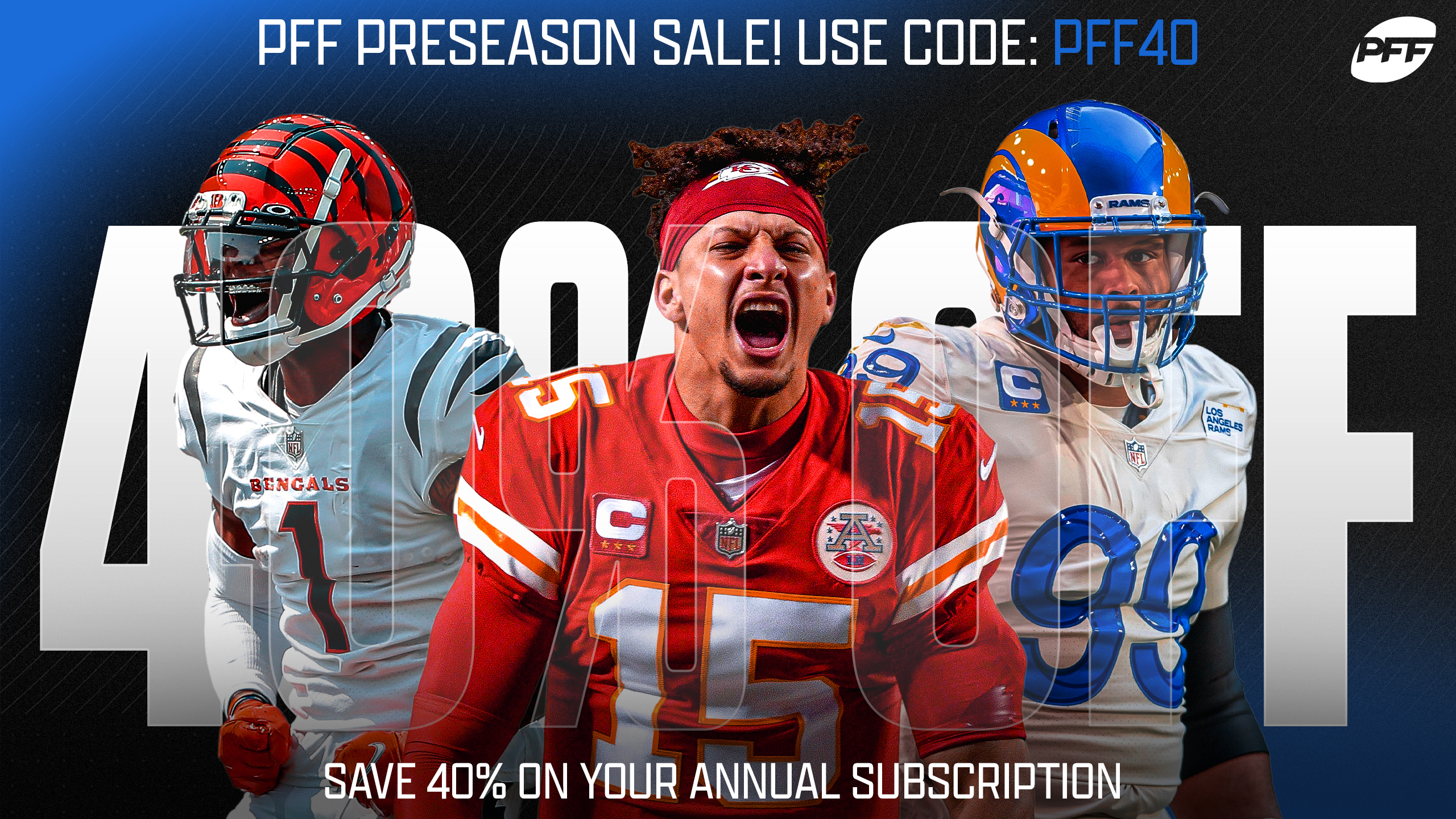 Both receivers are preparing themselves for bigger roles in 2022. Davis, a third-year pro out of UCF, was the fifth receiver option in Buffalo last season behind Stefon Diggs, Cole Beasley, Emmanuel Sanders and Dawson Knox but is vying to be quarterback Josh Allen's No. 2 target this season. Nixon, who played with Davis for two years at UCF, is entering his second season and is looking to make the Patriots' roster after spending last year on the practice squad watching New England bring in wide receivers for workouts, wondering if he was going to be the next player to get cut.
Nixon was the Patriots' biggest star of OTAs and minicamp last month. He showed an impressive connection with quarterback Mac Jones and was a big-play machine. He's been off to a slightly slower start early in training camp, though he did catch a touchdown pass from rookie quarterback Bailey Zappe on Thursday.
"This offseason, he locked in," Davis and Nixon's trainer, Bert Whigham, told PFF this month of Nixon. "And he was the winner of OTAs. That's not coincidence. It's funny to say, but that's the Gabe Davis effect. There aren't a lot of Gabes walking around this planet. If you can't be him, you better train with him."
Davis didn't take long to regroup after the 2021 season and get back to work with Whigham. He started training with Whigham a week and a half after the Bills lost in the divisional round of the playoffs to the Kansas City Chiefs. Davis caught eight passes on 10 targets for 201 yards with four touchdowns in that game but didn't want to rest. So, he traveled to Orlando to work with Whigham.
"He hasn't taken a vacation this whole offseason," Whigham said. "Training Monday through Friday, and that doesn't include the extra stuff, catching on the JUGS or working on his hands. Things that don't require your legs in the weekends."
Davis bulked up to 227 pounds with Whigham.
"He's bigger, faster, stronger," Whigham said.
"We trained Memorial Day. We trained on July 4th. The thought process was we're going to quadruple you. We'll train the fourth and the fifth while you take off the fourth and then you don't feel like training on the fifth because you were at a party the night before. We got four days on you right there. He's waited for this role. There's a reason the Bills named him the Iron Bill this offseason at OTAs and minicamp. The guy who set the tone and was the hardest worker."
Davis has already been a Bills training camp standout and has drawn praise from everyone in the organization who matters, from head coach Sean McDermott, general manager Brandon Beane and quarterback Josh Allen to wide receivers coach Chad Hall.
"I love Gabe."

"He's a stud."

"All he knows is work."

After patiently waiting the last two seasons, Gabe Davis is ready for his NEW ROLE as a BIG PIECE of the Bills offense.#BillsMafia pic.twitter.com/hKwpohaGPF

— Dan Fetes (@danfetes) July 27, 2022
"When it came to work-wise, no vacations, nothing like that. Just straight work," Davis told reporters this week. "It's a big season this year. I know how important it is to everybody in the room, and I want to be able to have those guys trust me. I have to be confident and to get my confidence up is being able to train at the best that I can and as many times as I can, being smart obviously."
Nixon, who began training with Whigham this offseason through his previous connection with Davis, similarly earned acclaim from his own head coach, Bill Belichick, for the work he put in this spring and summer.
"Tre's worked very hard," Belichick said Tuesday. "He's one of the hardest working kids we have on our team. He had a good spring, had a productive spring. … He's way ahead of where he was last year in terms of his physical strength, speed, quickness, route technique, understanding of the offense, defense, so forth. Hopefully, he'll continue to make progress as we transfer that into competitive on-field situations. He has certainly prepared himself as well as he can to do that. He'll be in a good, competitive situation."
And Nixon believes that work with Davis drove him this offseason.
"He's one of those guys that's gonna work his butt off, always trying to finish first in every conditioning (drill), every rep that we do, and he's a dog, man," Nixon said. "Training with someone like that every single day is going to bring the best out of me, as well."
And when Nixon wasn't with Davis, he was attending throwing sessions with Patriots quarterback Mac Jones. Because Nixon didn't just learn from Davis this offseason.
"I was actually reading Julian Edelman's book," Nixon said. "And I remember he said one big thing he did on his first offseason was work wherever Tom Brady was at, wherever he was needed to be available. So that was kind of instilled in me you know. Wherever Mac — even if it was Brian Hoyer, even it was Zappe. If they wanted to go throw — if it was was in Cali, Alaska, Canada — I'd often try and get my butt out there and throw."
Nixon, who primarily played outside in college but thrived this spring in the slot, also spent his first year in New England watching tape of Wes Welker and Edelman.
"He's a grinder," Jones said of Nixon last month. "In the offseason, he's there with all the guys at the throwing sessions. I don't think he missed a single one."
The two bonded last season as rookies when Jones would pick Nixon up at the team hotel and they'd take their COVID tests together before entering the facility.
"Any little thing I needed help on the playbook, how to run this route, 'what did you see on this?' He'd be that my guy that helped me there," Nixon said. "Just as a rookie class, all of us that came in were really tight."
Davis is a fantasy football favorite and locked into a massive role in one of the best offenses in football. Nixon still has an uphill battle to earn a roster spot and snaps with New England.
The Patriots don't have an especially impressive set of offensive playmakers on the roster, but what they lack in top-end talent they make up for in depth. Nixon is currently behind Jakobi Meyers, Kendrick Bourne, Nelson Agholor and DeVante Parker on the depth chart. He's competing for snaps with rookie Tyquan Thornton, veteran Ty Montgomery, Kristian Wilkerson and Lil'Jordan Humphrey.
Within the organization, the Patriots like what they saw from Nixon during the spring but feel they need to see the same production later in training camp when the pads come on. Nixon did his own bulking up this offseason. He spent last year around 181 pounds but was up to 187 pounds this summer. The team doesn't want him much heavier than that as a speedy slot option. Nixon has a plan for when the pads do come on at Patriots training camp on Monday.
"I feel like it's just the confidence you know. Just knowing that I know myself — that I've made those plays. I put in the work. I've studied. Now it's time to go out here and show my teammates and my coaches that I can do it. Earning the trust of my teammates and my coaches that they can rely on me."
Davis recently had a similar response when a kid asked him at Kenneth Gainwell's football camp how to become more self-confident.
"His answer was by understanding the work you've put in behind it," Whigham recalled.
If Nixon can turn his impressive spring into a training camp breakout and an increased role with the Patriots in 2022, then Bills fans have Davis partially to blame.
"One of my good friends is a diehard Bills fan," Whigham said. "He was like, 'Bro, you can't train Tre. He's a Patriot. You can't do this to me.' I was like, 'No, man. You can be a Tre Nixon fan and not a Patriots fan.'"