Reports suggest that the Atlanta Falcons are interested in trading star receiver Julio Jones. Leaving aside for a moment the wisdom of doing this given the team's current situation, let's look ahead to his eventual landing spot should such a trade materialize.
Subscribe to
Here are the current odds for his next team: 
49ers +250

Raiders +300

Patriots +500

Chargers +700

Titans +900

Colts +1200

Packers +1500

Ravens +1800
We'll generally ignore the financial side of how each deal would work, instead focusing on what Jones would look like within some of these rosters and evaluate the fit from a football standpoint.
The 49ers have an obvious connection to Jones given Kyle Shanahan's time coaching him as offensive coordinator in Atlanta. Jones and Shanahan were a big part of coaxing an MVP season out of Matt Ryan, and the duo came up just short of winning a Super Bowl thanks to one of the most amazing comebacks (or collapses, depending on your viewpoint) in NFL history.
Jones had his career years under Shanahan, posting his highest two PFF grades and averaging an absurd 3.1 yards per route run during the 2015 and 2016 regular seasons. Jones was even better during the Super Bowl run: Individually, he was a player that deserved to take home a championship that year, earning a 92.3 PFF game grade for the losing effort in the final game.
The 49ers have eschewed traditional Jones-style No. 1 receivers, instead targeting unusual types of receivers who excel in yards after the catch and from creative alignments. Players like Deebo Samuel and Brandon Aiyuk have teamed up with the likes of George Kittle and Kyle Jusczyck to form an incredibly potent and challenging receiving corps for defenses to match up with, but the group is still absent a traditional No. 1 receiver.
Does that indicate that Shanahan's offense has evolved past coveting that type of player, or just that they have never been in a good position to acquire one they believe has those capabilities? There is no way of knowing without the 49ers making this kind of trade. Their receiving corps is pretty stacked, but Jones offers a proven skill set that the group doesn't currently have and comes with a connection to the man in charge.
I'm not sure if it's the lure of the roulette wheel, the new nightclub with its own DJ behind the end zone or just the fountains at the Bellagio, but the Raiders have been linked with every big-name player on the trading block this offseason for some reason. 
The Raiders generally seem a little rudderless — lost at sea without any obvious direction and in a division that features the presumptive Super Bowl favorite for the next decade (Chiefs) as well as an up and coming Chargers team and a Broncos roster that would be stacked if they could ever find a quarterback. The Raiders finished 8-8 last season despite an excellent season from Derek Carr at QB and dedicated most of their offseason to spinning their wheels rebuilding the offensive line.
The Raiders need to take a giant leap somewhere, and it's going to be a struggle as long as they keep missing on their top draft picks — the five first-rounders they have selected since the 2019 draft have combined for a negative PFF WAR in the NFL. Julio Jones could provide that jump, though.
The Raiders receiving corps was heavily reliant on Darren Waller last season. Waller was an elite threat at tight end, and Nelson Agholor scored more deep touchdowns (20-plus air yards) than anyone in the league not named Tyreek Hill. But Agholor departed in free agency, and the collection of replacements (both already on the roster and newly acquired) are a collection of role players rather than dominant forces.
Jones would immediately be the team's best wideout and suddenly make this group look extremely potent. John Brown has been one of the best deep threats in the league for some time, and a combination of Brown and Ruggs running deep as complements to Jones is a lot more difficult to defend than that combination absent Julio. The Raiders' biggest issue is that they would need to make some moves to free up salary cap space to even entertain the idea.
This is the kind of move that could completely rejuvenate the Patriots, a team that already went on an unprecedented offseason spending spree to try and breathe life back into the dynasty that appears to have died with the departure of Tom Brady.
The acquisition of both Jonnu Smith and Hunter Henry — and the associated cost — means this offense is clearly pivoting in style to one that runs more two tight-end sets, but that doesn't mean there isn't space for a player like Julio Jones. In fact, that may actually increase his value within the system.
Regardless of style, every offense has a role for a No. 1 wide receiver, and a system that plays with fewer wide receivers on the field actually likely focuses the targets on the best receiver as opposed to spreading the ball around to the rest of that receiver group.
The Patriots made moves at the position already, and Nelson Agholor, Kendrick Bourne and Jakobi Meyers offer a lot as a complementary platoon to an offense relying heavily on tight ends. But a group led by Jones is a completely different proposition.
The Patriots have also made these kinds of moves before. Obviously the most successful was bringing in Randy Moss back in the day, but they have added veteran receivers regularly with differing degrees of success. Jones is the kind of move we would associate with those vintage Patriots teams, but do they still have these moves in them in this post-Brady landscape?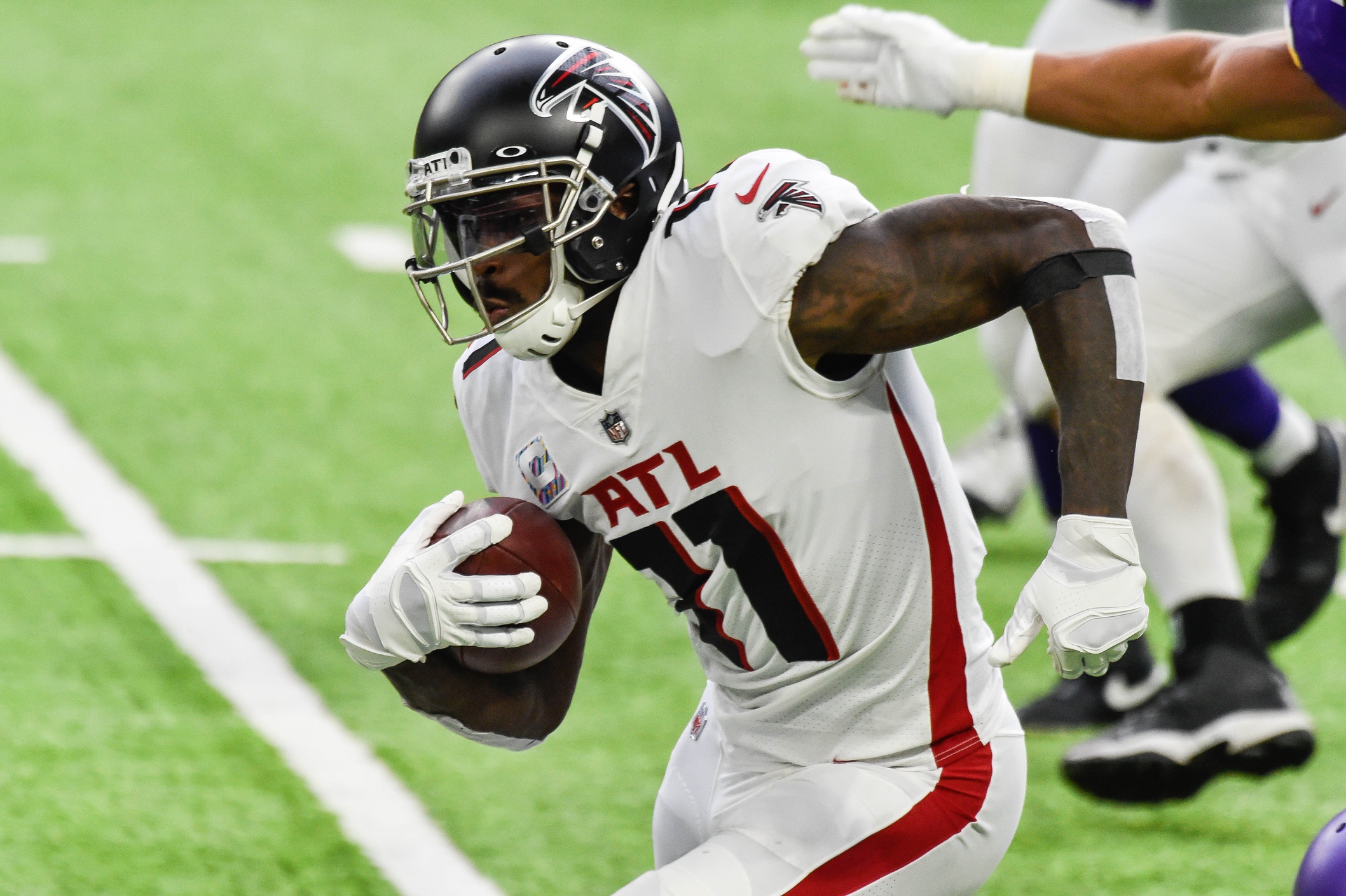 You have to be intrigued at the prospect of teaming up Justin Herbert with a receiver of Julio's caliber. The Chargers have been very busy this offseason ensuring that the offensive line protecting Herbert is on a completely different level than the one in front of him as a rookie, but their receiving corps is already pretty good.
Keenan Allen is one of the best route runners in the game. Mike Williams is a threat on the other side, albeit one who has dealt with injuries, and Tyron Johnson was a big-play machine, averaging almost 20 yards per reception and 2.44 yards per route run. 
They added Josh Palmer from Tennessee in the draft, and I think the team would be perfectly content to roll into the season with that group. But if the price for Jones becomes too enticing to turn down? Maybe they would bite.
The Titans have a much bigger need than some teams on this list. They lost both Jonnu Smith and Corey Davis this offseason, and while both players were secondary threats in the offense, their departures place the burden ever more on the shoulders of Derrick Henry and A.J. Brown.
Julio would give Tennessee another elite playmaker that exponentially increases how hard they are to stop. The Titans relied on Davis a lot last season, and his ability to win when presented with the opportunity one-on-one was vital to the team's success, even if he isn't one of the best receivers in the game.
Right now, that role is being occupied by the likes of Josh Reynolds — a major step down. Tennessee has virtually no cap space to play with, so they would be up against it trying to free up the room to make this trade happen, but they could certainly use the player.
This would be the latest in a long line of moves I think the Colts should have made (but typically haven't) since they pushed all their chips into the center of the table on the strength of Carson Wentz.
The Colts haven't guaranteed high-end play at left tackle or strengthened the wide receiver room for Wentz, two areas where he needs help more than most quarterbacks. 
The Colts brought back T.Y. Hilton, but he is multiple years removed from his best play and at his age may never get back to that level. Michael Pittman Jr. was solid as a rookie, but we have yet to see him prove he can be an elite playmaker on the outside. Parris Campbell is a former first-round pick but has been limited to just 259 career snaps and 1.25 yards per route run, a pretty dismal figure.
There's certainly a way this group comes together and plays well for Wentz, but it's far from a sure thing. Jones would give them an immediate elite receiver and allow the rest of the group to find its feet as complementary weapons, magnifying their impact.
The Colts have thus far avoided the splash move after trading for Wentz, electing to be patient and understated at left tackle and wideout, but they are now approaching the season with a potential weakness on paper that could really impact the chance of success for the quarterback they just committed to in a major way. Not making a move like this could be costly.
The Rest
I don't really see Green Bay making this kind of move given their drama right now, and while Baltimore would have been a popular destination pre-draft, I think their selections of Rashod Bateman in the first round and Tylan Wallace later on take them out of the running.
The Jaguars and Jets are two teams with new rookie quarterbacks, cap space on hand and receiving corps that are heading in the right direction but would certainly be positively impacted by the arrival of a player like Jones. Maybe one of those teams would prefer a guarantee at the position given the importance of the quarterbacks they just drafted.