The playing field isn't always level, even in the NFL. The upstart Miami Dolphins finished the 2020 season 10-6 only to miss out on the postseason, while the 7-9 Washington Football Team hosted a playoff game against the 11-5 Tampa Bay Buccaneers. Some teams had a tougher path to walk, and that will be the case again in 2021. Much of that comes down to divisional strength.
Using PFF's season simulations and power rankings, we are able to compare each division and preview which division titles will be the toughest to come by in 2021. The list starts with the same division that led the way last season. 

---
Click here for more PFF tools:
Fantasy Draft Kit  | PFF Betting Dashboard | PFF Fantasy Rankings
PFF Fantasy projections | NFL Premium Stats | Win totals tracker
---
1. NFC WEST
Average projected win total: 9.0 (3rd)
Average PFF power rank: 9.8 (1st) 
All four teams in the division rank inside the top half of PFF's preseason power rankings. There aren't any "free" wins to go around.  
The sentiment toward the Los Angeles Rams' offseason has largely been that they improved, centered around what Matthew Stafford can provide as an improviser and downfield passer that Jared Goff couldn't. The question now becomes whether that expected step forward on offense is enough to overcome potential defensive regression after losing defensive coordinator Brandon Staley and safety John Johnson III, among others, in the offseason.
Despite a significant trade of their own, the San Francisco 49ers don't boast the same sense of assuredness at QB that Los Angeles spent two first-round picks to find.
Neither Jimmy Garoppolo nor rookie Trey Lance have inspired confidence with their preseason performances, earning PFF grades of 50.5 and 50.3, respectively. Potential shaky quarterback play and the departure of defensive coordinator Robert Saleh give reason for pause, even with Nick Bosa and George Kittle returning healthy. The easiest strength of schedule in the league is working in their favor, at least. 
It is the Seattle Seahawks — not the Rams or 49ers — who have the best chance of winning the division according to PFF's simulations, despite ranking third in the betting markets. A quarterback of Russell Wilson's caliber, who is looking to get back to his early 2020 form under new offensive coordinator Shane Waldron, can erase plenty of holes. Seattle's secondary is one of those potential issues, but there is also reason to believe that a well-paid and healthy Jamal Adams bounces back in 2021.  
The Arizona Cardinals draw the unfortunate designation of the worst team on paper in the NFL's best division. Despite the excitement that Kyler Murray brings as an individual talent, the offense has stagnated under Kliff Kingsbury. This is a make-or-break year for several members of the organization after an offseason in which Arizona brought in veterans such as J.J. Watt and A.J. Green in an attempt to get over the hump. 
2. AFC NORTH
Average projected win total: 8.8 (4th)
Average PFF power rank: 12.8 (2nd) 
Lamar Jackson and Baker Mayfield are two of the more interesting players in this division and in the league entering the 2021 season. Jackson has reached a higher peak, with a 90.1 PFF grade and MVP trophy in 2019, but both have seen their level of play fluctuate early in their NFL careers. And both are looking for massive contract extensions heading into the fourth year of their rookie deals.
The Cleveland Browns have put Mayfield in a position to succeed with the league's top offensive line, top running back room and Kevin Stefanski calling the shots. The Baltimore Ravens, meanwhile, made a concerted effort to improve Jackson's supporting cast with the additions of Rashod Bateman, Sammy Watkins and Tylan Wallace at wide receiver this offseason. The performance of these two quarterbacks and offenses will likely play a major role in which team comes out on top of this division.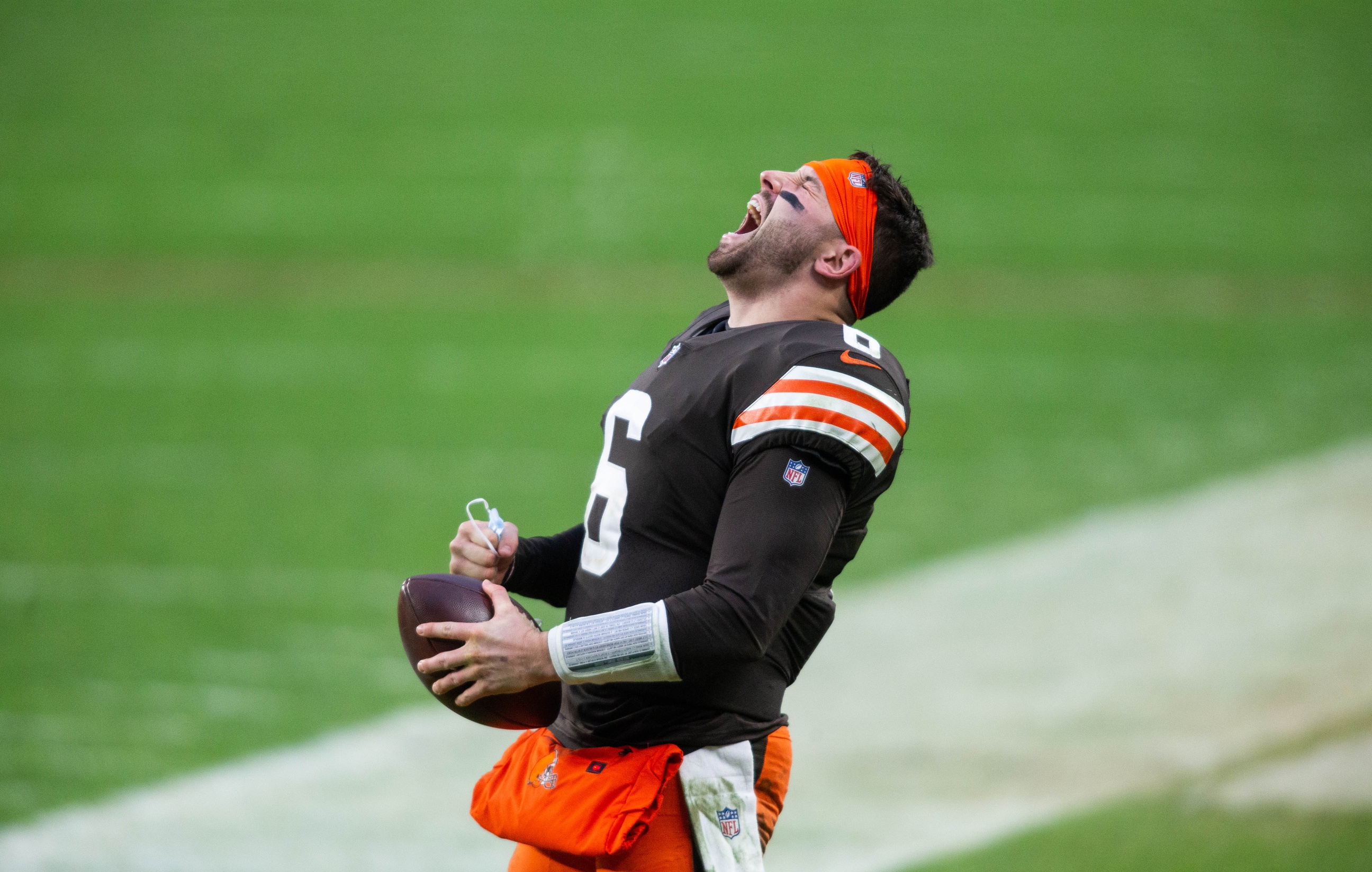 Then there's the Pittsburgh Steelers — the reigning AFC North champions and now an afterthought in the division given the way they finished last season. The offensive line has undergone wholesale changes. Second-year left guard Kevin Dotson has only played 165 snaps at his position, and that's the most among any player on the Steelers' line. Ben Roethlisberger ranked just 24th among quarterbacks in PFF grade last year, and one of the league's best defenses lost several starters in the secondary (Steven Nelson and Mike Hilton). 
However, Pittsburgh does still have a strong case for the league's best pass rush, and there is talent at the skill positions on offense for first-year offensive coordinator Matt Canada to work with. We shouldn't be shocked if the team that has never had a losing record under Mike Tomlin manages to have success again in 2021.  
Nor is it out of the realm of possibility for the Cincinnati Bengals to make a playoff push. This is supposed to be the year Cincinnati trends in that direction with a young offensive core and a defense that has been rebuilt in free agency the past few offseasons. But that push could be postponed one more year if Joe Burrow doesn't come back at 100% from his knee injury, operating behind an offensive line that still has legitimate concerns.
Subscribe to PFF Edge to continue reading
Already have a subscription? Sign In