Quarterback Drew Brees sat out the second half as the New Orleans Saints' starting quarterback after sustaining a rib injury on a sack in the second quarter. The injury may mar a dominant Saints defensive performance in a 27-13 victory over the San Francisco 49ers in Week 10.
After a 10-point first quarter by the 49ers, New Orleans' defense clamped down and allowed only a late field goal after the game was mostly over. The Saints scored 27 straight points before the 49ers added the meaningless kick.
Editor's note: All of PFF's grades and advanced stats from this game will be finalized and made available to ELITE subscribers within 24 hours of the final whistle.
Brees looked just mediocre during the first half, uncharacteristically missing a few passes. He completed eight balls on 14 dropbacks and took the aforementioned sack. Some 88% of his 76 passing yards came after the catch. Jameis Winston came on in the second half to replace Brees and didn't fare much better. He started 5-for-5 but then missed Michael Thomas badly a couple of times before throwing a pass directly to a Bucs defender — who promptly dropped it.
Speaking of Michael Thomas, he caught two of the seven targets thrown his way. Alvin Kamara continued to be the engine for the Saints with seven catches for 83 yards — 74 of which came after the catch. He gained only 15 yards on his eight rushes but made five defenders miss with the ball in his hands.
The Saints attacked 49ers linebacker Dre Greenlaw the whole game, as their trio of quarterbacks — Brees, Winston and Taysom Hill — targeted him seven times and gained 87 yards on six catches.
After the 10-point first quarter that saw the 49ers convert four third downs, the offense dried up. Quarterback Nick Mullens passed for only 164 yards and had two interceptions on 28 attempts. For the whole game, he threw short of the line to gain on 58% of his throws.
With a depleted 49ers receiving corps, this was too much of a burden on them. The Saints' defense was lights out for nearly the whole game, racking up nine tackles for loss or no gain. And the unit had four on first down alone. This put the 49ers' offense behind the eight-ball time and time again.
There were a lot of standouts on defense, but Chauncey Gardner-Johnson might have had his best day as a pro. He had three tackles, two assists, four total quarterback pressures, a sack and a tackle for loss. He also forced an incompletion on one of the six times he was targeted in coverage.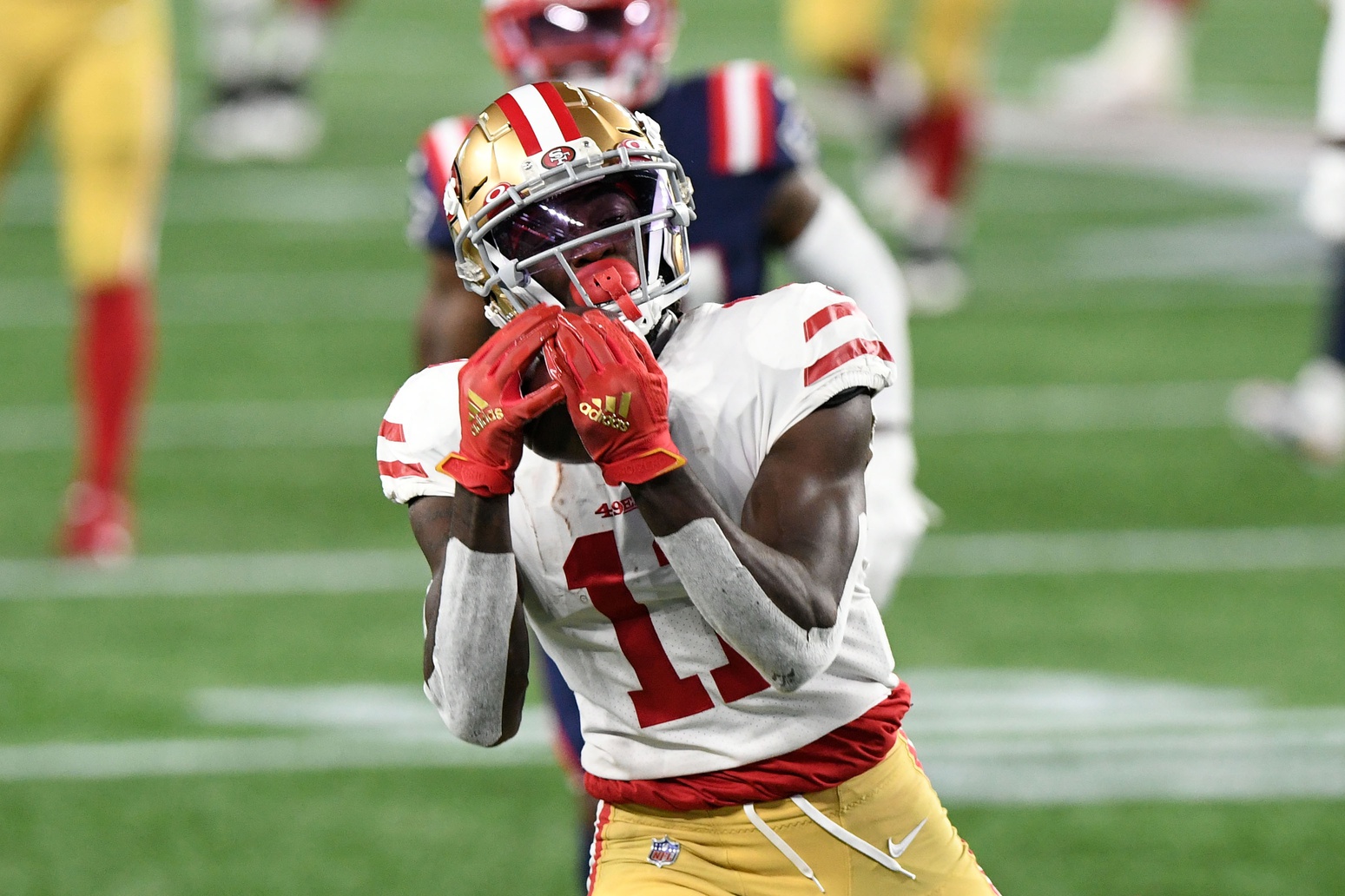 Rookie Watch
Saints defensive tackle Malcolm Roach played 26 snaps and had one tackle and a pressure before being injured. Cesar Ruiz, the Saints' first-round pick, played 54 snaps in this contest. Tight end Adam Trautman played 23 snaps but was not targeted.
The 49ers relied on many rookies, including first-round pick Brandon Aiyuk, who had a touchdown catch to go along with six catches on nine targets. He caught all six catchable targets but lost 8 yards on a run. Running back JaMycal Hasty was given three carries and gained 13 yards — with 9 coming after contact. Javon Kinlaw played 32 snaps for the 49ers and notched a sack.
ELITE subscribers can view player grades, advanced statistics, positional snap counts and more in Premium Stats 2.0.