Colts CB Stephon Gilmore did a good job containing Eagles WR A.J. Brown in Week 11 and is expected to face off against Steelers WR Diontae Johnson in Week 12.
Commanders WR Terry McLaurin looks primed to boom regardless of whether or not he winds up being shadowed by Falcons CB A.J. Terrell.
Jets CB Sauce Gardner might be one of the best corners in the league already, but he hasn't shadowed a specific wide receiver all season, meaning Bears WR Darnell Mooney isn't completely screwed.
Estimated reading time: 30 minutes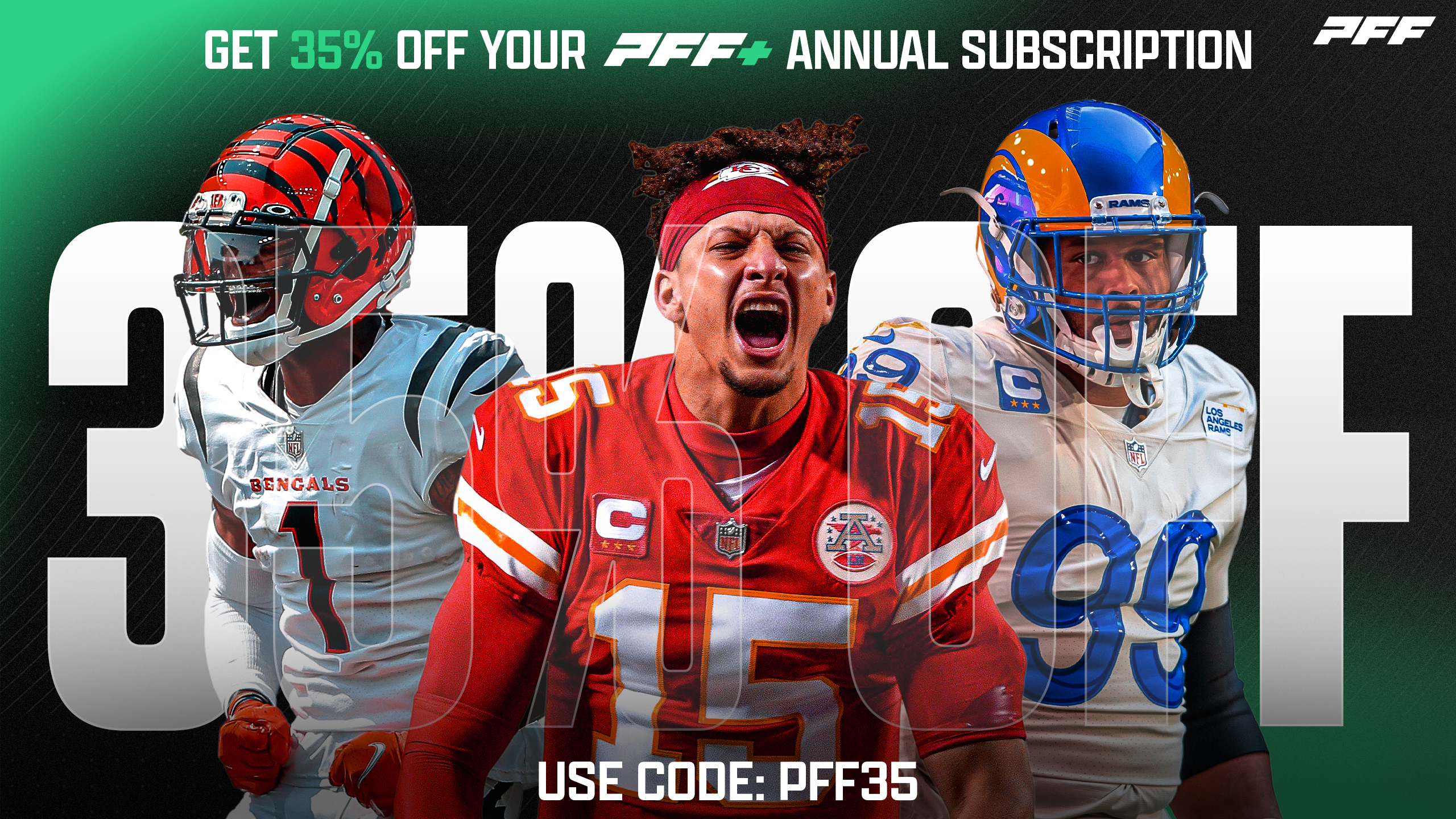 Shadow matchups are when a defense assigns a particular cornerback to follow one specific wide receiver all over the field.
Of course, wide receivers often can overcome difficult one-on-one matchups thanks to good ole' fashioned volume. It's also rare that a cornerback follows a single receiver around the field for each and every route. This leads to situations where Jalen Ramsey "shuts down" Justin Jefferson in their direct coverage (3-25-0), but Jefferson's full game line (8-116-0) reflects the reality that fantasy managers were still better off playing him.
What follows is a breakdown on:
Which cornerbacks shadowed in Week 11

Projected Week 12 shadow matchups

Notes on why certain cornerbacks aren't expected to shadow
Week 11 shadow results
The following eight defenses deployed at least one of their cornerbacks in shadow coverage last week. Note that receiving production refers to what the player achieved during the entire game, not just specifically in the referenced cornerbacks' direct coverage:
Projected Week 12 shadow matchups
Howard overcame early-season shadow struggles in style before the Dolphins' Week 11 bye, but as a whole the veteran has still largely struggled in his high-profile one-on-one battles:
And yet, Cooks hasn't surpassed 75 yards in a game since Week 1 and has found the end zone just once all season. Even last week's drop-plagued 3-70-0 was heavily aided by a blown coverage that resulted in Commanders LB Jon Bostic losing to Cooks on a crosser that wound up going for 41 yards.
Verdict: A healthy version of Howard is capable of slowing down some of the game's better receivers, and it's safe to say Cooks hasn't exactly established himself as one to fear in the year 2022. He's not a recommended start this week.
Surtain has blossomed into one of the league's very best cornerbacks this season, struggles against Davante Adams in Week 11 aside. In fact, PFF only has four cornerbacks graded higher than Surtain (81.4) in coverage grade among 137 qualified payers at the position.
A looming shadow matchup against the Broncos' stud second-year corner warrants a fairly significant downgrade for just about any wide receiver, especially one already as volatile as Moore. Maybe the presence of Sam Darnold under center provides a surprising boom for the 25-year-old talent. After all, Moore did average a pretty damn solid 5.7 receptions for 70.7 receiving yards and 0.25 touchdowns on 9.8 targets per game in 12 starts with Darnold under center last season.
Verdict: Ultimately, nothing is guaranteed in this low-floor Panthers offense regardless of who is under center. Moore remains a boom-or-bust WR3 far more likely to flirt with the latter outcome against one of the game's best talents at the cornerback position.
Henderson has been deployed against Damiere Byrd (3-58-0) and Demarcus Robinson (9-128-0) over the past two weeks. It's unclear if the Panthers considered Robinson or Devin Duvernay to be the Ravens' No. 1 wide receiver; either way, this isn't a matchup that Sutton or anybody else needs to overly worry about. Overall, Henderson grades out as PFF's 121st-ranked cornerback in pure coverage grade.